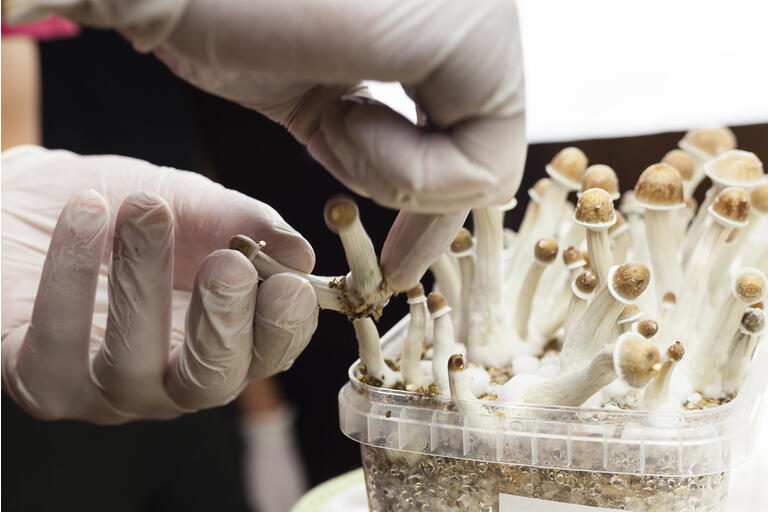 Quick Take
ATAI Life Sciences B.V. (NASDAQ:ATAI) intends to raise $200 million from the sale of its common stock in an IPO, according to an amended registration statement.
The company is a clinical stage biopharma developing treatment candidates for mental health disorders.
ATAI has only two out of ten drugs in clinical trials, is asking for an ultra-high price at IPO and its subsidiary approach has been unproven, so I'll pass on the IPO.
Company & Technology
Berlin, Germany-based ATAI was founded to develop psychedelic compounds for various mental health conditions including depression, substance use disorder and anxiety.
Management is headed by co-founder and CEO Florian Brand, who was previously CEO of Perception Neuroscience.
Below is a brief overview video of ATAI via an interview with CEO Brand:
(Source)
The firm's lead candidate, PCN-101, is being developed by a subsidiary for treatment resistant depression, or TRD.
The company has a decentralized approach to drug development, preferring to create subsidiaries with each pursuing its therapeutic program. I presume the advantage of this structure is to allow each group to obtain financing resources based on its own characteristics, rather than being lumped in together with dissimilar programs.
Below is the current status of the company's drug development pipeline: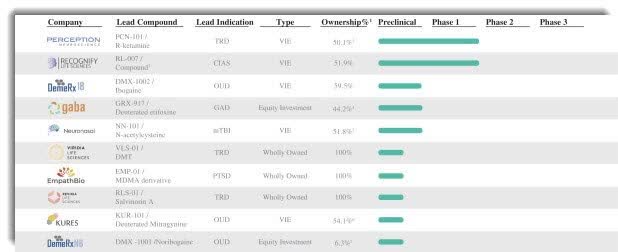 (Source)
Investors in the firm have invested at least $362 million in equity investment and include Apeiron Investment Group, Galaxy Group Investments, Kendall Capital Markets and Peter Thiel.
Market & Competition
According to a 2021 market research report by imarc, the global market for depression drugs grew to an estimated $12.7 billion in total value in 2020 and is forecast to reach $15 billion by 2026.
This represents a forecast CAGR (Compound Annual Growth Rate) of approximately 3% from 2021 to 2026.
Key elements driving this expected growth are a growing prevalence of mental disorders, including depression and social anxiety.
Also, there has been a surge of mental disorder prevalence during the COVID-19 pandemic, as large numbers of individuals experience anxiety and fear due to the size and scope of the pandemic.
Major competitive vendors that provide or are developing related treatments include:
Sage Therapeutics

Axsome Therapeutics

CIAS

Boehringer Ingelheim

Pfizer

Roche

Biogen

Vanda

Cadent

Others for other programs
Financial Status
ATAI's recent financial results are typical of a development stage biopharma in that it has earned no revenue but has significant R&D and G&A costs associated with its subsidiary programs.
Below are the company's consolidated financial results for the past two calendar years:

(Source)
As of March 31, 2021, the company had $104.4 million in cash and $25.3 million in total liabilities.
IPO Details
ATAI intends to sell 14.3 million shares of common stock at a midpoint price of $14.00 per share for gross proceeds of approximately $200 million, not including the sale of customary underwriter options.
No existing shareholders have indicated an interest to purchase shares at the IPO price.
Assuming a successful IPO at the midpoint of the proposed price range, the company's enterprise value at IPO (ex. underwriter options) would approximate $1.7 billion.
Excluding effects of underwriter options and private placement shares or restricted stock, if any, the float to outstanding shares ratio will be approximately 9.41%.
Per the firm's most recent regulatory filing, it plans to use the net proceeds as follows: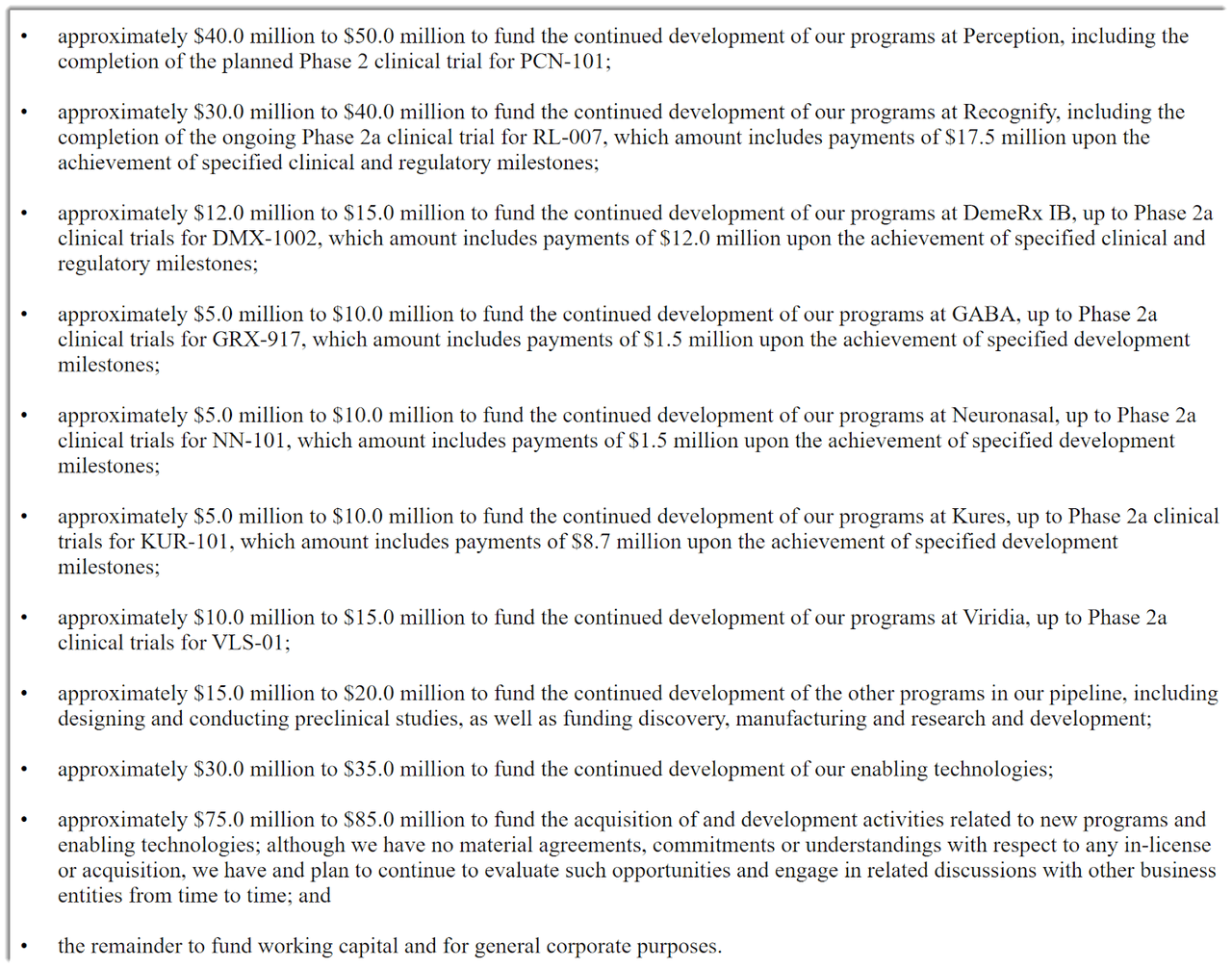 (Source)
Management's presentation of the company roadshow is not available.
Listed underwriters of the IPO are Credit Suisse, Citigroup, Cowen, Berenberg, Cantor, RBC Capital Markets and Canaccord Genuity.
Commentary
ATAI is seeking U.S. public market capital to fund its subsidiary development activities across a wide range of nervous system therapeutic treatment areas.
The firm's lead candidate, PCN-101, is being developed by a subsidiary for treatment resistant depression, or TRD.
The market opportunity for depression drugs is large and expected to grow at a moderate rate of growth in the near term.
Management has not disclosed any collaboration relationships with major pharma firms for its programs or subsidiaries.
The company's investor syndicate includes noted investor Peter Thiel.
Credit Suisse is the lead left underwriter and IPOs led by the firm over the last 12-month period have generated an average return of 58.6% since their IPO. This is a top-tier performance for all major underwriters during the period.
The primary risk to the company's outlook is its novel approach to separating its program development into subsidiaries, which is unproven.
Additionally, I favor a more focused approach, as it is difficult and costly enough to get one treatment approved, let alone many treatments in different areas.
As for valuation, management is asking IPO investors to pay an enterprise value of around $1.7 billion, far above the top end of the typical range for biopharma firms at IPO.
Notably, only two out of the firm's ten programs are in clinical trials, the rest are still at preclinical stage.
Given the above characteristics and ultra-high price, I'll watch the IPO from the sidelines.
Expected IPO Pricing Date: Week of June 14 - 18, 2021.