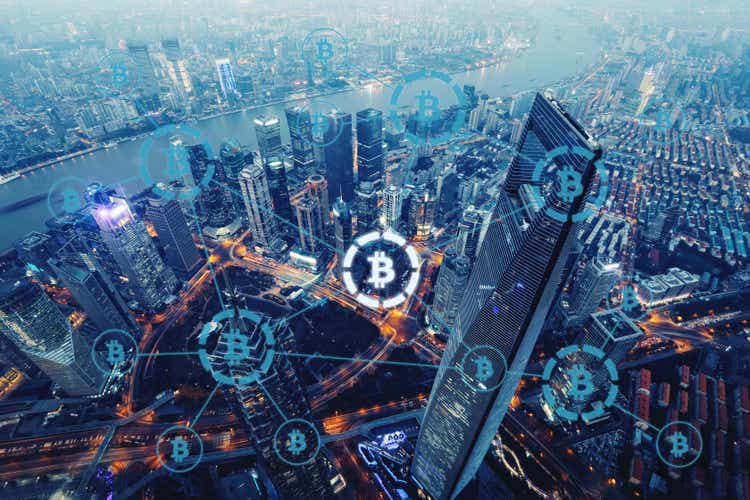 Today I will be drawing your attention to what I believe is a pure play one-stop-shop cryptocurrency underdog I'm certain you've never heard about. Without further ado, enter into the world of Diginex. Diginex Limited (NASDAQ:NASDAQ:EQOS) is a picks and shovel play on the cryptocurrency industry with business lines for an exchange, custodian vault, institutional advisory, investment products, asset management, and trading. It had a fantastic run-up from a low of $5.12 after merger to a high of $22.95 before plummeting a substantial 78% to a new low of $5.01 over the course of 91 days. 48% of the selloff beginning in the April period was largely due to a one particular short seller, Iceberg Research.

(Source: Trading View)
Iceberg Research, a short seller 'revealing financial manipulation and accounting frauds' as their website suggests, targeted the digital assets firm and released an initial short report in April followed by another blow in May. Though it can be said that they did an excellent job inducing a major selloff, it is my belief that Diginex still represents a strong opportunity and even better buy today at these depressed levels than it did before. My belief is based upon an overextended selloff to the downside as markets are sentimental and irrational in the short-term, strong execution thus far by a surprisingly strong management team, a promising vision with emphasis on regulatory focus and institutional clients, and lastly, an exciting product rollout roadmap in the near future. Let's begin.
What is Diginex Limited

(Source: Diginex Home)
Diginex is a Hong-Kong based digital asset financial services and advisory company operating internationally. The firm went public through a SPAC listing, a merger between 8i Enterprises Acquisition Corporation that was announced in July 2019. Shareholders voted to approve the merger in September 2020 with a complete business combination in October.
Richard Byworth, CEO of Diginex mentioned that, the merger represents:
a watershed moment for both Diginex and the cryptocurrency industry with the listing of the first-ever company with a crypto exchange on Nasdaq. This also presents the first opportunity for anyone trading in the US capital markets to buy directly into the equity of a digital asset ecosystem and opens the door for financial institutions to participate in the enormous opportunity that digital assets present."
Yes, Diginex is the first cryptocurrency exchange listed on Nasdaq, not Coinbase (NASDAQ:COIN). For clarifications purposes, Diginex used to consist of Diginex Solutions and Diginex limited. Diginex Solutions is a blockchain technology enabled SaaS business that was divested in May 2020 before the Nasdaq Listing to focus exclusively on the cryptocurrency exchange business which is now under Diginex Limited.
Business Model
Diginex Limited essentially consists of 6 'business lines' which can be classified broadly under 2 business divisions, the Capital Markets Business and the Asset Management Business. The table below should serve to provide a clearer picture about the different divisions they have, although most of the revenue and growth will come from EQUOS, their proprietary exchange business.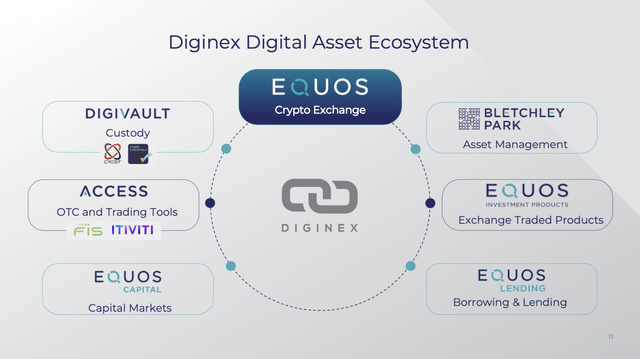 (Source: Diginex Investor Presentation)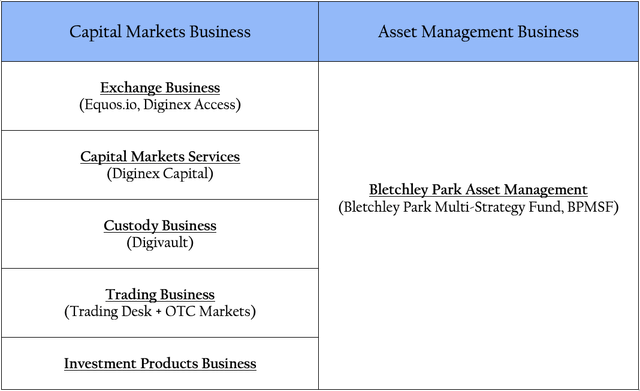 (Source: Author's Compilations)
Personally, I am convinced that digital assets are here to stay and have been involved in investing in cryptocurrencies for some time now. Be that as it may, the investment opportunity available in Diginex should not be seen with the same lens as one would if one were to consider investing in Bitcoin or Ethereum.
Total Addressable Market [TAM]: According to a recent report by the World Economic Forum [WEF], 10% of global gross domestic product [GDP] will be moved to blockchain networks by 2027. Whether you are a fan of cryptocurrencies or not, it will be hard to deny the immense value that blockchain technology can bring to the world and the positive impact that in can add to multiple industries in terms of cost, speed, and capabilities. According to Don Tapscott, co-author of Blockchain Revolution (Portfolio, 2016) in a recent interview with McKinsey, he believes that:
blockchain is nothing less than the second generation of the Internet. It will change every institution, in some ways more so than the first generation did".
Diginex's Capital Markets Business division along with the Asset Management division both converge to capitalize on this opportunity with an emphasis on regulatory frameworks and transparency.
In the interest of word count and to avoid boring readers, I will not be covering five of their six business line and will only be focusing on EQUOS, their centralised exchange where growth and revenue is at.
Diving Deeper
Capital Markets Services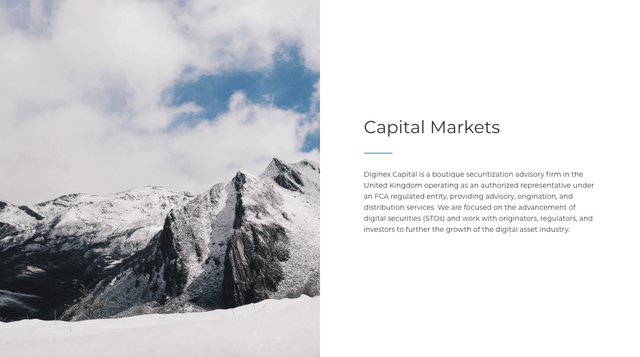 (Source: Diginex Offerings)
Custody Business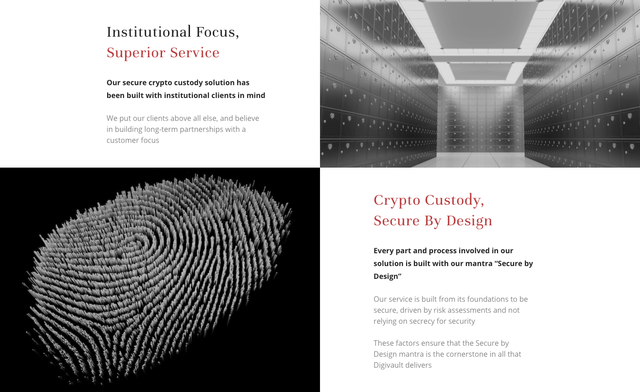 (Source: DigiVault)

Bletchley Park Asset Management Business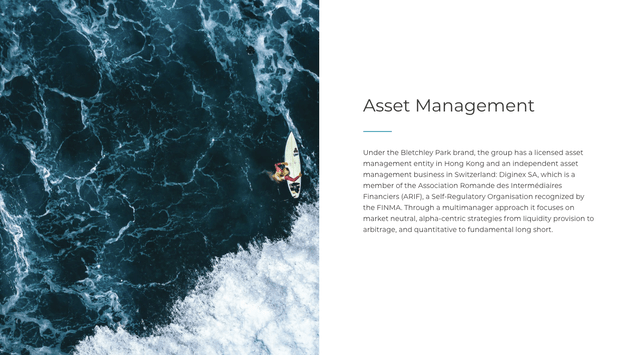 (Source: Diginex Offerings)
EQUOS Exchange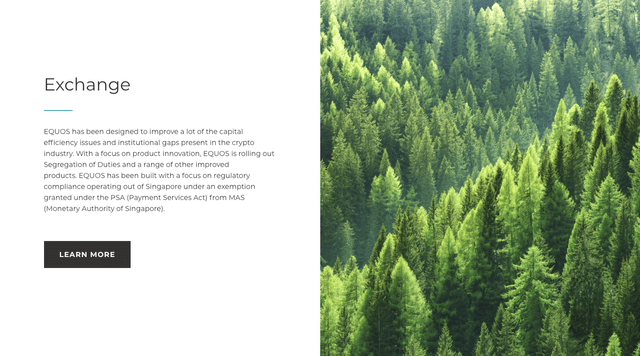 (Source: Diginex EQUOS Exchange)
EQUOS.IO is Diginex's centralised trading exchange similar to the likes of Coinbase but with a pure focus on compliance and a particular emphasis on derivatives. The main clients for EQUOS includes active traders, arbitrageurs, market makers, hedge funds, family offices, pension funds, and high net worth individuals.
Operating out of Singapore, the exchange was built with an extreme focus on regulatory compliance and institutional grade quality. The exchange addresses risk factors by implementing KYC/AML processes in line with Singapore regulation, testament to their strict emphasis and moat around transparency and legitimacy which is rare in the cryptocurrency space at the very least. As of now, EQUOS is currently operating under an exemption granted under the PSA (Payment Services Act) from MAS (Monetary Authority of Singapore).
The exchange offers both spot and derivative product trading like perpetual futures, and currently lists 8 trading pairs. 2 perpetual futures trading pairs (BTC/USDC [F] & ETH/USDC [F]) and 6 spot trading pairs (BTC/USDC, ETH/USDC, ETH/BTC, BCH/USDC, USDT/USDC, and its own native token, EQO/USDC). I will not be exploring the EQO token today but I have looked through the tokenomics and the vision looks promising and the merits of holding it looks appealing. The EQO token has also experienced a remarkable run-up the past few months after listing on April 8th 2021 as the community prices in the 1st halving scheduled for June 26th. If you have any doubt with regards to holding the EQO token, just know that the launch on the native token has had an overwhelmingly positive impact on trade volumes on the exchange as I will prove later on in the article. CEO of Diginex, Richard Byworth also commented on that:
It's extremely encouraging to see record-breaking volume on EQUOS, as traders realize the benefits of owning EQO"
Holders of the token are essentially entitled to a series of benefits such as:
reduced trading fees, access to future airdrops, staking rewards, collateral against derivatives transactions, and enhanced interest for crypto lending. There will also be a buy back and burn mechanism implemented once the token has been fully distributed."
By holding more EQO token, institutions are also entitled to lower trading fees. This brings us to the next topic which is how the EQUOS exchange generates revenue. Revenues are generated just like any other exchange, through trades (commission), spreads, and withdrawals. There is no fee to deposit fiat. Trading fees are based upon a tiered system whereby the higher the Trade Volume in the last 30 days, the less fees you pay.

(Source: EQUOS Trading Fees)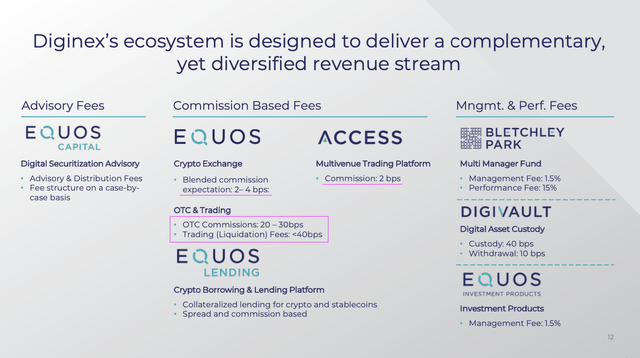 (Source: Diginex Investor Presentation)
When compared against industry peers, Diginex also seems to be offering lower trading fees relative to Industry giant Coinbase (and this is non-inclusive of a further reduction in trading fees if institutions were to hold the EQO token based on a 4 tier fee upgrade) and the run-up in price action for the token indicates that institutions are buyers. If so, institutions are paying even less than the fees displayed above. In a rare YouTube appearance, Coinbase CFO, Alesia Haas mentioned that the average retail trader paid 1.4% in fees in 2020 and Institutional customers who had higher trade volumes paid under 10 Basis Points (bps) which is equivalent to 0.1% in fees.
Launched in May/June 2020, EQUOS has had a limited operating history and is considered to be a late entrant into the exchange space. Coinbase was formed in 2012, Binance 2017, and Kraken 2011. Despite being a latecomer, Diginex has shown remarkable growth in terms of market share, exchange ranking, and trade volume growth in both spot and derivative volumes.
TAM: According to a Tokeninsight 2020 Q3 cryptocurrency derivatives exchange industry report as well as Crowdfund Insider:
Derivative products are nascent in the digital asset industry and are presently not offered by some of the major digital asset exchanges. From near nonexistence only a few years ago, the size of the virtual currency derivatives market has begun to show signs of its immense growth potential, growing at over four times the spot market during the third quarter of 2020 and reaching a volume peak of $67 billion in a day at the end of November".
Diginex launched their Bitcoin Perpetual Futures Contract on January 7, 2021, and since then the firm has "seen a meaningful increase in activity on EQUOS, with overall volumes increasing over 2.5 times on an average daily basis, compared to December levels. We anticipate that with GSR onboard and the additional depth they will bring to our books, we will continue to see volumes increase meaningfully as liquidity and spreads improve".
GSR markets is 1 of 2 of the firms main liquidity providers. The Ethereum Perpetual Futures Contract was then launched on March 4, 2021.
It is evident that while Diginex is a cryptocurrency firm with multiple business arms, the main product offering they have is the derivative pairs that lie within EQUOS which appeal to institutional players with leverage.
The EQUOS exchange also incorporates Diginex Access which is a portfolio management solution (PMS) incorporated into other platforms. The front-to-back integrated trading platform provides trading solutions to institutional and professional retail clients. The flexibility of this play comes as Diginex Access is plugged into two of the world's largest trading technology providers: FIS (Fidelity National Information Services) and ITIVITI (Ullink). The partnership between Diginex Access and Itiviti sits at the core of this strategy, providing ease of access and a route for engagement with digital assets for Itiviti's vast professional customer base.
Commenting on the partnership, Rob Mackay, CEO of Itiviti stated that:
We are excited to announce our growing partnership with Diginex. With the integration and launch of Access on Tbricks, trading across different crypto exchanges will now be open to institutional investors across the globe and expose them to Itiviti's advanced automated trading technology."
With EQUOS functioning as an institutional grade cryptocurrency exchange offering institutional investors access to derivative trading and a moat around compliance and regulations, the exchange together with Diginex Access on gives them the reach that they need. With such a vast portfolio of business lines and a promising future, it is hard to imagine that the market has justified a valuation for Diginex only worth $US200-$250M when its peers have valuations in the high billions of dollars. Before the major selloff that Coinbase experienced the past few months, let's not forget that it traded at valuations around US$80-100BN. For more confirmation in our thesis, let's take a look at financials, analyst revenue estimates, and my own rough projections for a more rooted understanding. As always, high conviction is needed in a volatile time as such. If you are one of the holders that had to sit through this absolutely unwarranted selloff like me, you know what they say, Scientia Potentia Est (Knowledge is power). Let's dig deeper.
Financials

(Source: Tikr)
As of the time of writing (7/5/21), Diginex had a Market Cap of US$244.8M. At its peak, Diginex was valued at around US$837M, just shy of a billion dollars.
The change in TR does not paint an optimistic picture on the surface level. Revenues have been trending down since FY 19 where Diginex did $950K in TR and $490K as of FY 20 ending March 31st. So far the LTM TR comes in at $340K for FY 21 but that is likely far off given that the value has not changed for months.

(Source: Seeking Alpha)
However, analyst projections have also trended down the past few months. Last I checked on Tikr, estimates for FY 21 were US$7.71M, US$58.68M for FY 22 and US$208M for FY 23. The changes in analyst estimates in the recent months are bearish and indicate a higher expectation that management misses on earnings and sales. If we compare the LTM TR of $340K that Tikr has provided, it seems like a surprise TR of US$1-2M for FY 21 is still significantly far off from current projections of US$3.96M.
However, the slow volume growth of Diginex's EQUOS exchange has since taken off in the last few months and should start to show in earnings. Let me walk you through a much more optimistic scenario and the viable path to profitability that I seek when considering to invest in every growth company. Financials may be lacking, but so long the path to profitability remains intact, so does the hope that EQUOS will one day be a giant among the likes of Coinbase and Gemini, far above this pathetic joke of a US$244M Valuation.
More Optimistic Picture
On April 19, 2020, Diginex reported record Trade Volumes of over US$1BN for April Month-to-Date (19 Days in). The average daily trading volume also increased more 3X compared to the prior month. If extrapolated for the rest of the month, that would indicate a record Trade Volume of US$1.6BN for the month of April. Daily Trading Volumes as you can see below from a Nomics chart, showed Trading Volume stagnating at about US$15-20M per day in March before the April 19 news was released, way below the average for April based on a rough estimate of US$53M per day from the US$1+BN reported.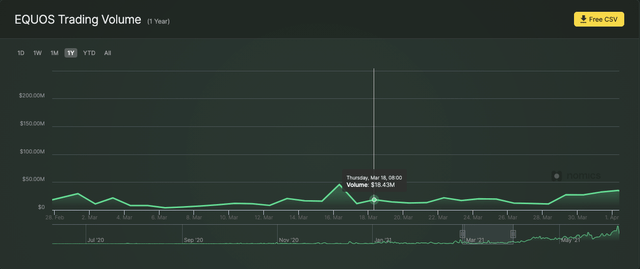 (Source: Nomics EQUOS March Trading Volume)
The parabolic rise in trade volume was attributed by management to the launch of the EQO token and a significant increase in participation by a number of major institutional clients. Management commented that:
Following the launch of the token on April 8, EQUOS has recorded daily volumes in excess of US$100 million".
As we can see in the chart below, the major breakout and uptrend starts on the 8th of April, the very day EQO was launched. Before the run-up, note that daily trade volume on April 8th was US$30M. Since then, attaining a daily trade volume over 3X at US$100M has not been difficult. This goes to show the major benefits and utility of the EQO native token and the influence it has on trade volume on the EQUOS exchange. If volumes are increasing ever since the launch, it means that EQO is adding value to trades (reduction in fees) and Institutions are likely picking it up for 'staking' purposes in mind.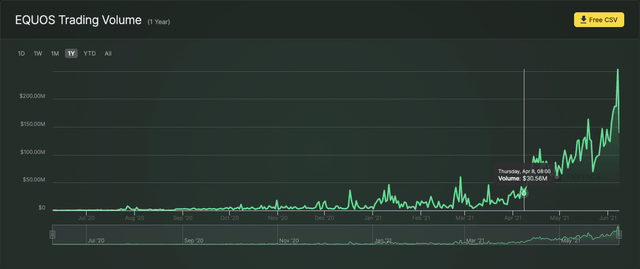 (Source: Nomics EQUOS Trading Volume Since The Launch of EQO)
Following that, Diginex reported yet another record trade volume on May 4th 2021:
spot and derivative volumes on its crypto exchange, EQUOS, exceeded US$2 billion for the last 30 days. This represents an increase of 300% compared to the prior 30 days."
This not only beat the US$1.6BN I extrapolated for speculation but performance also indicated that: "spot volumes continue to grow strongly while derivative volumes from the BTC and ETH perpetual futures products are expanding at an even quicker pace of almost 5 times compared to the previous 30 days"
Yet once again, management stunned with even better results. On May 24th 2021, Diginex reported:
combined 24-hour spot and derivative trading volumes on its EQUOS cryptocurrency exchange reached a new record-high of US$200 million on May 20, 2021. Trading volume for the past 30 days has increased more than 40% to US$2.9 billion, only three weeks since the company announced a record US$2 billion in 30-day volumes"
For a condensed summary if you got lost in the flood of words above, EQOS did US$15-20M in daily trading volume in March. Since the launch of the EQO token on April 8th, trading volume surged to an excess of US$100M per day (570% Increase). On May 20th, the firm hit yet another record trade volume in excess of US$200M per day (100% Increase). This is remarkable growth that points to institutional interest in the EQO token based upon its utility.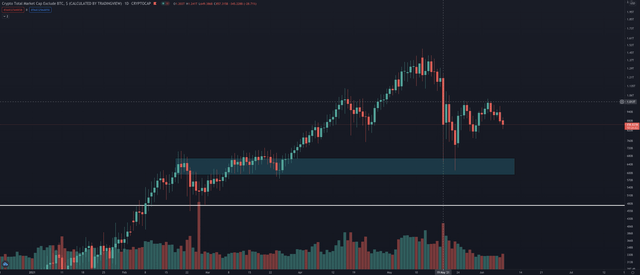 (Source: Crypto Total Market Cap, Trading View)
For those that aren't actively involved in the cryptocurrency market, May 19th marked the major cryptocurrency selloff weeks ago. The Total Altcoin Market Cap excluding that of Bitcoin sold off 29% in a single day and 48% if we measure from top to bottom of the wick. Yet, Diginex managed to report record daily trade volumes on May 24th. When we look to May 19th, we can see that EQUOS did a mid-month peak of US$164M in the chart below.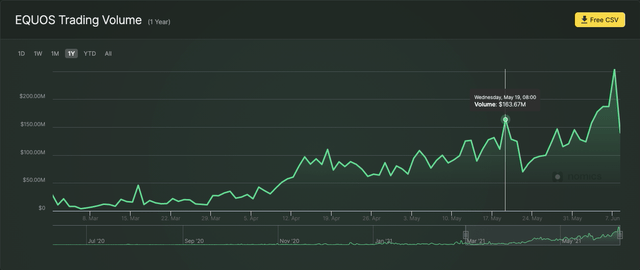 (Source: Nomics EQUOS Trading Volume)
This brings me to my next point, that cryptocurrency exchanges like EQUOS thrive in volatility be it to the upside or downside. Trading when the euphoria and hype around cryptocurrencies will benefit Diginex as more fees roll in. Trading when panic and fear kicks in will benefit the company as well.
The initial short report titled 'Diginex Ltd: A Crypto Zero' places significant emphasis on how despite paying so much attention to regulatory framework, Diginex ranked 296/306 for all spot exchanges and 28/34 for all derivatives exchanges globally according by CoinMarketCap. Their focus on transparency which is in line with their mission to uphold a certain standard in the cryptocurrency space clearly had not materialised according to Iceberg Research, as Nomics, a leading crypto data company ranked the company C on its transparency scale of A-F. This means that Diginex failed to provide sufficient data.
Fair enough, but let's look at the results today (8/6/21) and compare it with that April 15th report of theirs.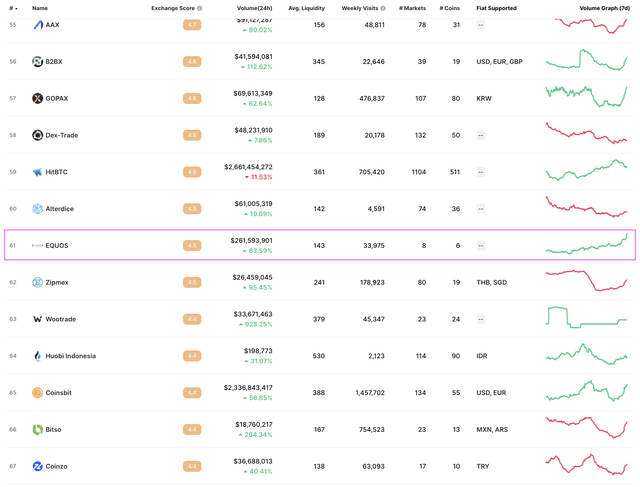 (Source: CoinMarketCap)
Today there are no longer 306 spot exchanges but rather 310. Despite this, in a matter of less than 2 months, Diginex's EQUOS has jumped from a ranking of 296 to 61 today. On April 15th Diginex ranked at the 3-4th percentile of all spot exchanges, with 96-97% of all exchanges ranking above it. Today, they rank at the 80th percentile, ranking higher than 80% of all other exchanges and placing themselves at the top 20% globally. For an exchange launched May 26th 2020 with an operating history of just about 1 year, that's impressive and certainly a remarkable improvement in a matter of 7 weeks.
Turning to derivative exchanges, Diginex's EQUOS used to rank 28/34 of all derivative exchanges. Looking to the chart below, today they rank in a better position at 25 amidst 5 more competitors, 25/39.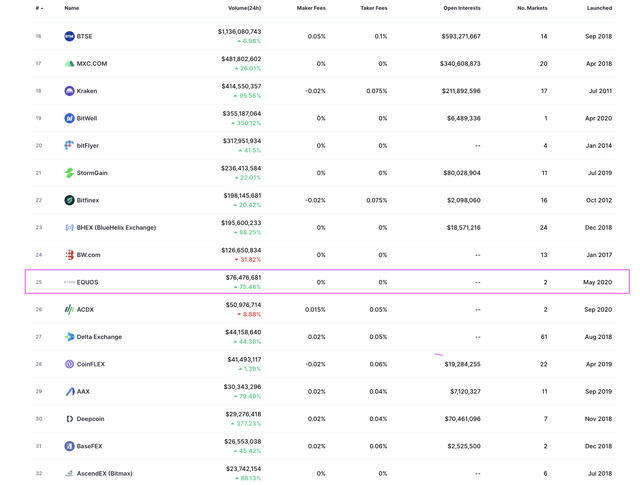 (Source: CoinMarketCap)
Lastly, let's turn to Nomics, the leading cryptocurrency data provider. With a C ranking on April 15th and apparently insufficient trade data, the fantastic trade volume growth in the past month has helped Diginex clinch a milestone ranking. On June 3 2021, Diginex reported attaining an A+ Ranking on leading data provider Nomics.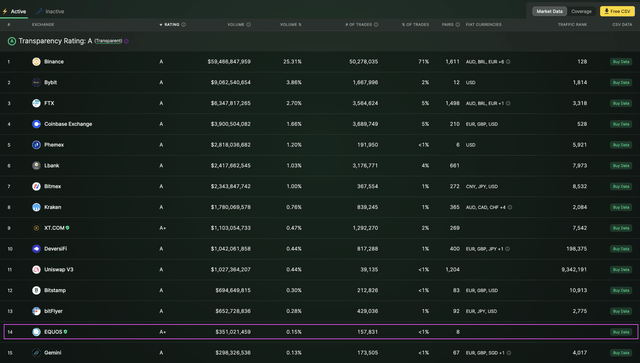 (Source: Nomics Ranking)
This milestone places Diginex in the top 15 exchanges based on transparency out of the 288 exchanges that Nomics tracks. The A+ ranking also places them amongst 1 of the only 2 exchanges with such a ranking apart from (XT.COM) in the top 15 exchanges and above the likes of cryptocurrency giant Gemini, which had 7 years to prepare since 2014. Yet, cryptocurrency underdog Diginex with barely over a year of history has overtaken them.
The firms latest press release states that "EQUOS' ranking on Nomics places the exchange in the Top 20 crypto exchanges globally, and Top 5 in Asia, for both transparency and volumes, despite the exchange only launching publicly in July 2020".

(Source: EQUOS Markets)
A quick hop on to the EQUOS website also greeted me with a pleasant surprise. Forget the US$1/2/3 BN in 30-day trade volume mentioned above and the US$50/100/200M in daily trade volume. Diginex's EQUOS Markets just did US$4BN in 30-day trade volume and US$350M in 24h volume!
With a significant improvement in spot and derivative exchange ranking on CoinMarketCap, a remarkable ranking improvement in terms of transparency and trade volume alongside industry giants like Binance, Coinbase, FTX, Kraken, and Gemini on Nomics, as well as recent new record volumes, it is clear that management clearly knows what they're doing and has executed very strongly despite the volatility. Projections were not wrong nor rooted on baseless optimism. They were right, but just early. There's the US$4BN in 30-day trade volume they just did as predicted in the Form F4.
Management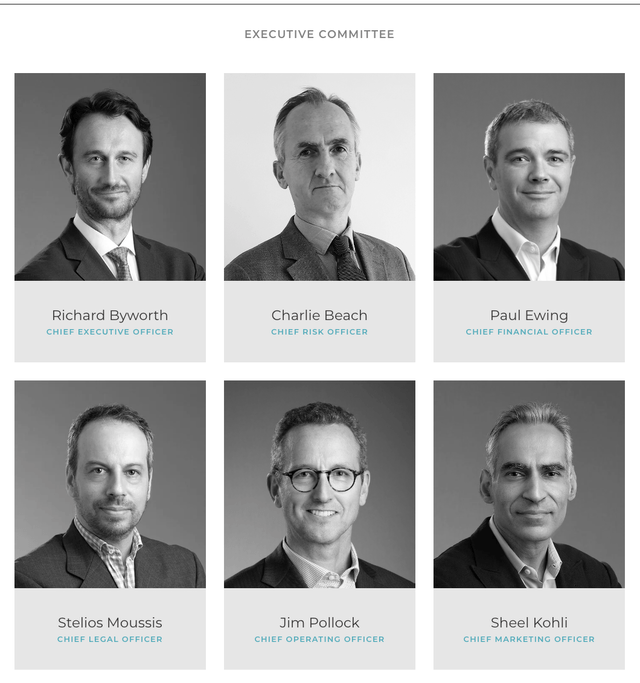 (Source: Diginex Management)
Diginex has an incredibly strong management team with long finance run and a particular strong history in dealing with derivative products. This is exactly the team you need overlooking a cryptocurrency derivative exchange play. To avoid dragging the article out, you can refer to their website for their individual credentials.
Diginex has also managed to bring in one of my favourite faces in the Digital Assets industry, Alex Mashinsky, CEO of Celsius Network, "a community-based blockchain protocol allowing members to borrow dollars and earn interest against their digital assets, as an Advisor to the company."
Alex is the CEO of the biggest, if not 2nd biggest, centralised lending and borrowing cryptocurrency platform where you can generate yield on your assets. With over US$21BN in community assets (mine including), Celsius boasts an impressive base of 776K users and rivals the likes of industry competitor BlockFi. Long story short, Alex is an absolute seasoned veteran in the digital assets space and to have him on board as an advisor for Diginex speaks volumes to say the least.
Iceberg Research has accused management of wash trading, manipulating numbers, having dubious history, a troubled background, burning cash at an alarming rate, and other multiple red flags. However, given the strong management team, I will take my cash to the bank backing them as the idea of an intentionally setup fraudulent cryptocurrency exchange with such an extensive talent pool behind it that have left their jobs to start/join this venture is simply absurd to me.
Future Plans
Diginex has so far proven themselves to be quite the all-rounder firm and pure play on the digital asset ecosystem. Not surprisingly, they have more in store for them.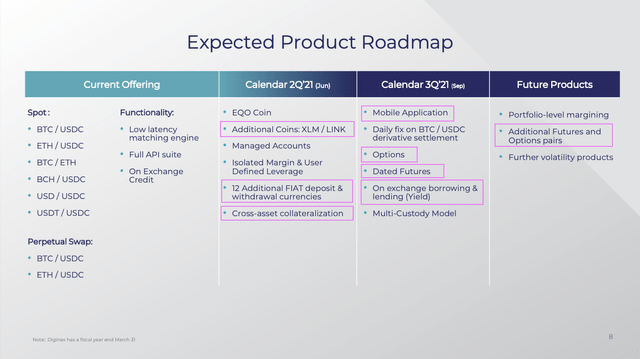 (Source: Diginex Investor Presentation)
Diginex has plans to add additional coins starting end Q2-CY21 [JUNE] along with more fiat deposit and withdrawal currencies. The firm is also introducing cross-asset collateralization where their native token EQO will form part of the assets that qualify to be used as collateral on the EQUOS platform for derivatives, futures, and borrowing.
On exchange borrowing & lending where one can generate yield similar to what Celsius and BlockFi allows will be introduced in Q3-CY21. This will be a centralised lending platform. As Diginex's EQUOS is ultimately a derivative play and derivatives such as perpetual futures have historically accounted for a greater portion of their trade volume as it should, introducing more derivative products like Options and Dated Futures will add to the availability of options for their Institutional clients. A highly anticipated mobile application is also expected to be launched in Q2-FY22 which can open the door to an influx of capital inflows due to the added convenience and ease of use. As always, UX (User Experience) is important.
Cross Asset collateralization and generating yield will likely be another driver for the company's growth. I suspect that they will be generating yield for users in the same way Celsius does and that may be very the reason Alex was introduced as an advisor in the first place. If so, Diginex will pocket the difference between the interest they charge institutions - which just so happens to be their main pool of clients - as well as the yield they offer users who have committed their assets to be designated for lending. This in itself is a segment potentially worth billions of dollars and is yet another push by the firm to add to their ever expanding ecosystem of value.
Risks
Of course, if this all seems too good to be true, it likely is because of inherent risks that exist. Risks like such are especially dangerous for small-cap companies and the ones operating in the digital space where there is still so much uncertainty. However, with the additional risks comes extraordinary upside potential.
In the worst case that Diginex is indeed fraudulent which is simply ridiculous the way I see it, it can be plausible. A large portion of the growth and optimism around the company comes from their recent outperformance in trade volume. However, this particular problem lies in the fact that it is all predicated upon one metric and that it trade volume. Iceberg has accused Diginex of wash trading which simply refers to the illegal form of market manipulation in which an investor simultaneously sells and buys the same financial instruments to create misleading, artificial activity in the marketplace. In the case of Diginex, management could be creating multiple accounts and trading between themselves to inflate volume. Though highly unlikely, it is a must that I disclose this risk to those who are excited by what Diginex has to offer and may be looking to invest.
Jakob Palmstierna, partner at GSR Markets (one of Diginex's liquidity providers) has stated in a recent CEO letter released by Richard Byworth that:
The volume growth on EQUOS has been very impressive. As the major liquidity provider on the EQUOS exchange we can see that trading activity is genuine and volumes are real."
Personally, I see no way to validate the legitimacy of this accusation until full fiscal year results are released in a couple of weeks. A significant improvement in revenue should likely debunk this accusation as the firm is unable to generate revenues from themselves. Till then, I'll bank on the good progress the firm has made thus far, an A+ transparency ranking from Nomics, and positive remarks from GSR and Parallel Capital CEO who have come to the side of Diginex for defence. I figured if the short sellers can rely on Nomics data when it's in their favour, they clearly think there's some credibility to it. I'll do the same, just that now it's in my favour.
Other risks include the possibility of a crypto winter which refers to the 1–2 year bear market and sideways movement in the cryptocurrency space every 4 years. If so, Diginex will likely earn less fees from trading although this is not guaranteed as their customers are mainly institutional clients and they may be looking to utilize derivative instruments to play the bear market. Either way, there will still be some volume with volatility in either direction. The failure of future product rollouts and the failure to acquire the licenses required to operate out of Singapore without the exemption from the MAS will also hamper the firm's efforts to expand. Yet, if they aren't allowed to operate in Singapore, they can easily move overseas and operate out of the Cayman Islands like Binance does.
Valuation
Finally, let's turn to valuing Diginex. Diginex is currently worth US$244.8M with a share price last exchanging hands at US$6.73. Taking the lowest of estimates that have been revised downwards multiple times, TR is expected to come in at US$3.96M for FY 21. Revenues are then forecasted to grow to US$32.84M in FY 22 (730% YOY), US$135.38M in FY 23 (312% YOY), and US$198.40M in FY 24 (47% YOY). Looking out to FY 24, analysts are essentially anticipating a 4910% increase in TR within 3 full years. That right there is pure hyper-growth.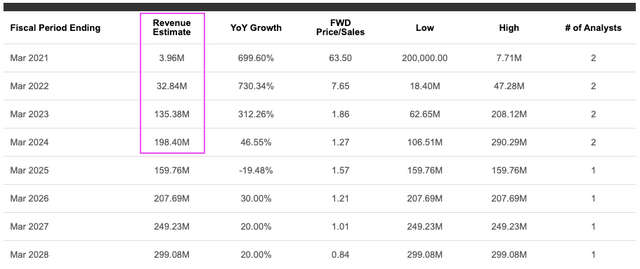 (Source: Seeking Alpha)
For a hyper-growth stock, it would not be unreasonable to assume a P/S multiple of 15. Industry giant Coinbase currently trades at 6.67X their revenue projection 3 years out for FY 23 (US$7.16BN). At its peak of US$429.54 USD, Coinbase was trading at a valuation of US$88.5BN, 12.36X FY 23 TR. Coinbase is anticipated to grow 395% this year, a negative 7% the following year, and 21% for FY23. That growth is exceptional, but it isn't hyper-growth. With that in mind, a 15X multiple may even be conservative if digital assets pick up way faster than any of us could have imagined. But let's stick with it.

(Source: Seeking Alpha)
A 15X FY-24 Revenue for Diginex (3 years out so it's the same timeframe as Coinbase) gives the firm a Market Cap of US$2.98 BN. That's indicative of 12.2X the current valuation, a 1116% upside which lands Diginex at a share price of US$81.82.
An ultra-conservative multiple of 10 warrants the firm a US$1.98 BN valuation and a share price of a US$54.54, 710% to the upside. Yes its crazy, but thank the shorts and the irrational market for the potential gift of a lifetime.
However, analysts have been wrong before and have consistently been revising estimates downwards. Furthermore, there are only 2 analysts covering the stock as of now which can be likened to 2 data points on any set – not entirely reliable. So, let's opt for an even more conservative valuation methodology for confirmation - mine.
As shown above, EQUOS managed to hit a 30-day trading volume of just over US$4BN and a 24h trading volume of US$352M. Coinbase charged its retail clients an average trading fee of 1.4% in 2020 and as low as 10 bps (0.10%) for institutional investors with large trade volumes. Keeping in mind the various commissions for the different business lines in the investor slide displayed above, it would be fair to assume that Diginex charges anywhere from 2 bps to 20 bps on average. Pricing in the reduction in fees from the EQO token, let's assume an industry low standard of 5 bps. 5 bps refers to 0.050% in fees or a multiple of 0.0005 when multiplied against trade volume.
If I were to extrapolate the US$350M in volume for the whole month, that would generate US$10.5BN in volume for a single month. Way too optimistic. So, let's go with something in between the US$4BN that they have just achieved and the theoretically possible US$10.5BN. US$6BN. That gives us US$72BN in trade volume annualised and if were to grow this out at a CAGR of 50%, that would give us a trade volume of US$162BN by FY 24. At a low trading fee average of 5 bps, that represents US$81M in fees for FY 24. That not only represents a conservative estimate, but excludes the fees Diginex earns from withdrawals, spread, and the other 5 of its business lines that I have not covered. To account for that, I'll just speculate and round that up to US$100M in TR for FY24 which I think it's fair. At a P/S multiple of 15, that gives the firm a valuation of US$1.5BN and a share price of US$41.23, 513% to the upside. Given that they've traded at a high of US$22.95 this year alone and that a US$1.5BN dollar valuation only represents 1.69% of Coinbase at its peak, that is a PT well within reach.
Final Takeaways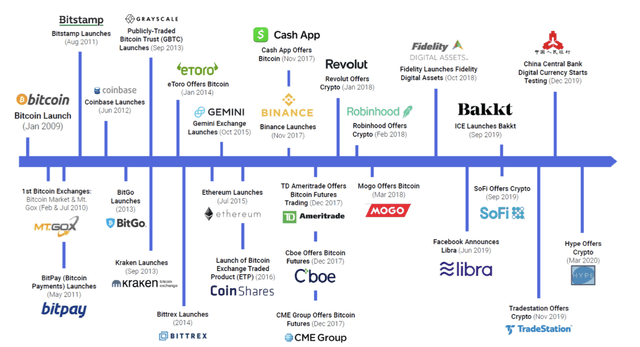 (Source: Fundamental Research Corporation)
If you still have any doubts about digital assets and the arrival of a nascent industry that you may be having difficulty coming to terms with, just look at the progress that has been made in the space. The diagram above excludes the investments that have been made in the digital asset space by Square, MicroStrategy, Marathon Digital Holdings, Riot Blockchain, Tesla, Meitu, Tudor Jones Fund, Ray Dalio, Mark Cuban, Raoul Paul, Tim Draper, Veteran Michael Novogratz, and the tons of other ETFs that have launched / had applications filed to the SEC.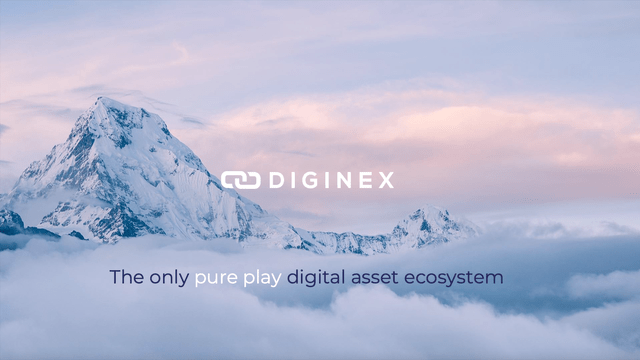 To close, Diginex has been unfairly beaten down because of short reports that have resulted in an overextended exaggerated selloff to the downside. The firm still retains the strong management that has been leading from the start, a pure play digital asset ecosystem with each of the 6 business lines they have working together to provide a strong competitive advantage, and a robust roadmap with many other exciting things to come such as cross asset collateralization and the generation of yield through lending and borrowing. The synergies between the 2 divisions and its subcategory segments blend nicely together to fully exhaust the potential of the ecosystem. No other competitor in the space is a pure play on digital assets industry similar to Diginex. Coinbase lacks derivative offerings as of now and Binance has no custodial vaults. As interest and participation in this nascent industry grows, Diginex is best positioned to capitalize on the inflows of big money into the space and is here to stay. For a good read into Diginex, you can refer to FRC and DER Research. It's fantastic.
That being said, there will be continued volatility in the near term given the uncertainty in the macro environment as well as further negative pressure from the shorts through puts. It can't be said with certainty that their accusations are 100% false until there is more light on the matter, but as of now, almost everything points in favour of the company. For those that want continued coverage on Diginex, I will be here to comment on their earnings when they are released. Diginex exists as a severely undervalued play in my opinion and can even be a potential 10 bagger. As always, if you have taken an interest in Diginex, invest with caution and use rational position sizing. For now, Diginex remains to be the only way to profit from the entire blockchain ecosystem and the crypto underdog you have never heard about.