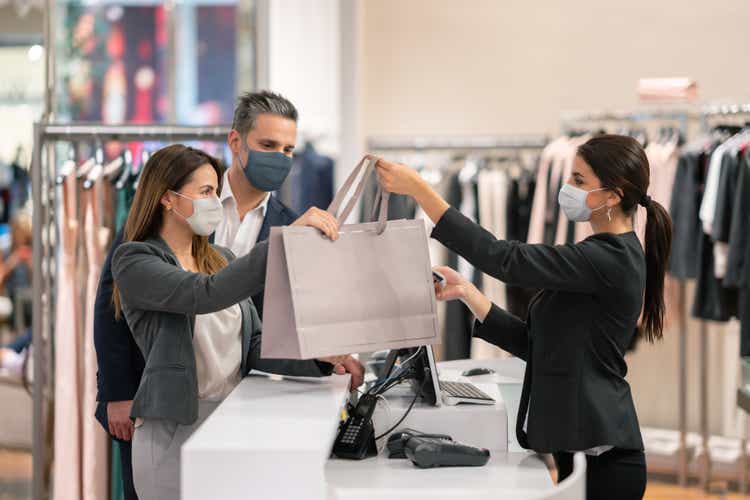 Basic Thesis
L Brands (LB) is separating its two businesses Victoria's Secret "VS" and Bath and Body Works "BBW". The separation will be a tax-free spinoff occurring in August.
On as-is basis, LB is trading at 8x EBITDA, and I estimate that it will earn around $6.25-$6.75. Estimates are a little tough as the company has been blowing away guidance lately. But at $65, the company is only trading around 10x EPS, hardly an aggressive multiple for a business with a good balance sheet, generates a lot of cash, and is growing organically.
That said, VS and BBW are clearly on different growth trajectories, with BBW demonstrating low double digit same store sales growth going into covid and absolutely insane growth (up 45%) during covid. VS actually turned around its business during covid, and used the opportunity to cull their weaker stores in weaker malls. But still, I think VS is holding back BBW's multiple. Furthermore, the cash returns have been meaningful and will continue to only accelerate after the split, putting a floor on the stock and offering meaningful earnings accretion at these levels.
The Businesses
For anyone living under a rock, Victoria's Secret sells women's undergarments and bed/bath wear. It has had more downs than ups over the years. Comparable sales were negative 2% and negative 7%, respectively, in fiscal years 2018 and 2019 before turning around to positive 1% for fiscal year 2020. The turnaround was led by direct channel (web-based) growing by 31%, while physical stores declined 15%. The company permanently closed 241 underperforming VS stores in the year as part of its profit improvement plan. Same store sales grew 3% in Q1 of '21 while total comparable sales grew 25% and total sales grew 74%.
Obviously, these Q1 numbers are off a low base, but total comparable sales grew 9% compared to 2019 and gross profit margin expanded 1,100% and operating profit grew to $245mm from $32mm in 2019. Combined with the profit improvement initiative, I think the direct business is growing enough and the physical stores are shrinking to the point (929 total worldwide as of Q1 '21 vs. 1,160 in Q1 '20 and headed lower), where 1% comp sales growth going forward and $1.2 billion of EBITDA are reasonable estimates.
While VS is turning around, BBW continues very strong trends. The business grew comparable sales 10% in 2018 and 2019 before exploding for a 45% gain in 2020, where the physical stores grew 26% and the direct channel grew 109%. Obviously, that growth rate has to slow, but Q1 '21 comparable store sales were up 12% and total comparable sales grew 16%, again led by strength in direct to consumer. I think a 5% forward comparable growth rate for BBW and just over $2 billion of EBITDA are fair estimates.
The Transaction
LB will complete a tax-free spin-off of VS to shareholders in August. The freestanding VS will dividend $1 billion of cash to the parent, which will just own BBW, leaving VS about 1x leveraged. The parent will likely use the proceeds plus its existing $2.8bln of cash to chip away at its $5.3bln of debt. Unfortunately, none of its high coupon debt is currently callable. So, if the company wants to refinance anything, it will have to tender or do open market purchases and then issue newer, lower coupon debt. I believe they can get about $1 billion repurchased and retired over the rest of the year even without a tender. In the meantime, I think the company will add to its $500mm repurchase authorization. The company did not repurchase any shares in 2019 or 2020. It has repurchased almost $250mm since the beginning of the fiscal year. I expect it to accelerate these repurchases meaningfully now that VS is separated from the company. A freestanding BBW doing $2 billion of EBITDA translates to about $1.1-$1.3 billion of free cash. Even without reducing its cash balance, the company can buy back $3.5-$4bln of stock over the next 3 years. That number could grow to over $5bln if BBW wanted to reduce its cash balance below $2bln and does not take into account any savings from lower interest rate debt. Just $5bln of repurchases would allow the company to reduce the share count by ~25% over that time at current prices. Assuming modest growth continues, you could easily see EPS at BBW alone in 3 years equal the current combined $5.
The Numbers
Current LB valuation is 12x EPS and about 8x EBITDA. The company is currently comped to Gap (GPS), Ulta (ULTA), Williams-Sonoma (WSM) and TJX (TJX). I'm more comfortable using EV/EBITDA to value for retail. I see the two parts valued below using year end numbers and (assuming no share repurchases):
For VS
| | |
| --- | --- |
| EBITDA | $1 bln |
| TEV/EBITDA (GPS 6x) | 6.00 |
| Cash - JPM YE | 500 |
| Debt | (1,000) |
| Net Debt | (500) |
| Equity Value | 5,500 |
| Equity Value/Share | $ 20 |
| Implied FCF yield | 10.5% |
Source: Author
For BBW
| | |
| --- | --- |
| EBITDA | $2 bln |
| TEV/EBITDA (WSM 9x, ULTA 14.5x, TJX 12.5x) | 10.00 |
| Cash - JPM YE | 3,250 |
| Debt | 5,000 |
| Net Debt | 1,750 |
| Equity Value | 20,000 |
| Equity Value/Share | $ 62.75 |
| | |
| Implied FCF yield | 5.7% |
Source: Author

Combined, I see current fair value using expected 2021 numbers as equaling $82.75. This number goes higher as cash is generated, debt is repurchased and shares are repurchased, not to mention profitability improves as the business grows.
Using the company's closing price on Friday (June 12), I see 26% upside to current valuation.
Conclusion
While the death of the mall is a popular sentiment in many investment circles, LB is proving that it can thrive despite the changes in consumer behaviors. It is growing sales at its physical stores and quickly ramping its direct to consumer business.
I think the separation of the lower valued/slower growing Victoria's Secret from Bath and Body Works makes all of the sense in the world. I also think the two companies will be conservatively capitalized and generate meaningful cash flow that they will return to shareholders very steadily over time.
I see limited downside, short term upside of over 25% to the current stock price, and continued upside from there.