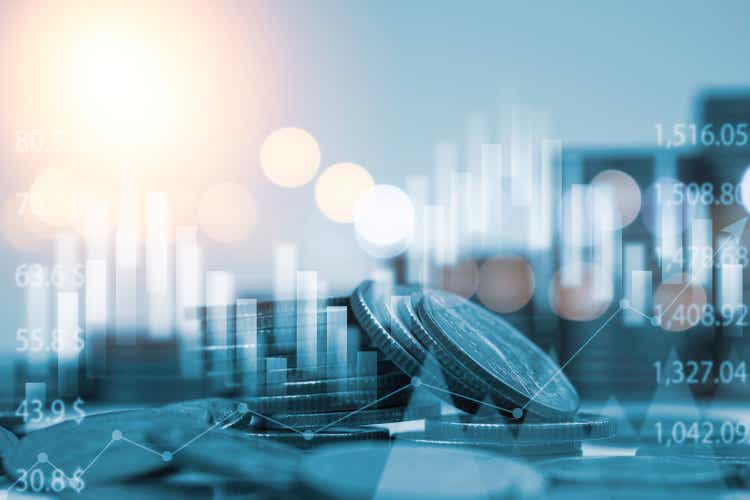 About six months ago, I recommended purchasing Enterprise Bancorp (NASDAQ:EBTC) for its cheap valuation and its promising growth prospects. Since then, the stock has rallied 26%. As a result, it has become less attractive and hence many investors may naturally think that they have missed their opportunity. However, the stock remains undervalued.
Business overview
Enterprise Bancorp is a bank with 26 full-service branches in the Greater Merrimack Valley, Nashoba Valley and North Central regions of Massachusetts and Southern New Hampshire. It has a simple business model, which is based on attracting deposits from the general public and investing the cash in commercial loans and investment securities.
Most banks operate with a significant amount of leverage while they also make some compromises in the quality of their loans in an effort to boost their performance during favorable economic times. This strategy works well most of the time but it results in a collapse of earnings during recessions. This helps explain why most banks saw their earnings collapse in the Great Recession, in 2009, and in the coronavirus crisis last year.
Enterprise Bancorp is a bright exception. It is well managed, with discipline and a long-term perspective. Thanks to its conservative business model, it has remained profitable for 126 consecutive quarters. As this period includes the Great Recession, the worst financial crisis of the past 80 years, and the coronavirus crisis, it is evident that Enterprise Bancorp is an exceptional bank, with enviable resilience to recessions. To provide a perspective, in 2020, Wells Fargo (WFC) and Bank of America (BAC) saw their earnings per share plunge 90% and 32%, respectively, whereas Enterprise Bancorp posted just a 9% decrease in its earnings per share.
Even better, thanks to the massive distribution of vaccines and the unprecedented fiscal stimulus packages offered by the government in response to the pandemic, the economy has begun to recover strongly from the crisis. Enterprise Bancorp has already returned to strong growth mode.
In the first quarter, the company grew its net interest income 16% over last year's quarter, primarily thanks to the loans from the Paycheck Protection Program. In addition, the bank reduced its provisions for loan losses by 89%, from $6.1 million to $0.7 million, thanks to the recovery of the economy from the pandemic. As a result, it more than doubled its earnings per share, from $0.34 to $0.86. It also raised its dividend 6%, thus confirming the confidence of its management in the ongoing recovery.
If Enterprise Bancorp maintains its first-quarter earnings in the remaining quarters of this year, it will post all-time high earnings per share of $3.44. Its current record is the earnings per share of $2.89 posted in 2019. On the one hand, the earnings per share in the first quarter were boosted by approximately $0.33 thanks to the sharp decrease in the provisions for loan losses. This tailwind is not recurring. On the other hand, the bank will enjoy a tailwind from the strong recovery of the economy from the pandemic. Notably the bank has posted record earnings per share of $3.16 in the last 12 months. Therefore, it is reasonable to expect Enterprise Bancorp to achieve earnings per share of $3.20-$3.40 this year.
Growth
Enterprise Bancorp has grown its earnings per share at a 9.6% average annual rate over the last decade. Even better, the bank does not show any signs of fatigue. In fact, it has accelerated its growth in the last five years, in which it has grown its earnings per share at an 11.2% average annual rate. Thanks to its consistent and reliable growth trajectory, Enterprise Bancorp can be reasonably expected to continue growing its earnings at a significant rate for the foreseeable future.
Moreover, Enterprise Bancorp has just added three new branches in its asset portfolio. It opened a new branch in Lexington in March-2020 and another branch in North Andover five months ago. The bank also expects to open a new branch in Londonderry, New Hampshire, in early 2022. While the opening of three new branches cannot boost the earnings of most banks, they will probably constitute a major growth driver for Enterprise Bancorp, as they will increase the total number of its locations by 12.5%, from 24 to 27.
Dividend
Enterprise Bancorp is currently offering a 2.2% dividend yield. This yield is much higher than the 1.3% dividend yield of the S&P 500 but it is still uninspiring for most income-oriented investors. On the other hand, Enterprise Bancorp has grown its dividend for 27 consecutive years. In addition, its payout ratio is only 19% and hence there is ample room for material dividend hikes for many more years.
The bank has grown its dividend at a 10-year average annual rate of 5.8% and at a 5-year average annual rate of 7.1%. Given the markedly low payout ratio and the consistent earnings growth of the bank, investors should rest assured that Enterprise Bancorp will continue raising its dividend at a meaningful rate for many more years.
Valuation
Enterprise Bancorp is trading at a trailing price-to-earnings ratio of 10.8. This is much lower than the 10-year average price-to-earnings ratio of 14.5 of the stock. The cheap valuation can be attributed to the effect of the pandemic on the financial sector and the resultant reduced risk appetite of investors for this sector. However, as soon as the pandemic disappears from the horizon, it is reasonable to expect Enterprise Bancorp to return towards its historical valuation level. If this proves correct, the stock will enjoy a 34% valuation tailwind. Therefore, despite its 26% rally in the last six months, Enterprise Bancorp remains cheaply valued.
Final thoughts
Due to its small market capitalization ($405 million), Enterprise Bancorp passes under the radar of most investors. However, it is an exceptionally well managed bank, with a high-quality business model in place. Given its cheap valuation, its enviable growth record and prospects as well as its resilience to recessions, investors should consider purchasing the stock.