Growth Stocks: What They Are & How To Find Them
A growth stock is a stock that's expected to grow much faster than the market's average growth rate. Find out more about what they are, how they compare to value stocks, and what their risks are.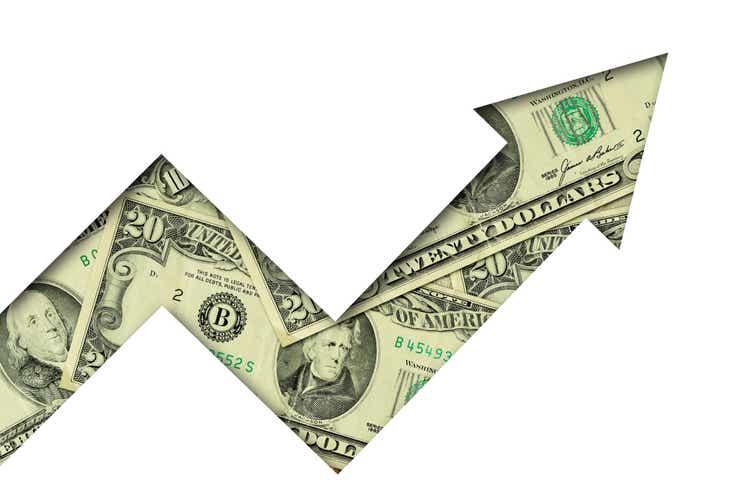 What Is a Growth Stock or Growth Company?
Growth stocks are stocks that are anticipated to grow faster than the market average. As such, companies that are considered "growth companies" are in the earlier stages of their business cycle and expected to grow their revenue faster than the market average. Investors usually buy growth stocks on the expectation of share price appreciation as the company grows.
The opposite of a growth stock is a value stock, which are generally companies at a later stage of their growth cycle whose stocks are trading for cheaper. The main difference between growth and value is the market's expectations of future growth and the price they'll pay for that growth. Growth stocks have high expectations and value stocks do not. Whether one stock will outperform the other is generally a result of whether or not the company meets or exceeds growth expectations.
How To Find Growth Stocks
Seeking Alpha is an excellent resource if you're trying to learn how to find growth stocks, which have some common characteristics. When trying to determine the valuation of any growth stock, investors analyze several numbers, including:
Sales growth: Companies in the growth category should grow their sales fast. Some entire sectors can be considered growth sectors.
Projected earnings: Seeking Alpha offers earnings projections to help you gauge whether a company is growing its earnings fast or not.
Debt levels: Companies with too much debt may face trouble in the future, so it's important to look at how much debt they carry in relation to how quickly they are growing their sales.
To find growth stocks, search for companies that are making revolutionary changes to the way people do things or live their lives. For example, stocks that's businesses focus on the Metaverse are growth stocks because the market is expecting huge profit potential from the new technology.
Other Ways to Invest in Growth Stocks
If you don't want to take the time to pick out individual growth stocks, you can choose to invest in them through an exchange-traded fund or mutual fund focused on growth. Investing in a fund will get you a selection of growth stocks, all through one investment vehicle.
Growth Stock ETFs
Examples of ETFs that invest in growth stocks are:
SPDR Portfolio S&P 500 Growth ETF (NYSEARCA:SPYG)
iShares Core S&P US Growth ETF (NASDAQ:IUSG)
Vanguard Mid-Cap Growth ETF (NYSEARCA:VOT)
Growth Stock Mutual Funds
Examples of mutual funds that invest in growth stocks are:
Vanguard Growth Index Fund (VIGRX)
T. Rowe Price Blue Chip Growth Fund (MUTF:TRBCX)
MFS Growth Fund (MUTF:MFEGX)
Growth vs. Value Stocks
Growth stocks are the opposite of value stocks.
Growth Stocks:
Have higher valuation multiples and higher growth expectations.
Value Stocks:
Trade at lower valuation multiples and have lower growth expectations.
Choosing Between Growth & Value Stocks
Choosing between growth and value stocks is a matter of your time horizon and risk tolerance. It's also a matter of personal preference, as Warren Buffett has made a name for himself as a value investor, while Thomas Rowe Price, Jr. has been called the "father of growth investing."
Are Growth Stocks Risky?
Investing in growth stocks can be risky because investors have often already bid the stocks up to high valuation multiples on the basis of strong growth. If growth ever disappoints, the stock price may decline. Most of these stocks don't pay dividends, so appreciation is the only source of capital gains available to growth investors in most growth stocks. Growth stocks are generally more volatile than value stocks but, when added as a part of a diversified portfolio, investors can diminish this risk.
Should You Invest in Growth Stocks?
When deciding whether to invest in growth stocks, there are several things to consider. The first two factors are your risk tolerance and whether you can handle volatility. Any perceived changes to a growth company's growth outlook can affect its stock price.
Some investors get stressed out when they see a stock rising and falling rapidly within a short time, so they might not want to invest in growth stocks. You should also think about whether you can handle risk and whether you have a long enough time to make up for any losses that could occur as a result of investing in growth stocks. Growth investing requires a long-term mindset. Further, most growth companies don't pay dividends, so if you don't need direct income right away, you might consider growth stocks.
Many investors tend to create portfolios mixed with both growth and value stocks. Diversifying can help achieve higher expected growth with lower volatility. As always, seek help from a financial professional if you're uncomfortable making your own investment decisions.
This article was written by
Michelle Jones is editor-in-chief for ValueWalk.com and a daily contributor for ValueWalkPremium.com and has been with the sites since 2012. Previously, she was a television news producer for eight years. She produced the morning news programs for the NBC affiliates in Evansville, Indiana and Huntsville, Alabama and spent a short time at the CBS affiliate in Huntsville. She lives in the Chicago area with her son, dog and two cats.
Analyst's Disclosure: I/we have no positions in any stocks mentioned, and no plans to initiate any positions within the next 72 hours. I wrote this article myself, and it expresses my own opinions. I am not receiving compensation for it. I have no business relationship with any company whose stock is mentioned in this article.
Seeking Alpha's Disclosure: Past performance is no guarantee of future results. No recommendation or advice is being given as to whether any investment is suitable for a particular investor. Any views or opinions expressed above may not reflect those of Seeking Alpha as a whole. Seeking Alpha is not a licensed securities dealer, broker or US investment adviser or investment bank. Our analysts are third party authors that include both professional investors and individual investors who may not be licensed or certified by any institute or regulatory body.
Comments disabled for this article