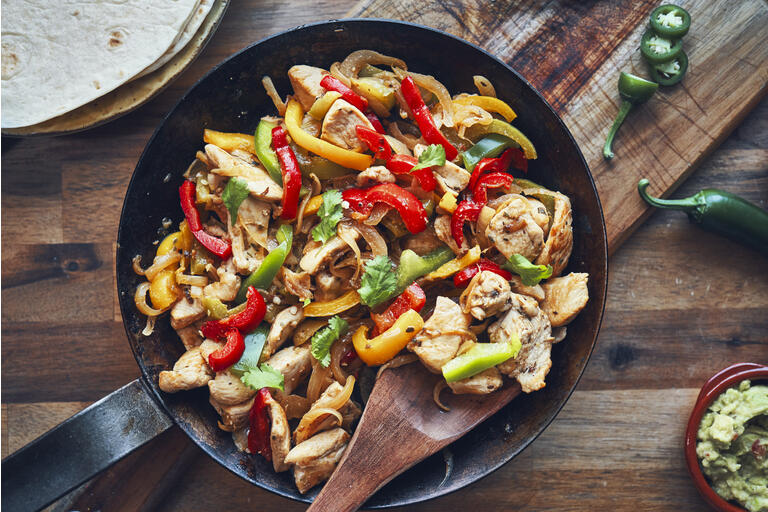 It's been a strong 6-month stretch for the restaurant stocks as the re-opening trade has come in vogue, but one name that's lagged its peers considerably is El Pollo Loco (NASDAQ:LOCO). In fact, the stock is actually down 4% since the Pfizer (PFE) vaccine approval news vs. the average restaurant stock which is up over 14%. While the company had a decent Q1 and saw improved figures in April with record weekly average unit volumes, the stock won't have an easy year ahead, with wage inflation, food inflation, and relatively low average unit growth. Given the less ebullient outlook relative to other Mexican restaurant peers and higher minimum wage impacts due to a higher proportion of stores in California, I see the stock as an Avoid at $17.10.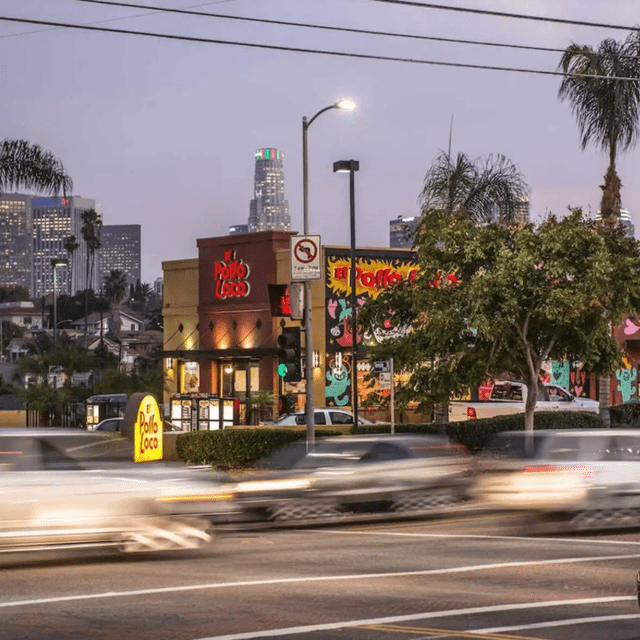 (Source: Company Website)
El Pollo Loco released its Q1 results in early May and reported same-store sales growth of 7.4% and revenue of $107.7 million. This solid performance accelerated heading into Q2 with same-store sales up 26.1% in March and over 39% in the first four weeks of April, coupled with record system-wide weekly average unit volumes for three straight weeks. Considering that El Pollo Loco is running at a 50% capacity for many of its restaurants in LA, this was a solid performance. Notably, digital came in at 11% of total sales, and the company added 200,000 loyalty members year-to-date, pushing total loyalty members above 2.5 million. Assuming this trend continues as does higher spend among loyalty customers, this should be a slight tailwind for the business going forward. Let's take a closer look at the results below: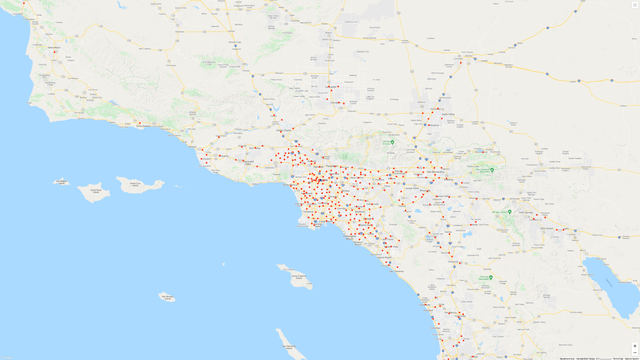 (Source: Google Maps, Company Website)
El Pollo Loco opened 2 new stores in Q1 and completed 3 remodels, as part of a plan to complete 55 remodels this year, and over 300 remodels over the next four to five years to the new LA Mex Design. The mix of corporate store redesigns vs. franchise locations was guided for 15 company-operated and 40 franchises. This is a much-needed revamp, similar to what Del Taco is doing currently, with a new outdoor seating option, double drive-thru lanes for select restaurants, pick-up cubbies, and GPS-Enabled Curbside to notify the team that they have arrived to pick up their order. The hope is that this revamp be a catalyst for returning to 5% unit annual unit growth across the US, up from low single-digit unit growth in FY2021.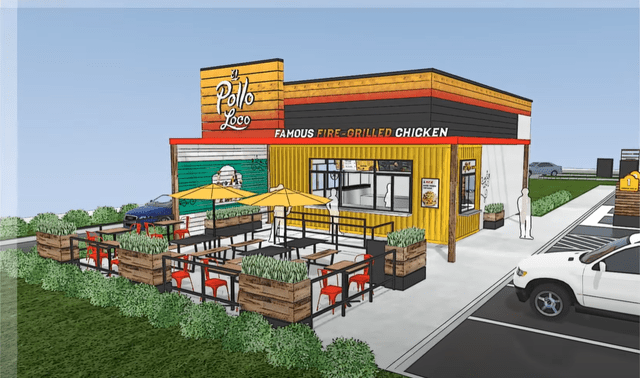 (Source: Company Video, Youtube.com)
Digging into the quarter closer, El Pollo Loco's restaurant contribution margin came in at 16.1% in Q1, down from 17.6% in Q1 2020. The company noted that its restaurant contribution margin climbed above 20.0% in March and should strengthen in Q2. However, with the minimum wage trending higher in California where El Pollo Loco has the majority of its restaurant base, wage inflation is expected to increase by 5% this year. This translated to a 160 basis point increase in labor & related expenses, with this potentially increasing as dining returns to help with higher capacity and to clean the store. This labor & related expense is up from 28.7% in Q1 2017, coming in at 32.6% in Q1.
Turning to franchise revenue, El Pollo Loco's revenue came in at $7.6 million in Q1, up from $7.1 million in Q1 2020. This was related to a 10.5% increase in same-store sales, but offset by a net decrease of 4 franchised restaurants, with seven restaurants closed, and only three new franchise restaurants opened. With a store base of ~480 restaurants, the guidance of less than 10 total restaurant openings this year is disappointing, translating to less than 2% unit growth vs. companies like Noodles & Company (NDLS) targeting 10% annual unit growth beginning next year. Obviously, this has been a difficult year with COVID-19 still presenting headwinds, but this certainly hasn't helped to drive revenue growth for the company.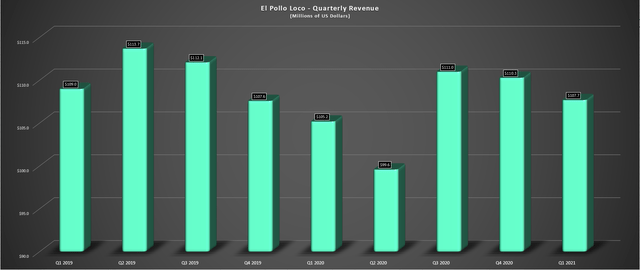 (Source: YCharts.com, Author's Chart)
As shown in the chart above, revenue has been relatively flat over the past two years and has grown at a tepid 3% compound annual growth rate since FY2016. While this trumps Del Taco's (TACO) 2% growth rate, it pales in comparison to growth stories like Chipotle (CMG) at ~13%, and Shake Shack (SHAK) at 19%, which have delivered exceptional returns for shareholders since FY2016. The fact that El Pollo Loco is confident that it can return to 5% annual unit growth is a plus that should help to grow annual earnings per share moderately going forward, but with higher capex due to re-models and continued wage pressure with minimum wage hikes in California, it's less likely we'll see margin expansion for the company.
So, is the Stock a Buy?

(Source: YCharts.com, Author's Chart)
If we look at El Pollo Loco's earnings trend, we can see that annual EPS is expected to hit a new multi-year high in FY2021 of $0.82 and climb to $0.89 in FY2022. This steady growth despite the tough operating environment and lower capacity is encouraging, especially compared to other names that will take more than two years to see a complete earnings recovery. However, at a current share price of $17.10, the stock is trading at more than 20x FY2021 earnings, which isn't cheap relative to its historical range. This is especially true when we factor that operating margins and restaurant contribution margins are flat to down over the period. So, with a valuation that doesn't bake in much margin of safety, I don't see any reason to pay up for the stock here.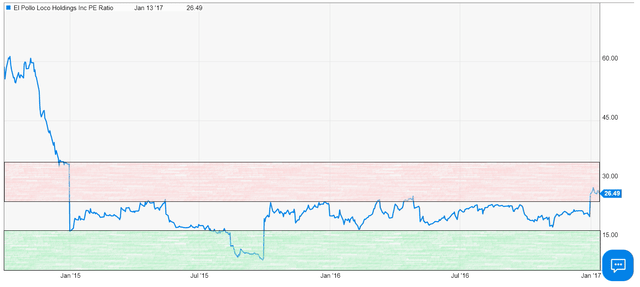 (Source: YCharts.com, Author's Chart)
If we were to see El Pollo Loco fall below $14.50 per share where it would trade at closer to 16x earnings, this would translate to a much better valuation, as shown by the low-risk buy zone above. Typically, the stock has made for a decent medium-term investment when bought below 16x earnings, with the stock being a Sell or Hold when above 25x earnings. Given that we're in the middle of this range currently and this is nowhere near an exciting growth story where it would make sense to pay up for the stock, I believe it's best to wait for lower prices before starting a position. This is corroborated by the Quant ratings shown below, which rank El Pollo Loco as one of the worst names in the sector from a growth, profitability, and earnings revision standpoint.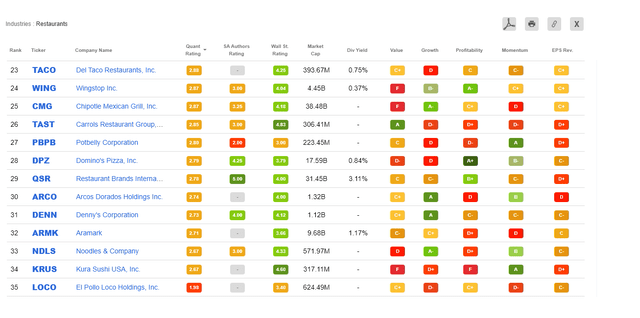 (Source: Seeking Alpha Premium Quant Ratings)
El Pollo Loco has finally turned the corner with positive same-store sales growth, and we should see a decent year ahead as dining rooms reopen and we see an accelerated pace of remodels. However, with margin pressure set to continue with high inflation figures and continued wage increases in California, I struggle to see the stock as a name worth owning in the sector, especially after a 180% rally off its March lows. In summary, I see the stock as an Avoid here at $17.10, and I wouldn't get interested in the stock unless it dipped below $14.50 where it would trade at closer to 16x earnings.