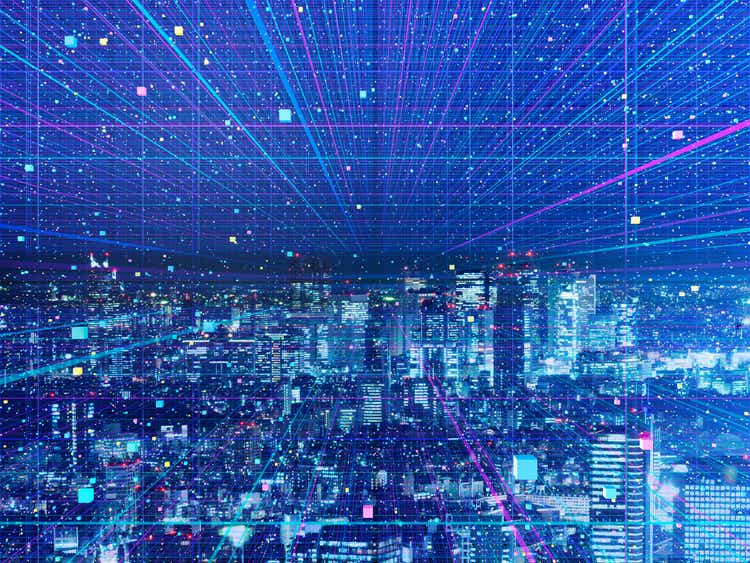 Main Thesis / Background
The purpose of this article is to evaluate the First Trust NASDAQ Technology Dividend Index ETF (NASDAQ:TDIV) as an investment option at its current market price. The fund "seeks investment results that correspond generally to the price and yield of an equity index called the NASDAQ Technology Dividend Index". To be included, the security must have a minimum market capitalization of $500 million, have a minimum three-month average daily dollar trading volume of $1 million, have paid a regular or common dividend within the past 12 months, and not decreased its dividend within the past 12 months. Currently, TDIV trades at $57.57/share and yields 1.70% annually. I have been bullish on TDIV for a while, and this is often the right move. For example, since my last bullish review in December, TDIV has performed very well, beating out the S&P 500 by a few percentage points: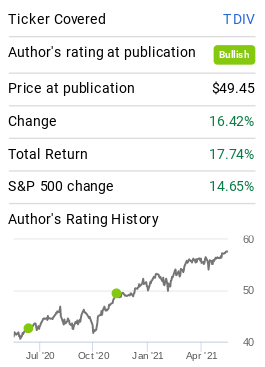 Source: Seeking Alpha
Looking ahead, I still generally like this fund for Tech exposure, but I have to downgrade my outlook to a more neutral stance for a few reasons.
One, and perhaps most importantly, Tech has seen a short-term boost as yields have declined. This is not a trend I expect to continue later in the year, so I would see merit to booking some profits now. Two, the broader Tech sector is starting to see an aggressive negative correlation with the 10-year yield, so there may be more downside potential than investors anticipate. Three, companies in the Tech sector are going to be especially impacted by tax changes (assuming higher rates). With the G-7 summit producing a pledge by major developed countries to have a "minimum" 15 rate, investors should recognize that is a higher tax rate than the median for the sector - meaning half the companies pay a lower effective rate than 15%.
Primary Concern: Relationship With Yields
To begin, I want to take a look at the broader market right now. Simply, the story of the past month has been, in my view, an easing of yields. While economic recoveries and inflation metrics had some investors anticipating a more hawkish Fed, board members of the central bank have repeatedly downplayed their inflation outlooks. As a result, despite an improving macro-story, the 10-year yield has fallen well off its highs. This has renewed a surge in risk-on momentum, with global stocks climbing on this development: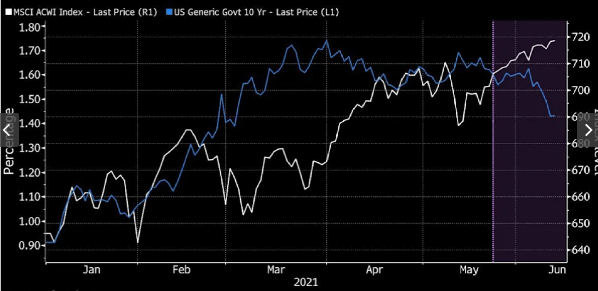 Source: Yahoo Finance
While the global equity benchmark appears to be moving opposite yields, this story is especially relevant to TDIV and Tech stocks generally. This is because Tech has been helping to lead the charge on this backdrop. In fact, if we look at the 1-month returns of TDIV, as well as the Invesco QQQ ETF (QQQ) and the SPDR S&P 500 Trust ETF (SPY), we see Tech has been leading the broader market, as shown in the graph below:

Source: Google Finance
My point here is to emphasize that while equities as a whole are benefiting from lower yields, Tech is disproportionately benefiting. In fact, Tech has started to see a very significant inverse relationship with yields, in a way that touches on extremes not seen for decades. To illustrate, consider that the correlation between Tech's performance and the 10-year yield has moved into negative territory, to the point where we have to go back to the late 1980s and late 1990s to see a similar relationship:

Source: Charles Schwab
I bring this up because it took me a bit by surprise how the correlation has moved, and many readers may find this enlightening as well. So, while rising yields may pressure global equities, Tech seems to be set up for a fair amount of pain if yields move higher.
Of course, this is not an issue if yields flat-line, or continue to move down. If that is the case, then Tech, and TDIV, are likely to perform just fine. However, higher inflation seems like a very real risk to me, and that will inevitably push yields up, even if the Fed does not act in the short term. While the Fed has declared inflation "transitory" for me, that is a subjective determination, and one I do not think is accurate. For support, consider that inflation metrics have been accelerating over the past few months. This supports my view, that higher prices are not only here to stay, but will keep going up: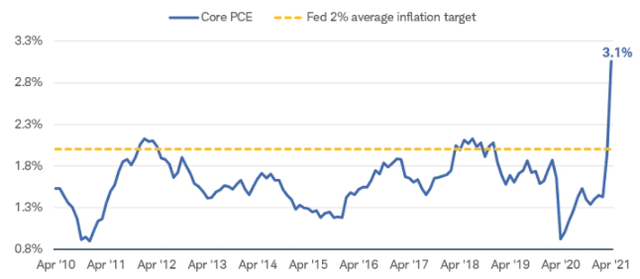 Source: Charles Schwab
The takeaway here is that investors anticipate more inflation, as I do, then it stands to reason that yields will head higher as well. Under this scenario, I would expect Tech to experience a little bit of pressure, which supports my downgrading of tech-focused TDIV.
Taxes Are A Headwind
A second reason I am less bullish on TDIV has to do with my broader outlook on taxes. Specifically, the outlook that they are going up. As my readers know, I have been discussing the impact of higher corporate tax rates (as well as higher individual rates), since the presidential election. While this is nothing "new" today, there has been a recent development over the past few weeks that provides further evidence higher corporate taxes are coming.
What I am referring to is the G-7 summit, where leaders of major developed countries announced an agreement to look into a 15% "minimum" tax on major global corporations. Aside from that base-line tax rate, another key takeaway was as follows:
Endorsed proposals to make the world's biggest companies - including U.S.-based tech giants - pay taxes in countries where they have lots of sales but no physical headquarters"
Source: USA Today
While these tax proposals will likely impact a plethora of corporations across many industries, Tech firms are becoming prime targets. Many firms, like Facebook (FB) and Amazon (AMZN), are notorious for their low tax bills. But, beyond those extreme examples, the broader Tech sector has a history of paying well below the statutory rate. In fact, over the past three years, the Tech sector has paid a tax rate well below the legislated rate of 21%: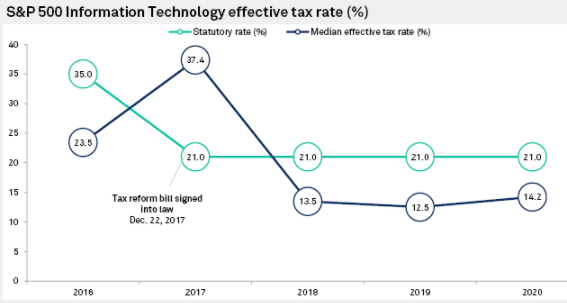 Source: S&P Global
I see this as a big signal to be prepared for higher taxes. Of course, this is only bad in isolation, and there are many other variables, such as rising demand and cost cutting, that could send Tech shares higher in the months and years ahead. So, taxes are only one part of many in the equation. Yet, even with that said, a higher corporate tax bill is not a positive for shareholders, and it seems likely that taxes will be rising in the U.S. and abroad. With the Tech sector seeing a pretty low tax bill in the U.S. and Europe currently, this represents a serious headwind that investors need to consider.
TDIV Is Still A Solid Long-Term Hold
To wrap up the discussion, I do want to emphasize I am not "bearish" on this fund. True, I see some headwinds for the Tech sector, and this extends to TDIV. However, longer term I believe in the story behind Tech, and I think TDIV is a conservative, rational way to play the sector. For those who don't want the volatility of some of the high growth, no dividend names, they may find comfort in TDIV. This is a fund that holds the more established Tech players, since dividend payouts are mandatory for inclusion in the fund. Further, in terms of the tax concerns, TDIV avoids some of the most egregious examples, such as FB and AMZN that I mentioned. While TDIV's top holdings are certainly not generous tax-payers, readers can see from the top holdings list that the fund avoids some of the more controversial Tech names: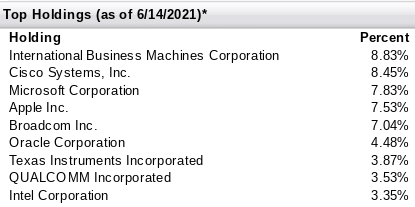 Source: First Trust
Further, investors seem to be placing an emphasis on value right now, and that also helps support a fund like TDIV. Of course, "value" is subjective, and the name of the game right now is relative value, since you cannot find many cheap stocks or sectors. That being said, investors are loading up on value-oriented areas. In fact, value allocation is near the top end, in terms of investor allocations, as shown below: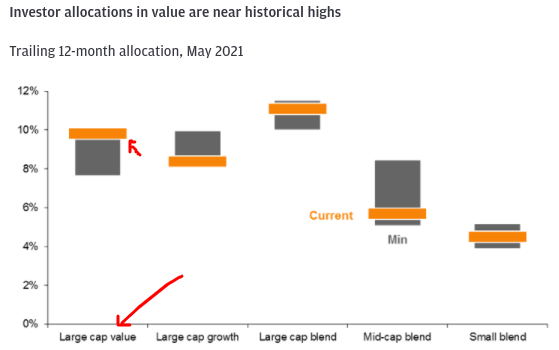 Source: JPMorgan Asset Management
The reality is investors are looking for value, and are unlikely to find it in the Tech sector. However, TDIV, by comparison, is noticeably cheaper than a broader Tech fund like QQQ. In fact, TDIV's P/E is much closer to the S&P 500, and is about 25% less QQQ, as shown below:
| | |
| --- | --- |
| P/E Ratio | Fund |
| TDIV | 24.7 |
| QQQ | 32.7 |
| SPY | 22.2 |
Source: First Trust
Given TDIV's objective, this will almost certainly remain the case going forward, as it has in the years I have been following and covering it. So, in sum, I am not knocking TDIV as a long-term holding, but rather to suggest investors be careful on new positions in the short term.
Bottom line
TDIV has been a good recommendation over time, but I am less bullish for the remainder of 2021. I see rising yields as an almost certainty, and that will disproportionately impact Tech. Further, rising taxes are a major headwind the market is discounting and, again, Tech firms will be in the cross-hairs more than other sectors. Ultimately, TDIV holds established, dividend-paying firms that are time and battle tested, so investors can find long-term value here. However, I see a rocky few months ahead for the stock market, and Tech as a whole, so I would advocate being very selective on new positions at this time.