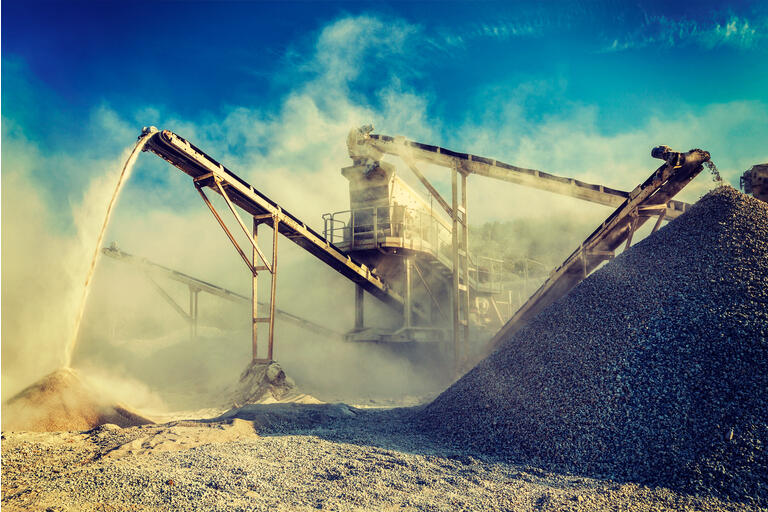 Playing a key role in building and maintenance of public infrastructure, along with construction of buildings, Vulcan Materials Company (NYSE:VMC) produces construction aggregates like crushed stone, sand, and gravel. Except for one quarry and marine terminal in Mexico's Yucatán Peninsula, all of its assets are located in the US. The company has 380 active aggregates facilities and boasts of being the largest producer of these aggregates in the US with 80 years of aggregate reserves on hand.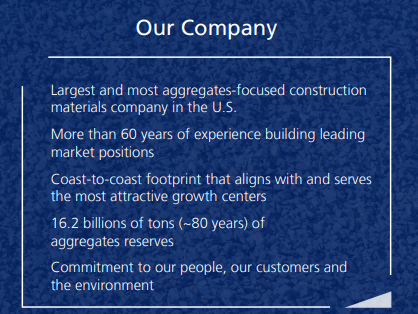 Source: Vulcan Factsheet
While not the largest, it is also a major player in transforming these aggregates into construction materials like asphalt and ready-mixed concrete. At last count, Vulcan has 70 asphalt facilities and 46 concrete facilities.
The company maintains good diversification for its revenue base, with their five largest customers accounting for 7.5% of their total revenues in 2020, and no single customer exceeding 1.8% of the same metric. As a very small portion of their sales is to government entities, and those too spread across hundreds of entities coast to coast, changes in government budgets have a very little direct impact on its bottom line.
Construction aggregates are high in weight and typically are produced close to where the usage is. Transporting them over long distances can render them uncompetitive as the travel tends to cost more than the materials. Unsurprisingly, Vulcan considers the location of its reserves critical to its long-term success and currently has a presence in 20 states.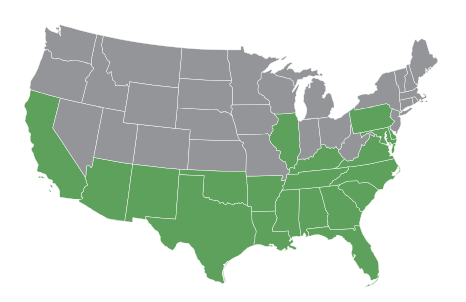 Source: Vulcan Factsheet
Its footprint both in terms of assets and customers is all set to expand once the acquisition of U.S. Concrete, Inc. (USCR) is completed. The deal has unanimous approval from both the companies' boards, and is currently waiting on the U.S. Concrete shareholder approval and regulatory clearance.
Vulcan has done well for itself over the years, reaching an all-time high during the pandemic. However, let's face it, that is hardly uncommon these days.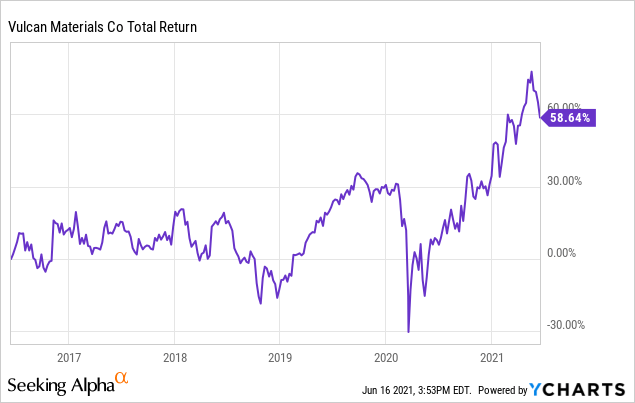 Let's explore this company's recent results more in depth and talk about our feelings about making an investment in it.
Q1-2021
Vulcan showed a very modest revenue growth in Q1-2021 with aggregate numbers coming just around 2% year over year.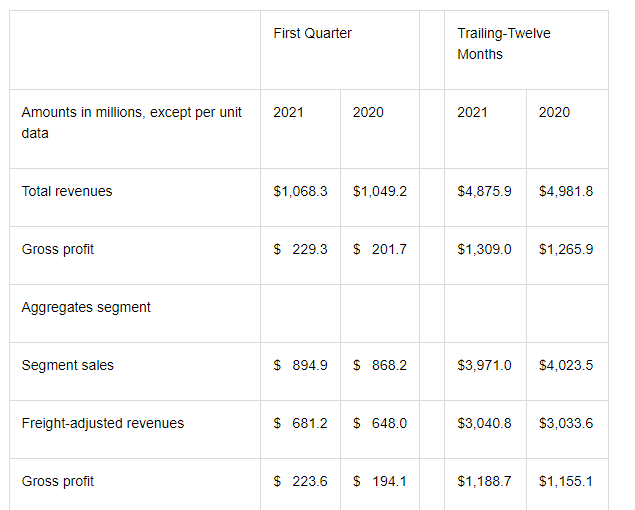 Source: Q1-2021 results
Stringent cost control did however improve gross profits markedly to $223.6 million from $194.1 million. Adjusted EBITDA followed alongside and was up almost 22%. For the full-year 2021, Vulcan provided the following guidance.
Management expectations for 2021 include the following updates:

Aggregates shipments to increase between 1 percent and 4 percent compared to 2020

An effective tax rate of approximately 23 to 24 percent

Earnings from continuing operations of between $4.85 and $5.30 per diluted share, excluding land sale gain

Adjusted EBITDA of between $1.380 and $1.460 billion, excluding land sale gain.
Source: Q1-2021 results
Outlook & Valuation
Several areas of the recovering economy are likely to benefit Vulcan. Residential housing remains a big growth area and housing inventories currently remain exceptionally low. A demographic powered boom might help total construction even more in the next few years. Commercial capex is also likely to move up after years of underspending.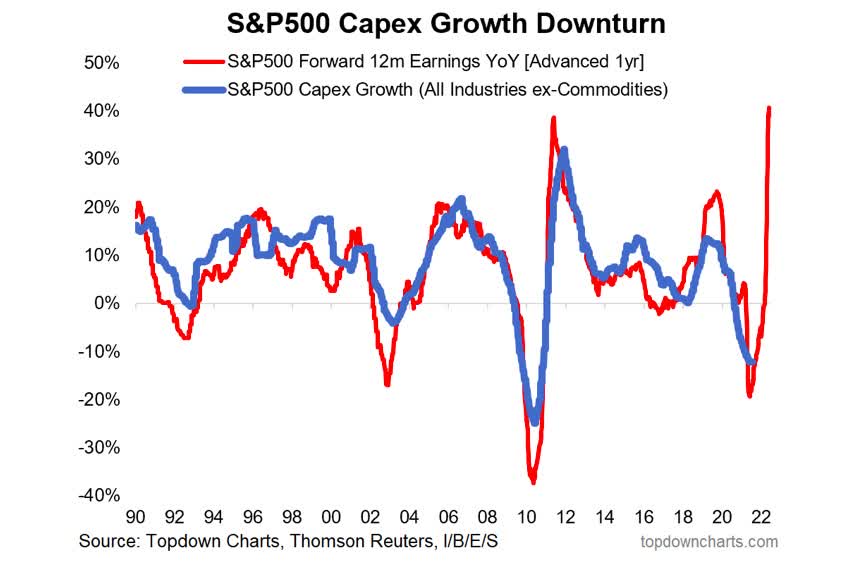 Finally, the much discussed infrastructure deal will help demand outlook over the next 5-8 years.
While growth does not appear to be a big issue for the company over the longer cycle, there are some problems with closing your eyes and just buying it. For starters, the EV to EBITDA multiple does not look very appealing at over 17.0X.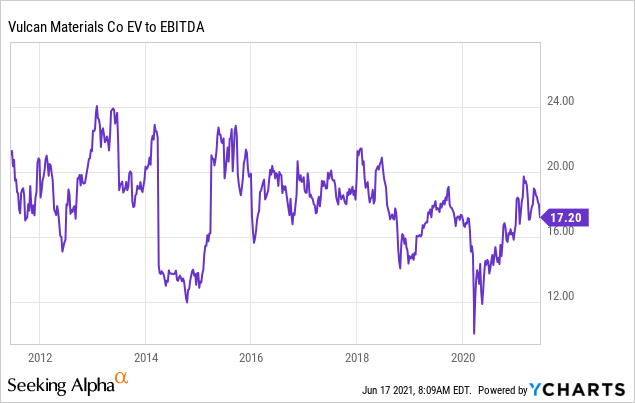 Now Vulcan has traded at an expensive multiple over the last decade, but at 17.0X you are discounting some good growth ahead. On a traditional P/E basis as well, the company is trading at close to a 34X multiple. Again there, the company has always traded expensive. We would rate both those valuation metrics in the neutral to bearish category.
The one worrying aspect though is how expensive the company appears on a price to sales basis. At 4.65X sales, the stock is now in the top 5 percentile of its valuation range over the last decade.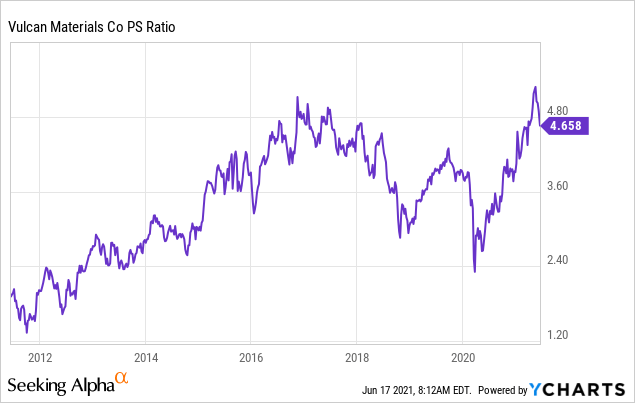 Growth does improve the 2021 numbers but it is extremely hard to argue that 4.38X sales is remotely cheap.

Source: Seeking Alpha
Price to sales is a good metric to look at to make sure you are not overpaying for a company when profit margins might be elevated. Here, the high multiple alongside the other metrics makes it difficult to pony up so much. Seeking Alpha's factor grades also agree with us here and Vulcan gets a D- for value.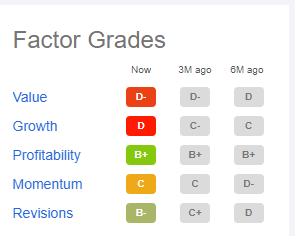 Source: Seeking Alpha
Conclusion
Vulcan is an easy name to like as it is tied to an ongoing boom. With repairs required for the aging infrastructure and upcoming boom in capex, investors have taken the story to heart. But at these valuations alongside the actual growth numbers expected, one will be very hard pressed to make money on this over longer time frames. A long time back, enthusiastic investors paid 3.6X sales for this company in 2007.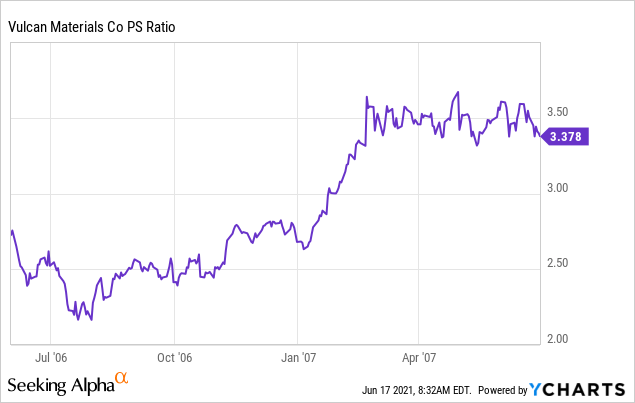 Investors who bought then had a very difficult journey back to breakeven.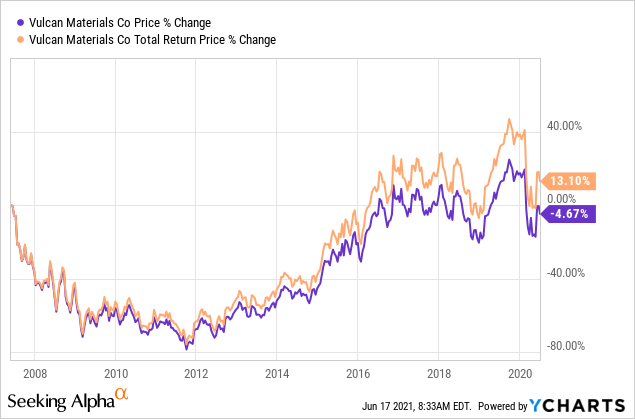 Those getting enamored on the dividends, do note that even the total return from the June 2007 timeframe has been abysmal. The dividend was cut to $0.04 a year in 2012 and Vulcan investors certainly felt as if the Mayan prophecy was accurate.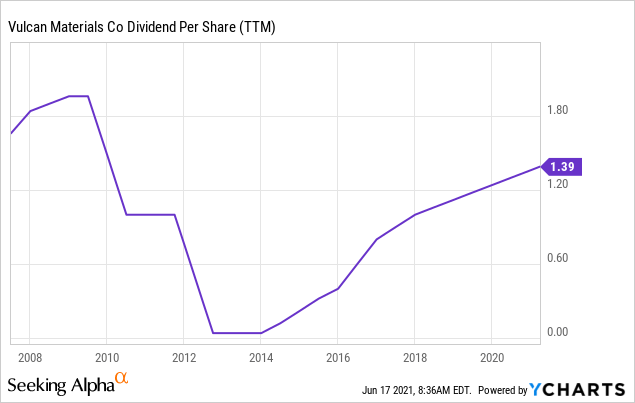 The stock has traded at a rich multiple in the recent past and that may continue for some time, it would be illogical to "buy" this story.
Please note that this is not financial advice. It may seem like it, sound like it, but surprisingly, it is not. Investors are expected to do their own due diligence and consult with a professional who knows their objectives and constraints.