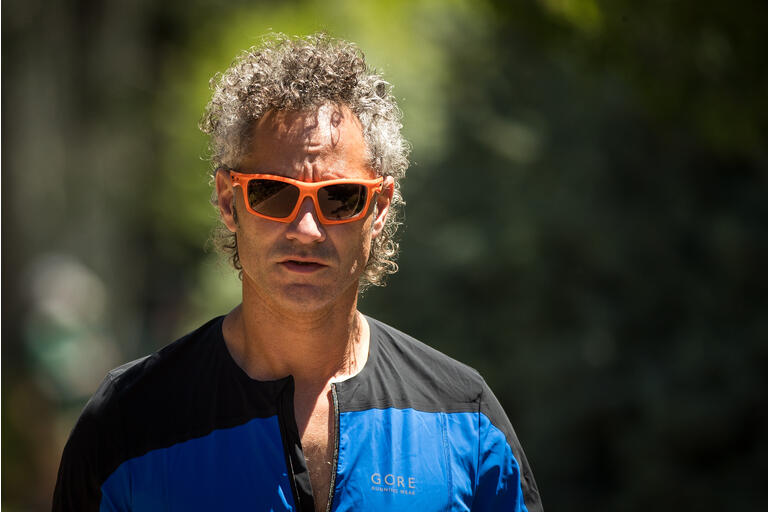 Palantir Investment Thesis
Beneath all the headlines and head-scratchers, Palantir (NYSE:PLTR) is a well-run, high-growth, bespoke enterprise software company that offers unique opportunities for businesses to turn "rats nests" of information into actionable data. Palantir's investment in SPACs over the past year has turned a few heads, but I believe will add tremendous value to Palantir's flywheel over the next decade.
Palantir And Controversy
To say Palantir is a "battleground stock" is to entirely miss the flavor of this high-touch enterprise software company. Palantir's ignominious history, dragnet practices, pop-culture references and wacky rumors have created a dense wickerwork of mystery and intrigue for investors. Captained by Kramer-curled CEO Alex Karp, the eccentricity of the company is, in many ways, a cultural and intentional trickle-down effect.
Karp has proved to be as iconoclastic as the company he leads. Former Stanford Law graduate turned neo-classical social theory doctorate, Karp's actions and quotes are often gasoline on the tinderbox that is the Palantir narrative. Perhaps most interestingly, Karp was hired to the founding team at Palantir as CEO despite no business or technical background.
In the present article I outline the story of Palantir's founding, as well as Palantir's recent foray into SPAC investing.
The Story of Palantir's Founding
Let's wind back the clocks to 1992, at which point a young Alex Karp and Peter Thiel were roommates at Stanford Law. The two were close friends, but rowed constantly over opposing political views. Following graduation, Karp went on to study philosophy with Jürgen Habermas in Germany, while Thiel founded PayPal (PYPL). Karp eventually earned his doctorate, and formed the London-based investment firm Caedmon Group from a family inheritance.
Over this period of time, two events occurred that catalyzed the founding of Palantir.
On September 11, 2001, two passenger aircrafts hijacked by the Islamist terrorist group known as Al-Qaeda crashed into the World Trade Center, resulting in the death of 2,996 individuals. It remains the most lethal terrorist attack on U.S. soil, and was a harbinger of the country's coming war on terrorism. This new type of terrorism was challenging to track, surveil, or prevent.
A case can be made that Russian mobsters also sowed the seeds for Palantir's founding.
In early 2000, PayPal was growing rapidly, but their platform's success had drawn the attention of international crime syndicates, resulting in a cash bleed of $12 million monthly. PayPal was at an inflection point: according to Max Levchin, who worked at PayPal at the time, "It was clear that we either figure out how to beat the fraudsters or the fraudsters will take us under."
Over the next year PayPal became singularly focused on developing technology responsible for tracking fraudulent payments and risk management. While PayPal developed new technologies, digital criminals raced to develop ways to skirt around them. Other competitors in the space underinvested in risk management and surveillance, and were quickly overtaken by fraudulent activity. Meanwhile PayPal reduced volume of fraudulent business from an estimated 1+% to 0.37% by the end of 2001, which was industry-leading. As a result of this early security focus, PayPal was the only surviving player in digital transactions, and in 2002 eBay (EBAY) acquired PayPal for $1.5 Billion.
This very same programming that influenced a risk management renaissance would form the basis for Palantir's business model. Flush with a billion dollar exit, Thiel began contemplating his next play. He defined the problem he wanted to solve as "needing to reduce terrorism while preserving civil liberties." He named his fledgling company after a magical seeing stone in Tolkien's Lord of the Rings (as you do), and began recruiting founders.
Thiel teamed up with Stanford CS grads Joe Lonsdale and Stephen Cohen, as well as PayPal engineer Nathan Gettings. Together, they hacked together a rough prototype of Palantir's product. While the technology was promising, investors and customers alike were few and far between. The founding team was young, early-20's, and the company elevator pitch was both complex and controversial. That's when Thiel made a call to his former law school roommate.
Hey, Alex, there's this methodology we had at PayPal. Think it would make a great company for stopping terrorism.
-Peter Thiel
Despite a notable absence of business or technology background Karp was hired by the team. Lonsdale described Karp as having a unique ability to "interact with the rest of the world," and that Karp had an uncanny capacity to communicate the importance of Palantir's role in the global technology community.
And the rest is history. Karp has spent the interval 17 years at the helm as CEO, building what he believes to be the most important company in the world.
Palantir's Big Bets
I loved researching Palantir for this article. I could take that opening story much further and chronicle the secrets and headlines alike that make this company so interesting. It is by far the most complex business I have written about, in regard to history and operations. While Palantir's business activities have been well-published since IPO, I identified a particularly interesting and under-analyzed aspect of Palantir's business that I felt would benefit from deeper research.
I'm talking about Palantir's SPACs.
Over the past year, Palantir has contributed to PIPE investments in six SPACs set to go public. I found it unusual that an unprofitable, cash-burning technology company would make meaningful investments in other, unprofitable businesses at terminal investment rounds, which is why I decided to do some digging.
And what I found was fascinating.
In my opinion, there is a method to the madness, and I'm going to demonstrate how Palantir is playing chess when everyone else is playing checkers. Each of these companies is absolutely beguiling, and I went deep down the rabbit hole for this research note.
There are common denominators in these investment companies. The table stakes appear to be science fiction products like robotic exoskeletons and flying jets, with obscene total addressable markets led by visionary, founder-CEO's. That's just a headline. Below I outline the investment thesis for each of these companies, as well as why Karp and co invested in them. Onwards and upwards.
| | | | | |
| --- | --- | --- | --- | --- |
| | Industry | TAM* | PIPE** | Pro-forma Enterprise Value |
| Sarcos | Robotics | $165B | $220 million | $1.3 Billion |
| Lilium | eVTOL | $1.5-3T | $450 million | $2.4 Billion |
| WeJo | Connected Vehicles | $61B | $100 million | $0.8B |
| Celularity | Stem Cell Therapy | Unknown | $80 million | $1.3 Billion |
| Babylon | Telemedicine/Digital Health | $50B | $230 | $3.6 Billion |
| Roivant | Pharma | Unknown | $200 million | $5.0 Billion |
*TAM: total addressable market
**PIPE: Private Investment in Public Equity.
Note: the PIPE value includes all involved investors
Palantir's Investment In Sarcos: The Iron Legion
Sarcos is a robotics company with a goal to "multiply worker productivity while reducing injury." Founder and CEO Ben Wolff is in the homerun business, founding and selling Clearwire to Sprint for $14B, and has built an impressive IP portfolio of 140 US patents within Sarcos. Wolff describes their business model as "Robotics as a Service" (RaaS), and will offer two products, the Guardian XO and Guardian XT, representing a human exoskeleton and teleoperated robotics, respectively. Sarcos expects to merge with Rotor Acquisition Corp (ROT) in Q3 2021 under the symbol STRC.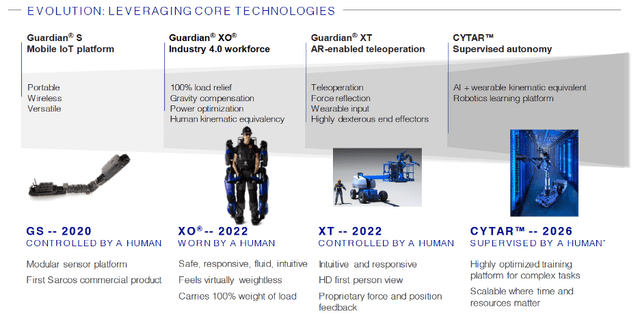 Source: Sarcos Investor Presentation
Sarcos plans to offer companies intuitive robotic exoskeletons for employees to wear during manual labor. These exoskeletons augment employees with strength, durability and endurance, and the target market is jobs that cannot be automated. Sarcos estimates their robotics will improve employee productivity by 3-5X, at the cost of one $25/hour employee.
This company is at the convergence of two powerful tailwinds that will only gust more briskly over the coming decade: robotics and labor shortages. According to Wolff, employees will only require one day of training to operate the Sarcos exoskeleton, less than is required for forklift operation, for example. Building an instinctive piece of robotics eliminates inertia in the sale process. Furthermore, from 2018-2028 in the U.S. manufacturing industry alone there will be a projected 2.4 million worker shortage. This means companies will be forced to do more with fewer employees, to optimize and augment.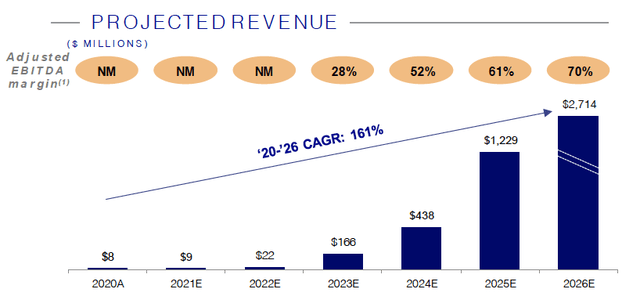 Source: Sarcos Investor Presentation
While revenues are still several years away, by 2026 Sarcos expects to be quite a large business, with $2.7B in revenues and margins of 71-75%.
Sarcos delivers the robot for an upfront fee, and then charges sticky, recurring revenue each month. The client benefits from fewer employee injuries, multiples of productivity, and Sarcos handles all maintenance and software updates. Consequently, Sarcos' business model is scalable, targeting contract durations of 3 years, which provides excellent financial visibility and opportunity for new product cycles and upselling.
Interestingly, there are numerous governmental implications for this business. Indeed, cybernetic training for autonomous robots (CYTAR) is a form of robotics whose neural network is informed by the human exoskeleton. This is a project currently funded by the Department of Defense, a prolific client of Palantir. Palantir's well-established and hard fought relationships with the DoD and federal government will likely open many opportunities to Sarcos.
One concern I have is that Sarcos is planning to outsource manufacturing at scale. I would have loved to see that they had built an in house manufacturing facility with supply chain inefficiencies Palantir's solutions could optimize and spin up. That said, with high cash flows coming within the decade, Sarcos will likely be able to take manufacturing in-house at some point, which represents upside for Palantir.
Palantir's Investment In Lilium: Flying Tesla
Lilium is a leading player and one of the first in the eVTOL, or electric vertical take-off and landing jet, space. Founder and CEO Daniel Wiegand began developing the concept for Lilium's technology for a school project at the Technical University of Munich. Fast forward a few years, Wiegand has raised over $1 Billion and built an impressive prototype. Lilium has put together the minds behind some of the most advanced and innovative aerial vehicles ever. Here's the resume of the engineering team.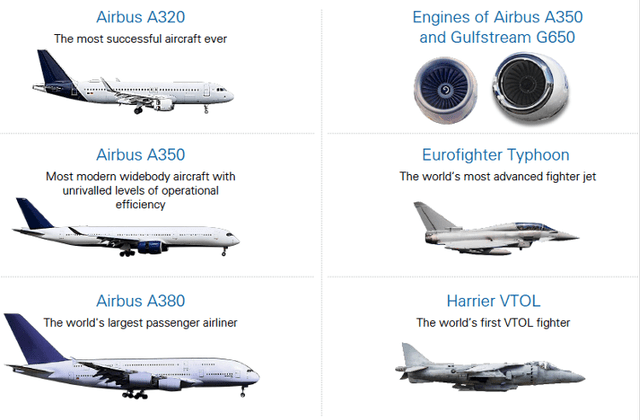 Source: Lilium Investor Presentation
In Q2 of this year Lilium is set to combine with Qell Acquisition Corp (QELL) under the ticker LILM for a pro-forma enterprise value of $2.4 Billion. Wiegand forecasts the flying taxi business will be a $1.5 - 3 Trillion addressable market by 2040. While that sounds great, I would love to 2030 projections - a lot can happen in two decades. Lilium expects roughly one third of that market to be represented by logistics, or freight, but the primary business is inter- or intra-city taxi, via their piloted, 7-passenger jets.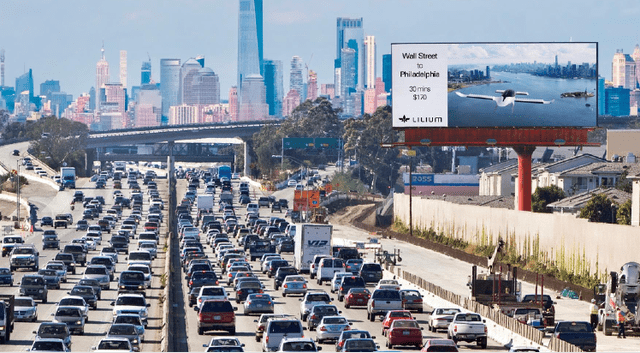 Source: Lilium Investor Presentation
Using the same technology that powers my fiancé's hairdryer, Lilium intends to revolutionize urban and suburban transportation, at the cost per mile of an Uber. According to Wiegand, Lilium has focused on two core competencies that have resulted in a technical advantage over competitors: power density and noise reduction. While the former will benefit from the electrification of vehicles in general (TSLA), the latter deserves a special note.
As Lilium begins transporting passengers, noise pollution concerns could be a public factor that draws regulation and hamstrings growth. However, due to Lilium's focus on noise, they have 5X lower noise footprint than open rotor competitors, which means Lilium jets 100 meters away will make as much noise as a helicopter 1 kilometer away. Furthermore, the noise is most intense during takeoff and landing, which is a 15-30 second process. Once in the air, the jet flies quiet.
Lilium's first product will be a 7-seater jet with the goal of having the longest distance capacity and least noise pollution in the industry, with a cruise speed of 175 mph. They intend to launch a 16 seater in 2028.
During my Lilium research what I got really excited about was the manufacturing process. Lilium has built out its own state-of-the-art manufacturing process. This is similar to Tesla, in that the company has a ruthless incentive to drive manufacturing cost efficiencies. Consequently, the design of Lilium's jets has been radically simplified, with 30X fewer parts than a commercial airliner.
Lilium will be building 28 vertiports between Florida and Germany with 315 jets into service in 2025. By 2027, Lilium forecasts just under $6B in revenues.

Source: Lilium Investor Presentation
There is massive opportunity for Palantir to optimize logistics and manufacturing for Lilium. By serving as the central operating system for Lilium, Palantir will be able to simplify the supply chain process, Most importantly, as more and more vehicles are flying over populated areas, a massive, low latency, real-time data system will be required to ensure flight-path safety and security of all operators. Thanks Palantir!
As a final note, a careful read of Lilium's investor history demonstrates Tencent (OTCPK:TCEHY) was an early backer. While this is great news for Lilium and aligns them with the massive Chinese market, I wonder how or if this will conflict with Palantir, who will not be doing business with the PRC.

Source: Lilium Investor Presentation
Palantir's Investment In Wejo: Connecting Your Cars
The company that was named the 'Fastest Growing Company of the Year,' at GP Bullhound's Northern Tech Awards in 2019 aims to position itself at the center of the growing connected vehicle market.
But what does 'connected vehicle' mean?
This term represents the data provided by modern vehicles in the form of speed, location, traffic, accidents, etc, as well as crowdsharing of this type of information, similar to Waze (GOOG). Wejo intends to merge with Virtuoso Acquisition Corp (VOSO) in H2 2021 under the ticker WEJO.
Wejo, which derives from "we journey," onboards and standardizes over 14 billion unique datapoints daily through its proprietary cloud platform, Wejo ADEPT (Automotive Data Exchange Platform & Technology) directly from live connected vehicles. The connected vehicle market is expected to grow from 11% of the market today to 44% of the global market by 2030. Wejo will drive revenues through its marketplace and SaaS business models, with each vertical representing roughly half of its serviceable market.
Founder and CEO Richard Barlow projects an incredible 265% CAGR from 2021 to 2025, with 2025 estimated revenues of $764 million and gross margins of 69%. Furthermore, Wejo anticipates breakeven in mid 2024. The merger deal will allow Wejo to accelerate OEM onboarding, invest in product pipeline, transition from 3rd party cloud to direct hosting via Wejo Cloud, and fund international expansion.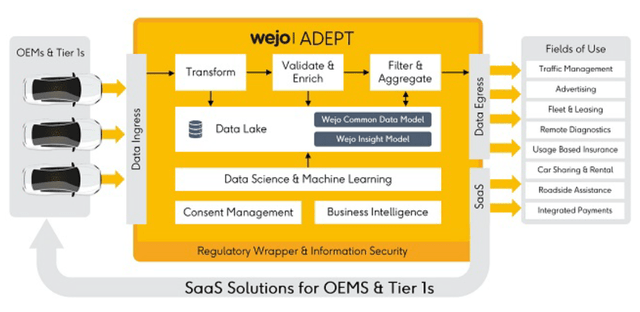 Source: Wejo Investor Presentation
When I listened to Barlow discuss his vision for the company, the word that I heard on repeat was "data." By partnering with automotive manufacturers (OEMs), Wejo will be able to harvest automobile data from the source, for all vehicles manufactured from a partner brand. These data are then collated in the Wejo data lake, refined, and used to inform traffic management, advertising, remote diagnostics, roadside assistance and even payments. This information is valuable from a B2C perspective, as well as a sticky B2B SaaS model, as outlined above.
Below is an example of just how much more powerful Wejo's data is than competitors.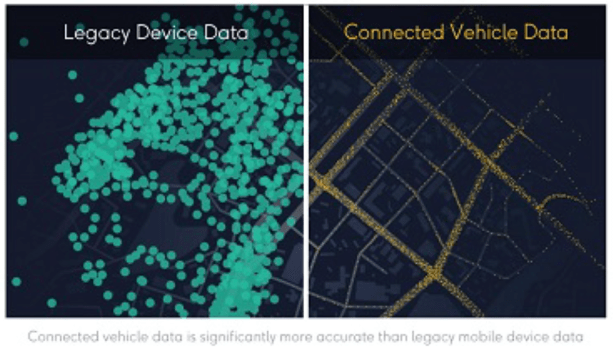 Source: Wejo Investor Presentation
This is just one element of Wejo's secret sauce: hyper-localizing in-journey vehicular accuracy (6 decimal point latitude and longitude) collected every 1-3 seconds, which results in real-time data for drivers and businesses.
The company's focus on data ingestion and interpretation makes a partnership with Palantir logical. Wejo is a data glutton, and will be further burdened as more connected vehicles hit the road. Palantir has the opportunity to turn the petabytes of data Wejo collects into readable representations of the entire organization.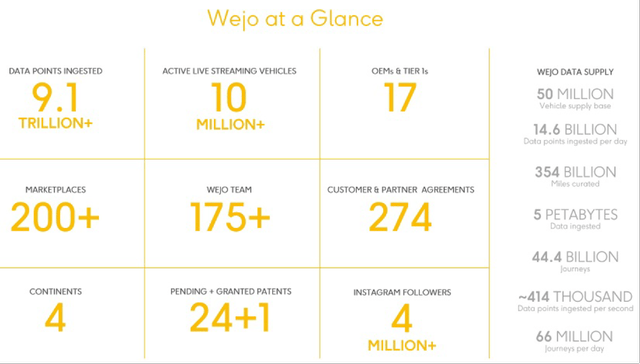 Source: Wejo Investor Presentation
Palantir's Investment In Celularity: The Literal Bleeding Edge of Biotech
Founder, CEO, and former Neurosurgeon, Robert J Hariri, MD, PhD, leads this Celgene spinoff and represents perhaps the most intriguing of Palantir's SPACs. Celularity aims to offer off-the-shelf allogeneic cellular therapies based on a proprietary placenta-based platform.
I am sure many of you have heard of CAR-T, or chimeric antigen receptor T-cell therapy. This is a type of novel therapy in which T cells, (which normally fight cancer or viruses) are harvested from an afflicted individual, given superpowers in the lab, allowing them to more reliably identify tumor cells, and then these nano-super soldiers are re-implanted in the individual to fight the tumor.
Currently, all CAR-T therapies on the market and the vast majority of clinical assets are autologous, which means the therapy must be harvested from the affected patient. This means one treatment, one patient. Accordingly, CAR-T therapy costs a fortune, with some exceeding $1.5 million per treatment. Despite everything CAR-T therapy represents for the future of medicine, this is bad business for both the patient and the business.
And then Celularity came along.
Celularity has developed a similar therapy but instead harvests cells from a full-term placenta of an unaffected patient. Celularity reports their manufacturing process can generate more than 100,000 treatment doses per placenta.
Celularity also makes novel pharmaceutical therapies from these placental cells. They boast a broad pipeline of novel investigational product candidates across numerous therapeutic areas, and 1,500 issued or pending patents.
In Q2 of 2021, Celularity is expected to merge with GX Acquisition Corp (GXGX), resulting in a pro forma enterprise value of $1.3B and a new ticker of CELU. The entire transaction will result in $375 million in cash which will be used to fund five investigational treatments through clinical trials.
Celularity is currently focusing on therapies for B cell malignancies, AML, Glioblastoma Multiforme, Gastric cancer, and Crohn's Disease. Within these treatment verticals Celularity guides for 3 investigational new drug [IND] applications with the FDA in 2021, and five treatments will be in clinical trials by the start of 2022.
As a brief aside, I was once asked which of the three diseases, HIV, Crohn's or Diabetes I would least want to have. I answered Crohn's disease immediately. Crohn's disease is a type of inflammatory bowel disease that is challenging to treat, and can result in wide-ranging and often horrific complications. As a physician, I recognize medication compliance, lifestyle management and regular care with a physician or NP/PA can result in effective remission of HIV and Diabetes. But the same cannot be said for Crohn's. I was therefore excited to see Celularity has demonstrated early success in its Crohn's and Diabetic vasculopathy platforms, as these represent massive markets with much-needed therapies.
Of the six SPACs, Celularity was the only one that did not provide a TAM. While I cannot begin to estimate this myself, what I can tell you is that in 2020, 8 of 10 of the top selling pharmaceuticals represent treatment categories Celularity is currently targeting (no current presence in anticoagulation).
Top Selling U.S. Pharmaceuticals in 2020
| | | | |
| --- | --- | --- | --- |
| Medication | Pharmaceutical Company | Total Sales | Indication |
| 1. Humira (Adalimumab) | AbbVie | $20.4 billion | Rheumatic Diseases and Inflammatory Bowel Disease |
| 2. Keytruda (Pembrolizumab) | Merck | $14.4 billion | Cancer Chemotherapy |
| 3. Revlimid (Lenalidomide) | Bristol Myers Squibb | $12.2 billion | Multiple Myeloma |
| 4. Eliquis (Apixaban) | Bristol Myers Squibb/Pfizer | $9.2 billion | Atrial Fibrillation, Anticoagulant |
| 5. Imbruvica (Ibrutinib) | AbbVie/Johnson & Johnson | $8.4 billion | Cancer Chemotherapy, GvHD |
| 6. Eylea (Aflibercept) | Regeneron/Bayer | $8.4 billion | Wet Macular Degeneration, Diabetic Retinopathy |
| 7. Stelara (Ustekinumab) | Johnson & Johnson | $7.9 billion | Rehumatic Diseases |
| 8. Opdivo (Nivolumab) | Bristol Myers Squibb | $7.9 billion | Cancer Chemotherapy |
| 9. Biktarvy (Bictegravir/Emtricitabine/Tenofovir) | Gilead Sciences | $7.3 billion | HIV |
| 10. Xarelto (Rivaroxaban) | Johnson & Johnson/Bayer | $6.9 billion | Anticoagulant |
Source: I made this with help from Fierce Pharma
Celularity's treatment platform focuses on the Natural Killer cell, which is an innate immune cell that will automatically target tumor or virus-infected cells. When an individual gets COVID-19, for example, NK cells are the ones that limit spread of the infection by killing virus-infected cells. Indeed, Celularity developed a NK-mediated treatment for COVID-19 patients in December of 2020.
Celularity has also used its Natural Killer platform to demonstrate robust killing against CML, AML and Multiple Myeloma rodent cell lines, and have been well tolerated in Phase 1 clinical trials. These three hematological cancers represent massive addressable markets.
As a final note, Celularity too appears well positioned for a Palantir partnership, for many of the reasons Roivant does (discussed later). Increasingly pharmaceutical companies are moving analysis and data collection from the wet lab to in silico. Protein folding, binding site geometry, and simulations can be built from the data Celularity collects. In addition, Celularity has a purpose-built manufacturing site that will function at commercial scale. Palantir will be able to cut costs and drive discoveries for Celularity, any one of which could result in a breakthrough medicine in much-needed areas.
Palantir's Investment in Roivant: Venture Capital Meets AbCellera
Roivant is a unique company with a venture portfolio of early-stage pharmaceutical candidates. Founder and Executive Chairman Vivek Ramaswamy began the company on the idea of acquiring underappreciated or "trapped" pharmaceutical candidates at larger companies and developing them for narrower indications. Roivant created subsidiaries, called "Vants" that focused on distinct therapeutic areas, and built a portfolio of both company subsidiaries and treatment candidates. Most interestingly, Roivant is in the process of building a machine learning platform involved in an internal drug development and selection process. A full 40% of Roivant employees are involved in computational development.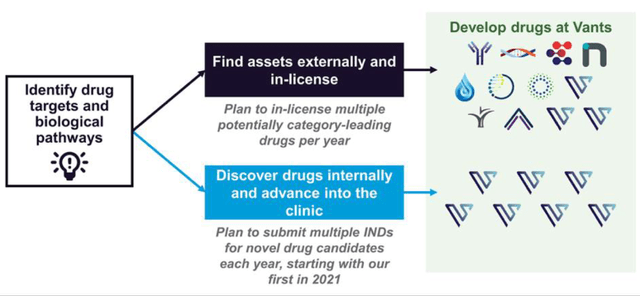 Source: Roivant Investor Presentation
Roivant expects to merge with Montes Archimedes Acquisition Corp (MAAC) in Q3 2021 under the ticker ROIV for a pro-forma enterprise value of $5.0 B. Roivant intends to use a net cash position of $2.3B to enable pipeline expansion, develop internal candidates, and commercialize.
Like most early-stage pharmaceutical businesses, Roivant has a bit of a checkered past. Roivant's highest profile candidate, Intepirdine, was a potential treatment for Alzheimer's and Lewy Body Dementia, but failed to mitigate symptoms in a large phase III 2017 trial, resulting in a stunning plunge in subsidiary Axovant Sciences. That said, Roivant has recovered with aplomb, securing $3B from Japanese Sumitomo Dainippon Pharma in 2019 for five of Roivant's Vants alongside 10% equity share.
To date Roivant has more than 40 molecules in development for various indications, and have conducted eight positive phase III clinical trials in a row, with two approvals by the FDA.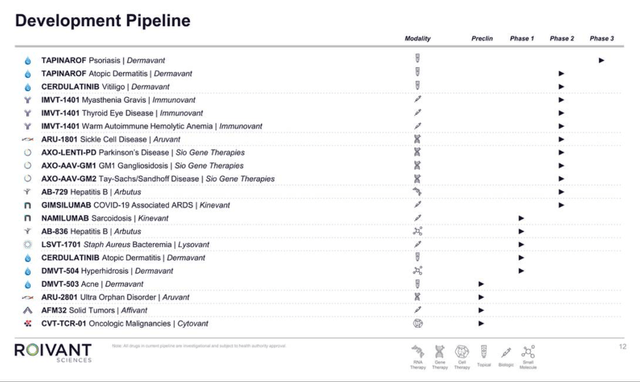 Source: Roivant Investor Presentation
Roivant's most interesting candidate is Tapinarof, a non-steroidal cream that may benefit the 34 million U.S. patients with psoriasis and/or atopic dermatitis. Humira, AbbVie's (ABBV) treatment with similar indications has been the best-selling pharmaceutical since 2012. This is a massive market valued at $37 Billion by 2026 within which Roivant has made impressive inroads.
That said, what I am most interested in is Roivant's computational physics and machine learning platforms, which read very similarly to AbCellera (ABCL). These platforms allow for drug discovery in silico as opposed to in the lab. By leveraging supercomputing clusters, Roivant will be able to simulate ligand binding affinity, protein folding dynamics, and ideal binding sites for a given protein. This represents a nascent biotechnology industry called Proteomics, or the study of the three-dimensional structure and sequence of proteins. While high-throughput, high-accuracy next-gen protein sequencing is hamstrung by current computational obstacles, this represents a massive frontier with colossal growth. Roivant will be able to accelerate their pace of internal candidate development and commercialization by leveraging their partnership with Palantir.
Palantir's Investment In Babylon Health: The Next Livongo
Babylon Health is a digital-first, value based healthcare (VBC) platform that aims to lower costs and improve healthcare. They achieve this by promoting regular interactions with providers informed by artificial intelligence, and have 10 US patents with 43 pending. According to founder and CEO Dr. Ali Parsa, by proactively addressing healthcare needs, Babylon's clients can avoid small problems becoming chronic diseases.
Babylon is expected to merge with Alkuri Global Acquisition Corp (KURI) in H2 2021 under the ticker BBLN, which will result in a cool $575 million in gross proceeds.
What initially stuck out to me when researching Babylon was the management team. COO Stacy Saal led the international roll out of Amazon Prime and Amazon Fresh, and Chief Product Officer Yon Nuta was one of the first chief product officers for the Xbox. These are people who understand product market fit on a massive scale.
And Babylon is scaling at an impressive rate, with 5x revenue growth in 2020, now serving 24 million patients globally. Babylon monetizes use of its platform through lower margin but higher revenue value based care and telemedicine programs, as well as its ultra-high margin but lower revenue annual licensing fees. Babylon believes it can elevate its VBC margin in the future as relatively expensive secondary care is replaced by AI-informed primary care and operational leverage is applied. Babylon touts an impressive $3.6 Billion annual recurring revenue pipeline and is forecasting to grow at a 200% CAGR over the next two years for a 2022E Revenue of $710 million.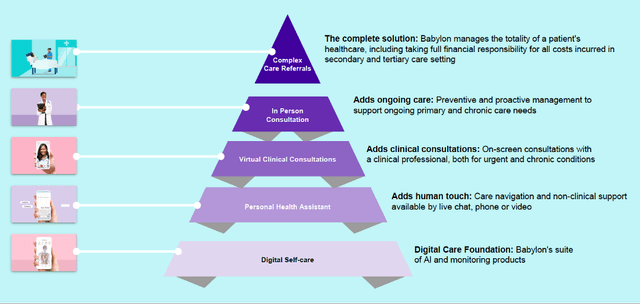 Source: Babylon Investor Presentation
Researching Babylon reads very similarly to Livongo's value proposition. The client feeds data into the Babylon program, which provides health insights. By being involved in the Babylon system, the client's health can be more carefully monitored, diseases prevented, and when sick, provide early intervention. Livongo was able to ride this philosophy to an $18.5 Billion buyout from the largest player in the space, Teladoc (TDOC).
With health care, one of the biggest challenges is the massive amount of data generated by the human body is really not used well at all.
Dr. Ali Parsa, Founder and CEO Babylon
I believe Babylon is well on its way to demonstrating it is not offering a commodity service, and Palantir's Foundry will allow for even more accurate prophylactic care and scalability for Babylon Health.
So Why Did Palantir Invest In SPACs?
Palantir's investment in each of these companies is a reflection of the long term lens Karp has applied to the business. None of these companies are profitable, nor are they currently reporting compelling revenue figures. That said, each is disrupting massive industries and using big data to do so. Below I outline what I believe are the four most important take-home points from these investments.
Palantir represents much more than a check with a few zeros for these companies - they are a strategic investor, and their Foundry platform will allow each to scale more quickly, make better decisions or investments, and capitalize on more opportunities.
Palantir is building a portfolio of potentially transformational companies - While I estimate Palantir's equity share of these companies ranges from 3 - 5%, by the end of this decade these investment could result in significant assets on the balance sheet. Furthermore, by partnering with these potentially iconic companies, Palantir builds tangible brand value that can drive new client signings.
Palantir is forming strategic relationships with these businesses, and is hedging against investment risk by making these companies clients. As these companies grow and their internal systems become more complex, the revenue Palantir will earn from these relationships will likely fund the cost of most of the investments.
Palantir is building a farm from which it can harvest talent. Several of Palantir's company acquisitions over the years have been singularly talent collection. Companies like Silk, Propeller and Voicegem were acquired by Palantir, shut down, but their employees were internalized. By investing in these disruptive data companies, Palantir has an opportunity to identify and gain exposure to triple-A coders, systems architects and executives they may seduce to the "dark side."
Closing Thoughts
Too often data is a barrier, rather than an enabler.
Palantir's technology allows these companies to scale and grow more quickly, these companies therefore become more valuable and their disruptive technology becomes the norm more rapidly, which means more data needs refining, which makes Palantir's services more important and Palantir becomes more valuable. Sounds circular, doesn't it? That's because it is; this is a flywheel.
Very few businesses have the value proposition Palantir offers to rapidly growing data companies. Because of this value, I anticipate Palantir will continue to invest in promising data companies, to achieve its goal of becoming the central operating system of the modern enterprise.
As an investor, I would like to see future Palantir investments target generational trends, like cryptocurrency and/or DeFi, as well as augmented/virtual reality and the metaverse. In the meantime, I will continue to patiently hold my Palantir shares, watch for new investment news, and let the story unfold.