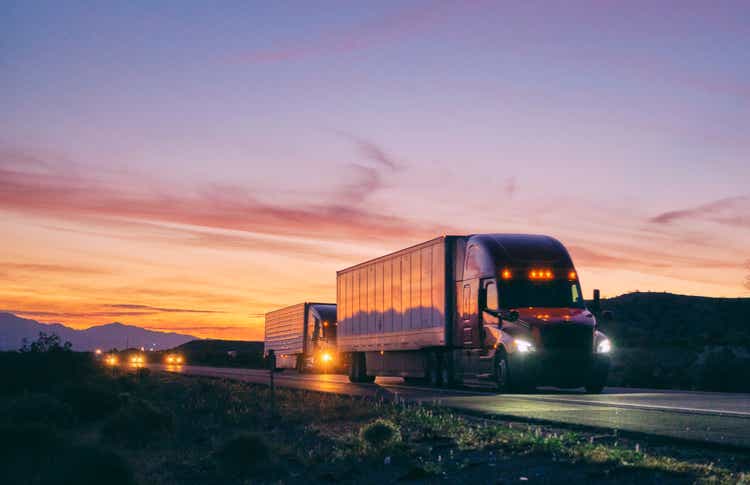 Article Purpose
The purpose of this article is to demonstrate how investors can successfully use the SPDR S&P Transportation ETF (NYSEARCA:XTN) as a complement to or even a substitute for large-cap Industrial sector holdings. In addition to giving key statistics on each of the fund's six sub-industries, I'll be going into depth on the top three (Trucking, Air Freight & Logistics, and Airlines), which total 80% of the fund. On balance, I believe the ETF to have good potential for growth, but above-average risk, so investors should proceed with caution.
ETF Overview
XTN replicates the S&P Transportation Select Industry Index, which gives concentrated exposure to about 40 securities in the Trucking, Air Freight & Logistics, Airlines, Railroads, Marine, and Airport Services industries. Historically, this subset of the Industrials sector has delivered better returns than large-cap Industrials stocks, albeit with higher volatility levels. Here is the performance of both XLN and the SPDR Industrial Select Sector ETF (XLI).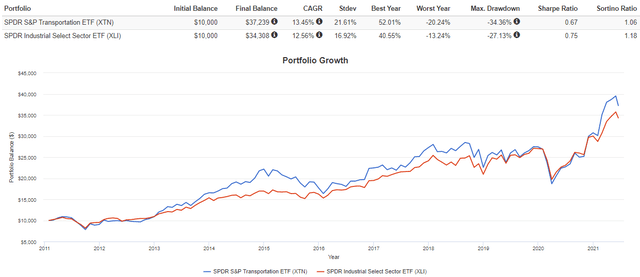 Source: Portfolio Visualizer
Whereas the smallest Industrials stock in the S&P 500 is about $17 billion, XTN's constituents range from as low as about $800 million to a high of $175 billion. According to the ETF Research Center, XTN and XLI have just a 19% overlap by weight, so it's different enough to warrant consideration, in my opinion. State Street charges 0.35% in annual fees, with other pertinent fund and index characteristics listed below:

Source: State Street XTN Fund Overview
As shown, the fund's forward price-earnings ratio is 17.95, which makes it less expensive than XLI's 22.48. However, relying on forward estimates may prove difficult, especially as there are many unknowns as the U.S. recovers from the pandemic.
The chart below shows the fund's sub-industry allocation as of June 17, 2021. Here, we can see the combination of safe and risky industries. I suggest Railroad stocks, such as Kansas City Southern (KSU) and Union Pacific (UNP), are much safer than virtually all Airline stocks like United Airlines (UAL) and Southwest Airlines (LUV).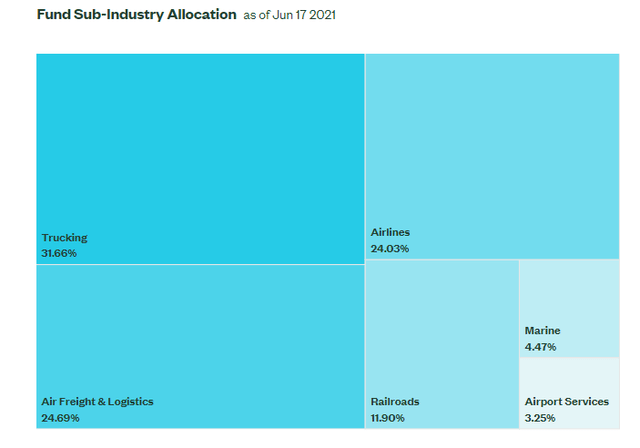 Source: State Street XTN Fund Overview
With XTN being following a modified equal-weight methodology that rebalances quarterly, not much is gleaned from analyzing the top ten holdings. For the most part, the list below represents the best performers since March. Kansas City Southern, for example, has returned 12.79% since April, while XTN has managed just a 3.89% gain.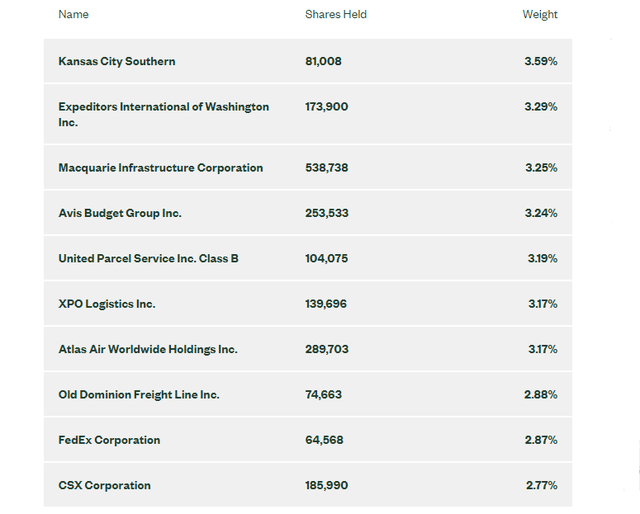 Source: State Street XTN Fund Overview
Key Statistics By Industry
The following is a summary of some key statistics I've calculated by industry.

Source: Created By Author Using Data From Seeking Alpha
A few high-level observations before taking a deeper look:
The net annual price position, which calculates price in relation to the 52-week high and low prices on a 0-100% scale, is 72.01%. Consider this compared to the S&P 500 Index ETF (SPY), which is trading almost near the top of the range.
XTN's constituents are trading, on average, 15.40% above their 200-day moving average. Surprisingly, this is more than SPY's 11.39%, indicating that market participants are moving toward riskier stocks in the Airlines and Airport Services industries.
XTN's two and five-year market betas are both 1.15, meaning that these securities generally tend to be riskier than average. An investor unable to tolerate risk, either due to personal circumstances or because their portfolio is already risky enough, should use caution when considering this ETF.
XTN's forward revenue growth outlook of 3.46% is similar to that of the average S&P 500 stock. Given the relatively cheap valuation, it may represent an attractive opportunity.
Seeking Alpha's Quant Rating System, which has a track record of beating the S&P 500 using both backtested and current results (since June 5, 2020), rates the average XTN constituent either bearish or neutral. The best quant scores are found in the Air Freight & Logistics industry, while the worst are in the Airlines industry.
Trucking Industry Overview
XTN is comprised of 14 stocks in the Trucking industry which total 31.66% of the fund. In terms of market capitalization, the biggest by far is Uber Technologies (UBER), which isn't generally thought of as a Trucking company but did launch Uber Freight back in May 2017. J.B. Hunt Transport Services (JBHT) and Ryder System (R) are better associated with the industry, in my opinion, with annual revenues approaching $10 billion. The following graph shows how an equal-weighted portfolio of these 14 stocks, rebalanced monthly, would have performed in the last two years.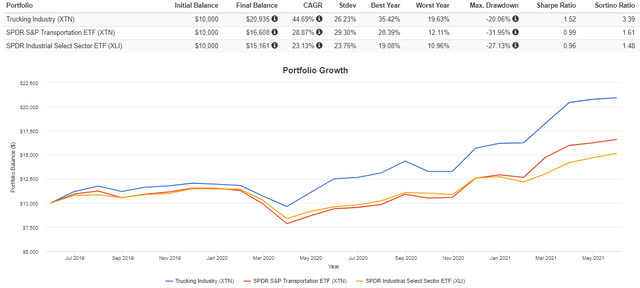 Source: Portfolio Visualizer
You can see how this resilient is, as it suffered only a 20.06% drawdown from January to March 2020 compared to 31.95% and 27.13% for XTN and XLI, respectively. It's a good thing this industry is the fund's largest in weight.
As written on the American Trucking Association's latest Truck Tonnage Index report:
Trucking serves as a barometer of the U.S. economy, representing 72.5% of tonnage carried by all modes of domestic freight transportation, including manufactured and retail goods. Trucks hauled 11.84 billion tons of freight in 2019. Motor carriers collected $791.7 billion, or 80.4% of total revenue earned by all transport modes.
The Truck Tonnage Index is a good indicator of both production and consumption of goods. Even though it's steadily increasing, it's still below pre-pandemic levels. Truck driver shortages, in particular, could dampen company profits as drivers demand higher salaries and retention bonuses to keep them on the road. Still, an increase hasn't been enough to solve the shortage problem.
There is a sense of urgency to solve the shortage, though. According to the International Foodservice Distributors Association, or IFDA, over 60,000 trucking jobs went unfilled in 2019. Without action from Congress, about 1.1 million job vacancies will need to be filled over the next decade. However, just recently, in an act of rare bipartisan support with 27 Democratic and Republican cosponsors, the DRIVE-Safe Act was passed. The IFDA writes that this is "critical legislation that will answer the country's massive driver shortage by promoting opportunity and enhanced safety training for emerging members of this growing workforce."
Also, the Federal Motor Carrier Safety Administration made four rule changes last June designed to improve efficiency without compromising safety, detailed below.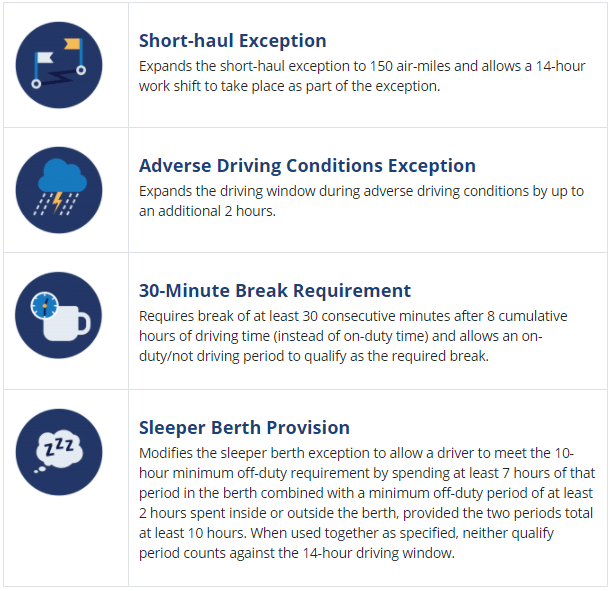 Source: Federal Motor Carrier Safety Administration
In my view, these changes should have a positive impact on the trucking industry. However, investors should recognize that any technological advances necessary to close the supply gap will likely best be handled by larger carriers. For an equal-weight fund like XTN, the upside may be limited. It may be better to make individual selections of the most established companies with positive growth trends. Old Dominion Freight Line (ODFL) comes to mind. Founded in 1934, the company has grown revenues at an annualized rate of 6.84% in the last five years, and analysts are projecting a further 8.90% growth over the next 12 months.
Air Freight & Logistics Industry Overview
XTN is comprised of ten stocks in the Air Freight & Logistics industry which total 24.69% of the fund. United Parcel Service (UPS) leads the way and is the biggest in the entire fund, with a market capitalization of over $175 billion. FedEx (FDX) is also included, as are smaller companies like C.H. Robinson Worldwide (CHRW) and XPO Logistics (XPO). Here is an industry where investors have benefitted from a bit of a smaller-cap stance. XPO, for example, has returned 470% over the last five years. The following graph shows how an equal-weighted portfolio of these ten stocks, rebalanced monthly, would have performed in the previous ten years.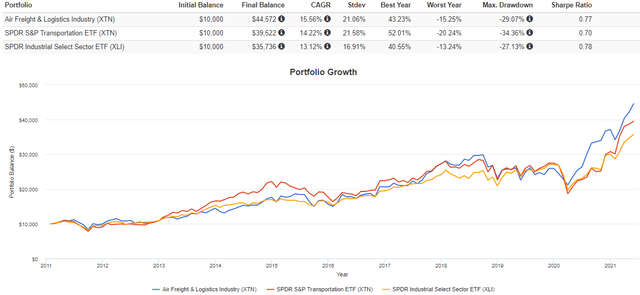 Source: Portfolio Visualizer
As these companies all have long track records, we can get a pretty good idea of their risk-return profile. In general, and before the pandemic, this sub-industry performed about as well as XTN, albeit with slightly higher risk. We've seen tremendous returns since March 2020, though, as online retail stocks soared.
At least in the short term, the good news is that many of these companies experienced positive revenue surprises in the last quarter. Expeditors International of Washington (EXPD) had a solid first quarter, generating record revenue and income. Generating nearly $850 million in operating cash over the last twelve months, combined with zero long-term debt, makes this an easy standout in an industry with a bright future.

Source: Created By Author Using Data From Seeking Alpha
Airlines Industry Overview
XTN is comprised of ten stocks in the Airlines industry which total 24.03% of the fund. The largest ones by market capitalization are Southwest Airlines and Delta Air Lines (DAL), and these Airlines are by far the riskiest in XTN. Not a single one has had positive earnings over the last year, for obvious reasons, and none have generated positive operating cash flow either. Furthermore, they're all heavily into debt too. Delta Air Lines' long-term debt skyrocketed amid the pandemic, and it will be a challenge bringing this back down to more manageable levels.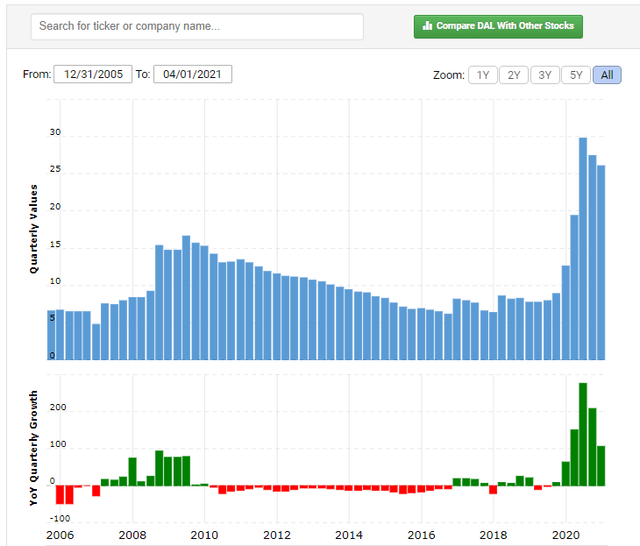 Source: MacroTrends
In the last ten years, airline stocks have been excellent investments. A ten-stock, equal-weight portfolio rebalanced monthly generated a CAGR of 18.37% since June 2011.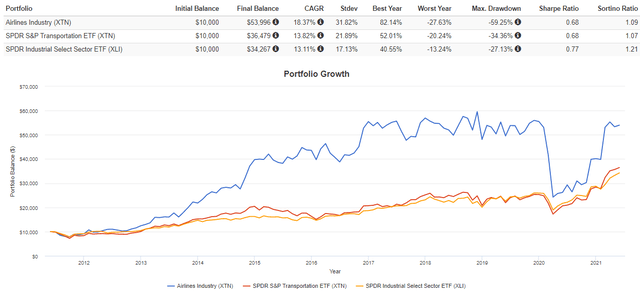 Source: Portfolio Visualizer
However, it hasn't been without risk. The standard deviation and maximum drawdown numbers are easily the highest and are a good reminder of how quickly an industry can be decimated. Its saving grace, however, has seemingly been an endless supply of government loans and grants. The implication appears to be that they are necessary for the U.S. economy to function. Like it or not, this philosophy works in investors' favor.
What gives me pause about this industry, besides its volatility, is how unknown the recovery will be. While we know people are itching to travel, the question is how. If they opt to fly, they'll likely require a rental car. Unfortunately, the current rental car shortage could last anywhere between six to 18 months. The rental car shortage is due, in part, to a semiconductor shortage which is limiting the production of new cars (and thus, driving up prices of both new and used cars). In addition, rental car companies had to cut their fleet sizes to survive the pandemic, as they didn't receive the government assistance airlines were fortunate enough to get. My hunch is that more people will opt to drive instead, take their own vehicles to nearby destinations, and save their dollars for dining out and other recreational activities. Airlines may not participate in the recovery as much as is desperately needed.
A March 2021 survey by TripIt is more optimistic, however. The results show that some 88% of vaccinated Americans will be ready to take a domestic flight by the end of the near.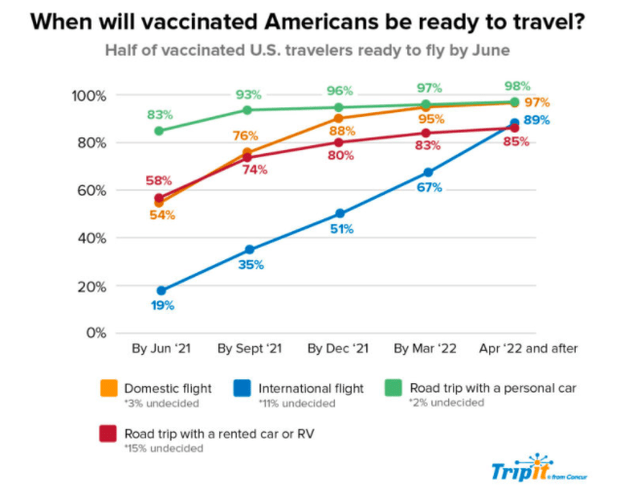 Source: TripIt
The caveat, of course, is that U.S. vaccination rates have stalled. The number of people who have received their first dose has climbed from 40% to just 53.2% in the last two months. President Biden's vaccine goal will be challenging to meet, as it seems many Americans have already made up their mind about getting the vaccine even though supply is abundant. There's the possibility that the survey's optimism is already baked into airline stock prices, as the equal-weight portfolio balance above has already returned to pre-pandemic levels. This industry is easily XTN's most significant risk, and it could go either way.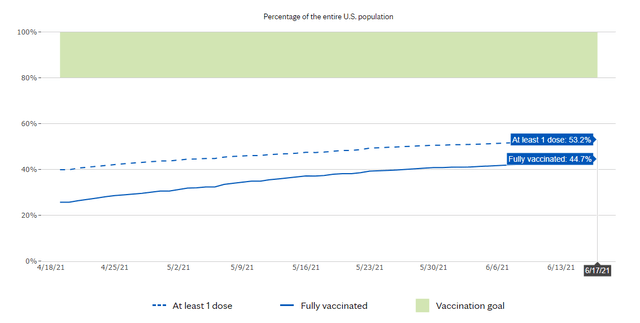 Source: Mayo Clinic
Investment Recommendation
XTN provides an alternative option for Industrials sector investors capable of taking on a bit of additional risk. I see positive momentum and fundamentals in both the Trucking and Air Freight & Logistics industries, as e-commerce sales appear to be here to stay. The U.S. government seems to understand the seriousness of tackling the truck driver shortage crisis. Airline stocks may be in for a shock if the recovery doesn't pan out as analysts predict. And as we saw over the last decade, it's a highly volatile industry that's contingent on a lot of things going right. I believe the biggest issues will be addressed in the next six months, so for now, I'm recommending simply adding XTN to your watchlist and letting the chips fall where they may.