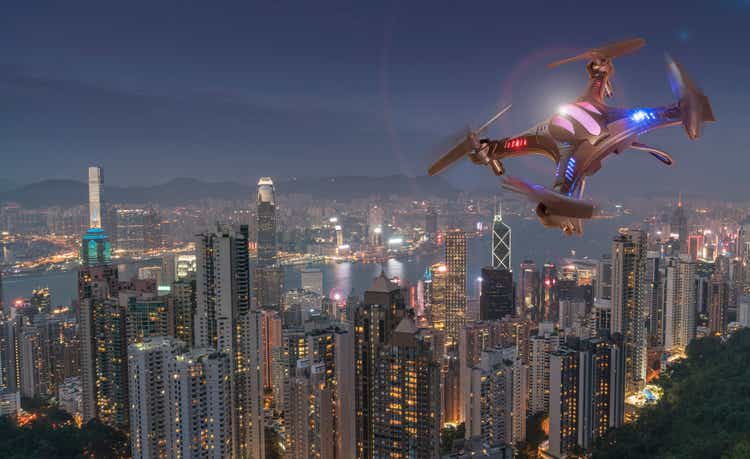 Investment Thesis
The SPAC phenomenon continues to bring pre-revenue private companies to the public markets. Another zero-revenue eVTOL company? Why not.
Enter Vertical Aerospace.
While Vertical has yet to certify its aircraft, its proven track record as an eVTOL OEM and history of flying them make Vertical a strong contender in the eVTOL space. In addition, its relatively cheap valuation offers an attractive entry point. However, buyers should beware that commercialization is still many years away.
Vertical Aerospace Going Public Through A SPAC Merger
On 10 June 2021, Vertical Aerospace, an eVTOL company, entered into a definitive agreement with Broadstone Acquisition Corp. (BSN), a SPAC led by British entrepreneurs Hugh Osmond, Marc Jonas, and Edward Hawkes.
As a result of the merger, Vertical will receive $394 million of proceeds, which consists of $305 million from BSN's cash held in trust and $89 million of private investment in public equity, or PIPE, led by 40 North and Microsoft's (MSFT) M12 and strategic investors American Airlines (AAL), Avolon, Rolls-Royce (OTCPK:RYCEY) and Honeywell (HON).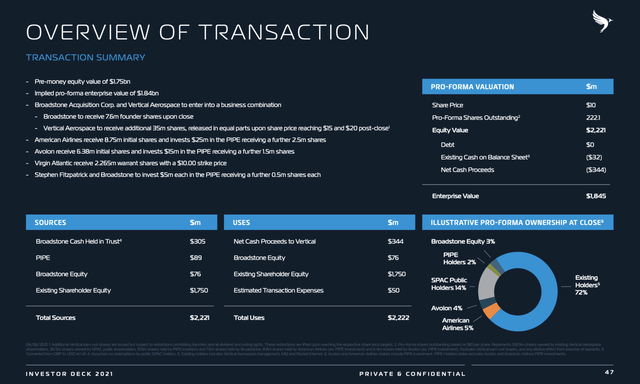 (Source: Vertical and BSN Investor Presentation)
The business combination will leave Vertical with a pro-forma equity value of $2.2 billion, or a pro-forma enterprise value of $1.8 billion, at $10 per share. These are reasonable valuations as compared to some of the other eVTOL companies that have announced their own SPAC merger. I will get into that later in the article.
Business Model
eVTOLs have gained lots of attention recently as the trends toward urban air mobility and electrification spurred investor interests in flying Teslas (TSLA). SPAC deals, private funding rounds, and aircraft unveilings grew to record highs during the first half of 2021 as the race towards commercialization gets heated. One of the companies aspiring to be the first to market is Vertical Aerospace.
Vertical Aerospace was founded in 2016 by Stephen Fitzpatrick, an astute businessman who founded the multi-billion dollar business Ovo Group, a leading UK energy company with a net-zero carbon emission. As of this writing, Fitzpatrick is still the CEO of Ovo Group. As such, Fitzpatrick took his knowledge and expertise to launch an eVTOL company with the same intention of being carbon-free.
Vertical is not just a conceptual company, unlike many other ambitious startups, but rather, a company with a history of building, designing, and actually flying its vehicles. In 2018, Vertical built its first prototype, VA-X1, and conducted a successful test flight. The following year, Vertical launched another design, VA-X2, and flew it as well. Being able to construct and fly two different models in back-to-back years is no easy feat. We can attest to Vertical's steep learning curve and ability to execute, which are qualities that are quite rare in the eVTOL space.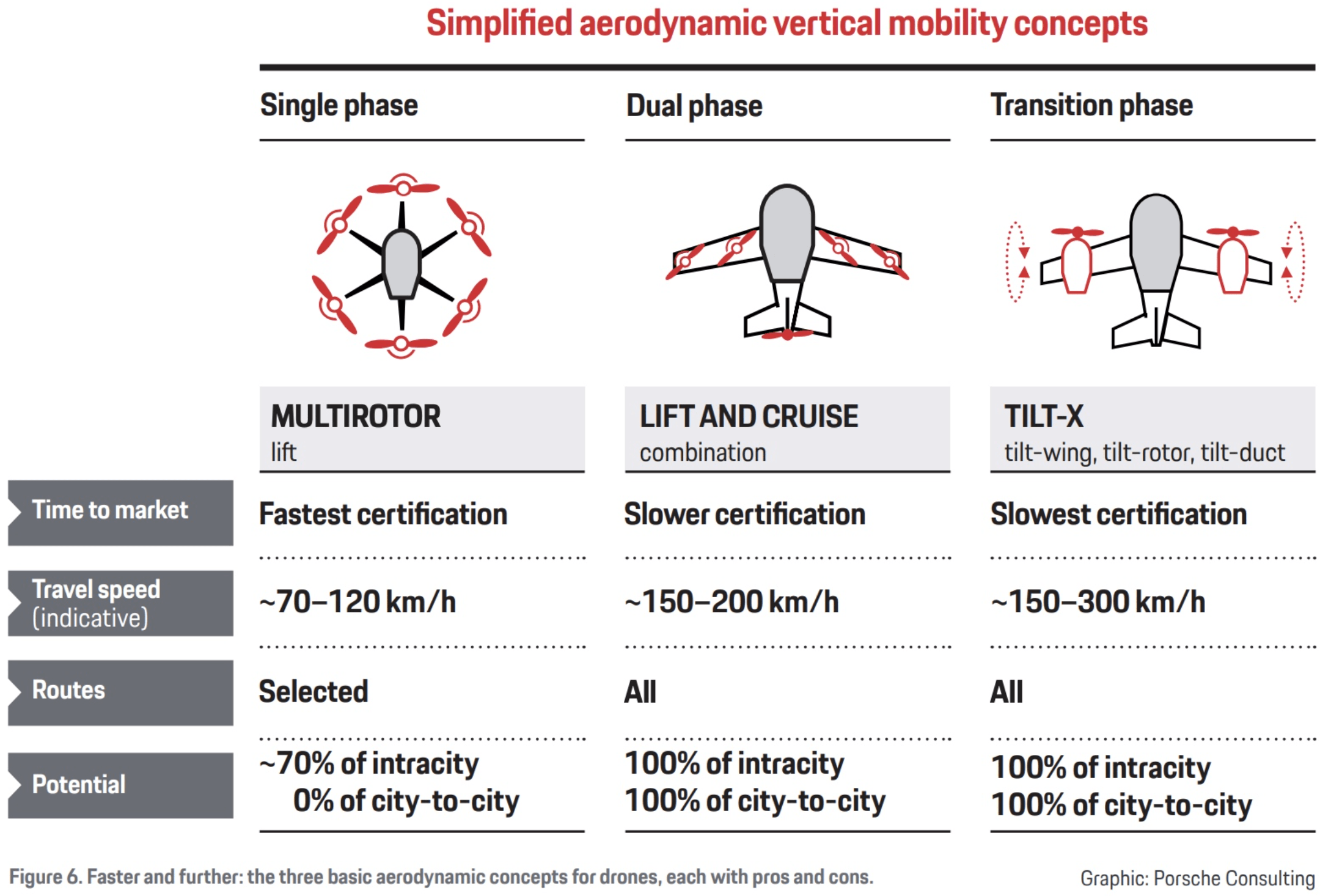 (Source: The Future of Vertical Mobility — Porsche Consulting)
Vertical's first two prototypes have multirotor designs, which are relatively easy to design, develop, and certify. These are the same design that EHang (EH) and Volocopter used to bring their eVTOLs to market. The tradeoffs, however, are lower speed, payload, and range. As such, Vertical took on a bold mission by attempting to build a tilt-x-designed aircraft, which is suitable for longer range flights (i.e. regional air mobility, not just intracity flights). Thus, in August last year, management unveiled its intent to build a tilt-x model, and just recently released the final design of the aircraft as part of its SPAC deal presentation.
The new model is called VA-X4 and the company expects to conduct test flights this year. Management also projects type certification by 2024, which grants airworthiness for the aircraft design. Given management's history of execution, I am confident that they have what it takes to deliver this promise.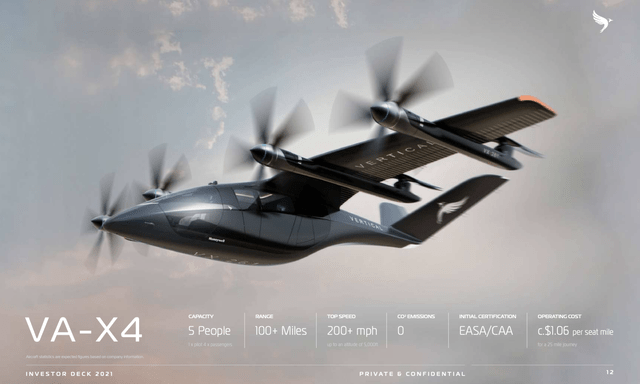 (Source: Vertical and BSN Investor Presentation)
Certification is the most difficult area to fulfill as eVTOLs are a relatively new concept, and thus, safety protocols and regulations will be particularly stringent, at least initially. Since being first-to-market is Vertical's priority, Vertical has built its business model that satisfies existing regulations. First, Vertical focuses on developing a piloted aircraft as regulators will likely require a pilot during the flight, for the foreseeable future. Second, Vertical has chosen to hire the most senior engineers and aerospace experts — Vertical's management team has more than 1,200 years of experience with more than 30 aircraft and propulsion systems in their portfolios. Finally, Vertical has established multiple partnerships, instead of vertically integrating each component, so as to hasten its path to certification.
In terms of generating revenue, Vertical is looking to operate as a B2B OEM business, selling its aircraft directly to major airlines, lessors, and operators. This in stark contrast to Joby (RTP) and Lilium (QELL), where they intend to operate as on-demand service providers much like how Uber (UBER) does business. If you are interested in learning more about Joby and Lilium, check out my articles below:
A Clear Roadmap Through Partnerships
As part of its manufacturing and go-to-market strategy, Vertical has formed one of the most diverse partnership ecosystems in the eVTOL space.
For the various aircraft components, Vertical outsources them from top-tier suppliers. Honeywell, one of the largest industrial companies in the world, will be developing the aircraft control system, flight deck technologies, and pilot user interface (Honeywell is also a partner of Lilium). Rolls-Royce, a key supplier for both Airbus (OTCPK:EADSY) and Boeing (BA), will be developing the electric powertrain to power the VA-X4. Solvay (OTCQX:SVYSF), a global leader in materials, solutions, and chemicals, will be developing the lightweight composite structure of the VA-X4. GKN Aerospace, a tier-1 aerospace supplier, will be developing the electrical wiring interconnection systems for Vertical.
As a result of outsourcing its components from various suppliers, Vertical is able to operate with an asset-light business model and achieve a faster and more predictable certification process given its suppliers' top-of-the-table standards and proven technology. As company President Michael Cervenka explains:
Our approach is to leverage the best suppliers in the world while we focus on design and overall certification of the aircraft, leveraging our particular expertise in battery design and rotor technology, and integration of all of these components.

(Source: Vertical Aerospace and BSN Investor Call)
On the go-to-market front, Vertical has formed coalitions with major operators to commercialize VA-X4 once the authorities give the green light for civilian use. American Airlines, one of the largest airlines in the US, has preordered up to 350 aircraft, which gives Vertical unparalleled access to the US market. Virgin Atlantic, the British airline company founded by Richard Branson, has also preordered up to 150 aircraft, providing Vertical access to the UK market and possibly the Australian market as well. Finally, Avolon, one of the world's largest aircraft leasing firms, has also preordered up to 500 aircraft, granting Vertical access to Avolon's network of 146 airlines across 84 countries.
What makes these partnerships special is that Vertical has the largest book of preorders to date, which sums up to 1,000 aircraft, potentially worth $4 billion in value. For context, Archer Aviation (ACIC), another eVTOL company that is going public via a SPAC merger, has commitments of up to $1.5 billion from United Airlines (UAL). Additionally, Vertical has preorders from not one, not two, but three industry leaders. This speaks volumes about its technology and validity.
Additionally, Microsoft is providing Vertical access to its cloud computing service Microsoft Azure. Big Data, artificial intelligence, and machine learning will also play a key role in manufacturing and operational optimization.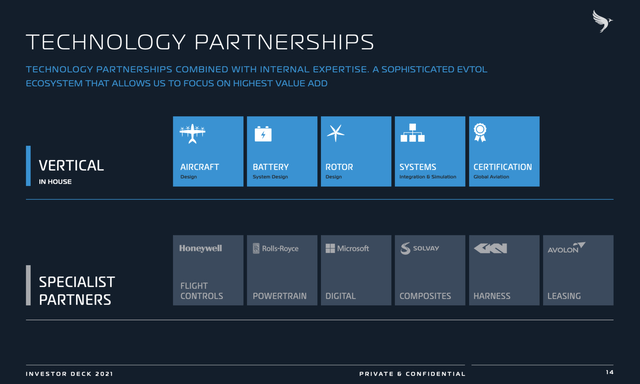 (Source: Vertical and BSN Investor Presentation)
Pitch War
I think we can all agree that the dream of being able to commute with an eVTOL will soon turn into a reality — it is not a matter of if but when. Many institutions and analysts have projected the industry to grow to up to $1 trillion by 2040. Such a large untapped market potential is the sole reason why there are so many eVTOL companies going public as of late. Recently, eVTOLs are being more and more accepted as a solution to combat traffic congestions, air pollution, and even noise pollution from helicopters. Slowly but surely, we'll see eVTOLs in the skies.
As such, the urban air mobility market is getting really hot in such a way that it becomes a pitch war between the various eVTOL companies. Flashy slide decks, vehicle unveilings, and over-the-top sales pitches are common these days. It is important to note that ideas are just ideas. Until we see a real test flight with real passengers, we shouldn't get too excited.
Nonetheless, here are some of the recent updates, or "pitches" so to speak.
Joby, the largest eVTOL company in the US, had its Analyst Day presentation, posting a 100-page slide deck, as well as a short test flight demonstrating how quiet Joby's vehicle is. As far as test flights are concerned, Joby is the only company with a tilt-x eVTOL vehicle, that it wants to bring to market, that has showcased test flights on video.
Lilium, a German eVTOL company, also had its Analyst Presentation, as well as unveiled the cabin design of its new 7-seater model. While Lilium did conduct test flights of its 2-seater and 5-seater models, it has yet to fly its 7-seater vehicle. We should see one later this year.
Zanite Acquisition Corp. (ZNTE) is in talks with Eve Urban Air Mobility to take the company public via a SPAC merger. Eve is the eVTOL unit under Embraer (ERJ), the Brazilian aerospace conglomerate, which should be spun off from the company if the deal goes through. Eve is also a promising eVTOL startup with preorders of 50 aircraft from Helisul and 200 preorders from Halo. However, there are no test flights on video as of today.
Finally, we have the highly-anticipated unveiling of Archer Aviation's Maker. Suffice to say, it was utterly disappointing. During the event, the Maker lay stationary at the center of the stage, with 3D screens playing aerial scenes to give the illusion that the aircraft is flying. However, its 12 independent propellers didn't even spin and its rotors didn't even tilt. To date, Archer has yet to perform a test flight on video. Moreover, Wisk, a private eVTOL company, accused Archer of copying Wisk's technology. As a result, I remain skeptical of Archer. Quoting from my Joby article, back in March:
Of all the eVTOL companies mentioned in this article, I'm most skeptical of Archer. Firstly, according to PitchBook, Archer was founded in 2019, only two years ago, which means that the company is lagging behind in terms of certification, testing, and product development. Secondly, there are no real footage of Archers' aircraft on the Internet, which questions the company's legitimacy. Thirdly, in its investor presentation, Archer claimed that it is "building the world's leading air mobility company." Keywords here are "building" and "leading"; the work is still in the conceptual phase and how can they possibly be "leading" after only two years? This looks like the kind of deal we saw with General Motors (GM) and Nikola (NKLA). I smell fraud.

(Source: Author's Article — Joby Aviation: 'Tesla Meets Uber In The Air'
And last but not least, we have the Vertical SPAC merger and its VA-X4 reveal, which is already covered earlier in this article.
Despite Vertical being late in the SPAC party, I believe Vertical can generate significant alpha for investors.
Why Vertical Has The Potential To Generate Shareholder Value
During the SPAC craze in the first quarter of Q1, private companies have the leverage to negotiate higher valuations as hundreds of SPACs filed for IPO. With too much money chasing too few opportunities, valuations bloated. However, the SPAC bubble popped and fizzled, thus shifting negotiating power back to SPAC sponsors as private companies sought higher-quality sponsors. As a result, valuations returned to more sane levels.
Here are the valuations of all the eVTOL companies that went public (enterprise value at $10 per share):
Joby — $4.6 billion (DA in Q1)
Lilium — $2.4 billion (DA in Q1)
Archer — $2.7 billion (DA in Q1)
Vertical — $1.8 billion (DA in Q2)
You can see how the Q1 SPAC frenzy influenced company valuations. Fortunately, Vertical offers an attractive entry point for eVTOL enthusiasts.
I won't discuss valuation multiples here since they are all pre-revenue companies. Furthermore, management projections are not very reliable; they are just sales pitches used to entice investors.
Nevertheless, given Vertical's cheaper valuations, strong management team, history of test flights, $4 billion bookings, and diverse partnerships with industry-leading suppliers and airlines, I believe Vertical is the most attractively valued eVTOL company in the public market today.
In addition, its business model is asset-light as it outsources various components from suppliers and it does not intend to operate as a service provider — companies like Uber and Lyft (LYFT) have been unprofitable for years. Instead, Vertical focuses on being an OEM, selling directly to operators and let them do the operating. The OEM business model is much more predictable and profitable.
However, I don't believe that Vertical will be as profitable as management claimed. For example, management expects a long-term gross margin of 44%. As a comparison to OEM giants, Boeing has a gross margin of 19.4% (pre-covid and pre-737 Max crisis) and Airbus has a gross margin of 13.2% (pre-covid). As such, I expect Vertical's profitability metrics to be in line with Boeing's or Airbus's, if of course, Vertical manages to pull off their projected annual aircraft production of 2,000 units by 2028.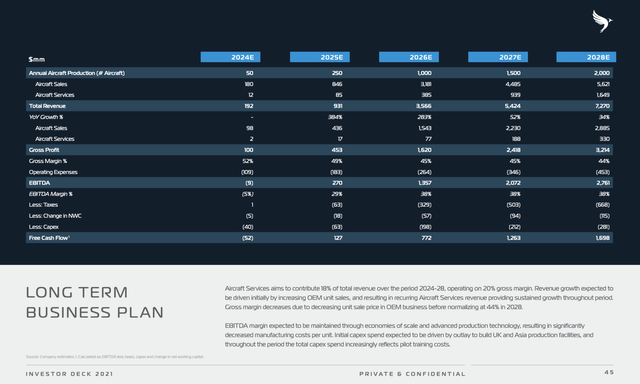 (Source: Vertical and BSN Investor Presentation)
Sure, this is a speculative investment, but I believe Vertical is one of the eVTOL companies with real potential to execute, to grow, and to ultimately drive shareholder value.
Opportunities
Massive untapped market.
Strong partnership network to scale efficiently.
Improved battery capacity and flight range may potentially disrupt the domestic airline market.
Regulatory bodies are less stringent on zero-emission eVTOLs. In fact, they are collaborating with them to speed up commercialization.
Improving public perception and confidence in urban air mobility.
Fast to scale given low infrastructure costs compared to ground transportation systems — companies don't need to build highways in the air.
Risks
CEO is juggling his time and commitment between Vertical and Ovo Group.
Too many partnerships with suppliers and developers mean that Vertical is not independent. May be a risk if one of its key partners has any company-specific issues.
Shortage of certified pilots.
Competition against incumbents — Tesla, Boeing, Airbus, Bell Textron, and Hyundai (OTC:HYMLF) to name a few.
Demand may not be as robust as projected.
Delays due to certifications, technical issues, and infrastructure challenges.
Accidents will damage public perception.
Video conferencing tools may reduce overall air travel demand.
Battery supply shortages.
Competition with urban ground mobility (e.g. hyperloop systems).
Conclusion
To wrap up, the eVTOL reality is fast approaching and may arrive faster than some might expect. Similarly, there are many eVTOL companies that went or are going public, well… faster than some might expect. Because it is. They are pre-revenue companies with at least 3 years to go before commercialization, that is if the timeline sticks. Therefore, these companies should be treated as such: pre-revenue companies, speculative bets not for the faint of heart.
Despite the risks, I believe Vertical is a good investment option for investors who want to dip their toes in the eVTOL space. There are many factors that made me arrive at this conclusion: experienced management, history of developing and flying eVTOLs, partnerships with industry leaders, large pre-orders, and attractive valuations.
With that said, I am bullish on the future of eVTOLs and in Vertical (and Joby and Lilium as well). But investors should remain extra patient — commercialization is still years away.