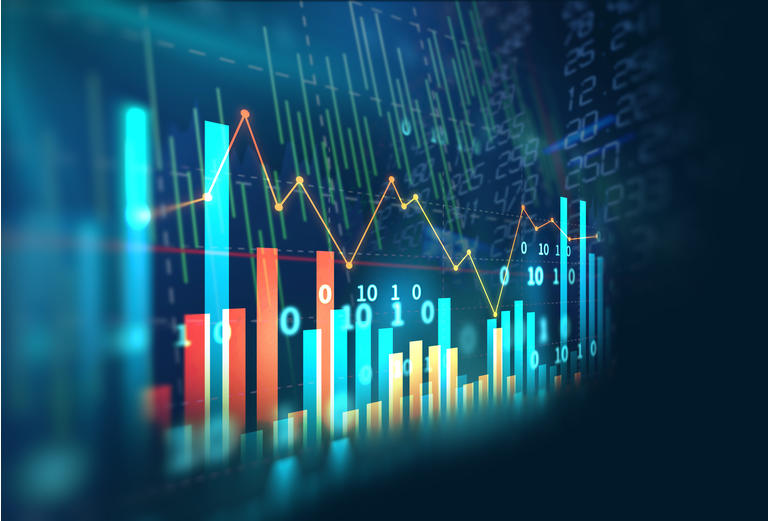 This article was first released to Systematic Income subscribers and free trials on 13-June.
Welcome to another installment of our CEF Market Weekly Review where we discuss CEF market activity from both the bottom-up - highlighting individual fund news and events - and top-down - providing an overview of the broader market. We also try to provide some historical context as well as the relevant themes that look to be driving markets or that investors ought to be mindful of. This update covers the second week of June.
Market Overview
The CEF market didn't skip a beat, delivering another strong performance in the second week of June.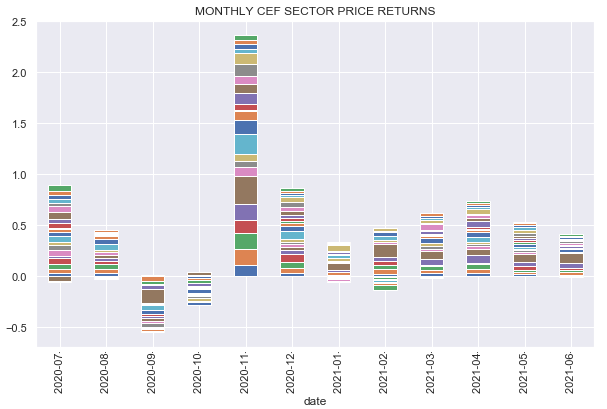 Source: Systematic Income
Even though we have moved through less than half of the month, the overall returns so far in June are not far off those of the previous five months.
In contrast to the prior months, however, most of the gains have been in NAVs rather than discounts, supported by falling Treasury yields and rising stock prices - an unusual Goldilocks combination.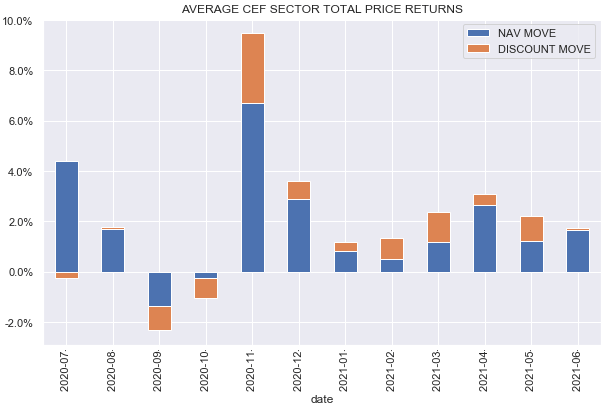 Source: Systematic Income
Over a longer-term horizon, discounts remain elevated, particularly in fixed-income sectors. Equity-linked sector discounts widened more in 2020 but also bounced back more and are now close to pushing through their post-2009 record.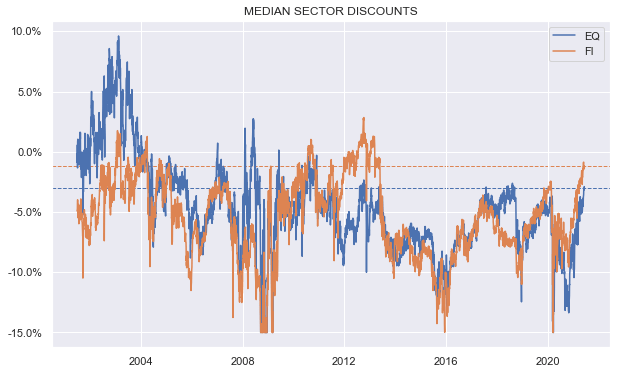 Source: Systematic Income
As we suggested at the start of the year, the key driver of discount tightening continues to be the large differential between CEF and ETF distribution rates, in our view. Other key drivers are a relatively placid market environment with well-behaved Treasury yields and stocks.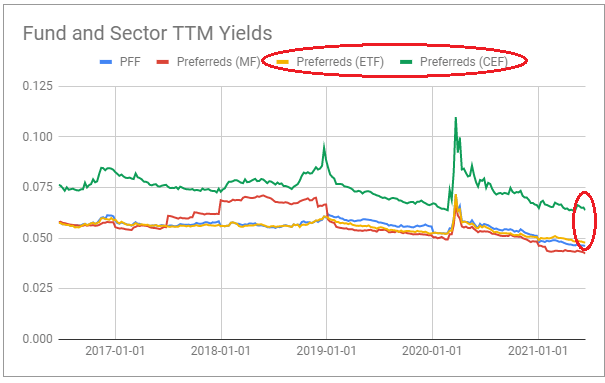 Source: Systematic Income CEF Tool
On a sector basis, valuations are clearly elevated. The median 5-year sector z-score is 1.47 with the 5-year discount percentile at 79%. MLPs are the only fund trading at a negative 5-year z-score and only a handful of sectors are trading below a figure of 1.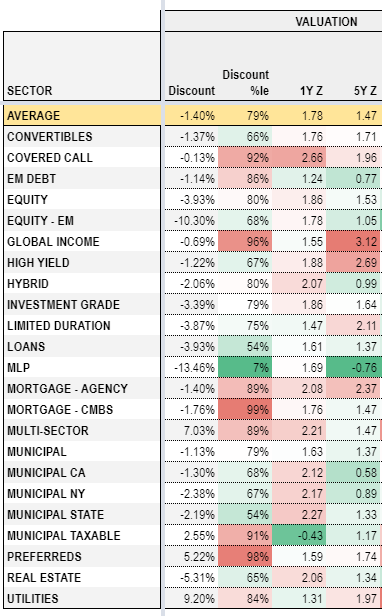 Source: Systematic Income CEF Tool
Some sectors offer a particularly difficult environment for value seekers. The chart below shows the percentage of preferreds CEFs trading at a premium from the time since we have reliable data. The sector offers the lowest proportion of discounted funds in its history. When combined with low underlying asset yields, a rich discount environment creates a kind of value conundrum for investors who prefer the superior distribution rates of CEFs but are put off by rich valuations.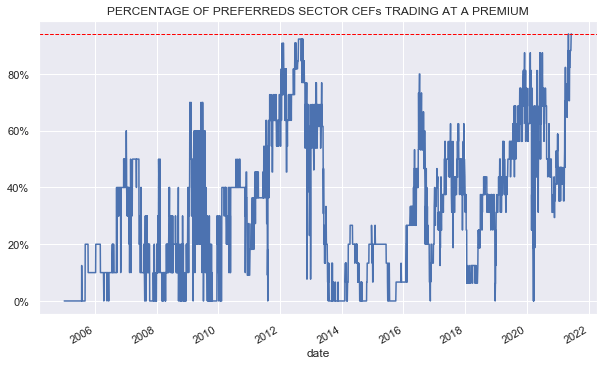 Source: Systematic Income
CEF Commentary
The Nuveen High Income November 2021 Target Term Fund (JHB) has entered the wind-up period and will terminate in early November unless the date is extended by another 6 months by the Board. An extension seems unlikely as the fund has already shed its leverage. Our Defensive and Core portfolios added the fund in the third week of October as a relatively defensive holding (in terms of quality, duration and discount control) which will have delivered a return of around 7-8% at the November termination for what was an essentially 1-year cross-over (i.e., BBB/BB) rated bond portfolio. To generate the same sort of yield you would have to go way down in quality, way up in leverage and way up in duration risk (if sticking with bonds). This was a terrific opportunity that delivered a much higher yield for the amount of "risk" that investors had to take.
Two of three Blackstone credit CEFs raised distributions - the Senior Floating Rate Term Fund (BSL) and the Strategic Credit Fund (BGB). Both funds had distribution coverage north of 100%, so this isn't surprising. BSL still has one of the lowest NAV distribution rates in the sector and a lower rating quality than the sector average so its low distribution rate seems overly conservative. Within the 3 Blackstone funds, the Long-Short Credit Income Fund (BGX) now looks best placed due to its combination of valuation, absolute and risk-adjusted performance, and coverage.
A key question that came up on the service is how to explain the divergent behavior of CLO Equity and CLO debt funds. The chart below highlights this dynamic by using two Eagle Point CEFs: the Eagle Point Credit Company (ECC) which invests primarily in CLO Equity and the Eagle Point Income Company (EIC) which invests primarily in BB-rated CLO debt tranches.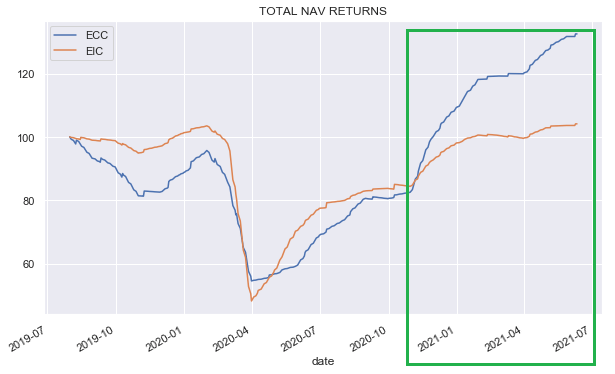 Source: Systematic Income
In our view, there are four key drivers of the performance divergence here. First, the 2020 recession was unusually short and low on defaults due to the unprecedented fiscal and monetary support. A more typical default environment would have driven a much stronger underperformance of CLO Equity securities which are more highly leveraged to defaults than are the more senior CLO Debt securities.
Secondly, the CLO Equity funds continued to run their portfolios at a higher leverage level than did EIC. Why EIC continued to maintain sub-20% leverage in an environment of attractive valuations is certainly worth asking but this, in part, clearly led to its more muted performance.
Thirdly, CLO managers have a kind of reinvestment option which allows them to redeploy funds that come in from loan repayments and refinancings into new loans. And because loan prices continued to recover up until the last few months or so this disproportionately benefited CLO Equity securities.
Finally, CLO Equity funds have been very aggressive in refinancing their senior securities with all three CEFs in this niche sub-sector issuing new lower-coupon securities. This allowed the funds to lower their leverage cost relative to EIC. To be fair, EIC still maintains a much lower leverage cost due to its stronger credit profile (CLO Debt is, by definition, senior to CLO Equity in the CLO capital structure) but the difference between the two converged somewhat. Going forward, we don't expect CLO Equity funds to grow their NAVs at the same pace relative to EIC given the bounce-back in loan prices.
Within the CLO space, EIC ticks a few boxes for credit investors. From a quality and valuation point of view, there are a few attractive features. First, it is mostly allocated to the highest "junk" rating bucket of BB. Secondly, it runs at a relatively low leverage of about sub-20% versus 30% for the average loan CEF. Thirdly, it runs a fairly conservative distribution policy so is less likely to make cuts. Fourthly, EIC trades at around a 10-11% discount while the average discount of the loan CEF sector is 4%.
Fifthly, EIC is protected on two fronts - from the first losses in the portfolio, which are eaten by the Equity tranche of the CLO, and secondly, from the fact that loans in a CLO portfolio have a stronger-than-average quality profile due to a number of quality tests that a CLO has to pass. Finally, if EIC were to boost its leverage it should be able to easily generate a higher income level than an average loan CEF because BB-rated CLO tranches trade at a higher yield than an average loan.
It's worth comparing EIC to the broader loan sector (which, unlike EIC, holds individual loans). It may seem like loan CEFs cannot possibly suffer drops in income going forward given Libor is at its zero bound and most loans feature Libor floors anyway but that's not actually the case. Loans can be refinanced by the borrower much like a mortgage holder can refinance when they can borrow at a lower rate. This tends to happen when loan demand and pricing is very strong such as it is now which allows borrowers to refinance at a lower discount margin (i.e. credit spread). This suggests that EIC can maintain its income level better than an average loan CEF fund in the current environment.
Stance And Takeaways
In the broader CEF space, we continue to be mindful of allocating funds that "borrow" from the NAV to finance their distributions. This is particularly prevalent in funds in the higher-quality sectors like munis and investment-grade bonds. This is particularly important since we don't expect a continuation of the multi-decade-long secular downtrend in yields to support NAVs. One way to gauge this is to look at the weighted-average price of the fund's holdings. For instance, the average price of the high-quality allocation focused Nuveen Quality Municipal Income Fund (NAD) is $108.17, which is driven by the fact that its holdings feature coupons in excess of their actual yields. The par amounts of these bonds exert a gravitational force on the NAV, pulling it lower over time. The end result for investors is that the fund's total NAV return is likely to come in significantly below its distribution rate. A fund with a lower-quality profile such as the Nuveen Municipal Credit Opportunities Fund (NMCO) has a weighted average price of $101.92 and so will experience a lower NAV drag. As this example shows, there is no free lunch and investors have to balance out this NAV drag dynamic against a lower-quality allocation profile.