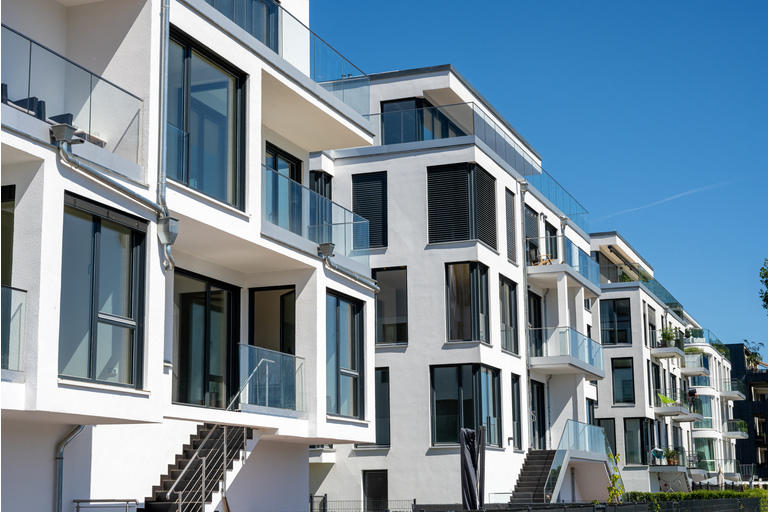 Bluerock Residential Growth REIT (NYSE:BRG) has one of the best portfolios of multifamily properties. It consists of newly built high-quality apartments in the best submarkets in the U.S. To top it all off, it has a seemingly cheap valuation at a stated P/FFO of 16.4X according to their presentation slide.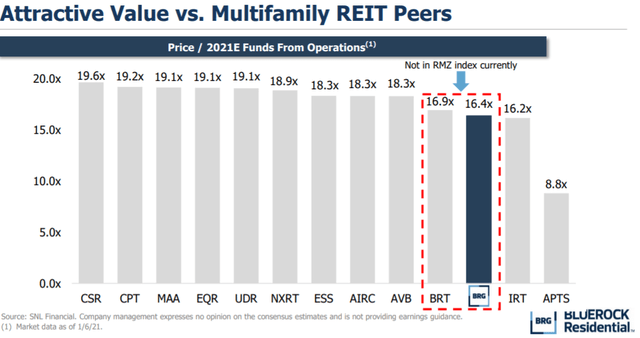 While all of that sounds great, BRG is not the multifamily REIT we have selected for the high yield portfolio of Portfolio Income Solutions. In selecting our investments we look at all aspects of the business and while BRG passes property level fundamentals with flying colors, there is an underlying problem in the capital structure.
Let me begin by discussing the fundamentals of BRG's operating business and follow with an examination of the capital structure and the damage it causes.
Fantastic property level fundamentals
Those who follow my work know how much I love sunbelt apartments. Everything is falling into place to give sunbelt apartments a decade-long runway of healthy growth.
Favorable taxation
Lower cost of rent relative to household income
Population growth
Job growth
Domestic migration of high paying tech jobs toward the sunbelt
Work from anywhere allows workers to live in the sunshine states while working jobs in higher-cost areas
All of these factors work in tandem to create a growth runway for BRG's well-located properties.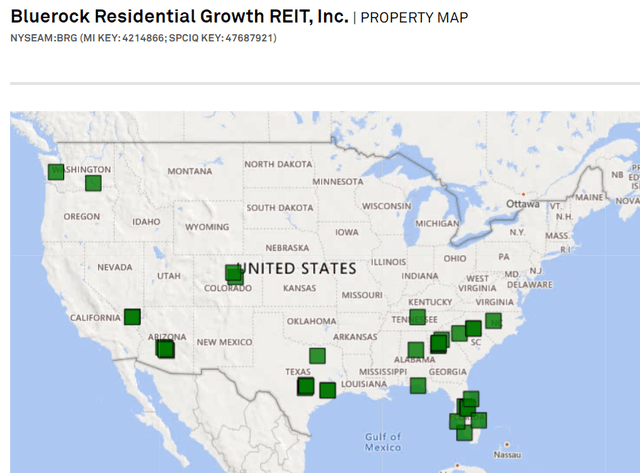 Source: SNL Financial
Beyond the location, BRG seems to be quite adept at operating their properties with a highly accretive value-add program. BRG has completed 2890 renovations of apartment units and generated an average ROI of 24% on these projects.
Similar results on their remaining un-renovated 4486 units would result in monthly rent increases north of $100 per unit and $0.19 to $0.24 per share of CFFO accretion. BRG shows their calculations below.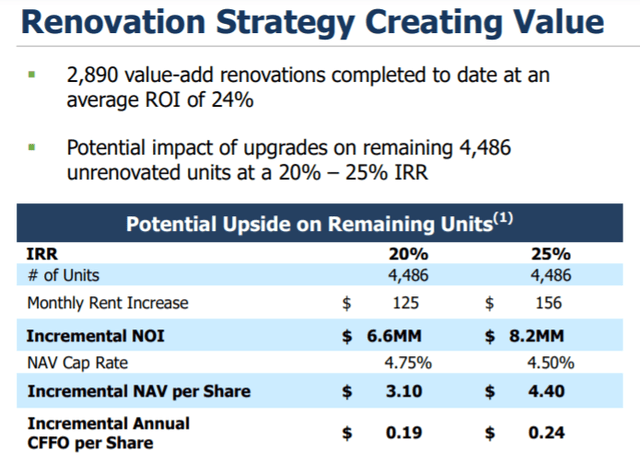 Source: BRG
I do find it a tad ambitious to present it in this matter because there are a couple mitigating factors that will likely cause the results to come in below these numbers.
Not all units can be renovated within a reasonable time period because some tenants stay long term
Pricing of various remodeling inputs has gone up as well as labor costs.
Thus, I expect IRR to be slightly lower and the number of units on which this is done to also be slightly lower.
Even still it is a great opportunity and will probably cause a good amount of organic FFO/share growth.
Overall, the renovations in combination with rental rate and occupancy gains caused by the strong apartment fundamentals of the sunbelt have caused excellent same-store net operating income growth (SSNOI).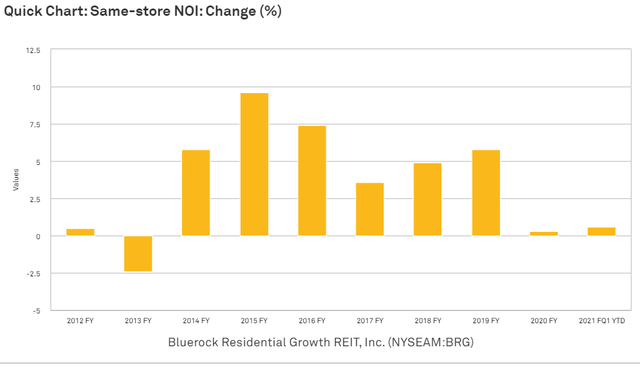 Source: SNL Financial
Note that 2020 was a recession year for U.S. apartments in general with the average multifamily REIT having negative same-store NOI growth. So while BRG's 2020 growth came in well below its 2019 growth, it still represented significant outperformance for the sector. Maintaining slightly positive growth in a recession showcases how strong underlying fundamentals are.
As the country moves out of shutdown and GDP growth rebounds I anticipate same-store NOI growth to rebound to the 3%-5% range and the column on the far right hints at this rebound with 1Q21 coming in ahead of 2020. Keep in mind that 1Q20 revenues were not interrupted yet by the pandemic, so 1Q21 represents growth above and beyond pre-pandemic levels. In 2Q21, 3Q21, and 4Q21, the numbers will be against the much easier comps of the pandemic period and thus should show much stronger YoY growth.
Overall, these are properties I would be very happy to own and indeed we have owned BRG from time to time. There is, however, a major cautionary factor that brings my fundamental bullishness all the way down to neutral overall on BRG at this time; the capital structure:
Great properties drowning in expensive preferreds
To put into perspective the magnitude of preferreds that BRG has I want to start by noting that its common market cap is $351mm inclusive of OP units.
Sitting above that $351mm of common is $895mm of preferreds which I have totaled in the table below.
| | | | | | |
| --- | --- | --- | --- | --- | --- |
| Issue | Amount outstanding # shares (as of 3/31/21) | Liquidation preference per share | Amount outstanding $M | Coupon | Annual expense $M |
| Series B Preferred | 440934 | $1000 | 440.934 | 6% | 26.45 |
| Series C Preferred | 2295845 | $25 | 57.396 | 7.625% | 4.376 |
| Series D Preferred | 2774338 | $25 | 56.859 | 7.125% | 4.05 |
| Series T Preferred | 13622291 | $25 | 340.557 | 6.15% + 0.2% | 21.625 |
| Total | | | 895.746 | | 56.50 |
Among the preferreds, there are oddities of which we need to be aware.
The Series T is the newest issue and is still being issued today on a continual basis to fund property acquisitions and other uses. In addition to the 6.15% cash coupon, it pays holders an additional 0.2% dividend paid in more shares of Series T.
Neither the Series B nor Series T is publicly traded on an exchange while the C and D are publicly traded.
Having this much preferred in the capital stack is challenging because preferreds are expensive capital. The coupons on these preferreds range from 6% to 7.625% for a total annual preferred dividend expense of $56.50. That alone eats up almost half of annual NOI which is $124mm using 4X first quarter numbers.
With this much preferred expense, much of the cash flow generated by the superb property portfolio is drained before it makes it to common shareholders.
Some progress but not yet enough
BRG used to have a Series A preferred which they recently redeemed. It had an 8.25% coupon, so BRG was wise to redeem its most expensive preferred first.
They could, in the future, make more progress to fixing their capital structure by converting the B and T which each have a feature that allows BRG to convert them into common stock of value equal to liquidation preference.
A full conversion would fix the capital stack in the sense that common would then be much bigger than the preferreds. However, it comes at the cost of diluting per share metrics.
This leads to a bit of a catch 22:
The common share price is held down by institutional investors disliking the preferred heavy capital structure, but BRG needs a higher common price to be able to convert these preferreds into common without painfully diluting shareholders. So somehow BRG needs to convince the market to bid up its stock while it remains preferred heavy such that they can fix their structure.
Valuation
16.4X is an incredibly cheap valuation for a multifamily REIT with high quality and young sunbelt properties. However, I don't see that as the correct FFO number to use. The problem is that the multiple used in BRG's presentation is based on CFFO rather than NAREIT defined FFO and in their adjustment to CFFO from NARIET FFO there are some add-backs that I consider questionable. Below is the reconciliation in which I have highlighted the 2 line items that should not be added back.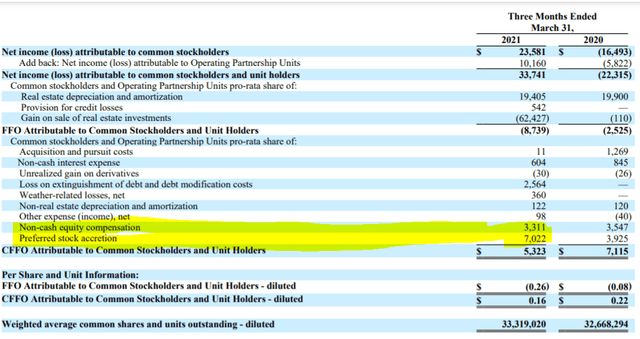 Source: supplemental
Stock compensation is a real expense and causes real dilution to shareholders. I don't care that it is non-cash, it should not be added back if you are wanting to get a real FFO number. While it should not be added back it is quite common among REITs to add it back to CFFO or AFFO.
The more unique to BRG add-back is the preferred stock accretion. What is it and why should it not be added back? From the 10-Q snippet below we can see that as of 3/31/21 there were 440,934 shares of Series B outstanding and since they have a $1000 liquidation preference that should be a liability of $440.934 million.

However, because of the odd accounting that is involved with these preferreds having been issued below par (net of expenses), they are held on the balance sheet as a liability of $402mm. Over time, this liability will amortize up to the real number of $440.934mm and this amortization is reflected in the preferred stock accretion line item.
So while this too is not a cash expense, issuing preferreds at a discount to par is a real cost because the company will eventually have to pay back the full par value even though they did not receive par at issuance. That is yet another reason these preferreds are so expensive.
If we undo these line items, FFO is actually negative. The $10.3 million of addbacks is more than the total CFFO number of $5.323 million.
Depending on which number one looks at, BRG's valuation may not be that cheap. It looks great on a cash basis, but less good on a NAREIT FFO basis and even worse using my system of getting rid of the unfair add-backs.
Neutral overall view of BRG
Strong positives and negatives of BRG sum to my overall neutral view.
While FFO is currently negative by my calculation, there is ample room for growth based on renovations and strong fundamentals. As such, it could become a healthy cash-flowing REIT over the next few years. Its salvation could come much sooner if the capital stack is fixed and there are 2 near-term plausible ways for this to happen.
The stock price goes up enough that conversion becomes non-dilutive
A buyout
BRG is arguably a top candidate for a buyout as a well-capitalized buyer could fix the burdensome capital stack overnight. If something like a Blackstone comes in with its low cost of capital that entire preferred stack could be redeemed at par (takeover clause provisions allow this) and replaced with a cost of capital around 3%.
The reduced cost would make the purchase immediately higher cash flow than BRG is operating at as a standalone and then the acquirer would be left with a beautiful property portfolio.
Therefore, I am largely on the sidelines but watching intently as certain events could make BRG a great investment.