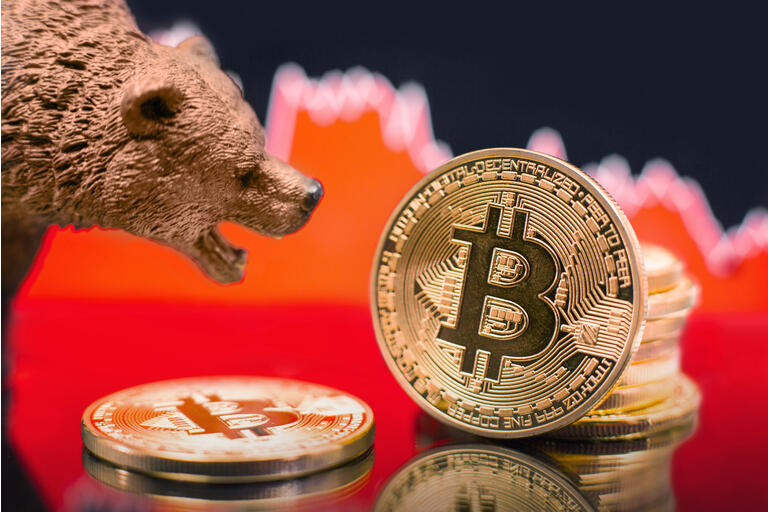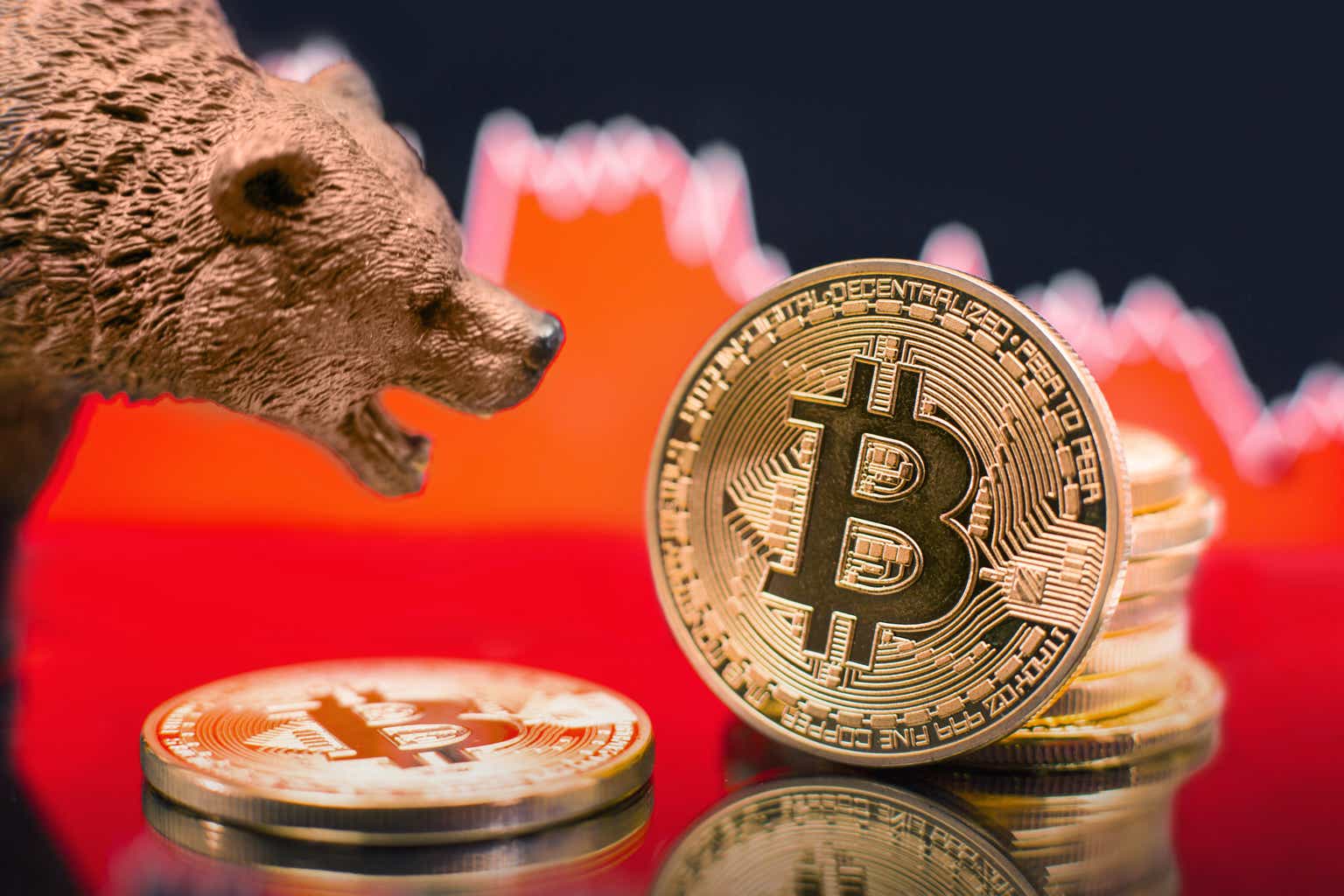 If you read my recent columns on crypto, you might think I'm one of those perma-bears grizzling on about how everything is going to crash.
Well, last year, I was a perma-bull on crypto, writing on how it was going to moon. It did. Then I went bearish. When BTC goes below $20,000 and Ethereum goes below $1,000 - even though they might go quite a bit lower - I will go neutral. Then, after a time, waiting for them to settle down, I'll be bullish again.
Right now, I see it is highly likely we have entered capitulation.
Capitulation is when all the bulls fold and prices collapse. It's an age-old part of the boom, bubble, bust cycle.
Ethereum is leading the way with the most obvious looking breakdown imaginable. You would kick yourself for not seeing it coming as the indication is so clear.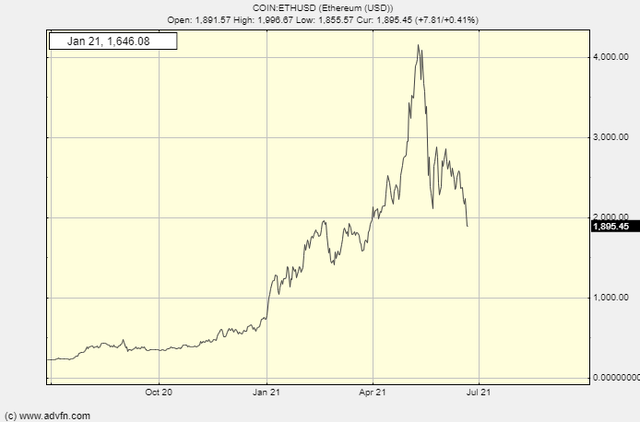 If you used the classic 1960/70s 'nifty fifty' bubble trading techniques, you would have put this box around this chart...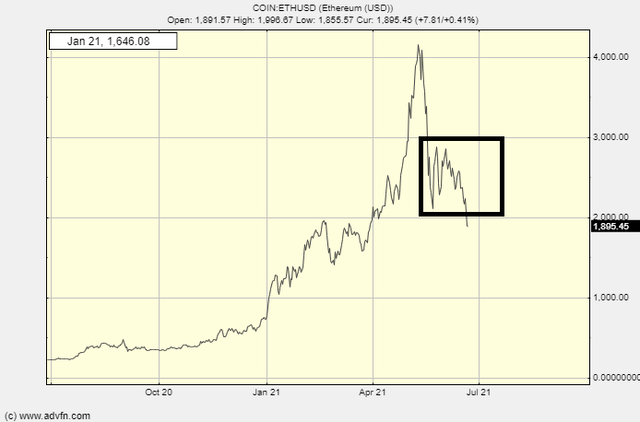 … and you would now be fleeing. This isn't a support/resistance technique, it is an attempt to bound the volatility of a repricing event and gauge if something has fundamentally changed in the price action to create a new repricing event. If the price goes out of bounds, then a repricing is underway. That is exactly what I think this chart is telling us.
It also means we are on the way to BTC $20,000 and Ethereum $1,000.
There will of course be almighty volatility, and traders should be armed to the teeth with tools to play that madness, but for the investor, it is a waiting game.
There is absolutely no need for an investor to re-enter the market until the noise and volatility dies down. This calm will be the bottom and a benchmark for acquiring. Buying this bottom will certainly be loss making for a considerable time, but such is the case with dollar cost averaging after a crash. You cannot buy the very bottom of a market in the same way as you can't sell right at the top. You can buy near the bottom and ease in. Then when the boom returns, your ugly looking losses suddenly become golden profits.
It might be worth buying a few extra clips if there is a wild capitulation at the very end of this crash or during some other unexpected event like a stock market crash - and I mean a dive by Bitcoin to $10,000. Otherwise, the strategy should be to let the dust settle and then slowly but surely ease into a big position. That is my plan.
Now you might say, 'why not short that now?' My response is, if you enjoy shorting then why not? If you don't, you should avoid it, because you can't execute strategies well if they cause you significant stress. This is why I do not short; it does not suit my temperament. You should never trade or invest against your temperament. Living on Gaviscon and checking the markets at 3am is not sustainable unlike investing and trading with strategies you enjoy. While shorting Bitcoin would have been very profitable for me, I prefer to make money long elsewhere.
These simple charts, like the ones I've posted in earlier columns, will provide a good roadmap of the weeks ahead.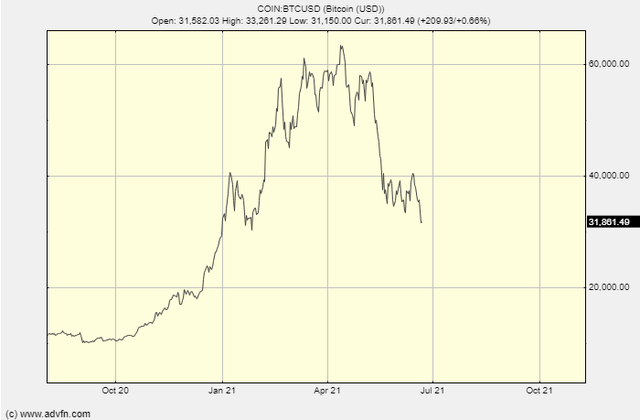 Recall below my Bitcoin roadmap from May 18th - the chart of Rarible – which I believe predicts Bitcoin because it has the same kind of audience. However, unlike the super tanker of Bitcoin, it is quickly moved by the bear dynamic crashing the market.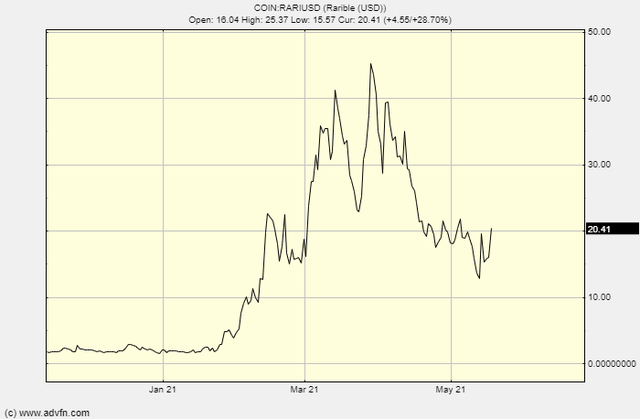 Here it is now: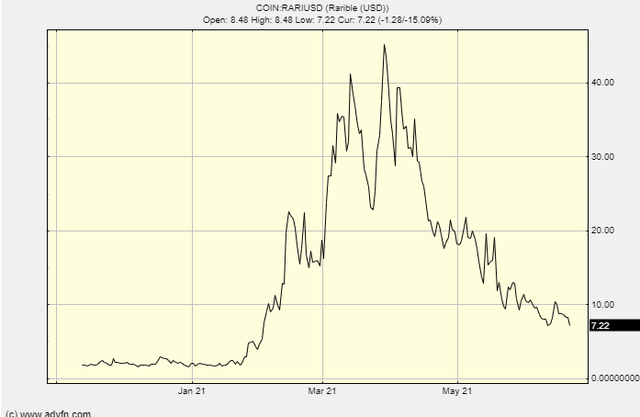 The map is not the territory, but it can help you get to where you need to go. For me, Rarible is an uncanny 'canary in a coal mine.'
The next leg down looks to be here, and it will be the final big move down leading to a repeat of the crypto winter we have endured before.
We are still at the very beginning of crypto and there are fortunes to be made time and again in the future in the same way as there was in computing and tech in 1984. In so much as that is true, the HODLers are right to forswear trying to time the market. However, for those of us that can sell near the top and buy near the bottom, the future is even brighter.