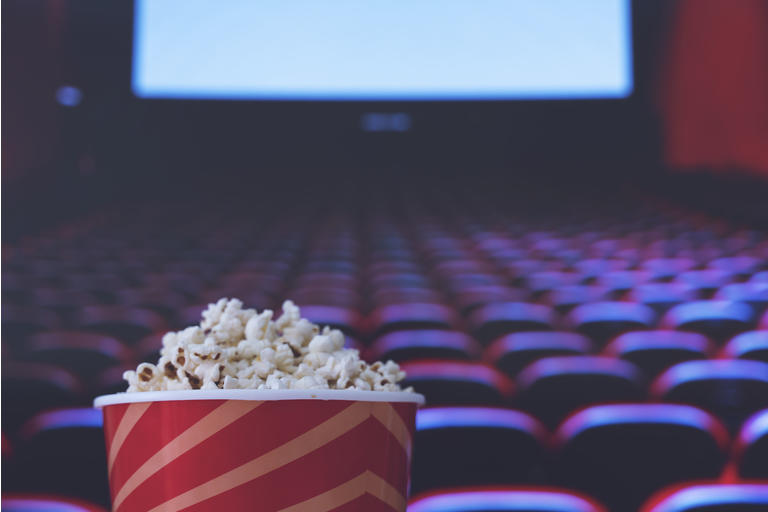 I've written two articles recently for Seeking Alpha on AMC Entertainment Holdings (NYSE:AMC), one on June 4 and one on June 17. The comments I have gotten back in response to the articles were eye-opening for me. I feel like I've been let into a world I didn't know existed. Which means that I also must seem pretty odd to the inhabitants of this ape-world. So, I'd like to explain my point of view in this open letter.
Why I keep harping on AMC's earnings
One shocker to me is that literally no comment that disagreed with my AMC view ever challenged me on earnings. The same is true for comments on my sell calls on Zillow (Z), Redfin (RDFN), Rocket Companies (RKT) and Opendoor (OPEN). So, why do I keep talking about earnings? Because that's how stocks work. First, common sense says that it works. A share of stock is a share ownership of a company; that's just a fact. We start and own businesses in order to earn money.
Second, history says that the relationship between earnings and stock prices exists. A few charts will illustrate this point. First, let's compare the S&P 500 index with S&P 500 EPS a year ahead: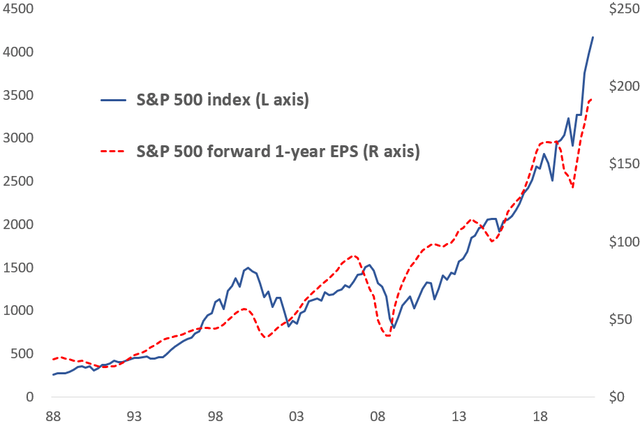 Sources: Yahoo Finance, Yardeni Research
The stock market clearly moves with earnings expectations. Now, let's look at an individual stock. I chose McDonald's (MCD):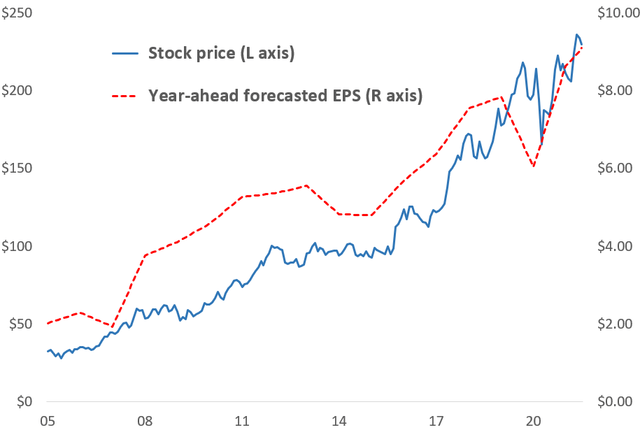 Sources: Yahoo Finance, company reports
Once again, a clear correlation – McDonald's earns more, investors pay more to own it. Let's now turn to a company whose earnings prospects took a turn – GoPro (GPRO):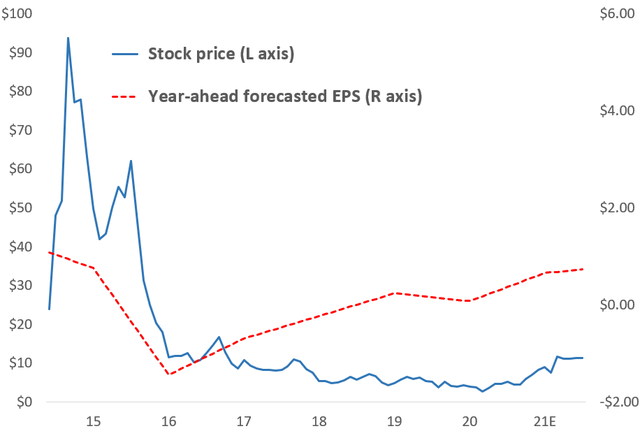 Sources: Yahoo Finance, company reports
GoPro's stock price leaped after its IPO on the assumption that booming sales of its cameras would send earnings soaring above its 2014 EPS of $1.32. But smartphones – the cameras in our pockets – diverted sales away from GoPro, and its EPS took a serious slide into negative territory. In response, the stock tanked. It has only recently made a modest recovery as GoPro management managed to start earning money. Again, a clear link between earnings and the stock price.
OK, one more – company X: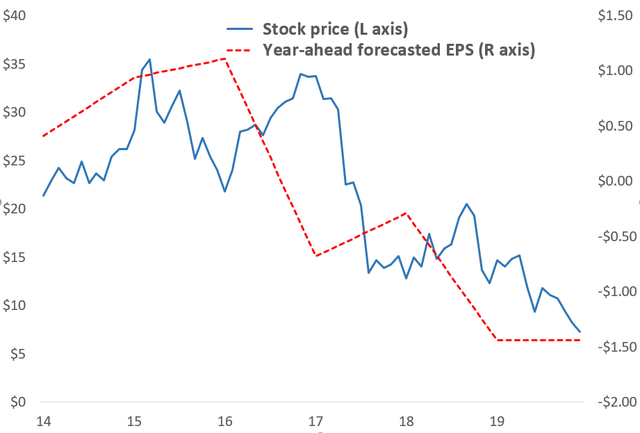 Sources: Yahoo Finance, company reports
Another excellent correlation between earnings and stock price. This company saw some EPS growth during 2015 and 2016, but earnings then turned south. The stock price followed.
Who is this company X? I bet you guessed it – AMC! Up until the pandemic hit, AMC's stock performed like other stocks – on earnings expectations. It will again.
Do you want to own an AMC theater?
Instead of owning AMC stock, how about if you owned an AMC theater? This way, you are a real business owner.
At last look, AMC's market cap is $30.5 billion. Add in about $3.5 billion of debt less cash and we'll say that AMC's theaters are currently valued at $34 billion. At the beginning of this year, AMC had 950 movie theaters. That means, each theater is valued today at $36 million.
If you don't borrow money to pay your $36 million, my best guess from AMC's financials is that you'll rake in $220,000 in profits. Not bad, right? A cool 0.6% return on your investment. A return likely to shrink over time as we spend more time streaming and less time at the movies. Or you could buy more current favorite stock MGIC (MTG), which last year generated cash EPS of $2.45, an 18% return on its current stock price. But you would have to give up the free movie tickets from owning a theater. Your choice. I've gone for the latter. 18% > 0.6%.
Is it really different this time?
Will AMC stock continue to rise just because apes continue to put more and more money in it? Can AMC become a permanent short squeeze?
I'm old. While that means my tennis game is sinking, it also has allowed me to see lots of "it's different this time" stories. They almost never work. Gravity takes over and brings magical beliefs back to earth. The '80s commercial real estate boom, the '90s internet boom, the '00s housing boom, all relied on broad-based beliefs that this time was different, and if you didn't agree, "you don't get it". Gravity brought all three beliefs painfully back to earth. Betting against gravity is a serious long shot.
Is the stock market fixed?
Lots of the comments to my articles suggested that meme investing is revenge against a financial system fixed against the little guy and gal. I consider myself to be pretty cynical, but I can't see the stock market as a whole as fixed. Some evidence:
The link I established above between earnings and stock prices. This means that, in the long run, it is company performance that determines stock prices, not Wall Street.
Mutual funds routinely underperform index funds. Big fund complexes like BlackRock, T. Rowe Price and Fidelity all have highly paid analysts and portfolio managers running their money. But many studies have shown that they generally do worse than market averages. So, they are no better than we are.
Hedge funds have done even worse. For example, NASDAQ reported that the average hedge fund earned 11% in 2020, well below the S&P 500 18% return. And they did far worse in 2019 – up 10% compared to +31% for the S&P 500. My belief is that hedge funds have too much money chasing a small group of trades. Now, hedge fund managers can make obscene amounts of money because of their lucrative 2%/20% compensation structure. That's another story. But hedge fund investors have been left behind.
Wall Street is blanketed with regulations aimed at levelling the playing field. There are rules against insider trading, selectively disseminating material information and many other forms of bad behavior. Of course, smart people can and do slip by some rules, but rampant cheating is quite difficult to achieve.
Are short sellers lying to support their positions?
There certainly are cases of this, but a far simpler answer explains why GameStop (GME) and AMC are short targets. Come on – both are store-based businesses in an increasingly online world, right? With several years of losses behind them already. Blockbuster, Sears, Pier One… shorting the Old Economy is not rocket science.
But how are potential investors in these New Age companies supposed to deal with these dramatic claims?
Zillow. From its 10-K:
"As we continue to expand into transaction-related services, our Total Addressable Market [TAM] has expanded from $19 billion in U.S. real estate related advertising…to $2.2 trillion of annual home sales…"
Sounds awesome, right? $2.2 trillion of potential revenues for Zillow. Except if home sellers expect to keep some of the proceeds of their home sales. In fact, the average real estate commission is 4.5%, giving Zillow an actual TAM of $100 billion. $100 billion < $2.2 trillion. By a lot.
Rocket Mortgage. From its Q1 earnings conference call:
"As we continue to expand our platform, creating certainty for clients in categories that have historically been challenging, the opportunity for Rocket Companies is gigantic. Consider this; when combined real estate, automotive sales and financial services, all markets where we're helping to lead the way, account for nearly one third of the US GDP." (My highlighting)
Wow! Amazon (AMZN) will soon be a blip in Rocket's rear-view mirror if I believe any of this. By the way, check out Rocket's insider sales while management is dishing out this hype.
Emotions versus reason
I see a lot of anger, frustration, and revenge in the AMC comments. Life stinks a lot, so I get the rationale for these emotions. But I have learned that emotions are the enemy of successful investing. Any emotions, ranging from fear to enthusiasm. Rational thinking about a company's value, or even (not my style) investors' moods, has proven to work better.
All of us primates, human and ape, are heavily driven by emotions (even me!), so we are never going to squeeze all of them out of our investment decisions. But the more squeezing, the better.
All of the above says "Sell AMC"
AMC's earnings prospects can't come close to supporting the current stock price. Gravity will do its job.
If you don't want to own a movie theater, don't own the stock.
AMC short sellers are driven more by common sense than by some conspiracy.
AMC's stock price contains an enormous emotional content, and a change in those fickle emotions will change the stock price quickly.