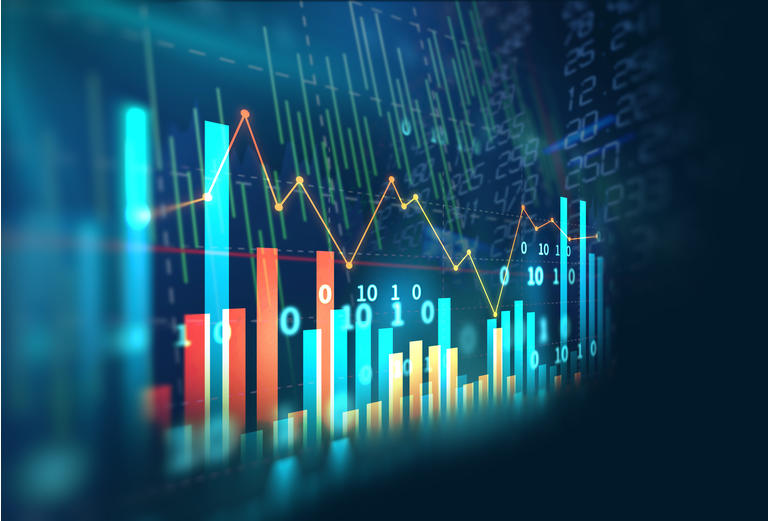 This article was first released to Systematic Income subscribers and free trials on 28-May.
Municipal bonds have remained resilient despite the rise in Treasury yields. And because the CEF sector continues to offer attractive distribution rates combined with high-quality assets, it has enjoyed a rally in discount valuations as well. A number of funds, however, have grown to premium valuations that are unlikely to prove sustainable. In this article we try to locate alternative options for a number of expensive funds.
Our approach to finding alternatives relies on our relative value framework which combines metrics such as NAV return correlation, 3y NAV return differential and net investment income yield differential. This combination of metrics does a better job of finding suitable alternatives than any standalone metric.
BlackRock Investment Quality Municipal Trust (BKN)
BKN has traded up to a 15.4% premium over the last few months and has diverged from the broader sector despite its current yield being below the sector average which makes it particularly surprising. The fund does have a low management fee (0.2% below the sector average) which should result in a higher valuation than the sector average on a fair-value basis, however, this does not explain the recent surge in its valuation.

Source: Systematic Income CEF Tool
The fund has stronger returns than the sector average in NAV terms though this appears to be due to its elevated leverage level (4% above the sector-average) and a longer duration (12.2 vs 9.1 sector average). Both of these tailwinds could very easily turn into headwinds in the coming months if rates continue to rise while municipal Treasury ratios are already near historic lows and unlikely to provide additional support And, in fact, the fund has underperformed the broader sector over the past year in NAV terms as the rising rate environment has been more challenging for it.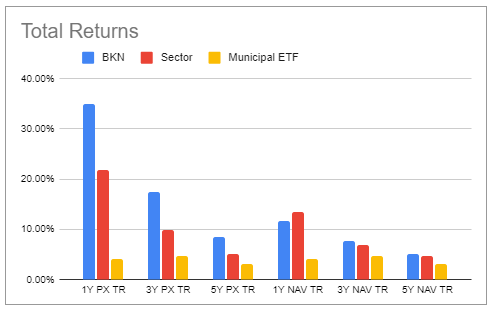 Source: Systematic Income CEF Tool
A couple of funds that look similar to BKN by our metrics and trade at attractive valuations are the BlackRock MuniYield Fund (MYD) and the BlackRock MuniYield Quality III Fund (MYI). These funds have a similarly high allocation to investment-grade muni bonds but they also feature a management fee that is 0.15% higher.
From a longer-term NAV returns perspective, BKN does edge out these two funds, however, it has lagged over the past year, under pressure from rising rates.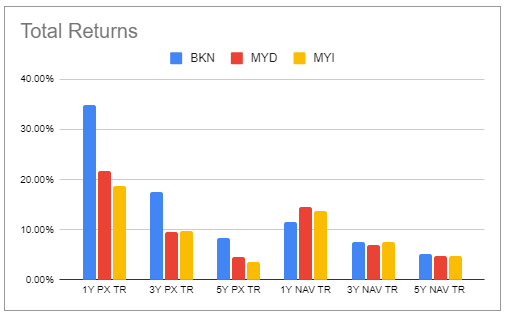 Source: Systematic Income CEF Tool
The discounts of MYD and MYI continue to trade wider of the sector average and look much more attractive than that of BKN. MYD and MYI have current yields of 4.48% and 4.22% respectively which exceed or match that of BKN.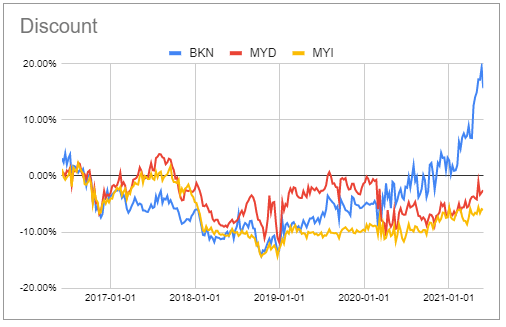 Source: Systematic Income CEF Tool
Nuveen Municipal Value Fund (NUV)
NUV is trading at a 6.6% premium and a 3.24% current yield - featuring both a higher valuation than the broader tax-exempt sector and a much lower current yield - an unusual combination. The fund has been trading at a higher valuation than the sector but it has recently diverged even further.

Source: Systematic Income CEF Tool
NUV does have below sector-average fees which should boost its discount valuation relative to the sector, however, it carries almost no leverage which pushes in the opposite direction. The fund's lack of leverage explains the fund's below sector-average returns over 1, 3 and 5 years.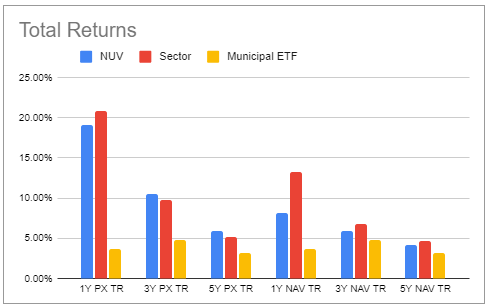 Source: Systematic Income CEF Tool
The fund's coverage and UNII profile also looks unfavorable and points to a potential distribution cut down the road.

Source: Systematic Income CEF Tool
All in all, most fund characteristics suggest that the fund should trade at a cheaper valuation relative to the broader sector.
The closest fund that takes into account NAV return correlation, NAV returns and net investment income yield is the Nuveen AMT-Free Municipal Value Fund (NUW). The fund also has almost no leverage and it has very comparable longer-term NAV returns to NUV. Although NUW does have a lower current yield of 2.75% versus 3.24% for NUV, the covered yields (net investment yield on price) are much closer at 2.74% for NUW versus 2.95% for NUV. The discount valuation of NUW has remained much more attractive than that of NUV.

Source: Systematic Income CEF Tool
Investors looking for a bit more oomph in their muni allocation should consider the Nuveen Quality Municipal Income Fund (NAD), trading at a 4.8% discount and a 4.56% current yield. The fund carries 37% leverage and has a relatively high NAV return correlation to NUV. However, because of its significant leverage it has not only a higher covered yield of 4.58% versus 2.95% of NUV but higher 5-year NAV returns of 5.1% versus 4.2% as well.
PIMCO Municipal Income Fund II (PML)
PML has consistently traded at an elevated valuation due to its high distribution rate and is currently trading at a 17.5% premium and a 4.82% current yield. As we discussed in a separate article on PIMCO tax-exempt funds, there is not much behind this much higher distribution rate in the PIMCO national tax-exempt sub-sector. In other words, the fund's net investment income yield is very similar to the other PIMCO national tax-exempt funds.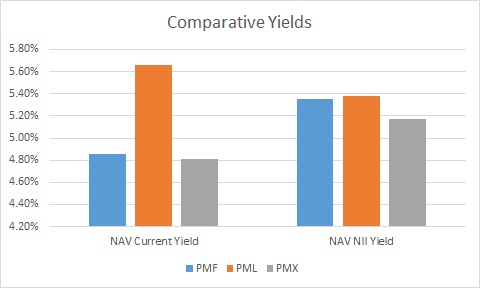 Source: Systematic Income
However, because investors tend to use distribution rates as proxies for fund earnings, they tend to reward PML with a higher valuation.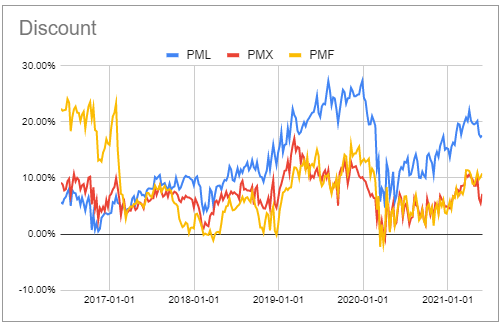 Source: Systematic Income CEF Tool
For investors who want to stay within the PIMCO tax-exempt suite, the PIMCO Municipal Income Fund III (PMX) offers a more attractively-valued alternative at a 7.1% premium and a pick-up of 0.28% in covered yield (NII yield on price) terms. The two funds have nearly identical 5-year NAV returns.
For investors willing to look beyond the PIMCO suite should consider the Nuveen Municipal Credit Income Fund (NZF) with a 90% NAV return correlation to PML and which is trading at a 2% discount and a 4.71% current yield and a covered yield that is 0.04% higher than that of PML. NZF has only slightly lower longer-term NAV returns than PML.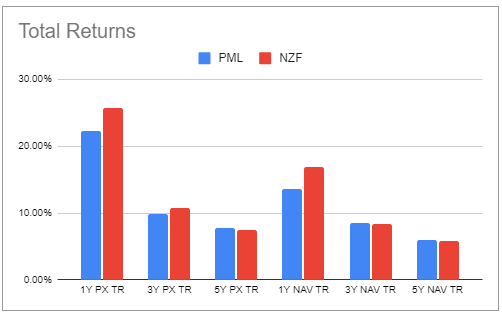 Source: Systematic Income CEF Tool
Takeaways
The continued rally in municipal yields and CEF discounts has resulted in very expensive valuations across a number of funds that are unlikely to remain sustainable. This suggests that investors should take a hard look at their muni CEF holdings to ensure that they are able to maintain the value of their portfolios going forward.