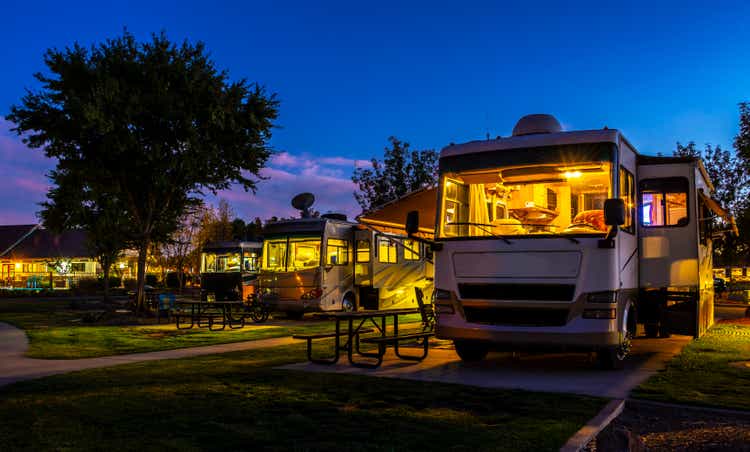 REIT Rankings: Manufactured Housing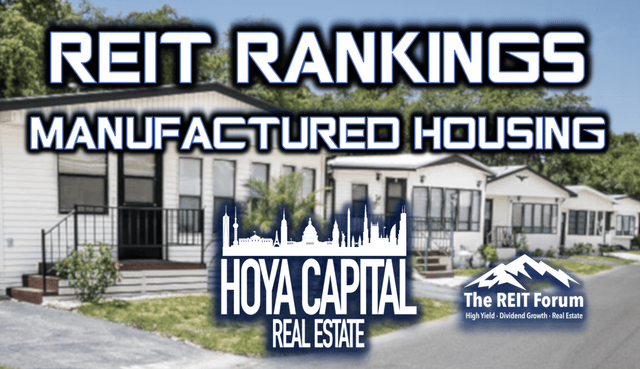 (Hoya Capital Real Estate, Co-Produced with Colorado Wealth Management)
Beneficiaries of the intensifying affordable housing shortage, manufactured housing ("MH") REITs have been the top-performing property sector over the past decade, continuing the strong momentum into 2021. Within the Hoya Capital Manufactured Housing REIT Index, we track the three MH REITs, which account for roughly $35 billion in market value and own roughly 350,000 manufactured housing and RV sites across the United States: Equity LifeStyle (ELS), Sun Communities (SUI), and UMH Properties (UMH).

A particularly timely report, Harvard University's Joint Center for Housing Studies (JCHS) published its annual "State of the Nation's Housing" last week. Researchers noted that "the supply of existing homes for sale has never been tighter," as soaring home prices and rents have been fueled by "the combination of robust demand and limited supply." JCHS concluded that "the pandemic is partially to blame for such tight conditions, but the biggest reason behind the constraints on supply is the underproduction of new homes since the mid-2000s." The report noted that "supply constraints are nearly universal," but particularly in the affordable housing segments.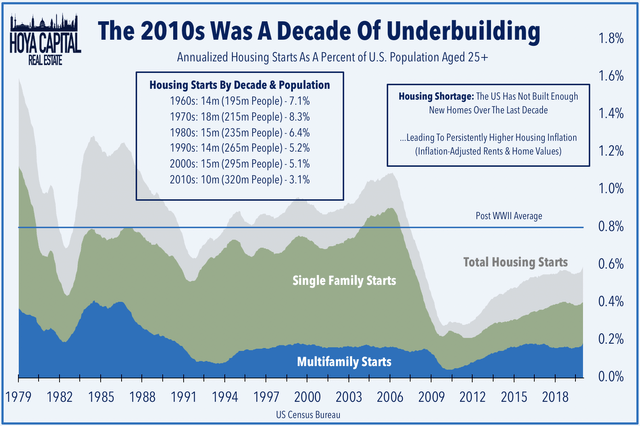 Historically low housing supply comes "at a time when household growth - the primary driver of housing demand - is strong and accelerating," according to JCHS. "The surprising resilience of household formations among the millennial population suggests that their generation will continue to lead the growth of housing demand." While millennials aren't the typical MH tenant, JCHS was similarly bullish on demand for exurban communities, fueled by the Work-From-Home trends which have potential to "profoundly reshape" housing demand and "reinforce the concentration of growth in outlying areas."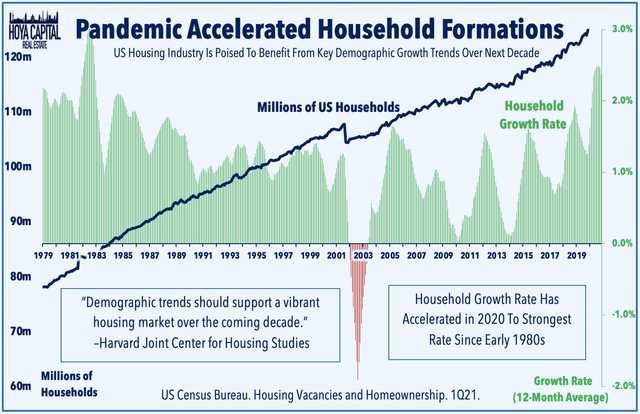 These secular and persistent trends of low supply and strong demand provide a compelling backdrop for companies across the broader housing industry, but particularly for the MH REIT sector, which has been the "canary in the coal mine" for this housing shortage for the past decade. MH REITs continue to produce sector-leading NOI and FFO growth and, as a result, have outperformed the Equity REIT Index in each of the past eight years - the longest streak of consecutive outperformance ever within the REIT sector.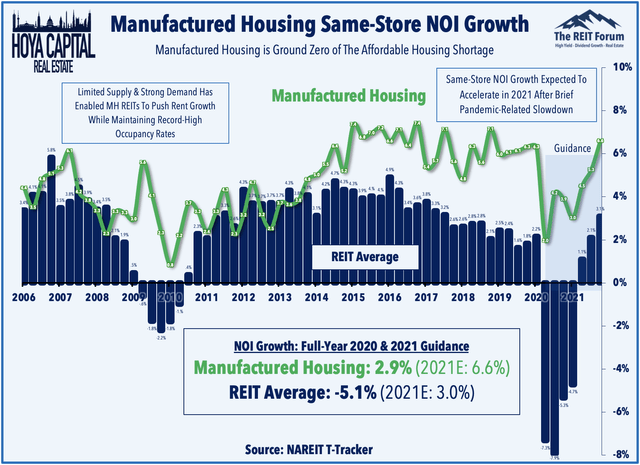 As noted in the JCHS report, "Work-From-Anywhere" has led to an uptick in not only traditional exurban housing demand like MH communities, but perhaps more significantly, it has powered a surge in demand for recreational vehicles ("RV") and boat sales. MH REITs' amplified focus on these analogous asset classes - RV parks and marinas - was perfectly-timed ahead of the coronavirus pandemic, providing an added external growth tailwind. RV parks now comprise roughly a third of assets for ELS and SUI, while marinas comprise 5% and 18%, respectively. UMH continues to focus exclusively on traditional manufactured housing communities.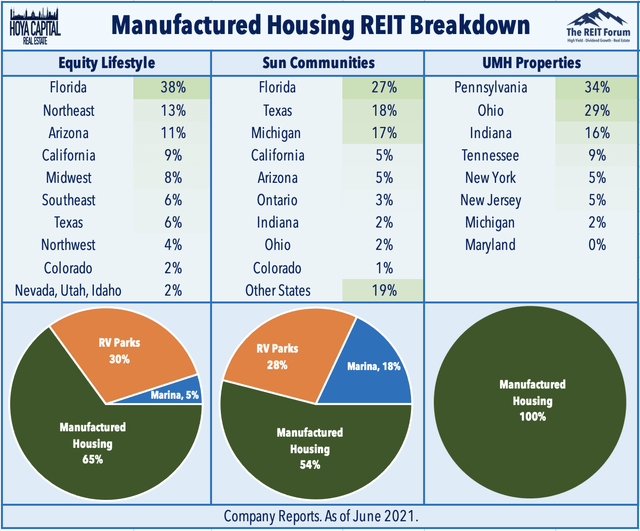 MH REITs have historically been one of the most interest-rate-sensitive REIT sectors, but this continued diversification into RV parks and boat marinas - which have a more economically-sensitive demand and cash flow profile - have provided a pro-cyclical counterbalance that should neutralize some of the potential headwinds from rising rates. The RV Industry Association expects RV wholesale shipments to climb to their highest historical total ever. While the RV industry has faced similar supply chain issues as traditional homebuilders, the RVIA sees shipments rising to 576k units in 2021, which would be a 14.1% gain over the current comparable record high of 504,600 units in 2017.

The National Marine Manufacturers Association, meanwhile, reported that powerboat sales are also poised to set record-highs this year despite inventory levels that are "the leanest they've ever been." With SUI's major investment in Safe Harbor Marinas, these MH REITs are now the two largest owners of marinas in the United States, an asset class with nearly identical fundamental characteristics as their large portfolio of RV parks. Marinas offer substantial operating parallels to the company's RV business and that there are roughly 4,500 marinas in the US, of which 500 would be considered "institutional quality." Earlier this year, ELS also expanded its marina portfolio with a purchase of 11 marinas, containing 3,986 slips, for $262.0 million.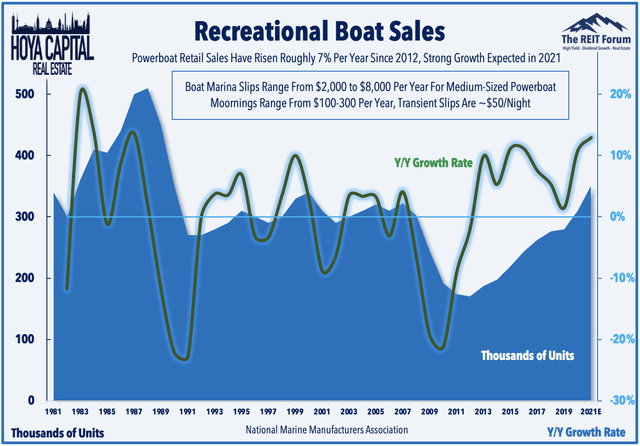 As discussed in our REIT Earnings Recap, ELS and SUI both credited the significant boost to full-year NOI and FFO guidance during Q1 earnings and again during their REITweek updates to surging RV demand. SUI now sees growth of 17.9% this year - up from its prior outlook of 15.3% - which would almost surely be among the best in the REIT sector. SUI also boosted its full-year same-store NOI growth outlook to 8.0% at the midpoint, up from its prior guidance of 6.1%, driven by an uptick in occupancy rates to record-high levels of 98.8% vs. 96.9% last year. ELS reported similarly stellar results and boosted its full-year guidance for FFO growth to 9.7% - up from 6.5%.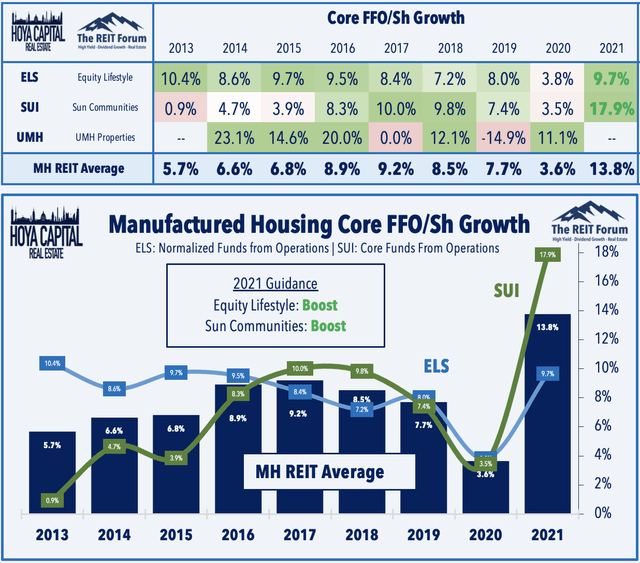 MH REIT Stock Price Performance
MH REITs were under pressure earlier this year by the 'REIT Reopening Rotation,' and we highlighted last quarter how MH REIT valuations were "as attractive as they've been in a half-decade relative to other REIT sectors." The opportunity didn't last long as MH REITs have been one of the best-performing sectors over the past quarter and following this double-digit rally, MH REITs are again trading at the loftiest valuations in the REIT sector. MH REITs are now higher by 17.6% this year, slightly lagging the 21.8% gains from the broad-based Vanguard Real Estate ETF (VNQ), but beating the 13.3% returns from the S&P 500 (SPY).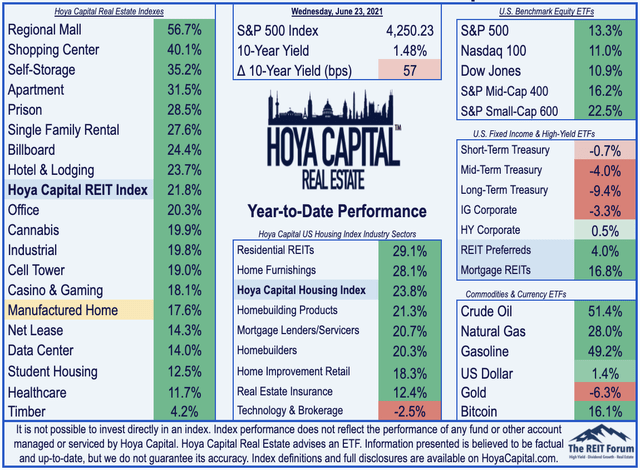 Interestingly, while extending their streak of outperformance, this was the first year since 2009 that MH REITs produced negative returns. Consistent with the "reopening theme" across the REIT sector, small-cap UMH Properties - which has lagged its two larger peers over the last decade - has led the way this year after boosting its dividend for the first time since 2008. ELS and SUI have produced average annual total returns of 20% and 21%, respectively, since the start of 2015, among the best in the REIT sector.

The non-REIT players in the manufactured housing and RV industry have also put together another strong year. Leading the way this year has been MH builder Skyline Champion (SKY) and retailer Camping World (CWH), which have each surged more than 50% this year, followed by Cavco Industries (CVCO), which has gained nearly 25%. RV manufacturers including Thor Industries (THO) and Winnebago Industries (WGO) have given back some of their gains over the last quarter, however, as have Patrick Industries (PATK) and LCI Industries (LCII) on concerns over supply chain constraints and pressured by the broader reopening rotation.

Deeper Dive: Inside Manufactured Housing
Roughly one-in-twelve Americans live in a factory-built manufactured home, and shipments of these units represent roughly 10% of housing starts in a typical year. The quality and appearance of MH sites can vary significantly from communities that are indistinguishable from a typical single-family master-planned community to the stereotypical "trailer parks." Often misunderstood by investors, manufactured homes are generally not "mobile" (except for recreational vehicles "RVs").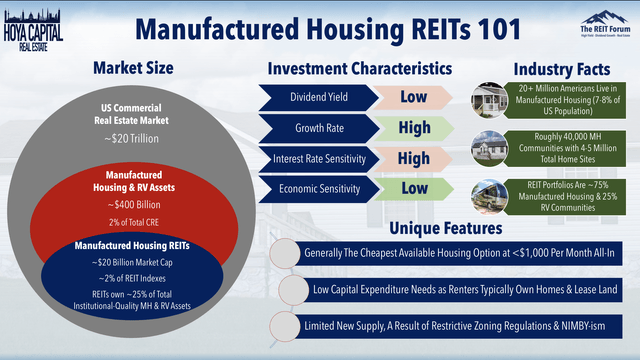 Of note, MH sales peaked in the late 1990s when zoning and credit standards were loose, but declined sharply beginning in the early 2000s during the pre-GFC housing boom as demand shifted to site-built homes amid a period of incredibly easy credit conditions and seemingly relentless home price appreciation. About 80% of traditional MH units remain where they were initially installed, and while units are generally built to higher-quality standards than commonly believed, the JCHS report specifically noted "among the homes most in need of repair are manufactured housing units."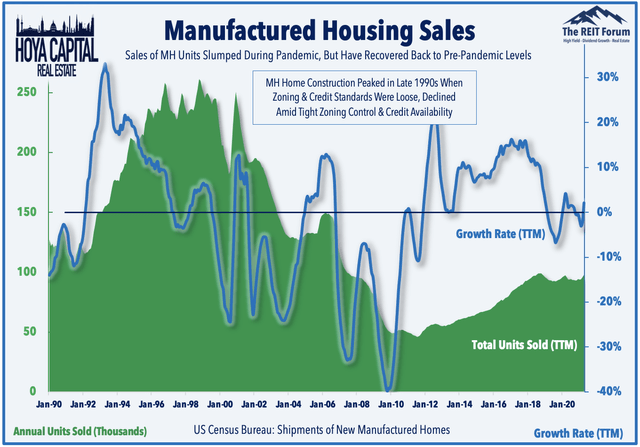 These REITs generally own communities in the higher tiers of the quality spectrum and are more "retiree-oriented" than the average MH community. MH REITs operate with some of the most well-capitalized balance sheets across the real estate sector. ELS and SUI operate with debt levels well below the REIT sector average of 33%, while UMH operates with higher leverage levels. Capital is cheap when balance sheets are well-managed, underscored by ELS' issuance of 10-year notes with a fixed interest rate of just 2.4% while SUI issued 10-year notes for 2.7%.

For residents, the economics of MH takes on the qualities of both renter and homeowner. Residents generally own their home but lease the land underneath it, paying an average of $70k for a new 1,500-square foot prefabricated home. The average monthly lease to set their home on a site and hook up to utilities in MH or RV community can range from $300 to $1,000 per month. By foregoing the investment in the land, however, property appreciation is generally minimal, and as a result, MH homeowners in land-lease communities generally cannot finance MH or RV purchases with traditional mortgages, and as with RVs, owners must finance the acquisition with a personal property (chattel) loan at a higher interest rate.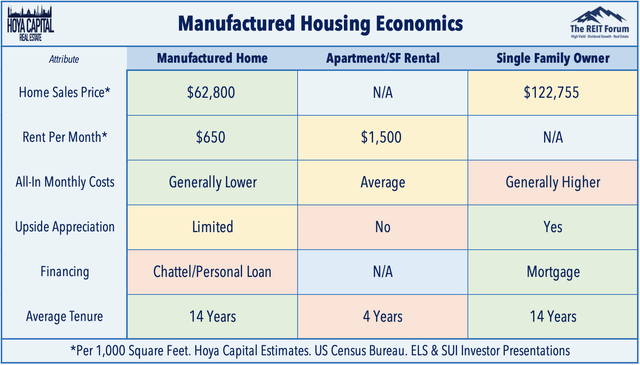 MH units, colloquially known as "mobile homes", are typically the most affordable non-subsidized housing option in most markets. MH REITs own roughly 5% of the five million manufactured housing sites in the United States. The manufactured housing resident base is incredibly "sticky", as the average MH owner stays in a community for 14 years, far higher than the 3-5 year average for other rental units. MH REITs comprise 2% of the "Core" REIT ETFs and also represent 4% of the Hoya Capital US Housing Index, the benchmark that tracks the performance of the US housing industry.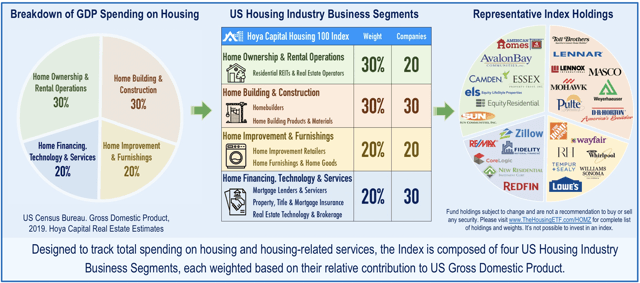 Manufactured Housing REIT Earnings
As noted previously, the headwinds observed during the peak of the pandemic in mid-2020 - the shutdown of RV parks and the slowdown in RV and manufactured housing sales - have swiftly become tailwinds amid a broader revival across the U.S. housing industry and other WFH-related industries. The vast majority of manufactured housing residents stayed current on their rents despite rent deferment plans made available by ELS and SUI.

Occupancy rates ticked higher by another 100 basis points in Q1 while "core" manufactured housing rents increased by 3.7%. Utilizing a strong cost of equity capital, these REITs have continued to grow externally by adding units to existing sites and by growing via acquisitions and site expansions. MH REITs acquired more than $1.5 billion worth of properties over the last year, largely in one-off acquisitions while disposing of just $10 million in assets.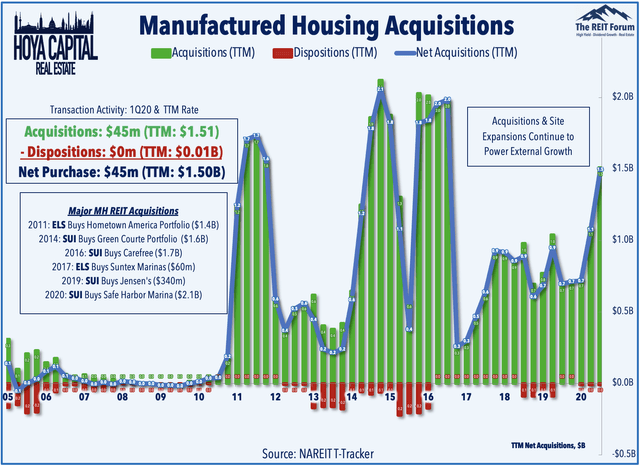 Manufactured Housing REIT Dividend Yields
Missed rents and dividend cuts were the prevailing themes in the equity REIT sector throughout 2020, but MH REITs were untouched by this wave of cuts and suspensions that hit many other property sectors. MH REITs pay an average dividend yield of 2.0%, ranking towards the bottom of the REIT sector market-cap-weighted average of roughly 3.1%, but have delivered one of the strongest rates of dividend growth over the last five years. ELS and SUI were two of 52 equity REITs to raise their dividend in 2020 and all three REITs have boosted their payouts in early 2021. MH REITs pay out less than 60% of their available cash flow, implying greater potential for future dividend growth and more free cash flow to fund accretive external growth.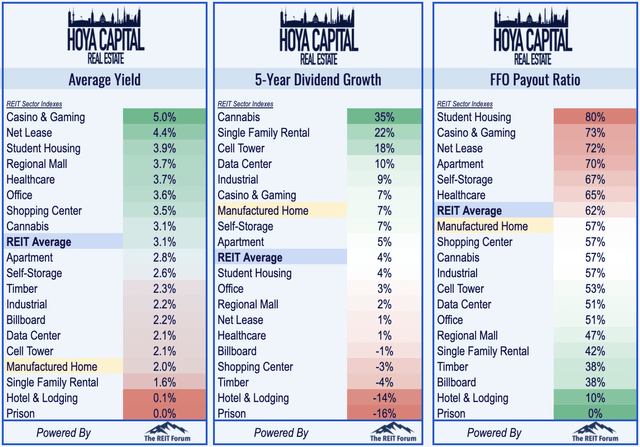 UMH Properties pays the highest dividend yield in the sector at 3.5%, but went nearly two decades with zero dividend growth before finally raising its distribution for the first time since 2008 earlier this year. Equity LifeStyle pays a dividend yield of 2.6%, while Sun Communities pays a dividend yield of 1.5%. ELS has delivered average annual dividend growth of 13.2% over the last five years, among the best in the REIT sector, while SUI has chosen to retain as much capital as possible to fuel further accretive growth.

For investors looking to take the "preferred route," UMH Properties has a suite of two preferred issues - UMH.PC and UMH.PD - that have initial call dates in July 2022 and January 2023, respectively. The two preferred issues - which are standard cumulative redeemable preferred stock - have delivered steady performance over the last several years and pay an average current yield of 6.20%, while trading at a slight premium to par value. These two issues delivered slightly negative price returns last year, but including the dividends, produced total returns of roughly 4% in 2020.

Manufactured Housing REIT Valuations
MH REITs haven't appeared "cheap" based on traditional static FFO-based metrics at any point during this historic eight-year stretch of relentless outperformance. MH REITs are again trading near the high-end of their historical valuation range with a Forward Price/FFO multiple of around 29x, a significant premium to the 22.7x multiple on the broad-based REIT index. MH REITs are one of the few REIT sectors that have consistently enjoyed a NAV premium over the past decade, which has helped to fuel accretive external growth.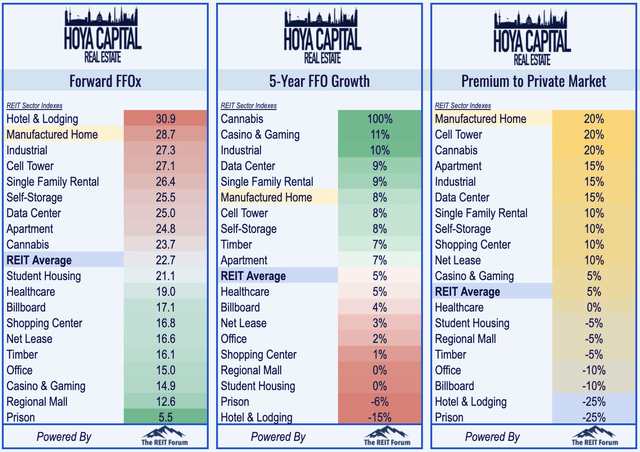 Takeaways: Ground Zero of Housing Shortage
While other segments of the housing sector currently look more attractive, don't bet against MH REITs, the perennial and seemingly relentless outperformers of the real estate sector. Three themes dominated the 2010s: 1) The Housing Shortage, 2) The Retail Apocalypse, and 3) The Internet Revolution. No REIT sector has benefited more from the affordable housing shortage than MH REITs, which produced an incredible 22% annual compound total returns from 2010 through 2020. As discussed in Harvard's annual housing report, the current housing stock is nearly 4 million units short of the level needed to match long-term demand, a compelling secular backdrop for companies across the broader housing industry.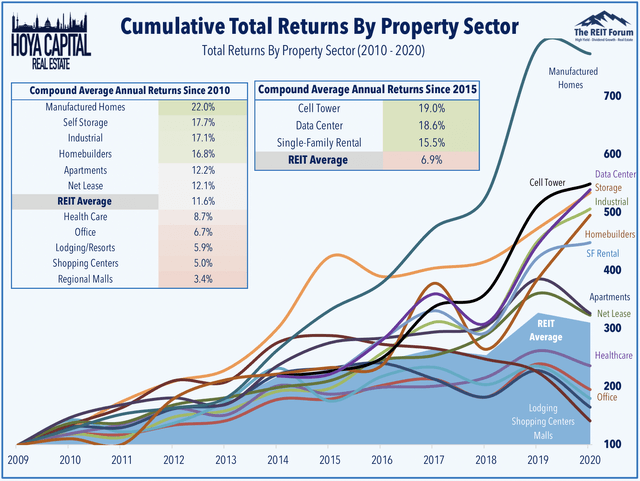 Low supply and strong demand have driven stellar fundamental performance for MH REITs over the past half-decade, and the MH sector continues to deliver sector-leading NOI and FFO growth. Consistent with the trends across the residential REIT sectors over the past quarter MH REITs significantly raised their growth outlook, citing strong rental housing demand and substantial upward rent pressure. MH REITs' amplified focus on analogous asset classes - RV parks and marinas - was perfectly-timed, providing an added external growth tailwind. "Work-From-Anywhere" has fueled soaring RV, boat, and vacation home sales.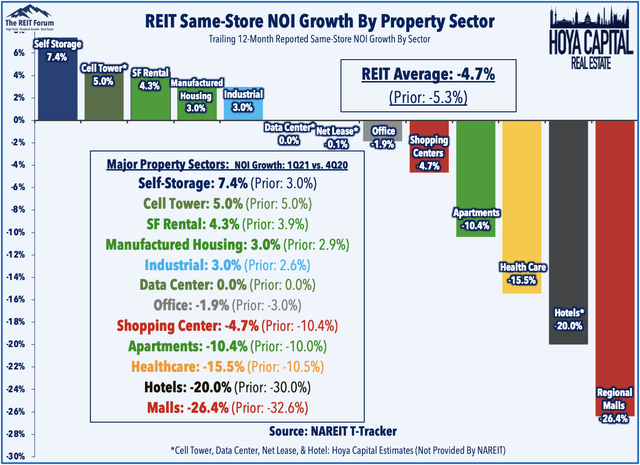 For an in-depth analysis of all real estate sectors, be sure to check out all of our quarterly reports: Apartments, Homebuilders, Manufactured Housing, Student Housing, Single-Family Rentals, Cell Towers, Casinos, Industrial, Data Center, Malls, Healthcare, Net Lease, Shopping Centers, Hotels, Billboards, Office, Storage, Timber, Prisons, Cannabis, High-Yield ETFs & CEFs, REIT Preferreds.
Disclosure: Hoya Capital Real Estate advises an Exchange-Traded Fund listed on the NYSE. In addition to any long positions listed below, Hoya Capital is long all components in the Hoya Capital Housing 100 Index. Index definitions and a complete list of holdings are available on our website.