E2open (NYSE:ETWO), a provider of comprehensive supply chain management software solutions, recently announced it would be acquiring BlueJay Solutions, a leading SaaS ("software as a service") platform focused on logistics execution and customs compliance. The deal comes at an implied $1.7 billion transaction value, based on E2open's pre-announcement closing share price. Building on the series of acquisitions made to complement its existing offerings over the past five years, the announcement also brings the company another step closer toward its vision of a connected and all-encompassing supply chain management suite. With shares trading at a discount to similar growth peers, I view current levels as an attractive entry point for investors.
A Closer Look at the $1.7 Billion Transaction
E2open has announced its intent to combine with BluJay Solutions, a leading global SaaS-based logistics execution platform with over 300 enterprise customers and 50k network participants. The latest acquisition comes as little surprise - E2open has made 11 acquisitions over the past five years, and this transaction puts the company another step closer to its vision of building a comprehensive supply chain management suite. The deal is expected to close in FQ3 '21, subject to approvals.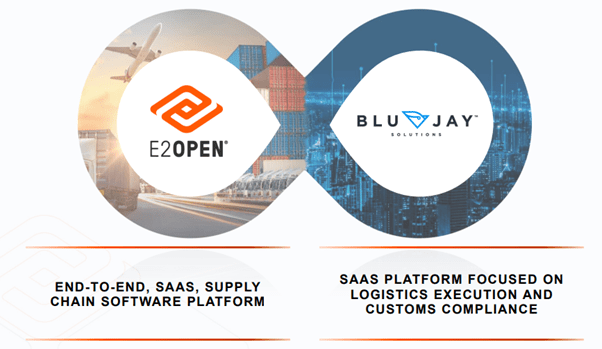 Source: E2open M&A Presentation Slides
Per management projections, the deal should bring pro-forma fiscal 2022 revenue up to $558 million, including an additional $188 million from BluJay. Meanwhile, adj EBITDA is projected to hit $204 million (comprising $121 million from E2open and an incremental $64 million from BluJay), which means the combined company will emerge as one of the largest players in the space. The deal should go a long way toward ensuring E2open maintains its longer-term sustainable organic growth rate of 10+% as well, which is a key positive for the growth story.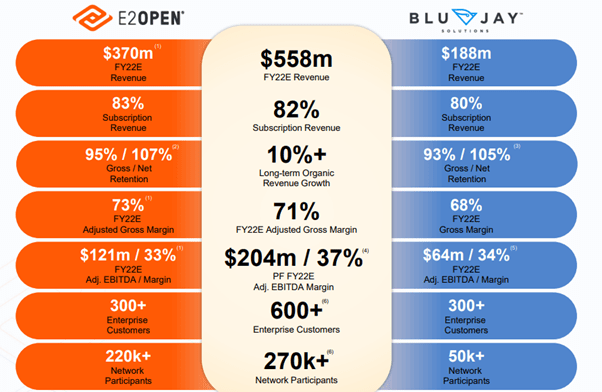 Source: E2open M&A Presentation Slides
Clear Positive Strategic Implications
The transaction should significantly boost E2open's core supply chain execution capabilities, especially in transportation management. This seems consistent with its broader strategy of becoming a comprehensive platform supply chain management solution platform. Post-deal, E2open also adds a network of 300+ enterprise customers and provides it with a cloud-based solution to displace on-premise Oracle and Blue Yonder systems across its existing customer base.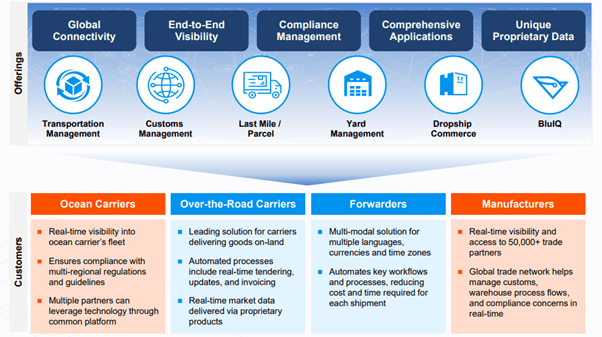 Source: E2open M&A Presentation Slides
In addition, BluJay's go-to-market strategy also adds to the opportunity - while BlueJay is mainly focused on new logo growth, E2open has typically depended on expansion within the base via cross and upselling opportunities. The deal, therefore, offers E2open a prime opportunity to leverage the complementary go-to-market motions of both businesses. Along with BluJay's various other competencies, including its international footprint, additional industry verticals, and strong mid-market presence, this should further expand E2open's reach to drive $1+ billion in value creation going forward.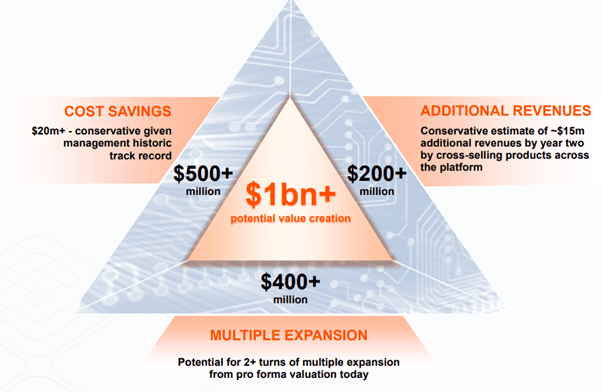 Source: E2open M&A Presentation Slides
Financial Terms Point to a Likely Accretive Outcome
The addition of BluJay is set to expand E2open's addressable market opportunity to $55 billion (up from the prior $45 billion). This comes at a reasonable price - relative to the transaction value of $1.7 billion, the implied adjusted EBITDA stands at c. 20x on fiscal 2022 numbers. Underlying these projections are the following - c. $20 million in cost-saving synergies and c. $15 million in cross-selling of products by year two. I would note, however, that these are conservative estimates, and successful execution could drive significant multiple expansion from the current implied pro-forma valuation.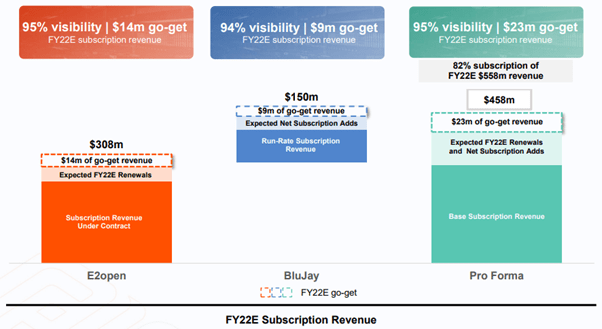 Source: E2open M&A Presentation Slides
With 95% visibility into fiscal 2022 subscription revenue, the company also now guides to a top-line of $558 million (relative to $370 million previously from E2open alone). The vast majority (c. 82%) of the revenue will come from subscriptions, leading to an impressive adjusted EBITDA margin of c. 37%. As a result, E2open has also guided to a mid-teens % accretion target over the next twelve months and a higher net retention post combination (up from 107% previously), all of which seem well within reach.
M&A Set to Boost the Growth Opportunity
One common theme with the E2open story has been that M&A has significantly benefitted the portfolio - the E2open acquisition strategy is focused on acquiring leading point solutions and then integrating them into its overall platform. Recently acquired businesses such as Amber Road (AMBR), Stelwedge, Birch Worldwide, Cloud Logistics, Entomo, and INTTRA have all seen the value proposition of their product offerings enhanced as a result, with the relationships also turning considerably stickier post-integration.

Source: E2open M&A Presentation Slides
In turn, I continue to believe the company remains on track for c. 10% organic growth, especially as the company looks to pursue acquisitions to bring new capabilities to the platform and expand the portfolio of solutions available to upsell to the existing customer base. Thus far, the company has already identified several potential transformative deals in the pipeline, in addition to smaller tuck-ins. And with the company going public, there should be limited funding hurdles - it now has equity as a potential option for further deals, while its cash flow should also allow it to sustain a higher debt load.
Final Take
With its latest acquisition, E2open continues to build out an impressive product suite covering all functional areas of supply chain management to provide deeper insights and efficiencies for its customer base. With expanded cross and upselling opportunities post-deal also providing over $1 billion of value creation opportunity within its customer base, the company has a clear longer-term runway for top-line growth and 30+% EBITDA margins going forward. E2open shares currently trade at c. 19x EV/EBITDA, a discount to peers (Kinaxis (OTCPK:KXSCF), Manhattan Associates (MANH), SPS Commerce (SPSC)) despite the potential for more M&A-led growth ahead, keeping me bullish.