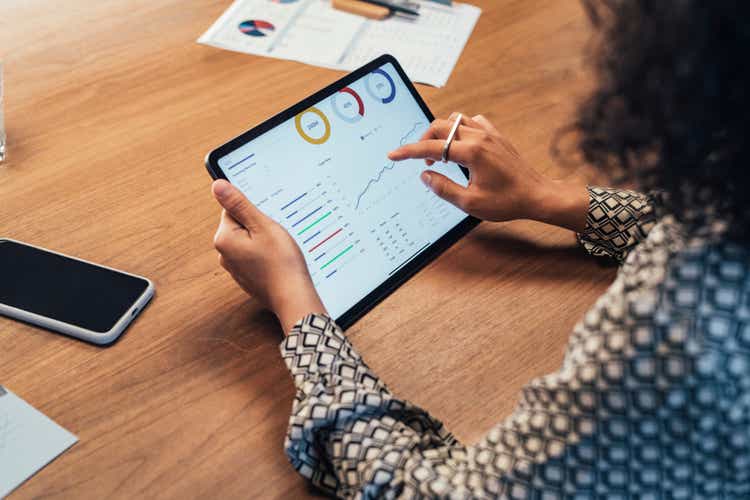 Introduction
AU Optronics (OTCPK:AUOTY) (AUO) is a Taiwanese company that specializes in optoelectrical technology. In other words, they produce LCD displays for a wide variety of markets and uses and also produce solar modules and systems.
The company is a combination of two legacy companies, Acer, which folks might recognize from their computer monitors, and Unipac.
Recent Results
Even before Covid, the company had a rough 2019. On sales of $255 million, they had a negative gross profit. That is a very bad sign and one I rarely see. The last time I saw that was when writing about Wabash (WNC), a maker of freight containers, when the price of steel and other raw materials during the Great Recession soared above what they could sell their product for.
And unsurprisingly, the company lost $20m or $2.00 per share that year.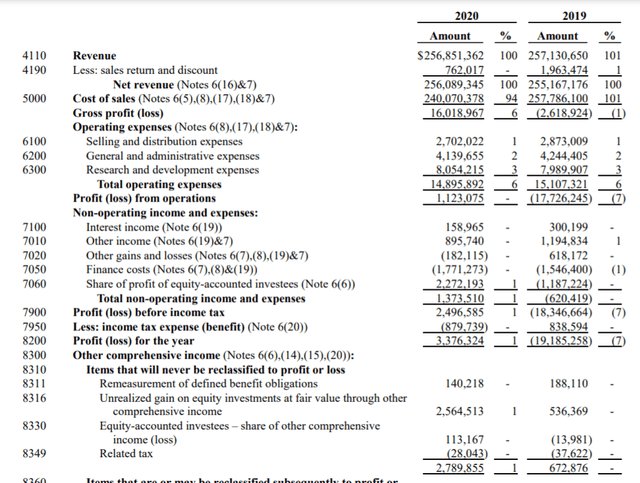 Source: 2020 Annual Report
2020 was a much better year despite or rather because of Covid, as the cost of sales fell dramatically. Other SGA costs were flat year over year and some other one-time items like strong performance and valuation from their equity subsidiary investments produced a strong $6 million net income for year.
Driving this performance was increases both in volume of displays sold and a large increase in average selling price (ASP).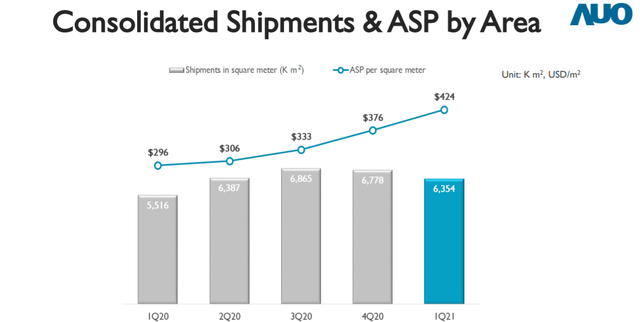 Source: Q1 2021 Presentation
There wasn't a huge movement in the end markets during Covid, but gaming did increase slightly as automotive struggled in Q2 2020 but they have since reverted.
Source: Q1 2021 Presentation
The company projects ASP growth to continue in the teens while volume will grow in the low-single digits.
Revenue in the most recent quarter grew 3% while material costs continued to fall despite supply constraints of key components. Gross profit increased 33% and net income rose 40%.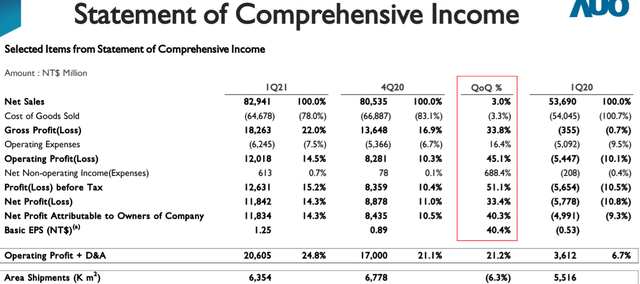 Source: Q1 2021 Presentation
Outlook
The results that AUO has been putting up is impressive and they are likely to continue to produce more in the short term, but the question that lingers for me is when things return to "normal", in this case similar to 2019 in terms of financial results, where will the company be and how will it perform?
In their materials they claim that the industry is correcting its chronic overcapacity issues that have made the production of displays a battle of scale and a low-margin, commoditized industry.
At approximately 13% market share, AUO does not seem like a long-term buy-and-hold type of company and is clearly benefitting temporarily from the unique demand and supply characteristics that exist at present. Like other commodity producers, they are trying to position more towards value-added products that they can charge higher prices for.
Despite my reservations on the long-term future of the business, that doesn't mean the stock couldn't be a good buy.
The market has certainly noticed AUO's improving performance, with the stock rising from $2 to over $12 at its peak, although it's now down slightly at $8.58.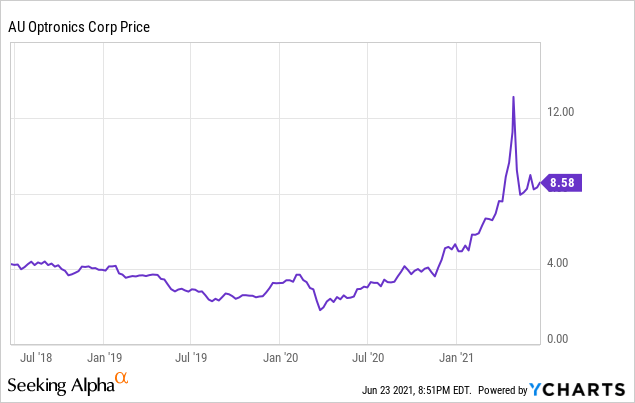 On the surface the stock seems cheap at a P/E of ~11, but again given the cyclical nature of the stock that should return in 2022, earnings could easily fall from the $1-2 expected this year to negative EPS should ASPs normalize. Much like an oil company at the top and bottom of cycles, P/E does a poor job of valuing a company because of how rapidly and dramatically earnings can change, whereas for a more predicable company like a food manufacturer, it might be much more useful.
Conclusion
Despite claims of changing market conditions, new value added products, and solar expansion, 97% of AUO's revenue is still from traditional LCD displays. They are not the market leader nor do they have tremendous financial resources to acquire or dominate the industry. At best, one is hoping for a transformational supply and demand change to manifest on the other side of the pandemic, and I am not willing to take that bet.