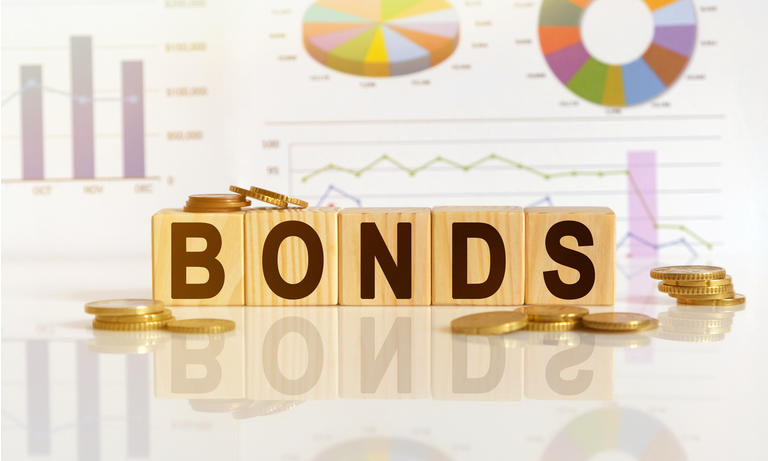 Co-produced with "Hidden Opportunities"
Introduction
In February 2020, Advisor Group (referred to as AG) acquired Ladenburg Thalmann (NYSEMKT:LTS) to create robust platforms in the wealth management industry. AG opted to delist the four baby bonds that LTS had outstanding – LTSF, LTSH, LTSK, and LTSL. Thus they were moved to the Pink Sheets where they have continued trading ever since.
This article discusses the spectacular income opportunity presented by the baby bonds, which are currently trading at handsome discounts to their par value and are providing high yields that are well covered by the company's earnings. Further, we discuss recent rulings from the SEC that will most likely result in these securities being moved to the grey market. This could cause lower liquidity and wider bid/ask spreads; however, if you are a long-term investor (rather than a trader) this has no material effect on our core strategy. We continue to be very optimistic about these notes as they present some of the best and most inconspicuous high dividend opportunities in the market.
About Advisor Group
With a network of more than 11,300 financial advisors and over $475 billion in assets under management ('AUM'), AG adopts a multi-brand network model to provide services to clients. It offers securities and investment advisory services through its affiliated broker-dealers. The following diagram shows the top firms operating within the AG network.

Source: Created from Advisor Group Website
Since the merger, LTS continues operating under its brand within AG's multi-brand network model. As the economy continues to rebound, we see AG growing its AUM and client base through a series of recent recruitments:
Granite Vista Financial, Phoenix, AZ: $48.3 million in client assets
Perfected Wealth Management, Huntington Beach, CA: $32.2 million in client assets
Bridges Wealth Management, Corvallis, OR: $82.6 million in client assets
Legacy Financial Advisors, Inc., Lynnfield, MA: $78 million
Tartarini Financial Services, Woburn, MA: $90 million in client assets
Compass Wealth Solutions, Portland, IN: $221 million in client assets
Azose Johnson & Associates, Spokane, WA: $168 million in client assets
AG is adopting technology to transform the digital experience and interaction model for its clients with an increasing focus on the untapped millennial market whose ~85 million population and spending power, which exceeds $1.5 trillion, are vital for the growth of wealth management industry.
One example is the MyCMO turnkey digital marketing platform by AG that resulted in subscriber network partners experiencing ~50% higher YoY revenue growth than non-subscribers in 2020.
Overall, we can see that AG is growing and expanding its base in the Independent Broker-Dealer space through product/service enhancements and partnerships.
Being a private company, we have limited financial data, but AG was third among the top independent broker-dealers in the wealth management sector in 2019.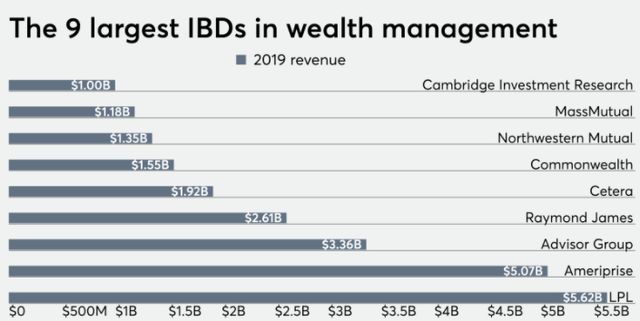 Source: financial-planning.com
Moody's and Fitch periodically rate AG's debt instruments. These debentures carry a Caa2/CCC rating. These credit reports give us access to a lot of valuable data about the company's financial health.
During the rating affirmation, Moody's noted AG's successful management of the challenges created by the global pandemic during 2020.
Advisor Group's seasoned management team swiftly lowered expenses, raised efficiencies, and adapted the firm's operations to a new remote work environment. In addition, Advisor Group was able to accelerate its integration of Ladenburg Thalmann, realizing a large portion of its forecasted expense synergies ahead of schedule. The firm has also exceeded its advisor retention targets, an important driver of client asset levels" - Moody's
Through the credit reports, we learn that as of June 2020,
AG had healthy 2x coverage of interest expenses by its EBITDA. For bond investors, this is a very positive metric since contractual interests for the debentures are satisfied.
On the downside, AG's Debt to EBITDA ratio (6.7x) is very high and a likely influencer for its Caa2 rating.
AG's liquidity situation looks good with cash and net excess capital of around $488 million.
Data provided to the credit agencies convey a lot about the stability of AG's business and make a strong case for investment in LTS senior notes. Not only are interest payments well-covered by EBITDA, but you will see in the next section that these securities trade at very desirable discounts today.
Baby Bonds at a Bargain
Ladenburg Thalmann Financial Services, 7.00% Senior Notes due 5/31/2028 (OTC:LTSF)
Ladenburg Thalmann Financial Services, 7.75% Senior Notes due 6/30/2029 (OTC:LTSH)
Ladenburg Thalmann Financial Services, 7.25% Senior Notes due 9/30/2028 (OTC:LTSK)
Ladenburg Thalmann Financial Services, 6.50% Senior Notes due 11/30/2027 (OTC:LTSL).
LTS's four senior notes currently trade in the pink sheets, reducing their overall visibility to individual investors. Low volume in these exchanges also deters institutional investors from showing interest in these debentures.

As seen above, all four securities trade substantially below the $25 par value that bondholders will receive upon maturity (or in the event of an early redemption/call). While an earlier redemption would be great and give us sizable gains, it is unlikely due to the current debt load at AG.
These senior unsecured notes assumed by AG rank equally in right of payment with all of AG's senior unsecured indebtedness.
There are two methods that we have used to determine that these baby bonds are highly undervalued.
1. Comparing with bonds carrying similar credit ratings and durations to maturity
The scatter plot below shows the YTM (yield to maturity) of unsecured bonds with a Caa2 rating and with maturities between 6-8 years (Same duration range as LTS baby bonds).
These Caa2 rated debentures with similar maturities to the LTS bonds have YTM in the range of 4.2% to ~10%. LTS baby bonds fall on the highest end of the scatter plot, indicating that the opportunity is largely misunderstood and mispriced by the market.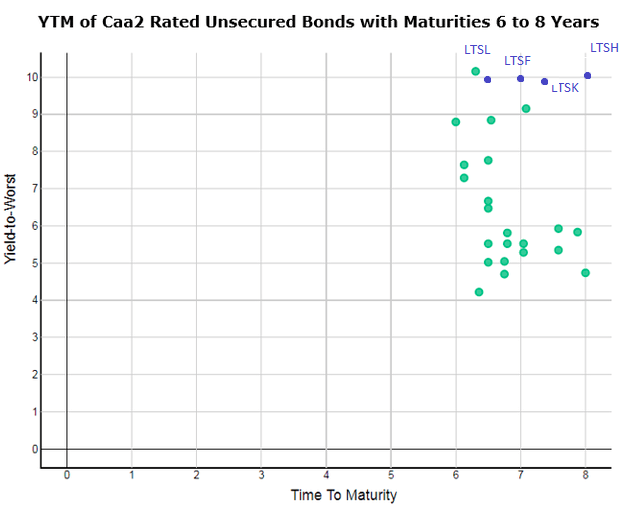 Source: Interactive Brokers
2. Comparing LTS baby bonds with another AG bond
We can be even more certain about the undervaluation by looking at another AG debenture that has a similar duration to maturity and carries an identical credit rating as the LTS baby bonds. This corporate bond (CUSIP 00791GAA5), which is traded by institutions, currently trades at an 11.4% premium to its par value and has a yield to maturity of 8.3%.
This legacy AG bond has its YTM consistent with the average YTM seen from the above scatter plot, indicating that it may be fairly valued today.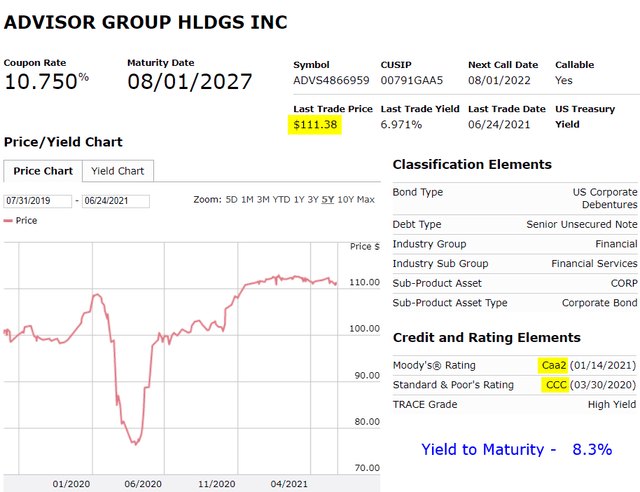 Source: FINRA
Premium-to-par value and YTM of 8.3% for an identically rated debenture from the same company tells us that LTS baby bonds are highly undervalued.
We believe there are a few reasons why this legacy AG bond will continue to trade at a premium to LTS baby bonds:
There are $350 million of legacy AG bonds outstanding compared to the combined LTS baby bond total debt of ~$240 million. It is expected to trade with higher liquidity and larger volume than LTSF, LTSH, LTSK, and LTSL.
The legacy AG bond can only be traded by large institutions that most likely have access to additional financial information about AG than individual investors.
So using a conservative 9.0 to 9.3% target YTM for these baby bonds, we can see that current prices are a bargain.

Source: Author's calculations
Risk factors for bond traders
The SEC recently came out with an amendment to its Exchange Act Rule (SEC Rule 15c2-11). This ruling requires companies that trade on the OTC Market to maintain stricter disclosure standards, thereby prohibiting broker-dealers from publicly quoting securities that don't disclose current financial information.
The SEC has provided September 28 as the compliance date for companies to maintain current filings. We believe that if companies fail to provide the necessary financial information before the deadline, trading in "no information" pink sheet stocks will likely move to the "grey market" (Data Source: OTCMarkets Blog & Benzinga). This creates a possibility of difficulty in trading due to limited visibility, access, and reduced volumes, and the extent of the problem may vary based on your broker.
AG does not report financial information as a private company, and we believe they are unlikely to do so in the future. LTS baby bonds may be pushed into the grey market, which could impact trading activity.
Our favorite holding period is forever - Warren Buffett
While bond traders may experience larger spreads in bid/ask prices due to possibly low volumes, we believe there will be no impact from this ruling for long-term buy-and-hold investors. We see this as an opportunity, and as we approach this date, any broker decisions to alter trading of these securities could result in short-term price drops during which we can add to our holdings.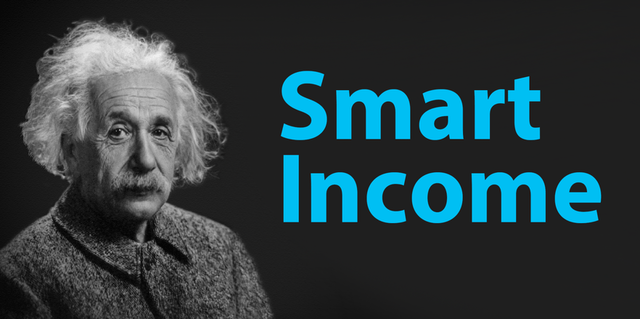 Source: Getty
Conclusion
In late 2019, Advisor Group, a rapidly growing private network of wealth management firms, acquired Ladenburg Thalmann. Following this transaction,
LTS baby bonds trade well below par-value on the pink sheets and are highly undervalued relative to similarly rated bonds of similar duration.
They have YTMs above 9.4% and 6-8 year maturity durations.
Not only are YTMs extremely attractive, but LTS baby bonds also have the prospect for significant price upside.
Their EBITDA well covers AG's interest expenses.
LTS baby bonds rank equally in right of payment with all of AG's senior unsecured indebtedness.
The SEC's recent amendment impacts these securities since AG does not report its financial data. But we believe this ruling does not affect our committed long-term income investment strategy. LTS baby bonds are currently among the most attractive long-term opportunities for income investors.
These baby bonds are ones to buy, set aside, and no longer worry about as you collect great income until maturity. Retirees and income investors, these types of golden opportunities are the ones you want in for your portfolios, and today, you have the ability to capitalize on them.
= = =