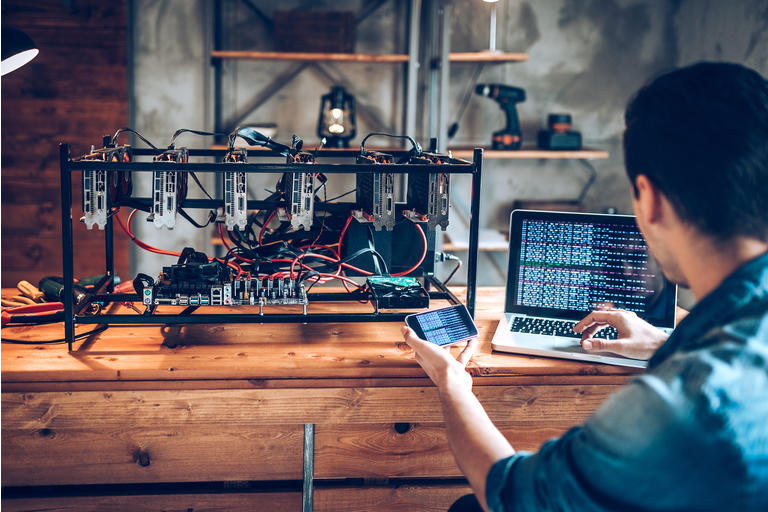 Background
Our investment thesis on Bitfarms (NASDAQ:BITF) is founded on this very statement:
Bitfarms has a diversified production platform with five industrial-scale facilities located in Québec. Each facility is 100% powered with environmentally-friendly hydropower and secured with long-term power contracts. Bitfarms is currently the only publicly traded pure-play mining company audited by a Big Four audit firm.
This study took an interest in Bitfarms for several reasons. Firstly, Bitfarms' share price is less risky (volatile) than Bitcoin despite its high positive correlation with Bitcoin (Chart 1), unlike Riot Blockchain (RIOT) and Marathon Digital Holdings (MARA). This is shown by computing Bitfarms' Beta against Bitcoin.
Beta is a measurement of the sensitivity of an asset price towards another asset price. Beta is usually a measurement of a stock's sensitivity towards an index. However, MARA's share price sensitivity towards Bitcoin can be measured by switching the denominator to Bitcoin. The equation is given below.

Source: Author
Bitfarms' Beta against Bitcoin is 0.975, where MARA's and RIOT's are 1.4 and 1.6, respectively. This implies Bitfarms' share price is expected to move 0.975% (in the same direction) for every 1% move in Bitcoin's price. In Finance, less volatility is often referred to as less risky. This makes Bitfarms less risky than Bitcoin.
Secondly, it has a larger crypto mining operation than other well-known crypto mining companies such as RIOT and MARA. Bitfarms has mined 598 bitcoins in 2021Q1 compared to MARA (196) and RIOT (491).
Thirdly, ESG concerns create opportunities for green crypto mining companies such as Bitfarms. Elon Musk's and Janet Yellen's concern on Bitcoin's energy usage validated our investment thesis on a green crypto mining company. This is also one issue that is keeping large institutions such as wealth funds from investing in Bitcoin.
Last but not least, Bitfarms claims to have a relatively low mining cost of $8,300 despite relying 100% on hydropower. This claim is very important as mining cost should be the most important performance indicator of a crypto mining company. More to be discussed in the next section.
Therefore, this article aims to:
Examine the mining/production efficiency of Bitfarms against other well-known crypto mining companies.
Examine the implications of a $10k Bitcoin with respect to Bitfarms' mining cost and Bitcoin's halving cycle.
Propose a valuation framework for Bitfarms.
Chart 1: Correlation between Bitfarms and Bitcoin price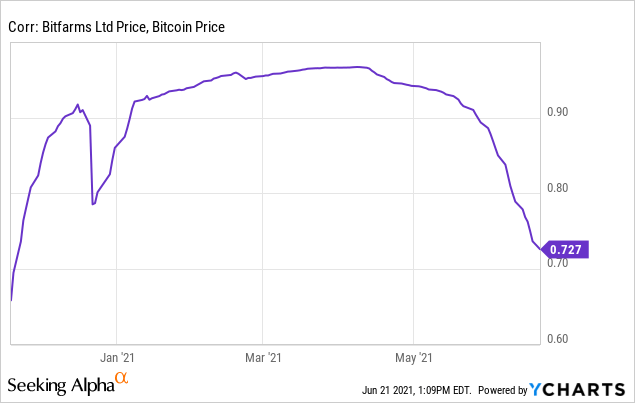 Source: YCharts
Bitfarms' Cost of Mining
The cost of mining is fairly subjective as it can contain a basket of different items. Some consider labor costs, rental, and leasing, while others consider only electricity costs and wear-and-tear. This study standardizes the cost computations by considering the reported cost of revenue and total costs and expenses.
Table 1 represents the summary table for the mining costs of Bitfarms, RIOT, and MARA. It is observable that MARA has the lowest operating cost per BTC while Bitfarms and MARA have a similar total net cost per BTC. However, one notable difference between Bitfarms and MARA is that Bitfarms operates at 3x MARA's scale and with renewable energy. According to Bitfarms, its operation contributes to more than 1% of Bitcoin's total network.
Although this study couldn't reach the claimed $8,300 mining cost per BTC after considering cost addition to electricity, Bitfarms' mining cost is still relatively efficient compared to other miners. With an estimated $20k total mining cost per BTC, Bitfarms has sufficient margin to withstand Bitcoin's volatility.
Table 1: Summary Table for Estimated Mining Costs
| | | | | | |
| --- | --- | --- | --- | --- | --- |
| Company | BTC Mined | Cost of Revenue (COR) | Total Cost (TC) | COR per BTC | TC per BTC |
| BITF | 598 | $9.1mil | $12mil* | $15k | $20k |
| RIOT | 491 | $7.5mil | $15.8mil | $15k | $32k |
| MARA | 196 | $2.4mil | $3.8mil** | $12.2k | $19k |
Source: Author Note:* "Net financial expenses" worth $23.4mil were excluded from Bitfarms' mining cost because it is claimed to be non-recurring and non-cash. ** "Compensation and related taxes" worth $52mil were excluded from MARA's mining cost.
A $10k Bitcoin and Bitcoin's Halving Cycle
In our previous study, Bitcoin's halving cycle is examined to make an educated prediction of a potential Bitcoin crash. The study found that Bitcoin followed specific patterns during each halving cycle in 2012 and 2016. During each halving cycle in 2012 and 2016, Bitcoin would enter a bull market lasting 1 year, followed by a 1-year bear market. Then Bitcoin would stagnate for 2 to complete a cycle. Refer to Chart 2.
At the time of writing, Bitcoin has ended its 1-year bull market started on 18th May 2020 and is potentially starting its bear market as depicted by the halving cycle presented in Chart 2. During each bear market in 2013 and 2017, Bitcoin also followed specific sequences of events.
Reversal pattern flashed at peak (all-time high).
Followed by a 50% drop.
Recover back to 20% away from the peak.
Followed by a drop to 70% away from the peak.
Eventually bottomed at 85% away from the peak.
Currently, Bitcoin has fulfilled the first 2 sequences of events by flashing a reversal pattern (Head-and-Shoulders / Wyckoff distribution pattern). If history were to repeat itself, sequence 4 would see Bitcoin at $20,000 while sequence 5 would see Bitcoin at $10,000.
Chart 2: Critical Support Resistance Guiding Bitcoin's Cycle.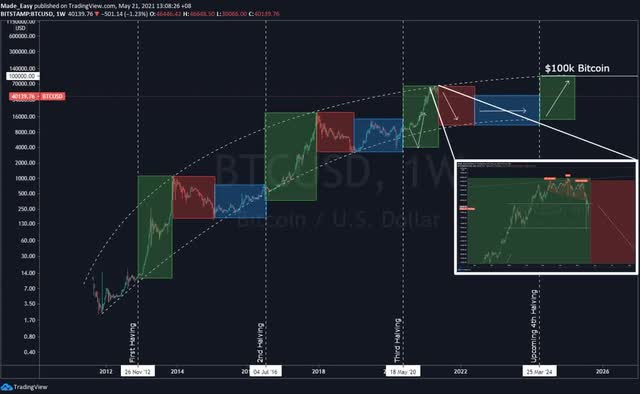 Source: Author, TradingView
Chart 3: Sequence of Events During 2013 Bitcoin Crash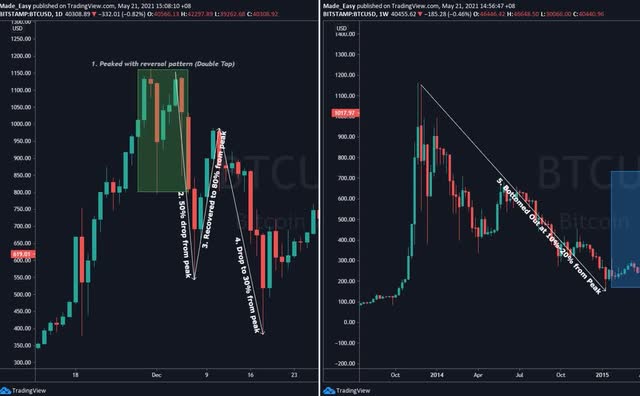 Chart 4: Sequence of Events During 2017 Bitcoin Crash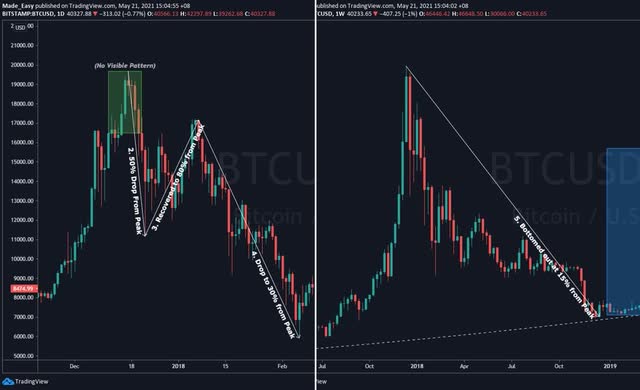 Chart 5: Projected Sequence of Events for Potential 2021 Bitcoin Crash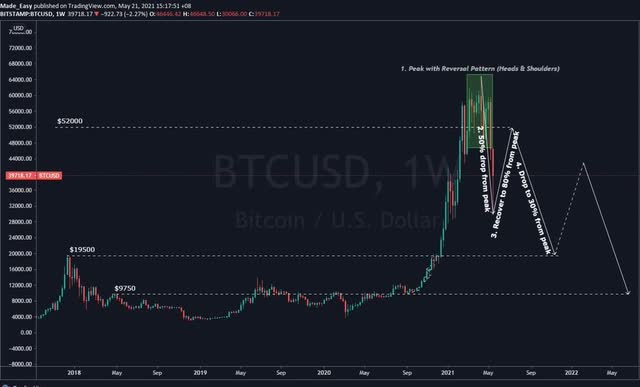 Sources: Author, TradingView
What does this mean for Bitfarms with mining costs of $15k and $20k?
This implies that Bitfarms can still sustain its operation even if Bitcoin fell to $20k (sequence 4 of a bear market). However, Bitfarms would struggle to cover the cost if Bitcoin falls to $10k (sequence 5 of a bear market).
Fortunately, Bitfarms could wait out the bear market with its $53mil cash in its balance sheet. Assuming Bitcoin lingers at $10k during a bear market, Bitfarms would incur a net loss of ($10k - $20k)*598 = -$5mil per quarter. Hence, Bitfarms could still survive approximately 10 quarters (or 2.5 years) with its cash positions. This should provide Bitfarms with sufficient buffer because a typical bear market spans only 1 year.
Unfortunately, a $10k Bitcoin would be detrimental to Bitfarms' valuation. In our previous study, we proposed a valuation framework that a mining company's valuation should be a function of the following items:
The fair value of commodities on the balance sheet
Production/mining capacity
Production/mining cost
Price of the underlying asset.
Ideally, Bitfarms would try to keep as much mined BTC as possible because of an expectation that BTC would appreciate over time. The lower Bitcoin is priced, the more BTC Bitfarms is forced to sell to cover costs and expenses, ultimately less BTC ends up in the balance sheet.
Valuation: 500% Upside Potential
Items as per the proposed valuation framework are listed below:
Balance sheet. Bitfarms has 1,114 BTC on its balance sheet.
Production/Mining Capacity. Bitfarms aims to achieve 3,000 PH/s by the end of 2021 and 8,000 PH/s by end of 2022. BuyBitcoinWorldwide's calculator estimates that Hashpower of 3,000 PH/s could mine 992 BTC ($34.7mil) per quarter and 3,969 BTC ($139mil) per year. With Hashpower of 8,000 PH/s, Bitfarms could mine 2,646 BTC ($92.6mil) per quarter and 10,584 BTC ($370.44mil) per year. By July 2021, Bitfarms will have 1,660 PH/s Hashpower. BuyBitcoinWorldwide estimates that a Hashpower of 1,660 PH/s could mine 549 BTC ($19.22mil) per quarter and 2196.2 BTC ($76.87mil) per year.
Production/mining costs stands at $15,000 and $20,000.
Assumed BTC price = $35k
Assuming the price-earnings multiple (20) a typical physical mining company such as Barrick Gold Corporation (GOLD) and Vale (VALE), Bitfarms should be valued at:
Currently: 1,000BTC*$0.035mil + ($0.035mil - $0.02mil)*2196.2*20 = $697.85 mil or $0.697.85b
By end of 2021: 1,000BTC*$0.035mil + ($0.035mil - $0.02mil)*3,969*20 = $1,229.70 mil or $1.2297b
By end of 2022: 1,000BTC*$0.035mil + ($0.035mil - $0.02mil)*10,584*20 = $3,214.20 mil or $3.2142b
Bitfarms is currently valued at $622mil. This implies that Bitfarms is 12%, 100%, and 500% undervalued according to its July 2021, end of 2021, and end of 2022 Hashpower figures respectively. This is also a conservative estimation as Bitfarms is earning more Bitcoin for the same computing power and operational costs due to the decreased hash rates from China.
Risk Considerations: Regulatory Risks and Prolonged Bear Market
While China's crypto mining crackdown presents growth opportunities for miners outside of China (including Bitfarms), crypto mining companies are not exempted from facing similar risks in their respective jurisdictions.
China's crypto mining crackdown can pave the way to its own centralized digital currency's nationwide (potentially worldwide) adoption. This suggests China recognizes Bitcoin's threat towards its own currency. On the other hand, Peter Thiel recognized the same threat towards the USD. Peter Thiel said:
Even though I'm a pro-crypto, pro-bitcoin maximalist person, I do wonder whether if at this point bitcoin should also be thought of in part as a Chinese financial weapon against the U.S. … it threatens fiat money, but it especially threatens the dollar.
If that ever happens, it is not unreasonable to expect extreme countermeasures by the governments or central banks. This may include a ban on Bitcoin and its supply chain (including mining) or even confiscation. In the US, such extreme countermeasures were taken in the past where the government under Franklin D Roosevelt seized all gold under Executive Order 6102.
Another risk to consider is the adverse impact of prolonged dip below $20k. This study assumed that Bitcoin will at the most bottom out at $10k before going on to new all-time highs. If Bitcoin were to drop below $20k for a prolonged period of time, this study's cost analysis suggests Bitfarms and other crypto mining companies will struggle to cover operating costs and may be forced out of business. Moreover, prolonged dip below $20k will also reduce Bitfarms' Bitcoin holding because more Bitcoin has to be sold to cover mining costs. This ultimately affects Bitfarms valuation.
Conclusions and Final Remarks
This study first took an interest in Bitfarms because it is less volatile than Bitcoin, it is a pure-play green crypto mining company operating at scale, and ESG concerns create great opportunities for the company.
This study then conducted an in-depth cost analysis for Bitfarms, RIOT, and MARA and found that Bitfarms' total net mining cost per BTC is relatively low ($20k per BTC) compared to RIOT and MARA despite operating on 99% renewable energy.
Based on this cost analysis, this study found that Bitfarms could survive Bitcoin being at $10k for 10 quarters. This provides Bitfarms with sufficient buffer as a typical bear market only spans 1 year, while Bitcoin's halving cycle suggests the current potential bear market would bottom out at $10k.
Finally, this study proposes a valuation framework for Bitfarms where Bitfarms has 12%, 100%, and 500% upside based on July 2021, end of 2021, and end of 2022 target Hashpower, respectively.