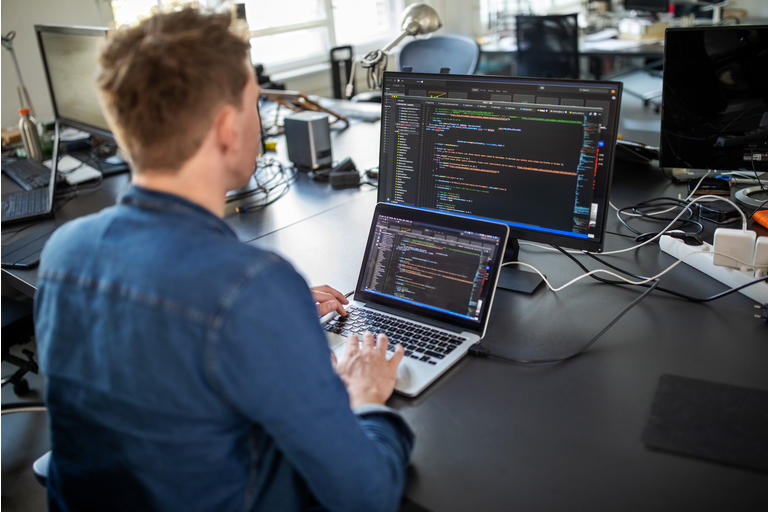 Investment Thesis
Appian (NASDAQ:APPN) has created a product that can help a developer with minimal experience create software like someone with decades of experience. Its platform brings efficiency and cost-effectiveness to an otherwise wasteful software development cycle. Although they face very strong competition from heavy hitters, other low-code servicers, and no-code servicers, Appian will likely still have lots of room to grow and expand its business. Customers have learned to rely on Appian's products, I find it hard to believe that they will leave Appian. For these reasons, I am bullish on Appian for the next 5-10 years, and I think that Appian is worth an investment at today's prices.
Appian At A Glance
Appian is a business-to-business platform that has created a subscription service that allows businesses to optimize their efficiency. They give businesses access to low-code software development programs that allow businesses to create their own professional software without having to hire an expensive software developer. With this platform, companies can create their own apps and software for their own customers quickly and easily.

Source: Appian Website
The value of a platform like this is often undervalued. The problem in America is that there is a very short supply of software developers. In 2019, CNBC reported that there were nearly 1 million unfilled IT and software development jobs in the U.S. This means that many companies need software developers, but very few are actually available. This leads to not being able to develop proper software for its customers, or being forced to hire and salary a very expensive developer, neither of which are very beneficial to the business. Appian offers this cost-conscious option to businesses.
Appian has also started to offer businesses assistance in the automation of mundane and repetitive tasks. This frees up valuable workers so they can work on other, higher-level jobs at the business. This allows the business to save both time and money.
Appian is trying to save its customers lots of money while optimizing their employees' time. For Appian's customers, efficiency is critical to success, and Appian is helping them become the most efficient company they can be. The cost-benefit that Appian offers is quite appealing to businesses, for they are able to create their own high-quality software on Appian for a much cheaper price than hiring a developer. This, in turn, translates into very strong financial stability for Appian.
Strong Financials
In the most recent quarter, Appian continued to show strong performance and execution in its business operations. Appian started as a one-time software developer, but they quickly realized that creating a recurring revenue service that includes subscriptions for the access of applications was the right avenue. Therefore, Subscription revenue has grown from 51% of revenue in 2017 to 72% of revenue in the most recent quarter. This is extremely beneficial for Appian; gross margins for the subscription revenue are a whopping 91% compared to gross margins for professional services of 32%.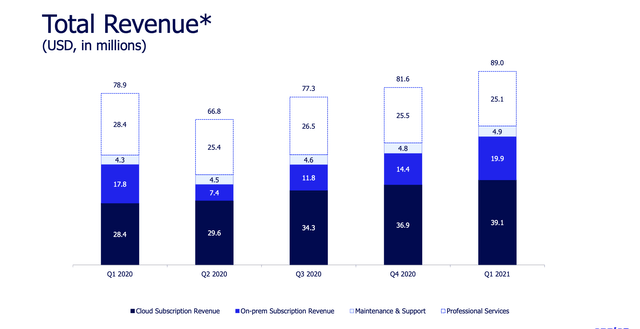 Source: Q1 Presentation
Total revenue grew 13% year-over-year, whereas cloud subscription revenue grew impressively by 38%. As Appian shifts its business fully to cloud subscription revenue, investors will likely see total revenue growth start to increase and meet the growth of cloud subscription revenue. The gross margins for the business will also follow a similar track, slowly creeping up to the impressive level that subscription margins have.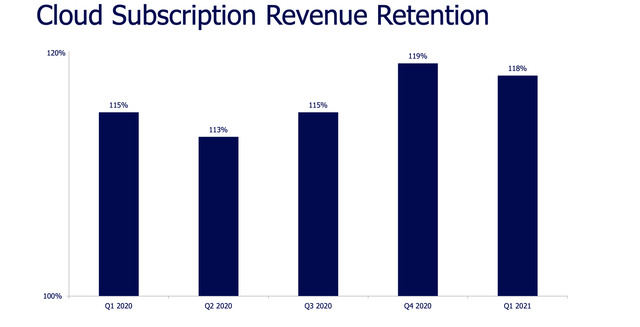 Source: Q1 Presentation
Going back to my notes on customer reliance and dependency on Appian, the Net Revenue Retention (NRR) proves this theory. In the most recent quarter, NRR rate was an impressive 118%, which means that customers who spent $100 last year are now spending $118. This shows investors how sticky Appian's platform is, and how much Appian's customers rely and depend on it. Better yet, Appian's NRR rate has been growing impressively, as the NRR rate in Q1 2020 was 115%. This, again, shows how reliant customers are.
In terms of guidance, Appian is expecting more strong growth and performance. For Q2 2021, Appian is guiding for 39-40% revenue growth in the cloud subscription services and 15-17% year-over-year total revenue growth. For FY 2021, Appian is guiding for total revenue of $353-$355 million, or growth of 15-17%. They are also guiding for FY growth of 32-33% in the cloud subscription services of the business. All of these estimates show that Appian expects to continuously execute at a high rate, just as it did in the most recent quarter and as it has the past few years. As a shareholder, I am very happy to see strong guidance and self confidence in their ability to execute through 2021. The only downside is that this execution comes with an expensive price tag.
Relative Valuation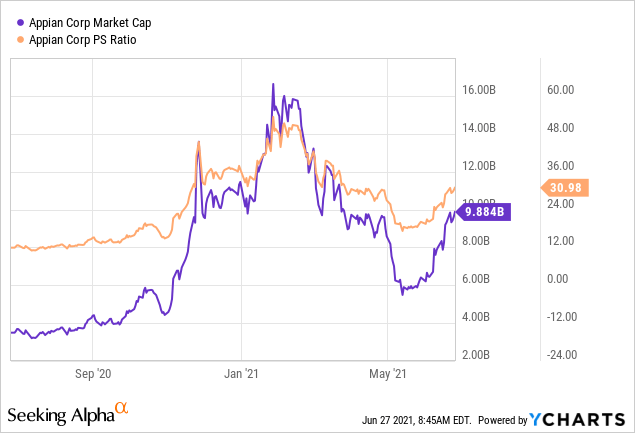 Despite a high current valuation, Appian is relatively cheap compared to where it has been trading for the past 6 months. Before December 2020, Appian experienced steady multiple expansion, which is expected of any company that is executing at a high level like Appian is. However, investors inflated Appian's share price, and thus their valuation skyrocketed. In February 2021, Appian was trading over 50x sales. Since then, it has fallen back down to a slightly more reasonable level, falling into the range of its traditional multiple expansion.
Despite Appian's high sales multiple of 31 today, investors can breathe easy knowing that they are not paying too much, for Appian has traded at a much higher price before. Although 31x sales are expensive, it has fallen closer to the valuations of some of its competitors.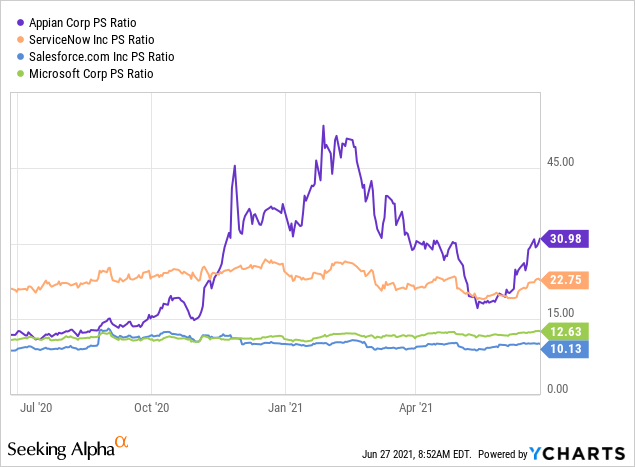 Now clearly, due to the size of companies like Microsoft (MSFT), ServiceNow (NOW), and Salesforce (CRM), the sales multiples of these big and established businesses will be lower than a fast-rising up and comer. But Appian has, however, become much more appealing in terms of valuation compared to a few months ago.
By no means could Appian be considered cheap at today's multiples, but I feel strongly that as Appian grows, they will be able to capitalize on the large (and growing) market they operate in. Because of this, I think that the valuation risk is far outweighed by the long-term rewards from buying this expensive stock today.
Also, if investors are wary about today's valuation, they can invest a small portion today, and dollar-cost average into a full position in Appian. If they invest today, and valuation declines to a cheaper valuation, investors can take advantage of this and buy more. This strategy would not completely eliminate this risk, but it would mitigate the risk of Appian's high valuation. Appian does, however, have a few other risks that weigh more heavily than the valuation risk.
A Few Risks To Watch
Appian has two major risks associated with it that I see as potentially damaging to the business. Appian offers a lot of very strong incentives to its customers, but that could potentially change if two things were to occur.
Strong Competition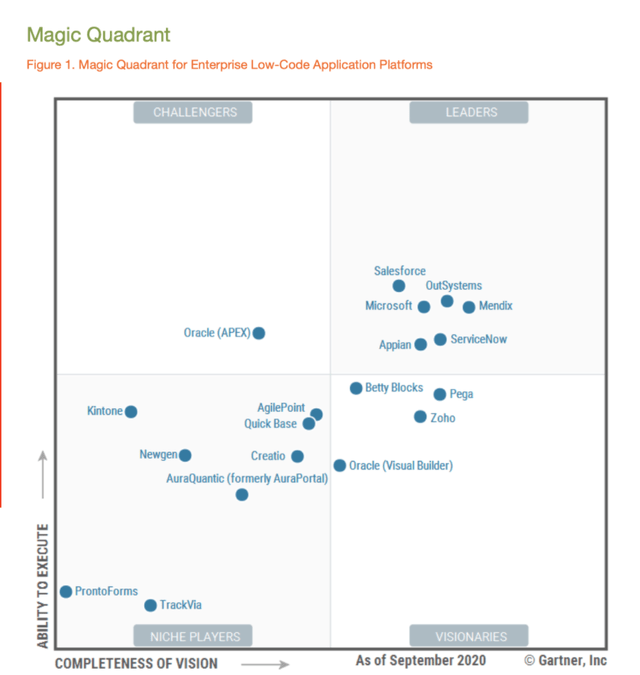 Source: Gartner Inc
As Gartner (IT) shows in its Magic Quadrant, Appian has lots (really, a lot) of competition on its hands. They are facing off against some of the biggest companies in the world, including Salesforce, Microsoft, and Oracle (ORCL) in this low-code market. Currently, Appian's product is one of the stronger ones on the market, and considering they are one of the biggest pure plays in this market, I doubt that will change. Appian is one of the few companies in the "Leaders" category that is solely focusing on creating a low-code solutions platform, which helps me maintain confidence in Appian amidst tough competition.
However, if some of the big behemoths were to transition their business and focus on creating low-code solutions, I would get worried that Appian could get swept under the rug. Appian is currently fighting against some serious money, and they are succeeding greatly. If a company like Microsoft sees that and decides they want to take advantage of that, Appian might not be able to fend off this strong competition.
Despite this, I believe that this market is not a market that will only have one or two winners. I think this will remain a fragmented market. Appian management sees a total addressable market (TAM) of over $30 billion, and I find it hard that one business will be able to effectively manage the majority of that. Rather, I think that there will be many businesses managing all of that, which leaves room for Appian to grow and to expand. Currently, at expected revenue of $355 million in 2021, if Appian were to get even a sliver of that TAM, say $2 billion, this would leave lots of growth ahead for Appian.
Increasing Supply of Developers
Another potential risk is the risk of developer supply. Over the past few years, software developers have been sparse, but some estimates show that developers might show up in swarms within the next 10 years. One estimate, in particular, says that there could be up to 45 million software developers in the world by 2030, which would drastically reduce the need for Appian.
For example, if software developers were more available, the cost to hire one would decrease and become cheaper. This would decrease the cost-benefit of using Appian for its customers. As the cost-benefit is one of the major highlights and competitive advantages for Appian, this would likely hurt the business.
I do, however, believe that Appian has already created enough brand loyalty and reputation to counteract this risk. After its customers have seen the great things Appian has enabled in their business, it is hard to see how they would leave Appian to hire a developer (for more money), which would derive little to equal benefit (compared to the benefit derived from Appian). Appian has done such a wonderful job already for its customers, I think that Appian customers would likely continue to use the platform even if a supply of developers flooded the labor market.
If either one of these risks were to take place in the next 5 years, I would likely rethink my investment in Appian. Today, Appian has lots of stickiness and advantages for its customers, but the risk from large businesses and threats to the competitive advantages APPN has is concerning. For the next 3-5 years, I do not think that either of these threats will be much of a problem, but if they do become increasing problems, it would be a cause for concern for investors.
Conclusion
I believe that Appian is still worthy of buying despite the high valuation. To be clear, I am not disputing that Appian's valuation is not high. I think everyone knows that is the case. I believe that despite its high valuation, Appian carries tremendous upside. Appian has shown that they can consistently improve and perform at a high rate, and this is expected to continue. With a loyal customer base, it would be hard for competitors to take Appian's business away from them.
Appian has some serious risks, but I believe that these risks are not as strong as bearish investors believe they are. It is hard to offer what Appian does, and it takes a lot of work. To beat Appian, competitors would have to pay up heavily in order to take revenue away from Appian, and I do not believe that behemoths like Microsoft and Salesforce would be willing to do that. They already control other markets, and I believe that they would rather spend to maintain control there than take out a competitor of a smaller industry. As for the second risk, I do not see that as a true problem until at least 2030.
I believe that Appian has outsized rewards compared to the risk and valuation, which is why it is one of my highest stock positions (behind cash) in my portfolio. I believe that Appian is worthy of investment despite its high valuation at today's prices due to the outsized return potential it offers.