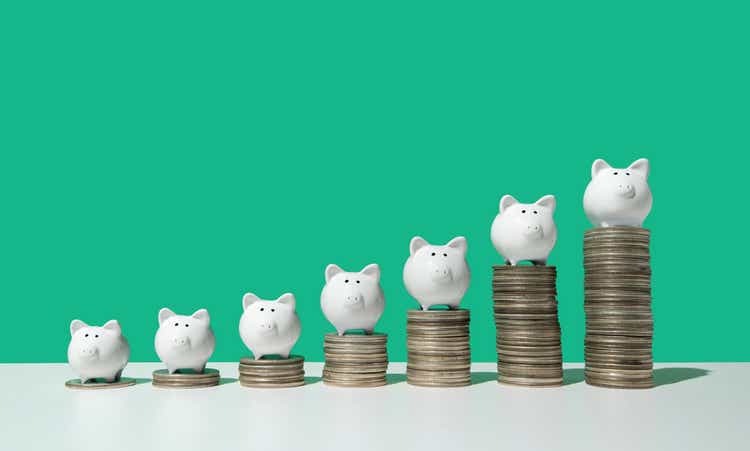 What a difference a week makes. In week 16 of this series, the markets tanked, the portfolio faced adversity, and I was approaching the first red week since the inception of this series. Like many investors, this portfolio rebounded, and I am up $52.85 (3.11%) since week 1. Diversification and dividend reinvesting is every investor's friend and has helped me maintain a perfect record of being in the black over 17 weeks, even though that's not the objective. I know corrections and downturns will occur, but a diversified portfolio will help mitigate risk to the downside, and reinvesting the dividends helps generate additional yield throughout the portfolio.
I have invested $1,700 across 37 different positions since week 1. Since 4/12/21, I have collected $13.84 and reinvested 37 dividends. The Dividend Harvesting is now set to generate 276 dividends on an annual basis. As time progresses and more companies and funds are added, the 300 dividend mark won't just be reached; it will be shattered.
I am now shifting my focus from strictly adding companies and funds to building up my current positions while adding new companies when opportunities present themselves. In week 17, I added British Tobacco p.l.c (BTI) to the portfolio while increasing my position in Starwood Property Trust (STWD) and Cohen&Steers Infrastructure Fund (UTF).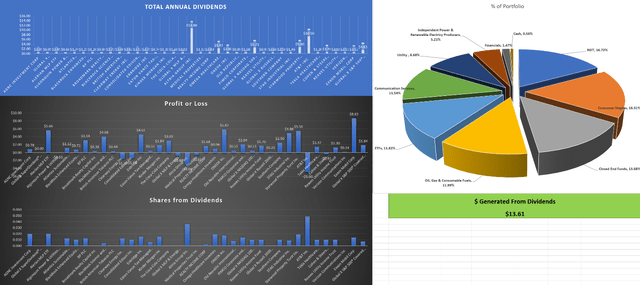 (Source: Steven Fiorillo)
I have made this Excel file that I update each week free to download for anyone who wants a copy. If you would like a copy, please click here and go to Dividend Harvesting. Everything in the sheet is live so that you can plug in your investments, and the charts and spreadsheet will update, providing you with your own personal tracker. If anyone has any ideas for enhancements after playing around with this, please let me know, as I am happy to make improvements.
A look inside the Dividend Harvesting portfolio after $1,700 of investments.
After 17 weeks of investing $100 per week, here is an overview of the Dividend Harvesting portfolio's composition.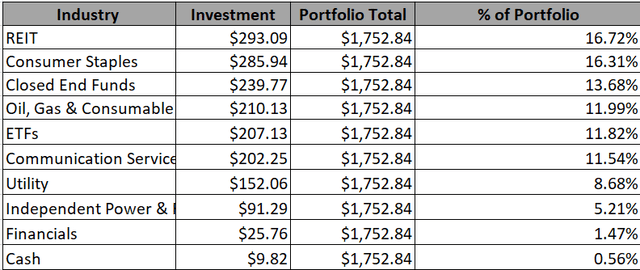 (Source: Steven Fiorillo)
In last week's article, I said that I was thinking about adding to STWD as the ex-dividend date approaches, and I stayed the course. I also dollar-cost averaged on UTF as it was my largest loser on a percentage basis while starting a position in BTI. One of the new goals for the Dividend Harvesting portfolio will be adding enough shares of each position, so the dividends generate 1 additional share per year. Obviously, this will take some time as I am staying on my allocated budget of $100 per week with this portfolio.
In one of my previous articles, someone asked me how many positions was I going to have? I am undecided, but I am not ready to stop adding new positions and still need to break into the pharmaceutical and technology sectors. Currently, my estimated annual dividend income increased by $7.11 (7%) from $101.61 to $108.72. My estimated monthly dividend income increased by 6.97% ($0.59) to $9.06, and the annual dividends I expect to collect and reinvest jumped to 276.
The Dividend Harvesting portfolio is on its way to generating dividend income around the clock. Dividends are continuously generated and reinvested. Since 4/12/21, I have collected 37 dividends in the Dividend Harvesting portfolio. For the remainder of June, 10 additional dividends will be paid out to round out the month. Below is a list of every dividend that has been paid and reinvested in the Dividend Harvesting portfolio since its inception.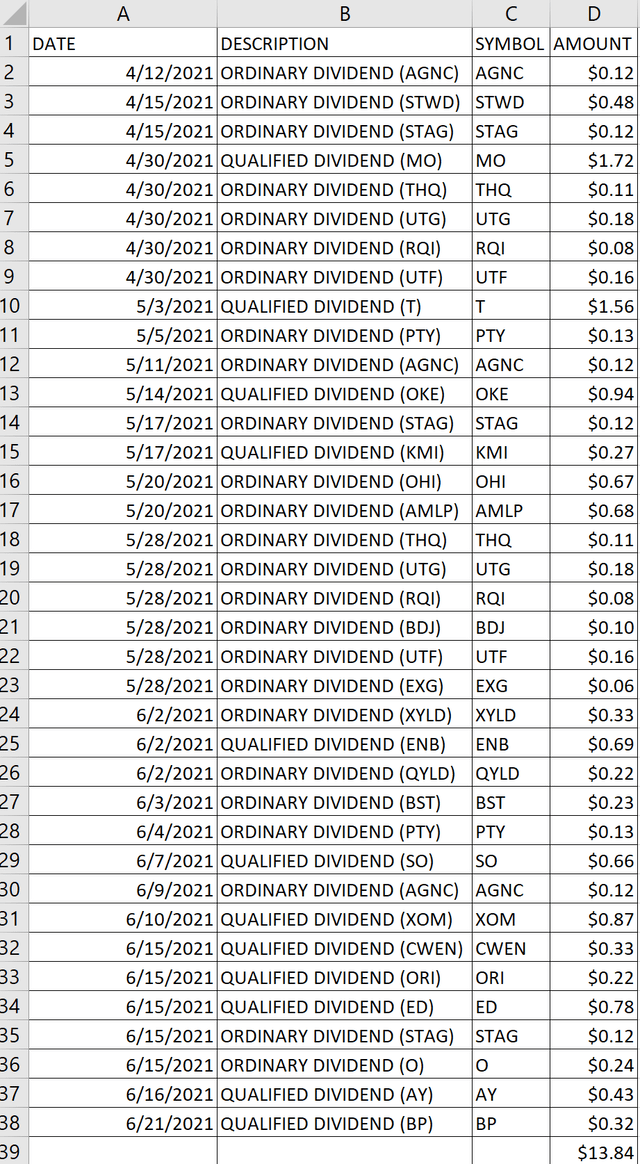 (Source: Steven Fiorillo)
The premise of this portfolio was to demonstrate how someone could build a dividend income portfolio over an extended period without a large amount of seed capital. I wanted the portfolio to be diversified, generate frequent dividends, and utilize the powers of compounding. Now that I will allocate some of the capital each week to increase my current positions, I think the dividend snowball effect will become expedited over time. When you own 1 share of a company, depending on the yield, it could take 8+ years to generate 1 additional share. I will divert some of my focus to generating 1 share per year from my current positions. I have no idea how long this will take, but as the weeks and years progress, you're going to see me building up these positions in addition to adding new investments.
After 17 weeks, here are the growth aspects of the Dividend Harvesting portfolio:
Estimated Annual Dividend Income

$7.44 to $108.72, an increase of $101.28 or 1,361.29%
Estimated Monthly Dividend Income

$0.62 to $9.06, an increase of $8.44 or 1,361.29%
Annual Dividends Generated

12 to 276, an increase of 264 dividends or 2,200%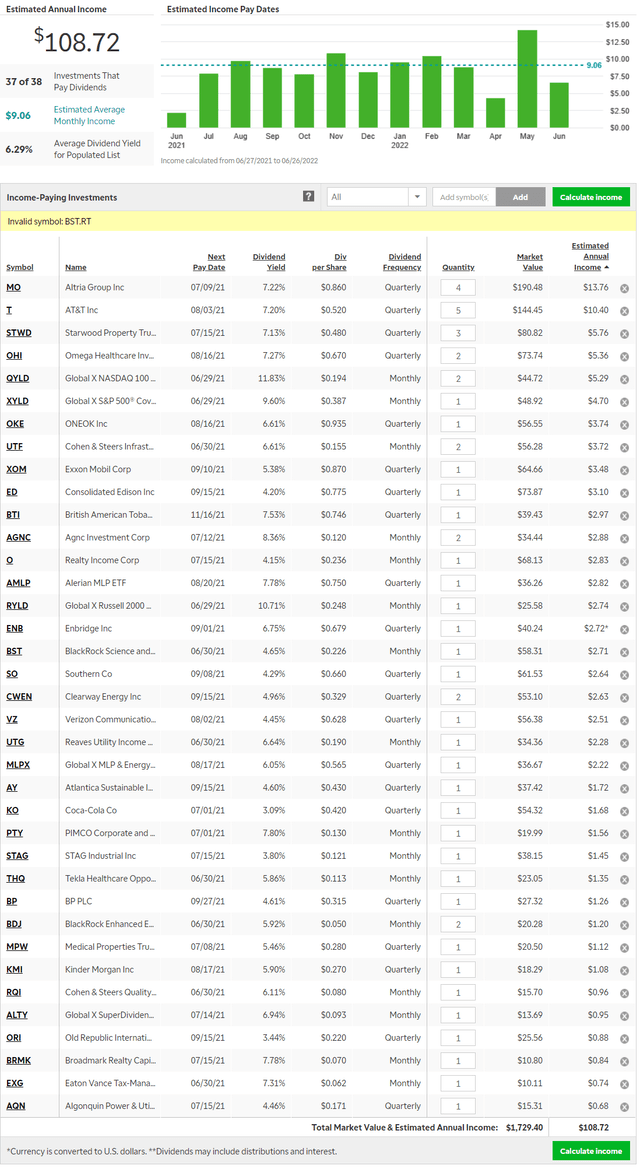 (Source: TD)
Well, I finally picked up a week of dividends with BTI. I am now up to generating dividends for 45 weeks out of the year. My secondary goal of generating 50 weeks of dividend income is almost here. Maybe by the end of the summer, we will be there.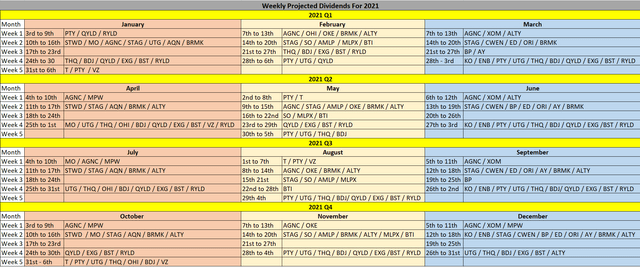 (Source: Steven Fiorillo)
Week 17 additions to the Dividend Harvesting Portfolio
I started a new position in BTI, which has been on my watchlist since the inception of this portfolio. BTI is one of the leading tobacco companies globally and operates in the combustible and non-combustible tobacco categories. I get it tobacco companies come with a level of concern due to regulations, and up until 2021, I had never invested in a tobacco company. I am now invested in Altria Group (MO) and BTI. Here is the thing about BTI, it keeps generating tons of revenue, net income, and EPS. Over the past five years, BTI has increased its annual revenue by $16.76 billion (90.67%) while generating billions in net income. BTI is still growing, yet its share price has been taken to the woodshed. BTI currently pays a dividend of $2.98 per share, a forward yield of 7.57%. BTI has a payout ratio of 65.59%, leaving a ton of room for dividend growth. BTI is interesting, and I think there is room for share appreciation and dividend growth. With a 7.57% yield, I decided to make them part of the portfolio. With BTI's ex-dividend date approaching, maybe another share will get added in the next 2 weeks.

(Source: Seeking Alpha)
The only thing I did from last week's plan was to add another share of STWD. I will continue to express my admiration for Barry Sternlicht, STWD's CEO. I think Mr. Sternlicht is one of the best CEOs and I am happy to invest in any company he is leading. I have been a shareholder of STWD for years, and I said from the beginning of this series I was going to add shares to my position in STWD continuously.
I know I will get asked this, so I will just address it. Yes, STWD is at 5-year highs, but I don't care. I will buy STWD at $26, $27, and $28. If STWD goes down, I will dollar cost average. STWD is one of my favorite REITs, and it still yields over 7%. STWD could be the first company in the portfolio where the annual dividend income purchases at least 1 additional share per year.

(Source: Seeking Alpha)
My last purchase in week 17 was adding an additional share to UTF. When I looked at my portfolio, UTF was my largest loss based on percentage. UTF is an infrastructure Closed-End Fund from Cohen&Steers. UTF invests in infrastructure companies that provide the physical framework that society requires to function. Many of its investments are utilities, pipelines, toll roads, airports, railroads, marine ports, and telecommunications companies. UTF provides investors with a 6.61% forward yield and pays a monthly dividend. With infrastructure being a focal point of this administration, I believe many UTF is a great way to diversify across infrastructure investments and generate a high yield. By adding a share of UTF I decreased my cost basis while adding some additional dividend income. I plan on adding more UTF in the future.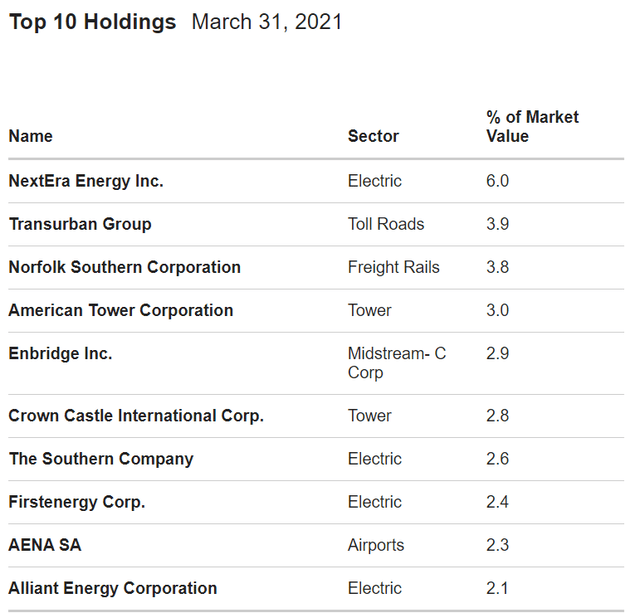 (Source: Cohen&Steers)
Week 18 game plan
STWD goes ex-dividend on 6/29/21, so I will probably add 1 more share on Monday. This will give me 4.019 shares going into this quarter's dividend and generate $1.93 for my next STWD dividend. I am also considering adding to AT&T (T) because the last time I checked, it had become my largest loser after dollar-cost averaging on UTF. Maybe Week 18 is the week I finally add some pharmaceuticals and add Pfizer (PFE) or GlaxoSmithKline (GSK). I want to diversify into tech and pharmaceuticals, so maybe this is the week I do that with individual equities instead of CEFs.
Conclusion
I want to say thank you to everyone who continues to read and comment on the Dividend Harvesting series. I am looking forward to engaging with everyone in the comments section and gaining perspectives and ideas for new investments. Please continue to list suggestions in the comment section because week 20 is approaching, and I will only be adding companies the readers suggest.