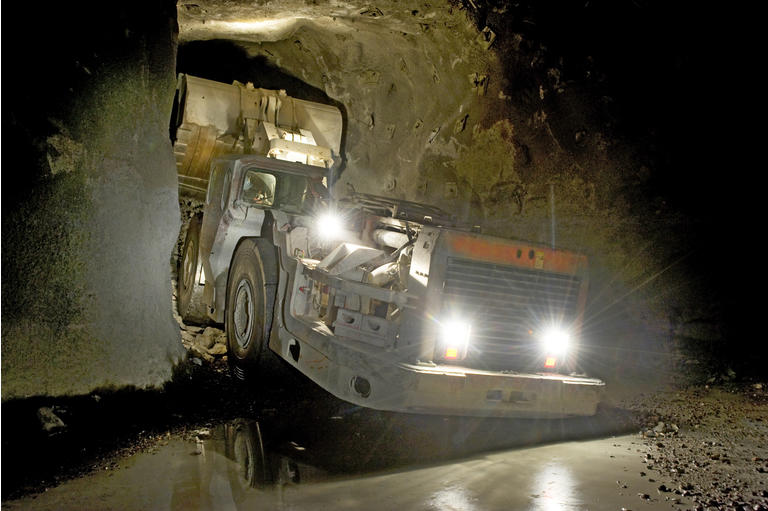 It's been a disappointing couple of weeks for the Gold Juniors Index (GDXJ), with momentum turning on a dime and the ETF now finding itself down 13% year-to-date. While a few names have managed to sidestep the carnage, like GoGold Resources (OTCQX:GLGDF) and Marathon Gold (OTCQX:MGDPF), others like Golden Star (NYSE:GSS) have slid back towards their Q1 lows. The underperformance in Golden Star's case is likely due to FY2021 guidance now being in jeopardy due to delays in commissioning the paste plant. Despite the negative news, I continue to see the stock as a Speculative Buy below $2.95, with Golden Star priced at less than 6x FY2022 earnings estimates.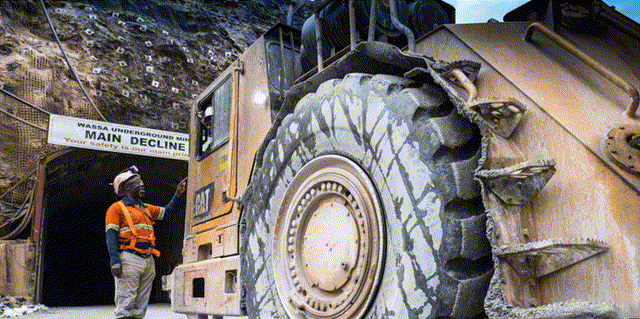 (Source: Company Presentation)
Golden Star Resources reported a satisfactory start to FY2021 from a production standpoint, with production down 1% year-over-year. Fortunately, this was offset by a sharp increase in margins helped by the higher gold (GLD) price, with Golden Star's average realized gold price up 13% year-over-year to $1,669/oz. This translated to a healthy boost in all-in sustaining cost [AISC] margins to $569/oz [Q1 2019: $276/oz], allowing Golden Star to report a 100% increase in quarterly earnings per share in Q1. Unfortunately, guidance was cut this week, and it's now looking like it will be a much higher cost year, with minimal margin expansion.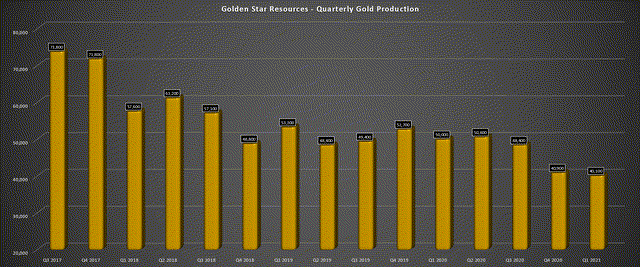 (Source: Company Filings, Author's Chart)
Golden Star Resources announced that it was cutting guidance this week, with production guidance sliding by more than 12% at the mid-point (150,000 ounces vs. 170,000 ounces) and cost guidance soaring to industry-lagging levels. The updated guidance is now ~150,000 ounces at $1,200/oz, up from a previous outlook of ~170,000 ounces at $1,038/oz. This is a little surprising, given that the company did not budge guidance in its Q1 report, reiterating guidance despite lower than expected strength test results in its first test stope at Wassa.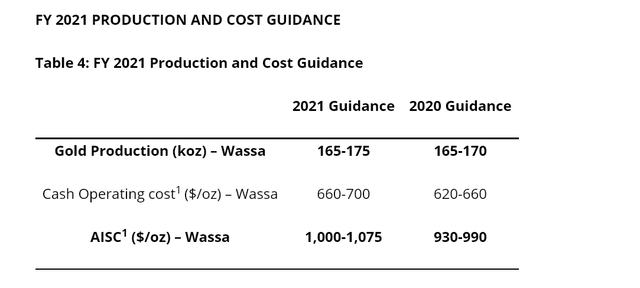 (Source: Company News Release)
Golden Star's decision to cut guidance comes as the paste fill plant commissioning has been delayed, which affects 21% of planned ore tonnes for FY2021. This has not been helped by lower than planned development meters to date this year, with COVID-19 continuing to affect the company's workforce availability and productivity. With lower grades now planned for this year, mining will have to be resequenced, with higher grades stopes being deferred. This should translate to underground grades below 3.0 grams per tonne gold for FY2021, down from 3.1 grams per tonne gold in FY2020.
If we compare the updated FY2021 expectations to last year, Wassa is now expected to produce ~17,000 fewer ounces vs. the ~167,600 ounces produced in FY2020 at AISC of $1,003/oz. Fortunately, a higher average realized gold price should offset some of the sharp increase in costs ($1,200/oz guidance vs. $1,003/oz), with Wassa's average realized gold price coming in at $1,626/oz. However, with the gold price remaining volatile, it's unlikely that we will see margin expansion year-over-year. Instead, we'll likely see minor contraction unless the gold price can average $1,900/oz in FY2021. With lower output and flat to lower margins, annual EPS is likely to fall on a year-over-year basis.

(Source: YCharts.com, Author's Chart)
Based on updated estimates, I would not be surprised to see Golden Star report a decline in annual EPS year-over-year, with estimates now sitting at $0.38 vs. FY2020 annual EPS of $0.40. While this is not ideal and gives Golden Star one of its peer group's weakest earnings growth rates, it's important to note that the ounces are not lost but instead deferred until next year. This sets Golden Star up for a strong FY2022, with annual EPS likely to come in above $0.50 and as high as $0.56 depending on the gold (GLD) price. This leaves Golden Star trading at below 6x earnings at the mid-point ($0.53) based on a current share price of $3.15.
If we look at Golden Star's valuation from an NPV basis, the current After-Tax NPV (5%) sits at $336 million at a $1,751/oz gold price, and this offers zero upside to the Southern Extension PEA released earlier this year. So, while Golden Star looks more than fairly valued at 1.1x NPV (5%), valuing Golden Star mostly on its current mine plan (6-year mine life) shortchanges the company. Even if we apply a very conservative multiple of 0.35x NPV to the Southern Extension PEA, given that it's preliminary in nature, this adds $274 million in NPV, and the study is based on a conservative $1,585/oz gold price. Combining the two, we come up with a fair value of ~$610 million.

(Source: Company Technical Report)
Golden Star should not trade at 1.0x NPV (5%) given that it's a higher-risk single-asset miner in a Tier-3 jurisdiction (Ghana), but even at 0.8x NPV, the stock's fair value comes in at $488 million, more than 30% above current levels. So, as the Southern Extension PEA heads to a Feasibility Study and we get a better idea of the project economics, I would not be surprised to see Golden Star receive an upside re-rating. For now, the PEA is based on solely inferred resources, which is why I believe a high discount should be used when valuing this new upside potential. Notably, Golden Star's production profile would improve to more than 270,000 ounces per year if Golden Star goes ahead with the project.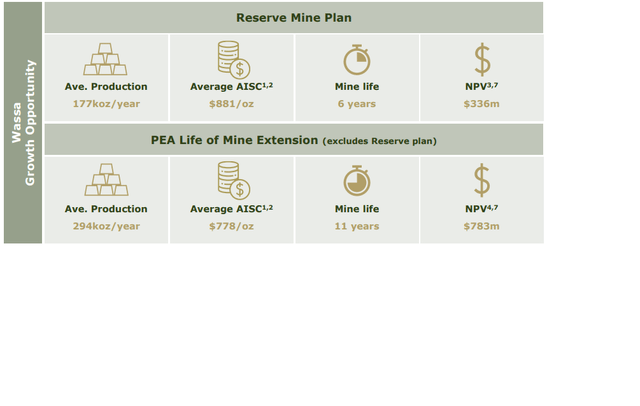 (Source: Company Presentation)
While the guidance cut is disappointing, Golden Star trades at a very reasonable valuation, suggesting that some of this bad news might already be priced into the stock here. This is because the stock is valued at less than 6x FY2022 earnings estimates and seems to be receiving little credit for its Southern Extensions PEA, which would extend the mine life well into the 2030s at Wassa. Given the undervaluation, I see the stock as a Speculative Buy below $2.95. Having said that, I think there are more attractive ways to play the sector with many other names also on sale.