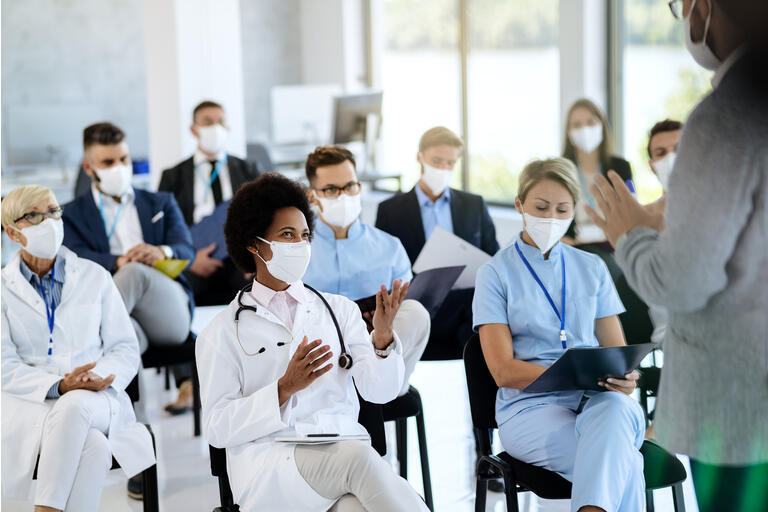 Investment thesis
Zhongchao Inc. (NASDAQ:NASDAQ:ZCMD) is an excellent growth and valuation stock in a growing industry, priced cheaply. Its earnings per share grew over 30% a year while its P/E ratio is under 10. The stock price has dropped significantly, which I believe has had more to do with the underwhelming branding and coverage of its stock than with its performance or perceived risks.
Introducing Zhongchao: Provider of healthcare education/training/services
Since Zhongchao is quite an unknown stock, let me introduce you to the firm first. Zhongchao, which I will call ZCMD for convenience, provides healthcare information, training services, and education to healthcare professionals and the public in China. As of now, it maintains mainly two business lines: MDMOOC and Sunshine Health Forums:
MDMOOC
Under its MDMOOC brands, ZCMD operates an online platform that provides information, education, and training services to more than 680,000 registered healthcare professionals, according to ZCMD's 20 form. The management team also states in its 20-form that the MDMOOC platform offers its users one of the largest online libraries of medical education programs in China, produced in association with entities accredited by the National Health Commission, China's department responsible for formulating health policies.
This should help create and maintain a high quality of the platform's content. Most programs are developed by their research and development team and are offered for free to their registered users, another reason for the high growth of the user base. A small part of the programs is exclusively created for pharmaceutical enterprise customers and not-for-profit organizations (NFP), who request the design and production of online medical courses. This small part makes up a large part of ZCMD's revenue.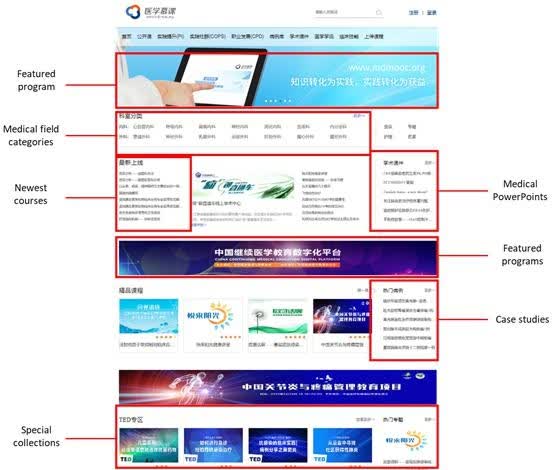 Source: ZCMD's 20-Form, a presentation of MDMOOC's website.
ZCMD also establishes online columns to aid patients to obtain free drug treatment from NFPs. For every column, ZCMD plugins feature to manage the drug treatment, including evaluating patients' applications and following their usage of drugs. Drugs are provided and sponsored by pharmaceutical corporations without charge to patients and customers are charged for the services related to the online columns, related training, and management.
Furthermore, ZCMD organizes onsite healthcare and medical education sessions and academic conferences under its MDMOOC brand.
Sunshine Health Forums
Sunshine Health Forums consists of online platforms that, according to its management, are one of the largest platforms in China for general healthcare knowledge and information to the public. Since its launch in mid-2016, it has accumulated 5.25 million subscribers. ZCMD has been mainly focussing on improving the content and subscribers' growth rates instead of generating revenue; The revenue from Sunshine Health Forums was insignificant according to the 2020 annual report. However, Sunshine Health Forums is planned to sell books and drugs, thus should boost revenue in the future.
Competitive strength: Quality and Quantity of its platforms
With platforms, potential users will usually select the leading platform that provides the best and largest content and userbase. Attracting new users will also increase the quality and quantity of the userbase and content, which again will increase the attractiveness of the platform and attract more new users. This is called the "snowball effect", and will most of the time result in one platform that becomes "the winner of all". I believe that ZCMD has the potential to be/become that winner:
The highly accredited quality and quantity of MDMOOC's content and userbase make potential users choose MDMOOC's platform over other platforms. Sunshine Health Forums also has accumulated a significant amount of subscribers in a few years already; thus ZCMD can provide leading platforms to both professionals and the public.
Not only do I believe that its leading platforms are a strong competitive advantage; I also believe that it is a sustainable competitive advantage as it is very difficult to copy years of accumulated accredited knowledge and its niche userbase/community.
Market trends: Healthcare + Internet
Healthcare is one of the largest sectors of the Chinese economy and only keeps on growing. A major influence is the Healthy China 2030 plan, announced in 2016. The goal is to raise health awareness of the general public, adopt healthy lifestyles, and control factors that have a negative impact on people's health. According to a Prospective Industry Research Institute, the annual compound annual growth rate of China's healthcare industry for the following years is 12.55%.
Raising health awareness and an increasing health sector increase the need for efficient, quick, and reliable news on medical and health trends/information/education. The internet answers these needs as it is an efficient, accessible, and speedy tool to share and get access to the most recent information. As ZCMD is one of the leading trustable, high-quality and quantity platform providers in China offering this, potential users will join ZCMD's platforms; thus, this should be a major boosting influence for the future growth rate of its members and revenue.
Underwhelming coverage of the stock and negative news on China has pushed the price down
ZCMD's stock lost 56.6% of its value since the IPO in March 2020. One reason is that Chinese US-listed stocks have seen prices get slashed, mainly due to increased perceived risk; I will get more into this in the risk section of this article.
Furthermore, I believe that underwhelming branding and coverage of its stock also have had a negative influence on ZCMD's stock price. Let me clarify: analyses or coverages of ZCMD are difficult to find. For instance, the last Seeking Alpha (SA) article on it was from 2019. If one can find barely any analyses and doesn't want to delve into the long annual statements, an investor will probably take a look at the company's website looking for information.
Well, its website doesn't make an investor much happier. Someone who visits it will visit a slow-loading website that warns the user that the connection to the website is unsafe. Clicking on the main image header will lead you to an "HTTP 错误 404.0 - Not Found" page. Furthermore, most of its content is empty, such as the investor presentations or analyst coverage.
In conclusion, investors can barely find analyses or news on the stock, and self-research will lead to an untrustable, empty-looking website or the annual statements of a few hundred pages. I can see why most investors are inclined to prefer other stocks that provide more easily found information.
I don't think this is bad news, because as you will see in the next section, the valuation looks excellent compared to its current price. I think the company can do more to brand its stock in the USA and the rest of the world. If it would not and the stock stays at the same or a lower price, valuation will only get better as profit and revenues increase each year, which is a win too. Either way should increase awareness of this stock, which will result in people and news sites covering it more which makes people more familiar with the stock and might drive prices up.
Valuation: Good Value And Growth
The stock price has dropped significantly, let's assess the current valuation. I have used several metrics to assess the revenue, (gross) profit, and growth, and have compared it to other firms in the industry of Health Information Services. Two of them are Chinese; So-Young International Inc (NASDAQ:SY) and 111, Inc. (NASDAQ:YI). Three of them operate in the USA; Accolade, Inc. (NASDAQ:ACCD), NextGen Healthcare, Inc. (NASDAQ:NXGN), and Covetrus, Inc. (NASDAQ:CVET).
Company Performances
Stock Ticker
P/S ratio
P/E ratio
Gross Margin %
Revenue Growth % (TTM YoY)
Revenue Growth % (3Y)
EPS Growth Rate (3Y)
ZCMD
2.41
9.53
65.99
20.88
22.37
32.66
SY
4.42
1138.31
84.96
30.49
70.93
-
YI
0.53
-
4.27
89.29
104.48
-
ACCD
18.22
-
45.01
28.57
30.4
-
NXGN
2.01
117.53
50.54
3.07
1.59
33.41
CVET
0.84
-
18.4
6.73
6.62
-
Source: Reuters
ZCMD is superior in the P/E department, providing a P/E ratio of just 9.53, which is really low in general, whereas most benchmark companies don't make a profit yet. Earnings growth is also a very appealing 32.66%. Furthermore, ZCMD enjoys a high gross margin of 65.99%, which is the second-highest in the benchmark group, and notably high in general. In the overall market, a 2.41 P/S ratio and revenue growth above 20% is also seen as good but not spectacular in this benchmark group.
Furthermore, as I have stated in the competitive advantage and trends sections, I believe that the growth rates will be maintained in the future.
The price drop combined with good performances has resulted in a really low P/E and P/S for ZCMD, making it a great value stock. Furthermore, good growth rates for revenue and earnings make this a good growth stock too.
Risks: China's risks and high concentration in revenue
Chinese companies carry risks, this is also reflected in the cheaper valuations for a lot of Chinese companies. Fear increased because of stocks getting delisted from the US stock market and increasing regulatory pressure in China.
Furthermore, in the F-20 report of ZCMD, it is stated that two customers accounted for approximately 26.9% and 19.7% of the total revenue in 2020. This depicts a high concentration of revenue, which can be seen as risky.
Conclusion: Price fall, cheap value, and nice growth opportunities
ZCMD's stock price has dropped significantly, partly influenced by the underwhelming coverage of the stock. The price drop combined with its appealing earnings statistics has made it a cheap value stock. The company has provided good growth rates and I believe it will keep doing so, by providing leading platforms in a huge growing market.
Thus, I conclude that now is a good entry point to buy an excellent value and growth stock: ZCMD.