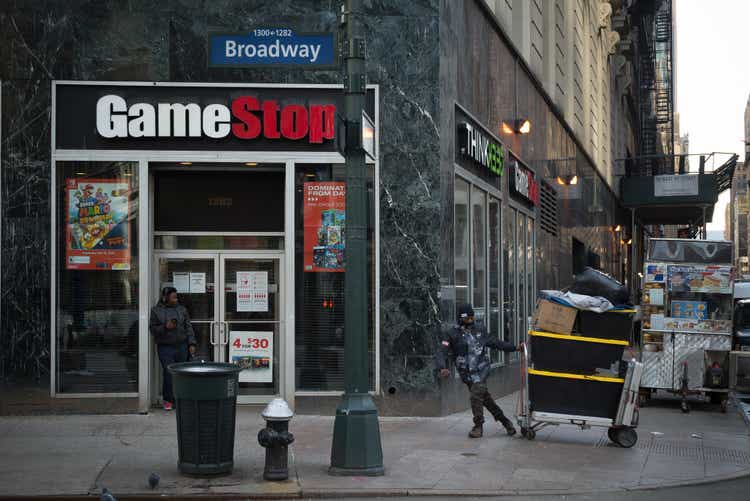 GameStop (NYSE:GME) has seen a decrease in its short interest ratio in June, but the short squeeze is likely over. GameStop's short interest is now comparable to the short interest of other meme stocks and way lower than in January and February when major short positions were liquidated. While GameStop's short interest has decreased, the valuation is still not justifiable.
Why you should ditch GameStop: The short squeeze is over
GameStop rose to fame earlier this year thanks to organized mass buying on investment forum WallStreetBets. Mostly, retail buyers banded together on Reddit and egged each other on to buy GameStop at exorbitant prices to force large hedge funds to liquidate their massive short positions in GameStop stock. The deal worked: GameStop surged more than 1,000% since January and hedge funds scaled their bearish bets back. According to some reports, some hedge funds went out of business after taking the wrong side of the trade. In January, when GameStop's price hit an all-time high of $483, mark-to-market losses for funds that shorted the video game retailer peaked at $6B.
But there is growing evidence that the short squeeze is over and that the big money now has already been made in GameStop. Similar to other meme stocks or hypes such as Dogecoin (DOGE-USD) which peaked just at the time of maximum excitement around Elon Musk's SNL performance, hype-fueled surges in valuations don't last long.
GameStop's short interest ratio shows that the Reddit army better doesn't hope for a continued surge in GameStop's valuation. GameStop's short interest ratio has seen the sharpest drop of all meme stocks this year, including AMC Entertainment (AMC) which has often drawn comparisons to GameStop. GameStop's short interest ratio was above 100% in January as the stock peaked but has fallen substantially in the following months.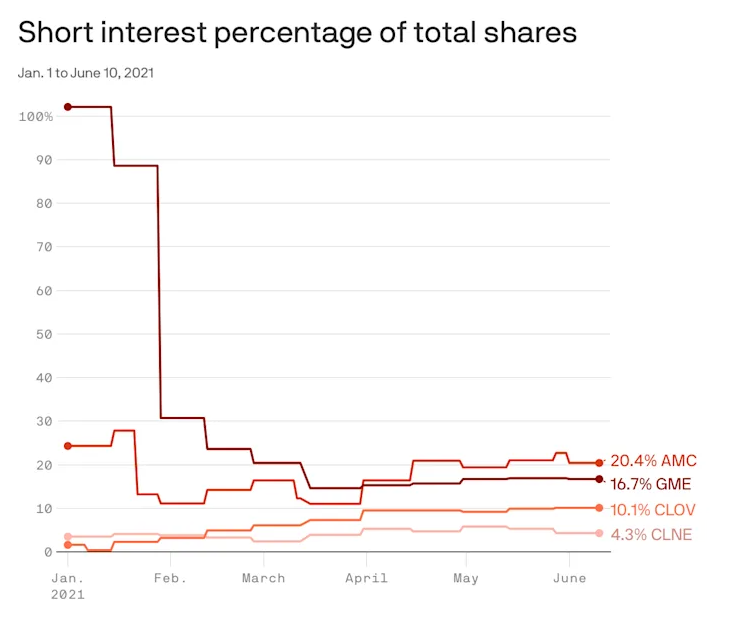 (Source: Yahoo Finance)
There are often some inaccuracies in short sales data because information about short sales is delayed and calculations can either be based on "float" or total shares outstanding. Calculating short interest ratios based on "float" is a better way to handle short sales data because it considers the fact that some shares are restricted and not available for trading.
The most up-to-date short sales data for GameStop comes from the June 15 settlement date, and it shows a decrease of 19.2% compared to the previous reporting of short sales data, May 28, 2021. About 9.7M shares of GameStop were shorted out of a total float of 40.8M shares on June 15, 2021… which calculates to a short interest ratio of 24.5%. This is still a high short interest ratio, but it is not nearly as high as it was at the start of the hype. GameStop's short interest ratio is now very much comparable to the short interest ratios of other meme stocks.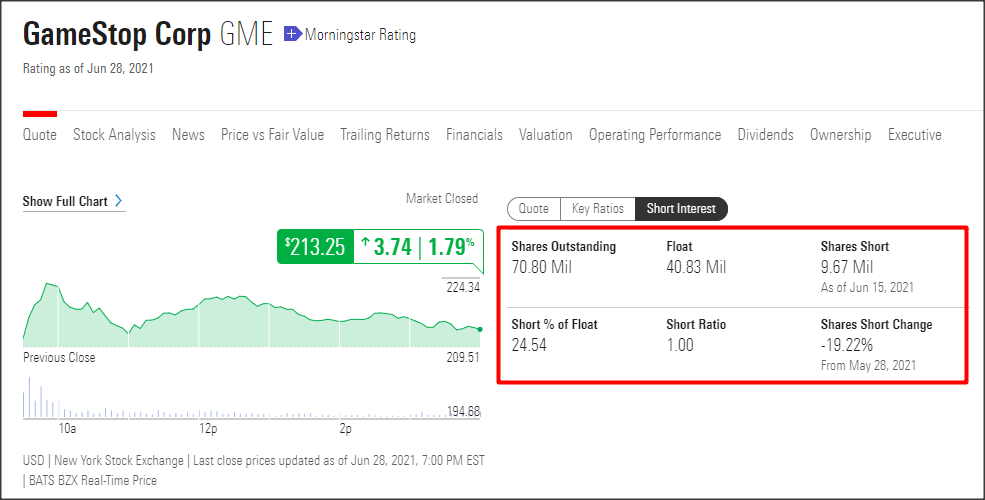 (Source: Morningstar)
If we take a closer look at the available short sales data, we can see that the big unwinding of GameStop short positions already happened back in January and February and the trend until June has been for a rising short interest ratio.

(Source: Short Interest)
A Top Ten short interest ratio ranking of the most popular names on WallStreetBets shows that GameStop has fallen to third place, after Clover Health Investments (CLOV) and Workhorse (WKHS). All percentages in the following table have been calculated based on "float" numbers. Most meme stocks including GameStop have seen a decrease in the short interest ratio compared to the last settlement date, May 28, 2021. Corsair Gaming (CRSR) has seen the largest (and only) successive increase in its short interest ratio, +64.11%, and Virgin Galactic (SPCE) the largest decrease, -25.25%.
| | | | | | | |
| --- | --- | --- | --- | --- | --- | --- |
| | Short Interest Ratio | Shares Outstanding (millions) | Float (millions) | Float % | Total Shares Short (millions) | % Change In Short Interest |
| Clover Health Investments | 36.71% | 408.10 | 112.78 | 27.64% | 41.40 | 0.31% |
| Workhorse | 33.87% | 123.26 | 120.31 | 97.61% | 40.75 | -10.62% |
| GameStop | 24.54% | 70.80 | 40.83 | 57.67% | 9.67 | -19.22% |
| Virgin Galactic | 22.14% | 240.71 | 155.04 | 64.41% | 34.32 | -25.25% |
| Corsair Gaming | 19.72% | 92.19 | 26.74 | 29.01% | 5.27 | -8.44% |
| AMC Entertainment | 17.02% | 501.78 | 500.00 | 99.65% | 85.08 | -16.84% |
| Nikola (NKLA) | 13.26% | 395.28 | 325.39 | 82.32% | 43.15 | -22.44% |
| ContextLogic (WISH) | 11.98% | 619.00 | 153.12 | 24.74% | 18.34 | -23.96% |
| Clean Energy Fuels (CLNE) | 8.86% | 222.75 | 160.67 | 72.13% | 14.24 | 64.11% |
| BlackBerry (BB) | 7.56% | 566.41 | 499.41 | 88.17% | 37.73 | -19.67% |
| Group Average | 19.57% | - | - | 64.33% | - | -8.20% |
(Source: Author)
Other considerations
Short interest ratios go up and down all the time, and most often short interest ratios increase when the market sees a fundamental problem with the business model or expects the firm's shares to revalue based on some catalyst. Although short sellers have scaled back their bearish bets compared to the extreme levels seen in January, GameStop's valuation is still very high. Based on expected sales of $5.4B for next year, GameStop trades at market-capitalization-to-sales and enterprise-value-to-revenue ratios that are much higher than the same ratios for GameStop's rivals.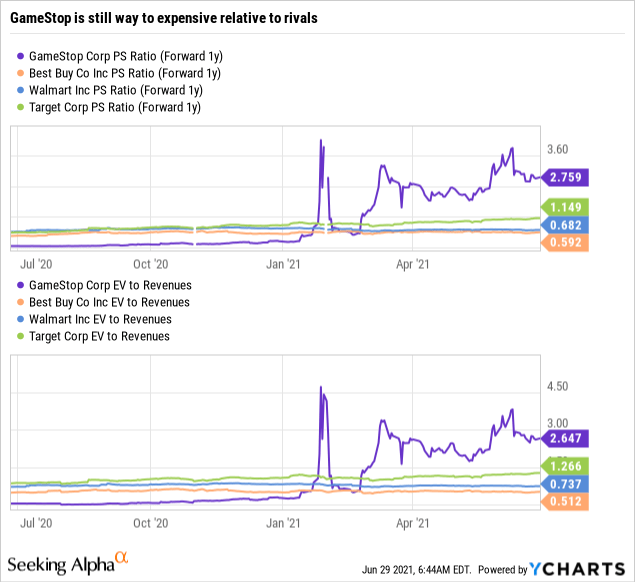 The long-term revenue trend for GameStop is dismal and it raises concerning questions about the firm's survival chances. GameStop is also not profitable and its fate may be the same as the fate of other retailers that failed to fight off online competition. GameStop's valuation ratios are in no way an accurate reflection of business performance. A valuation this high can't be justified long term and creates extreme risks for any buyers.
Final thoughts
While the Reddit army has been successful in pushing for a short squeeze in January, the most recent short sales data indicates that the big unwinding of short positions is completed. To believe that GameStop's short interest ratio will drop to zero is implausible and the ratio could increase again if GameStop's valuation becomes even more irrational. The big money has been made here and the short squeeze is done. Ditch GameStop as long as you can.