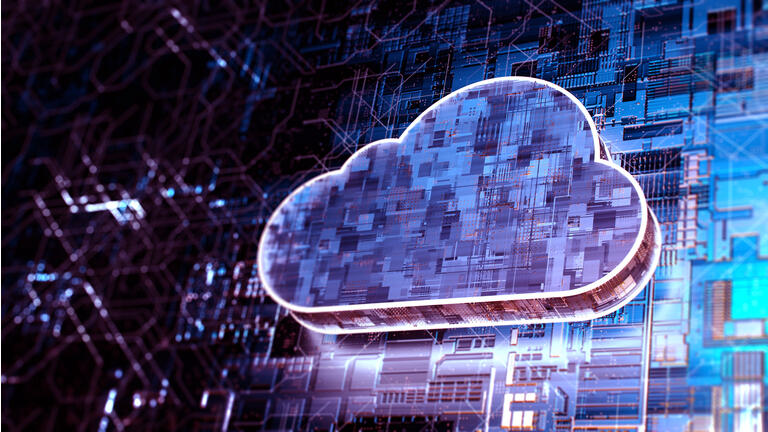 Technological progress has merely provided us with more efficient means for going backwards."― Aldous Huxley
Today, we take an in-depth look at a 'cloud' stock with some recent insider buying that recently raised forward guidance. The stock has also almost fully recovered from a post first quarter earnings sell-off despite negative views in the analyst community. A full investment analysis follows below on this name that has lost approximately half of its market value over the past few quarters.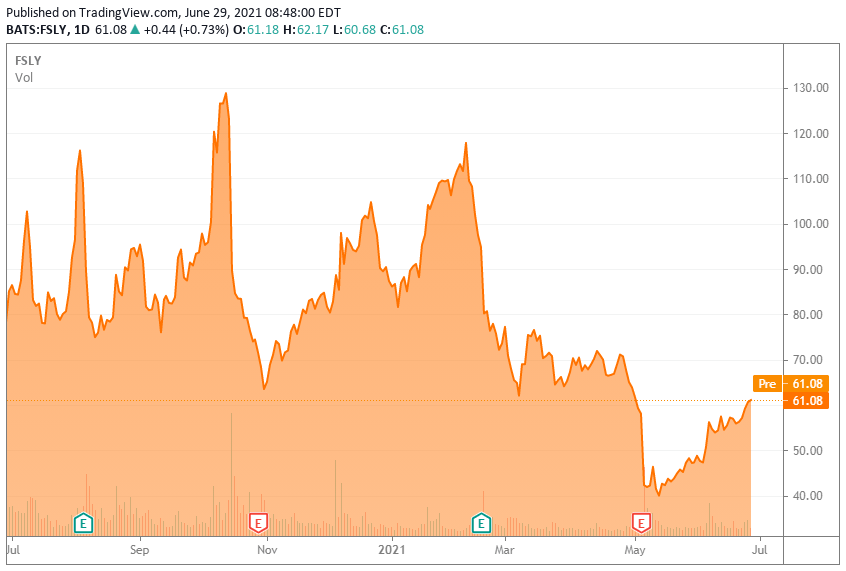 Company Overview:
Fastly, Inc. (NYSE:FSLY) is a San Francisco based cloud computing service provider with an edge cloud platform network designed to aid developers in building, securing, and delivering digital experiences from their core cloud infrastructure to the edge of the network (i.e. closer to end-users). Its 130-terabit software-centric network spans 58 markets in 26 countries throughout the world. As of March 31, 2021, the company boasted nearly 2,500 customers, of which ~400 are of the enterprise variety (i.e., with trailing twelve-month revenue > $100,000). Fastly was formed in 2011 and went public in 2019, raising net proceeds of $192.5 million at $16 per share. Its stock trades just above $60.00 a share, translating to a market cap of just over $7 billion.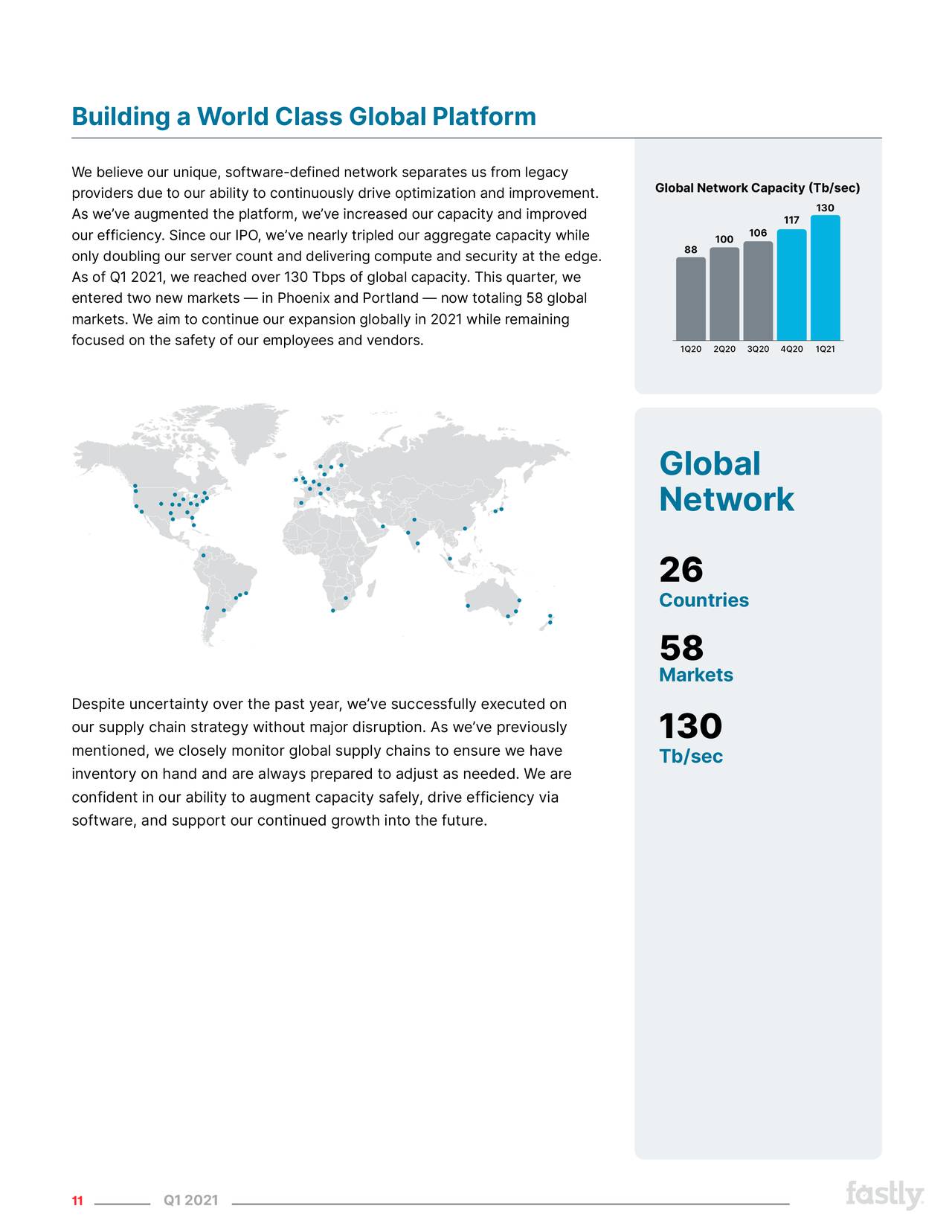 Source: May Company Presentation
The company has two classes of stock, at least until July 12, 2021: publicly traded Class A shares that confer one vote and non-publicly traded Class B shares that bestow ten votes. Owing to a sunset provision that was triggered by Class B shares representing less than 10% of total outstanding, all Class B shares will convert to Class A in July 2021, meaning that Founder, Chief Architect, and Executive Chairman Artur Bergman's voting power will fall from 42.4% to 7.8% in short order.
Offerings Overview:
In short, Fastly's network enhances the user web experience by (for example) delivering faster searches, fast and more secure financial transactions, as well as broadcast quality streaming. Fastly's platform sits between its customers' applications and their end-users, providing programmers and security operation teams with an efficient and safe environment to develop and run applications. The company's offerings are considered very high-end and consist of customized content delivery, serverless and language-agnostic edge computing with cold start times of 35.4 microseconds – ~100x faster than other offerings – to accelerate the digital capability of its customers, as well as security products, professional services, and support. Fastly elects not to break out its revenue by product type but approximately two-thirds of its 2020 top line was generated in the U.S., 38% by its top ten customers, and 89% by its enterprise customers.
Recent Transactions:
The company's suite of security offerings received a boost when it purchased Signal Sciences, a provider of developer-first web application and API protection solutions, in October 2020. For the target's $28 million of recurring revenue, Fastly paid a total consideration of $759.4 million, consisting of $223 million in cash and $536.4 million in Class A shares. In addition to the incremental revenue growth and enhanced product capabilities, Fastly received many cross-selling opportunities as ~70% of Signal Sciences' 60+ enterprise customers (at the time of the transaction) were new to the company.
Although it has grown organically for much of its history, Fastly indicated that it intends to grow through acquisition in the future when it raised net proceeds of $930 million through the sale of 0% convertible senior notes due 2026 in March 2021, providing it with the ability to act swiftly if another opportunity arises.
Competition:
Fastly competes with legacy content delivery networks [CDNS] such as Akamai (AKAM), Verizon's (VZ) EdgeCast, Limelight (LLNW), Level 3, and Imperva (IMPV). It also has to contend with cloud providers such as Amazon's (AMZN) CloudFront, AWS Lambda, and Google (GOOG, GOOGL) Cloud Platform, who are offering compute functionality at the edge. Fastly's nearest competitor in terms of size and offerings is Cloudflare [NET], a CDN with application, API security, and edge compute offerings that has focused on smaller businesses in the past but has expanded its target market to include enterprise customers. Its revenue is approximately double that of Fastly.
An Extremely Volatile 2020:
After peaking at $136.50 (intraday) in October 2020, shares of FSLY have sold off sharply even with the rally of the past month. There are several dynamics at play, the largest being a pandemic-induced spike in 2Q20 revenue as people shuttered indoors, participated in video conferences, and distracted themselves by watching content from ByteDance's (BDNCE) TikTok, which was Fastly's largest customer in 1H20, responsible for 12% of its top line. After rising 580% over the first ten and half months of 2020, investors began to exit en masse when the company guided 3Q20 revenue from $74.5 million to $70.5 million (based on range midpoints), citing lower-than-expected revenue from TikTok, which was then being threatened by the Trump administration with a ban over national security concerns.
After losing over half its market cap in the subsequent month, shares of FSLY rebounded on rumored takeout overtures from Cisco (CSCO). However, when nothing concrete developed, traders focused on its difficult 1H21 comps but have shown more optimism recently.
1Q21 Results & Outlook:
This concern was validated when Fastly reported 1Q21 earnings on May 5, 2021. The company lost $0.12 a share (non-GAAP) on revenue of $84.9 million as compared to a loss of $0.06 per share on revenue of $62.9 million in 1Q20. Investors chose briefly to ignore the 35% top-line increase and focused on the company's guidance for 2Q21, which was a loss of $0.175 per share (non-GAAP) on revenue of $85.5 million (based on range midpoints) versus a gain of $0.02 on revenue of $74.7 million in 2Q20, meaning top-line growth of only 14%. Even though Fastly raised its FY21 revenue outlook to $380 million-$385 million, reflecting 32% growth, the Street looked skeptically at the full-year revision in light of the impending departure of the company's CFO, which was announced concurrent to its earnings.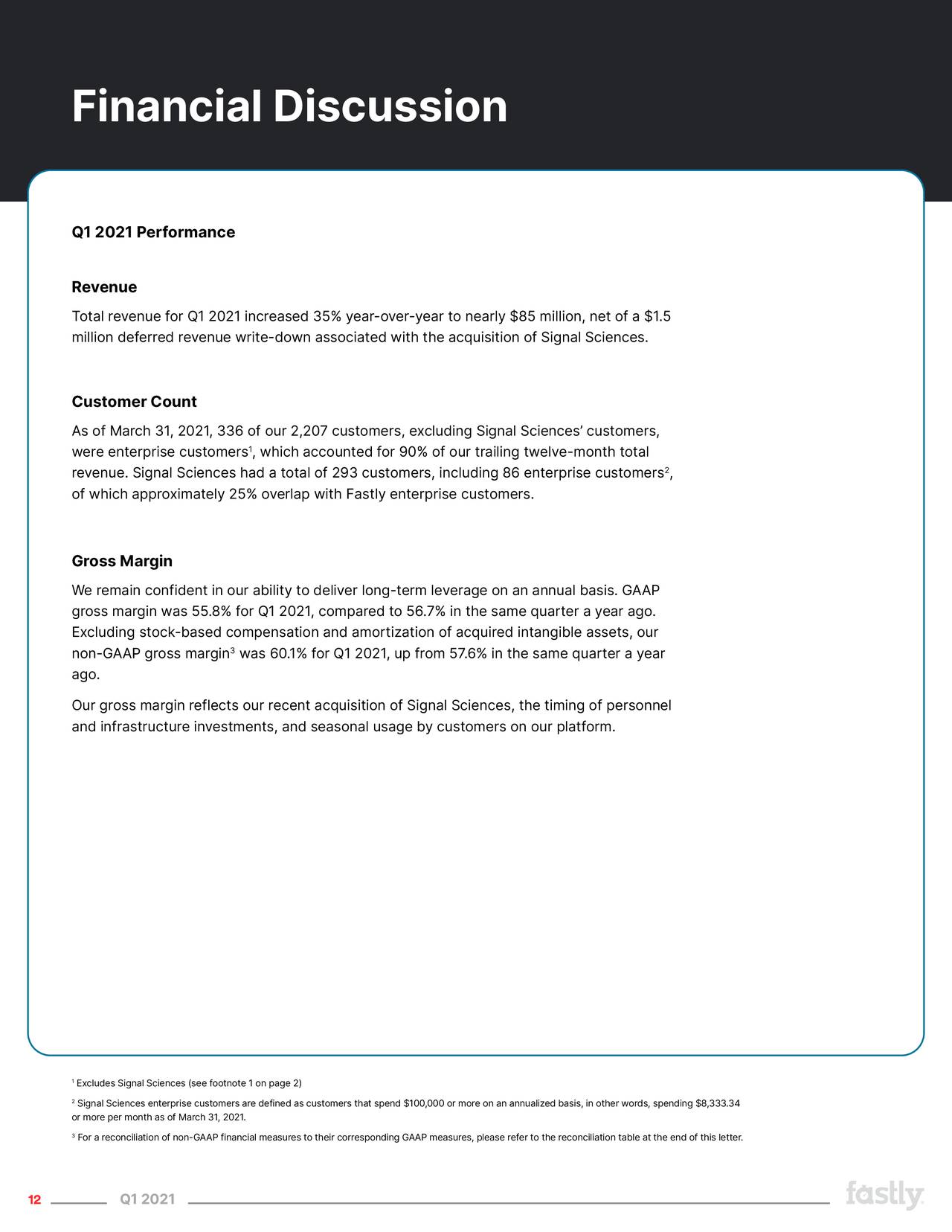 Source: May Company Presentation
In a vacuum, the company's 1Q21 performance was not terrible. Non-GAAP gross margins, which excludes stock-based compensation and amortization of acquired intangible assets, improved to 60.1% from 57.6% in the prior year period. Excluding the contribution from Signal Sciences, dollar-based net expansion rate – essentially how much revenue Fastly is generating from its existing customer base in the past year versus one year prior – stood at 139% at the end of 1Q21, although it was down sequentially from 143% in 4Q20. Net retention rate (NRR), which measures the net change in monthly revenue from existing customers in the last month of 1Q21 versus 1Q20 and includes customer churn was 107% versus 115% in the prior year period. The less volatile last twelve months NRR was 133% versus 137% in 1Q20. Total customers increased sequentially (over 4Q20) by 123 to 2,207, while the company onboarded 12 enterprise accounts in the quarter, bringing its total to 336. Average revenue from enterprise customers improved sequentially by ~$18,000 to $800,000. Recently acquired Signal Sciences, which contributed ~10% to Fastly's top line, saw its enterprise customer count expand by eight to 86. Customer churn was less than 1%.
Balance Sheet & Analyst Commentary:
Owing to the March 2021 convertible offering, Fastly held cash and marketable securities of $1.1 billion and debt of $930.3 million as of March 31, 2021. There is no indication as to when the company will become cash flow positive as it expands its offerings on its platform, burning through ~$10 million per quarter.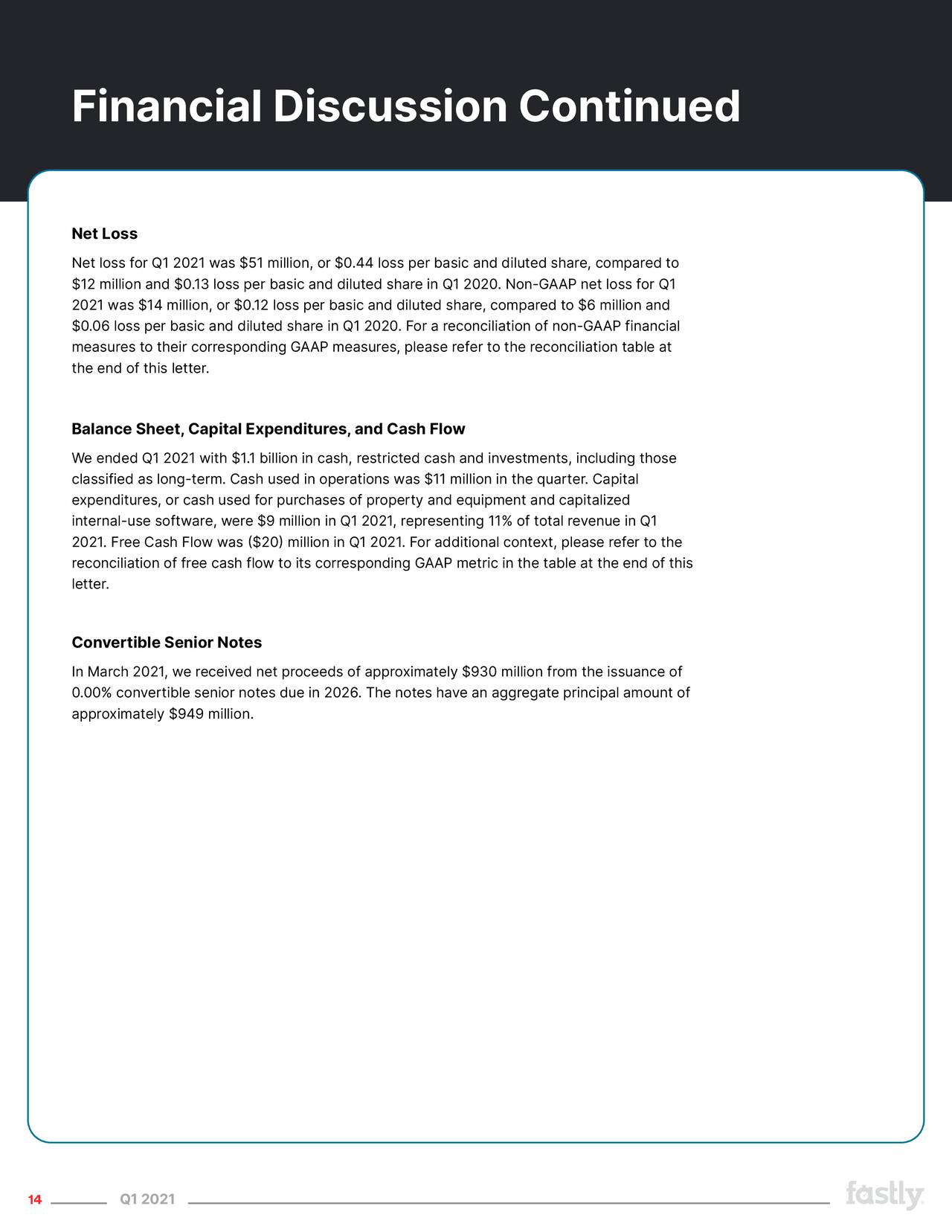 Source: May Company Presentation
The 1Q21 earnings report prompted one analyst downgrade (from Raymond James) and three downward price target revisions (and one upward). Overall, Street analysts have a very dim view of Fastly, with eight analyst firms including Piper Sandler and Citigroup issuing Hold or Sell ratings since May 9th. The median twelve-month price target on FSLY currently is just under $50, which (ironically) now represents 88% upside. On average, they expect Fastly to generate revenue of approximately $385 million in 2021 and grow it by 27% to roughly $485 million in 2022.
Abdiel Capital Management used the recent downdraft to cost average, purchasing 520,000 shares at an average price of $42.58 on May 6th, 2021, which increased its ownership interest to 10.2%. It should be noted that several other insiders sold several million dollars' worth of shares in aggregate in May and so far in June as well.
Verdict:
Despite an approximate 50% plunge from its all-time highs, Fastly is still trading at over 14 times 2022E revenue, not cheap by any measure. Although it should grow revenue at a ~25% to 30% pace over each of the next two years, the company is not expected to achieve profitability. The last earnings report turned the company into a 'show me' stock and as such, it doesn't seem to have significant upside, save another buyout rumor. However, Fastly's stock does look cheap relative to its competitor Cloudflare (NET), which trades at north of 30x 2022E revenue, a year in which it will likely break even on its bottom line. However, even though it may look cheap within this comparison, I cannot recommend something trading at north of 14 times forward sales.
Any sufficiently advanced technology is indistinguishable from magic."― Arthur C. Clarke
Bret Jensen is the Founder of and authors articles for the Biotech Forum, Busted IPO Forum, and Insiders Forum