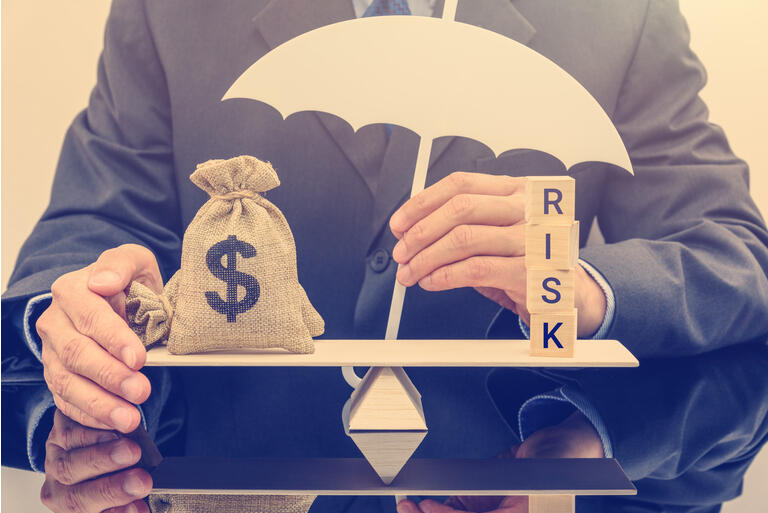 For Author's note: This analysis was part of our CEF Weekly Roundup release to Income Lab members on June 24, 2021, and data are from that date unless otherwise stated. Please check latest data before investing.

ACP's rights offering concludes
The rights offering for Aberdeen Income Credit Strategies Fund (NYSE:ACP), a non-investment grade high-yield/loan CEF, concluded on June 16th, 2021. From the press release:
Aberdeen Income Credit Strategies Fund Announces Final Results Of Its Rights Offering

PHILADELPHIA, June 17, 2021 /PRNewswire/ -- Aberdeen Income Credit Strategies Fund (NYSE: ACP) (the "Fund"), a closed-end fund, announced today the successful completion of its transferable rights offering (the "Offer"). The Offer commenced on May 20, 2021 and expired on June 16, 2021 (the "Expiration Date"). The Offer entitled rights holders to subscribe for up to an aggregate of 5,812,247 of the Fund's common shares of beneficial interest, par value $0.001 per share ("Common Shares"). The final subscription price was $10.20 per Common Share and was determined based upon a formula equal to 92.5% of the average of the last reported sales price of a Common Share on the New York Stock Exchange ("NYSE") on the Expiration Date and each of the four (4) preceding trading days The Offer was over-subscribed. The gross proceeds of the Offer are expected to be approximately $60 million (including oversubscription requests and notices of guaranteed delivery). Approximately 64% of the Common Shares were subscribed for in the primary subscription and the remaining shares were subscribed for pursuant to the over-subscription privilege. The over-subscription requests exceeded the over-subscription shares available. As a result, the available oversubscription shares will be allocated pro rata among those fully exercising record date shareholders who oversubscribed based on the number of Rights originally issued to them by the Fund. The Common Shares subscribed for will be issued after completion of the pro rata allocation of the over-subscription shares and receipt of all shareholder payments. The Common Shares are expected to be issued on or about June 23, 2021.

(Source)
For our analysis last month when the offering was in play, see: ACP: Rights Offering Analysis
Sell recommendation was successful once again
As noted in last week's Roundup, our recommendation to members to sell ACP when the rights offering was announced worked out well again.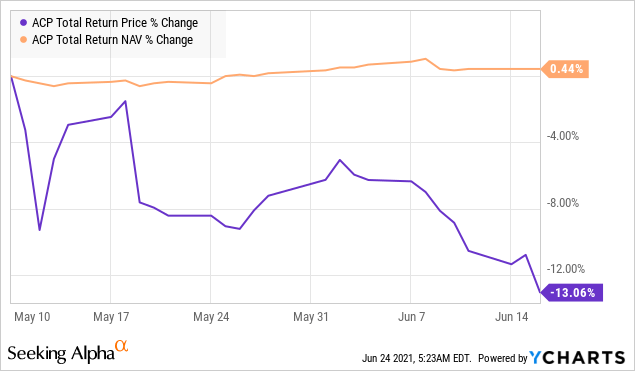 Let me put some numbers on this for our newer members who may be wondering why this recommendation succeeded. On May 11, the day after the rights offering was announced, ACP shares closed at $12.16. On June 16, the day that the offer expired, ACP shares closed at $10.76.
Let's say that one owned 300 shares of ACP and held them through the rights offering period. They would have received 300 rights, which could be used to subscribe for 100 new shares of ACP at $10.20, costing $1020. They'd also receive two monthly distributions of $0.10/share over this period, or $60 in total. Meaning that they'd have to put up a net amount of $960 to achieve their now 400 share position.
Alternatively, an investor could have sold their 300 shares the day after the offering was announced. They would receive $3648, which could then be used to rebuy 339 shares of ACP on the expiry date (+13% "free shares") at no additional cost of capital. Notwithstanding the fact that getting free shares is a much better deal than getting slightly discounted shares, let's have this second investor top up their share count to 400 just to make a fairer comparison. If he purchased 61 additional shares at $10.76 each (the market price on expiry) to reach 400 shares, he'd have a net outlay of $656.
This means that the investor who sold and rebought over the rights offering period would be $304 ahead of the investor who held and subscribed with their rights. On the initial position value of $3648, this would equate to a +8.3% improvement!
Hence, this is why selling when an offering is announced is usually a profitable strategy.
A successful offering for managers, but NAV/share dilution to shareholders
In terms of the offering itself, it was quite successful for the managers as there was full subscription, allowing the fund to expand its share count by the maximum of 33.3%. The final subscription price was $10.20, which was 92.5% of the average of the closing prices of the final five days until expiry, being higher than 87% of the expiry NAV which would have been $11.47 * 0.87 = $9.98. Interestingly, it turned out that there was a mistake with the corporate action event document that Aberdeen themselves sent out where it stated that it would have been the lower of the two numbers, contradicting both the press release and the prospectus. Luckily the difference between the two numbers wasn't huge anyway, but still this is a non-trivial mistake!

Also, because the offering price was significantly below the NAV, we also see a significant NAV hit to ACP due to the offering. It looks like the fund decided to adjust its NAV on the day after the expiry date rather than when the new shares were actually issued, which accounts for the -3.1% drop in NAV on June 18, 2021. This NAV decrease is why investors who hold funds through the offering period should, in most cases, either subscribe for discounted shares or sell their rights in order to be compensated for this NAV/share dilution. Letting the rights expire worthless would be the least ideal outcome!

(Source: CEFConnect)
The NAV impact was further exacerbated by the fact that ACP charged a sales load of around 3.5% for each new issued share as well, a cost which is borne by shareholders. Note that not all CEFs charge their own shareholders to perform rights offerings.

(Source)
Takeaways
Be aware of rights offerings as they arise because they offer significant trading opportunities to increase profits (or to avoid losses). Additionally, ACP's mistake in their offering document plus the hefty sales load charged for each new share issued are negative marks on management, at least in my book.
Right now, at ACP's -0.18% discount I would say that it is fairly valued to slightly overvalued. The fund runs a highly "junky" portfolio, with over half of its assets invested in CCC or below or unrated (gulp!). Obviously, the fund has done well in the recent risk-on environment outperforming other funds in the peer group, but over longer periods it ranks near the bottom of the peer group. Owners of ACP don't have to sell immediately, but should try to do so before the cycle turns.

Finally, note that the fund's generous 10.79% yield is only 72% covered by earnings. For the more conservative investor, consider Western Asset High Yield Defined Opportunity Fund (HYI), a high-yield bond fund that we own in our Income Generator portfolio at a fairly large weighting. HYI isn't cheap right now at a -1.88% discount (a 52-week high), but it is unleveraged and has less than 20% of its portfolio in CCC rated and below or unrated bonds. It pays a lower yield of 7.23%, but which is 89% covered per their latest earnings reports. HYI is a term fund due to expire in 2025, which also gives it discount protection. Over the past 3 years, HYI has significantly outperformed ACP.