No other area of the world generates as many eye rolls when mentioned to investors as Latin America. It is understandable. It is not a region that has tended to contribute towards long-term investing success. Instead, investing in Latin America has been a cyclical exercise, good when commodity prices are rising and bad when they are not. The chart below, using oil as a proxy for commodities, well illustrates this point.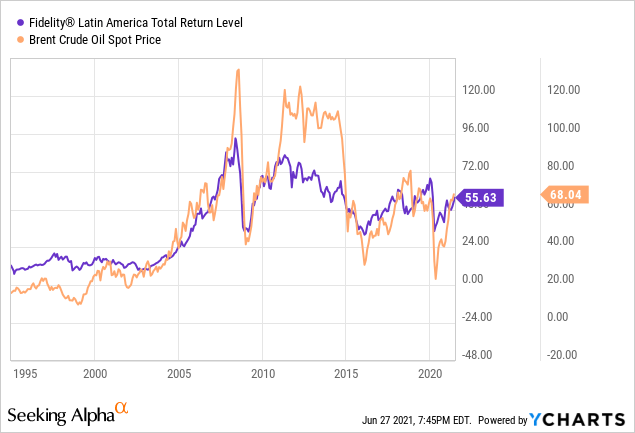 While most investors would be wise not to fall in love with most Latin American equities, history does indicate that during periods of time these same investments can be quite lucrative. Many of the signs would make one believe that now would be one of those times when an investment could be lucrative - it is usually not a bad time to buy a cyclical asset after it has been in a more than decade long bear market, commodity prices are coming to life, and valuations are extremely cheap.
While many Latin American countries share a common language and history and similar forces drive short-term changes in their economies, there are also numerous differences and nuances in the investment merits of each country. As a result, let's look at Colombia as something of a case study of the current situation. Many factors make it an ideal one. Among them, the stock market is historically cheap, the pandemic has been and continues to ravage the country, and a critical Presidential election next year is up for grabs.
Grupo Aval and Grupo Sura: Two High Quality, Historically Cheap Financial Conglomerates
To gain a sense of the current valuations in Colombia, consider its two main financial conglomerates, both of which have ADRs in the United States, Grupo Aval (NYSE:AVAL) and Grupo Sura (OTCPK:GIVSY). I have written about both of these companies before, readers may want to consult the articles here and here for a more thorough background.
Grupo Aval is primarily a banking conglomerate. It owns four of the leading commercial banks in Colombia as well as the largest banking group in Central America, while additionally owning Colombia's largest investment bank and pension fund manager. Through its investment bank, Corficolombiana, the group does have some exposure to the real economy, primarily through a controlling interest in natural gas distributor Promigas and investments in road and airport concessions.
The company first listed an ADR on the New York Stock Exchange (NYSE) in 2014 at $13.50 per share. It has been a rocky road since then. In addition to commodity prices pressuring the USD exchange rate with the Colombian peso, a scandal involving Brazilian firm Odebrecht and a subsidiary of Corficolombiana had pressured the share price pre-pandemic. Shares now trade for 57% less than their price when the ADR was listed nearly eight years earlier.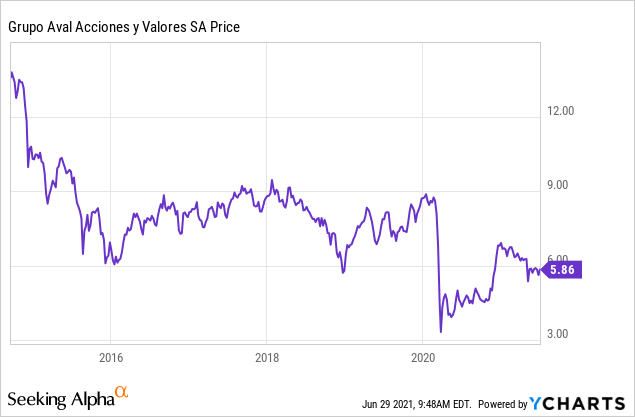 Nevertheless, financial performance before the pandemic was strong, with return on equity (ROE) generally in the mid-teens. Despite the unprecedented conditions of 2020, ROE only fell to around 12% and it seems warranted to expect that figure to return to a band of around 15%-17%.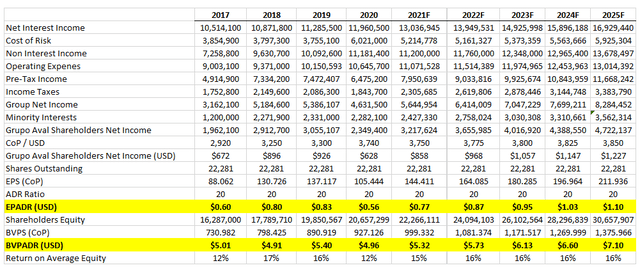 Grupo Aval historical and projected financials. All figures are in millions of Colombian pesos ((CoP)) except the CoP / USD exchange rate, Grupo Aval Shareholders Net Income (in millions of USD), Shares Outstanding (in thousands), EPS and ADR ratio, BVPS figures, and Return on Average Equity. Source: Grupo Aval financial filings and Author.
Historically, Aval has traded for about 11x earnings and 1.5x book value. At its current price, the conglomerate trades for 7.5x this year's earnings and 1.1x year-end book value, both representing about 30% discounts to history. Looking ahead, barring another big leg down for the Colombian peso, book value should surpass the current share price sometime next year. That is rare for a company earning a mid-teens ROE.
Consider also Grupo Sura, part of the informal business group Grupo Empresarial Antioqueño (GEA), a loose alliance of companies whose cross-ownership and mutual support was originally designed to prevent foreign takeovers of the leading companies based in the city of Medellin. Sura's underlying earnings, therefore, are somewhat more diversified than Aval's. Among those sources are two controlled entities: a leading Latin American asset manager (Sura Asset Management) and a diversified insurance group (Suramericana).
The company also has a 24% stake in Colombia's single largest bank, Bancolombia. (Grupo Aval's four banks are collectively larger than Bancolombia.) Finally, it owns a little more than a third each of the highly profitable and fast growing consumer packaged goods company Grupo Nutresa (OTCPK:GCHOY) and cement and infrastructure group Grupo Argos.
Using actual market values of the publicly traded investments and estimates of market multiples for Sura Asset and Suramericana, the group presently trades for a 50% discount to net asset value.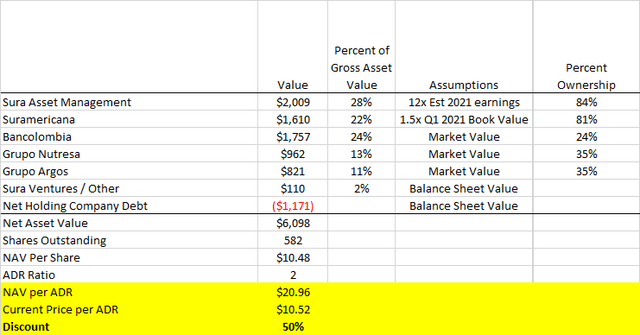 Grupo Sura estimated net asset value and current discount. All figures in millions except per share amounts, ratios, and percentages. Source: Author.
That is an impressive discount - and one that is up from the roughly 30% pre-pandemic discount - but the underlying businesses themselves are quite attractive. Sura Asset regularly puts up ROE figures of around 30% and Nutresa consistently grows revenue in the high single digits per year, accompanied by strong returns on incremental capital. Grupo Argos holds an extremely strong position in cement in the markets it serves and has valuable road and airport concessions.
Meanwhile, Suramericana and Bancolombia are two of the more attractive insurance and banking platforms in Latin America. It is equally important to note that the net asset value is calculated based on current market prices, which are certainly not ebullient.
Another perspective on Sura is its price relative to look-through earnings. I calculate the group's look-through earnings from 2019 at today's exchange rate to be slightly less than $500 million, even after adjusting for central costs and interest payments on group debt.
Some entities, such as Sura Asset and Nutresa, have continued putting up impressive results while others, such as Bancolombia and Grupo Argos, have certainly had results dented by the turmoil of the last fifteen months. Still, I would estimate normalized earnings as being slightly higher than actual results from 2019. That would put the current price at roughly 6x earnings for the group.
Repeating what I have said in a previous article, the Sura ADR is not extremely liquid, so investors should use limit orders and reference the price of shares traded in Bogota before placing orders for any shares with their broker.
The Colombian indexes also have a relatively large weighting to these two groups and their constituent companies. The iCol ETF (ICOL) has about a 20% weighting to Bancolombia, 13% weighting to the remaining entities that are part of the GEA and about 4% to Grupo Aval and its subsidiaries (Aval's weighting is lower because the company is tightly controlled and thus has a lower float). Jean van der Walle's terrific blog The Emerging Markets Investor profiled various emerging market valuations this past April and noted that based upon the current cyclically adjusted price to earnings ratio (CAPE) relative to its own history, Colombia's was the second cheapest stock market profiled, with only Turkey having a greater discount.
In April, Colombia's CAPE was ~9x compared to historical average of ~14x. The United States, by comparison, sat at ~37x compared to a historical average of ~25x. CAPE ratios often have to be taken with a grain of salt and a direct comparison of two countries' CAPE ratios is usually meaningless, but Colombia's discount stands out during a time when most emerging countries are trading closer to their historical averages and when most developed countries are trading quite a bit higher than that average.
It does not seem controvertible to me that based upon most fundamental analysis, that the Colombian stock market is quite cheap right now. I would further go on to argue that that statement extends specifically to the country's two leading business groups and that those two business groups have consistently demonstrated extremely attractive economics.
Uncertainty in the Economic and Political Outlooks
Clearly, the pandemic has had a much harsher impact on Latin America than most of the rest of the world. Colombia, like most of the continent, is highly urbanized with a significant informal economy and extremely high inequality. Still, COVID was much more contained in the country until a record surge since March has increased daily cases from around 3,500 per day to more than 30,000 now.
Progress is being made in vaccination rates, with most recently 22% of the population having had at least one shot and 12% now fully vaccinated, but in the face of new variants, that progress has not made much of a dent in the ongoing surge of new cases. The lockdowns needed to keep COVID at bay until these past several months, however, were among the longest in the world. Fearing that the country could not economically survive further lockdowns, many of the restrictions were abruptly ended a month ago despite still full ICUs.
A recent Bloomberg ranking of the best and worst places to be as the world re-opens ranked Colombia 48th out of 53 countries, based on factors such as vaccination rates, expected economic performance, lockdown severity, mobility, and health coverage. In comparison, at the top of the list were the United States, New Zealand, Switzerland, and Israel.
The devastation that the virus has caused to Colombia, and the entire continent of South America, should not be minimized. The Colombian government certainly did not perform among the worst of countries within its region, but it was far from perfect in a region whose shortcomings were badly exposed. Still, the vaccination rate is increasing at an encouraging rate and the government expects GDP to grow by 6% this year.
The questions that most urgently need addressed by investors, and the reason I believe that such a discount exists in the local market, relate to the second and third order effects of the pandemic.
Dissatisfaction with governments was already high in Latin America before the pandemic even began. According to Gallup, confidence in Colombia in the health care system, education system, and justice system all declined between 2007 and 2018. While the country's level of corruption according to Transparency International's corruption perceptions index is actually somewhat lower than many peers, including Peru, Brazil, Venezuela, and Mexico, the absolute level of corruption in the country is still extremely high and the country remains among the least equal in the world.
The countries investment grade credit rating has long been a source of pride to Colombia and in order to preserve it, President Ivan Duque, submitted a bill earlier this year to increase tax revenue by reducing some exemptions and broadening the items which value added taxes applied to, while also expanding a universal income program that had been started in 2020. The bill was, to say the least, not popular as no one was yet ready to hear about their taxes going up after living through such a miserable and economically painful time period. Enormous protests against the bill caused it to be withdrawn.
The protests were, of course, ultimately about more than just the tax reform, but about broader concerns with the direction of the country, the competency of government, police, long-term inequality, and disappointment over the implementation of 2016's historic peace agreement. The strength of the protests and demonstrations have ebbed and flowed, but they are certainly continuing today, two months after they began. International human rights groups and activists have accused the police of abuses of power, while the government has accused the demonstrators of being infiltrated by guerilla and terrorist groups.
This backdrop sets the stage for a highly contentious and partisan election for President next year. The current President, Ivan Duque, is constitutionally barred from running for a second term. He is the third consecutive conservative politician elected to the Presidency, following Alvaro Uribe in 2002 and Juan Manuel Santos in 2010. (Both of his predecessors were still able to serve two terms.) Gustavo Petro, who lost to Duque in 2018 and is the former mayor of Bogota, has perhaps the highest odds of replacing Duque. Petro was originally a member of the guerilla group M-19, which became a political party in the late 1980s. Today, he heads the party he founded, the Democratic Socialist Colombia Humana.
The pertinent questions that investors must ask in analyzing an investment in the country is: What are the likely odds of a Petro Presidency? Should Petro win the Presidency next year, what impact on business valuations would it have?
Colombian Presidential elections are conducted in two rounds. If no candidate receives more than 50% of the vote in the first round, the top two choices proceed to a run-off. A recent CNC poll suggests that Petro has consolidated the liberal vote in the country and places him with 29% of the first round vote. Centrist Sergio Farjardo currently polls second with only 8% of the vote. But, in a hypothetical run-off, both Petro and Fajardo are in a dead heat with each receiving 44% of the vote.
It is far from a fait accompli as to whether Petro will be the next President of the country. Each of the last two candidates were endorsed by the previous President Uribe, and although Mr. Uribe is enormously popular on the right in the country, it remains to be seen whether a candidate with his backing will also rise within the field. With the first round of the election eleven months away, no prediction markets that I know of exist yet, but I would be hard pressed to give Mr. Petro more than 50/50 odds of winning the Presidency.
I would also suggest that while equity markets would take a Petro win negatively, it might not be disastrous. Take Peru as a possible parallel. The leading Peruvian bank Credicorp (BAP) traded for about $150 per share just before Pedro Castillo advanced to the second round of Peruvian elections and ultimately won the Presidency. But today, the stock still trades at about $120 per share on the NYSE, a decline of roughly 20%. Of course, once in power Castillo could govern in such a way that Credicorp is harmed more than the current consensus. But, I would also argue that Petro is much more of a known entity than Castillo, who had never before held public office and whose political party has described itself as being based on Marxism and Leninism.
Petro's platform is likely to be negative for the fossil fuel industry and large corporations in Colombia generally would not be favored by legislation that would be proposed. To be sure, if you speak to many in Colombia, particularly those in the business community, they will tell you that an election of Petro risks a replay in Colombia of what happened over the past 20+ years in Venezuela. Petro himself has been extremely critical of current Venezuelan leader Nicolas Maduro, but his comments have been more lukewarm about his predecessor Hugo Chavez, who he has said was democratically elected and whose mistake was further anchoring the country's economy to the price of oil.
And, most importantly, the legislature in Colombia is likely to remain deeply split (one, but certainly not the only, reason why Duque has found it difficult to achieve his legislative agenda despite his alliance holding a slight majority in both chambers). With the country so divided currently, it seems likely that both houses of the legislature will continue reflecting those divisions, necessitating that the support of more centrist parties that are in the opposition today be required to pass any major legislation.
There is not a set playbook here and so intelligent people may disagree on the likelihood of the election of a leftist as President of Colombia and what the consequences of that election are. But, I think any honest analysis would be hard pressed to conclude that a Petro election next year is more likely than not at this point and that even if he is elected that the fair value of most companies in the country would diminish enough to overcome the enormous margin of safety embedded within the valuation of quite a few Colombian companies.
The Broader Context
A move towards more progressive policies and politicians at the beginning of the 21st century was often dubbed a "pink tide" by many observers and recent elections have hinted at a second "pink tide." A shift may be most noticeable in members of the Pacific Alliance countries of Mexico, Colombia, Peru, and Chile, which has long been a center-right coalition. Mexico is now led by the very popular Andres Manuel Lopez Obrador, who has a rather unique set of views, but nevertheless came far from the political establishment in that country.
Peru has just elected a political novice and Socialist as its next President. Meanwhile, Chile, a relatively affluent country, is poised to rewrite its constitution after sending a surprising amount of political independents to do so. Colombia, of course, now is also facing extensive protests and major elections next year.
Many have interpreted these movements as a shift away from capitalism and "neo-liberalism" and towards more anti-business sentiment. That may be happening on some level. But, a more plausible explanation is that the population of these countries are exasperated with their governments and the political establishments that have led them. Certainly, Mexico, Peru, Chile, and Colombia have all seen corruption scandals and elections which offered poor choices to voters.
Colombia as a country also has many challenges to solve in the coming years, from how best to get the country's finances back on track to how to improve infrastructure of the country and reduce inequality. Solutions to those problems need not involve an anti-business climate. In fact, business will be essential to solving these issues.
Each investor must evaluate the risk tolerance that they are comfortable with and manage that in the context of their overall portfolio. When investing in Emerging Markets and Latin America, it is extremely important to have a good understanding of the dynamics of the country you are investing in. For that reason, I am only invested in Mexico and Colombia in the region as I understand the dynamics of those countries best.
However, I will end by returning to the two companies I highlighted earlier in the article. Both trade at 6x-7x what I consider to be normalized earnings. Importantly, the businesses themselves are extremely good businesses, with terrific market positions, high returns on capital, and intelligent management. Economic re-opening and higher oil prices should provide support to the Colombian peso as well. Were those businesses in a developed market, they would likely trade for 2x-3x more than they do today. The next year may provide more turbulence, but investors would be unwise to place too great an emphasis on the headlines and miss the incredible discounts available to them today.