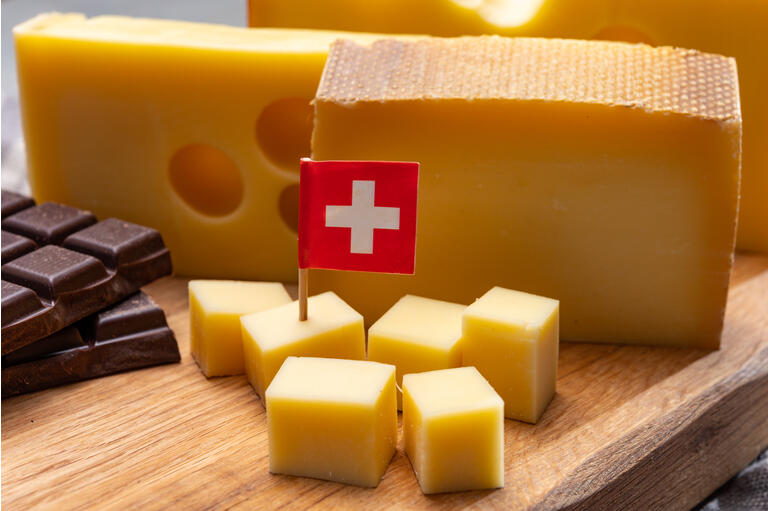 Introduction
About two years ago, I thought Richemont (OTCPK:CFRHF) (OTCPK:CFRUY) was fairly valued. While the luxury brand company is still generating strong cash flows, I was no longer a buyer of the stock. Fast forward to now, two years later. Richemont survived the COVID pandemic thanks to its strong balance sheet which helped to mitigate the impact of a 25% revenue decrease. However, the share price is currently already trading about 50% higher than the 76 CHF it was trading at right before the pandemic escalated. Time to follow up, as Richemont released its FY 2021 results just a few weeks ago.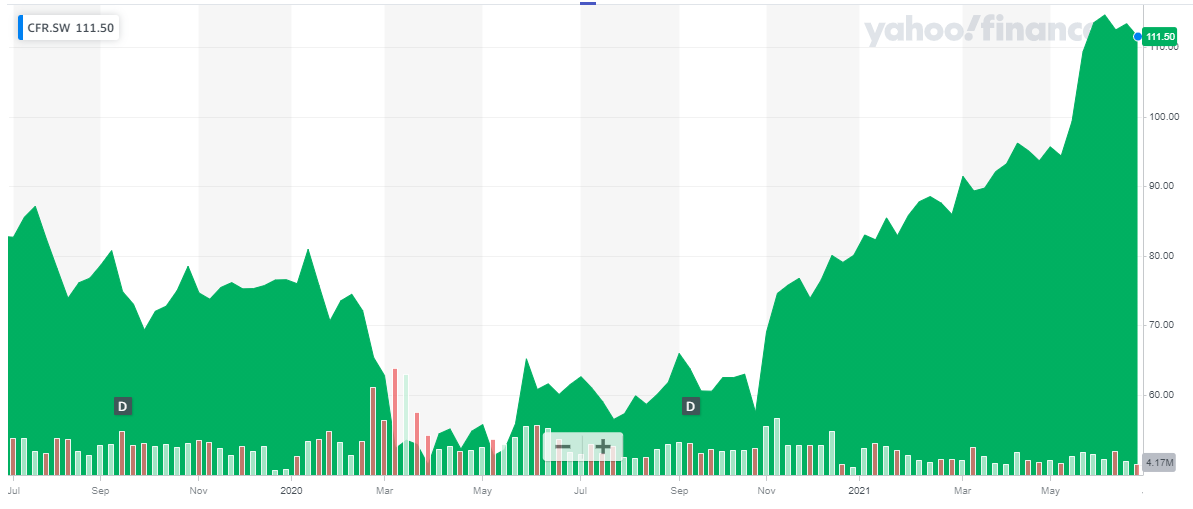 Source: Yahoo Finance
Richemont is a Swiss company, and its home listing is more liquid than any other secondary listing. The ticker symbol in Switzerland is CFR, and the average daily volume is around 1.3 million shares for a dollar volume of approximately $130M. The current market cap is around 44B CHF. Richemont reports its financial results in Euros but is listed in Swiss Francs. I will use the Euro as base currency throughout this article, and where applicable, I will convert it into Swiss Francs using an EUR/CHF exchange rate of 1.09.
A lower revenue in FY2021 shouldn't have come as a surprise
Richemont's financial year 2021 (which ended in March) could best be described as a year on two different paces. The first half was abysmal with a revenue decrease of around 25% compared to the first semester of the preceding financial year, while the second half of the year showed a double-digit revenue growth compared to the year before. It looks like luxury items are still highly sought after and there likely was some "revenge buying" in the second half of the year when certain consumers needed some instant gratification after a difficult few months with lockdowns and restrictions.
The very strong second half of the year basically saved Richemont's entire financial year. The revenue decreased by just over 7% and although the gross profit fell by almost 10%, the company was able to reduce certain other expenses: It reduced the SG&A expenses by about 10%, but even more meaningful was the reduction of the communication expenses (advertising): During FY 2021, Richemont reduced its advertising expenses by almost 30% and that's what ultimately helped Richemont to keep the decrease of the operating profit limited.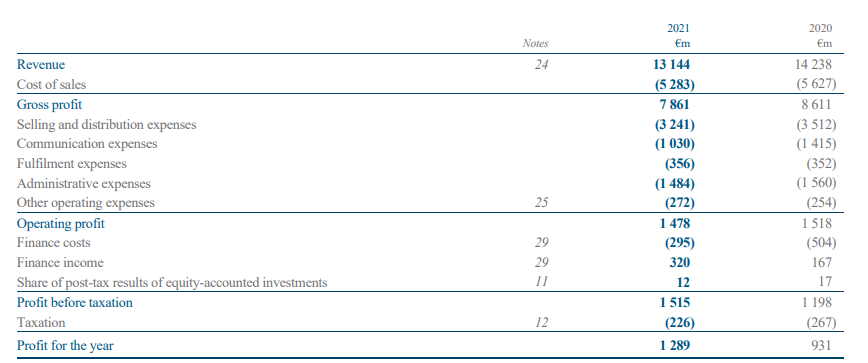 Source: annual report 2021
As you can see in the image above, the operating profit decreased by just 40M EUR (or less than 3%) despite the 1.1B EUR revenue decrease. Additionally, Richemont's bottom line was boosted by some non-recurring items with a net finance income of 25M EUR compared to a net finance loss of about 340M EUR in FY 2020.
The footnotes to the financial results explain how Richemont suddenly generated a positive finance income as it was mainly related to a lower FX loss and a higher non-recurring gain in the fair value of financial instruments.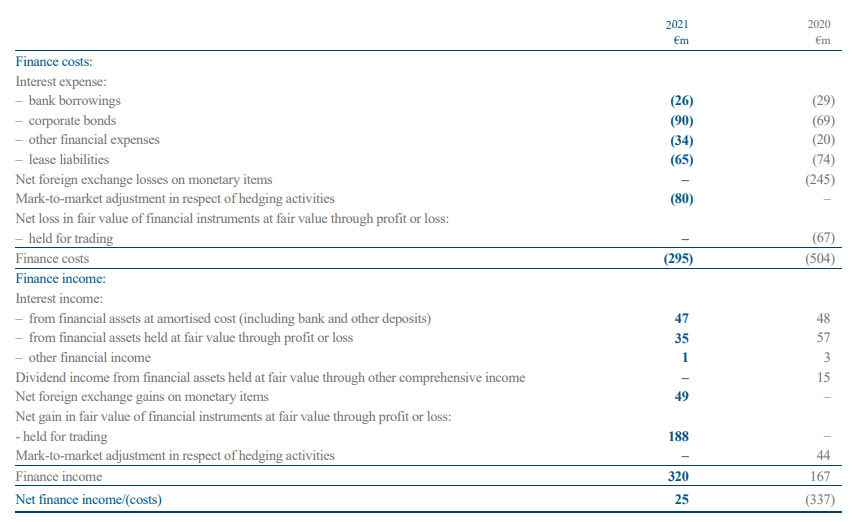 Source: annual report 2021
Thanks to this one-time contribution, the net income increased by almost 40% to 1.29B EUR, which represents 2.3 EUR per share, or approximately 2.52 CHF.
The cash flow statements confirm the company performed quite well. The reported operating cash flow was 3.22B EUR, but this includes a 529M EUR contribution from changes in the working capital, while it also includes a tax payment that's about 20M EUR higher than the amount of taxes due over the FY 2021 results. And on top of that, we also should deduct the 561M EUR in lease payments.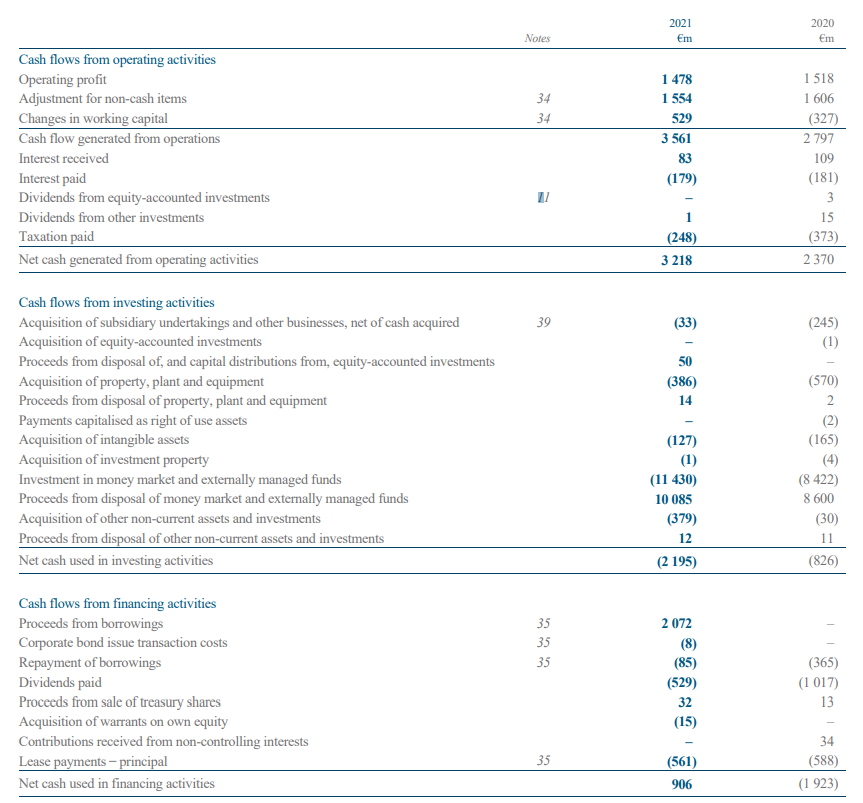 Source: annual report 2021
This results in an adjusted operating cash flow of 2.16B EUR. The total capex was just 386M EUR (as Richemont sharply reduced its investments considering it spent in excess of half a billion Euro on capex in the preceding financial year), resulting in a free cash flow result of approximately 1.77B EUR (which is approximately 3.4 CHF/share).
That's almost twice as high as the reported net income, exactly because of the difference between the depreciation and amortization expenses (855M EUR in FY 2021) and the capex level (386M EUR). As Richemont will likely accelerate its capex investments again it's pretty obvious we will see a higher normalized capex going forward, but perhaps that could be mitigated by the impact of a higher operating cash flow now the world seems to be normalizing again.
Investment thesis
While I'm impressed with Richemont's resilience, I also don't really see a lot of upside potential. The company is now trading at in excess of 40 times its FY 2021 earnings which were inflated by a few non-recurring items. That being said, I do expect Richemont's net income to be higher this year, despite the one-time items last year. The analyst consensus estimates are calling for an EPS of 3.19 EUR/share (about 3.50 CHF), increasing to almost 4.5 EUR/share by 2024. That would represent an EPS of almost 5 CHF/share which is likely what's currently underpinning the triple digit share price.
We also see Richemont is currently trading at a free cash flow yield of 3% and an EV/EBITDA ratio of roughly 15 (which is expected to fall to 11.5 based on the analyst consensus estimates for FY2024).
So while the company clearly isn't cheap, one could also argue the expected revenue and net income growth justify the current valuation. I currently don't have a position in Richemont, and also don't have any intention to add Richemont back to my portfolio at the current share price.