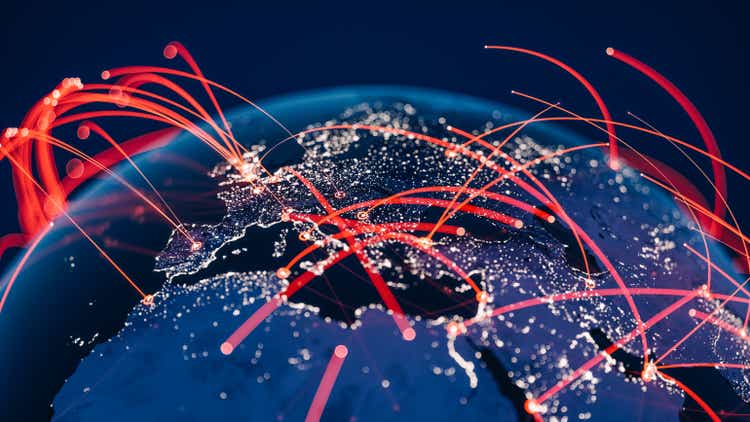 This article was first released to Systematic Income subscribers and free trials on 28-June.
Welcome to another installment of our Preferreds Market Weekly Review where we discuss preferreds and baby bond market activity from both the bottom-up - highlighting individual news and events - as well as top-down - providing an overview of the broader market. We also try to provide some historical context as well as relevant themes that look to be driving markets or that investors ought to be mindful of. This update covers the fourth week of June.
Market Overview
It was another solid week for preferreds with only one sector - Utilities - delivering a negative return on the week. Over the last month, all sectors are in the green by at least 0.5%.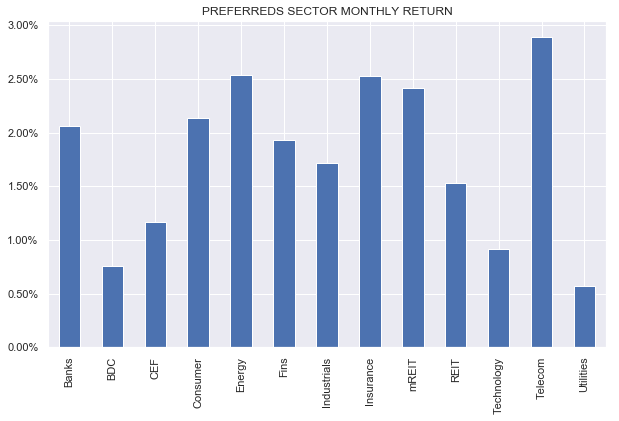 Source: Systematic Income
A key theme in the preferreds sector is the continuation of the rally we have seen so far this year. The chart below highlights the average price of the $25-par sector where the average clean price has push to the $26 level and threatens to exceed its early-2020 level.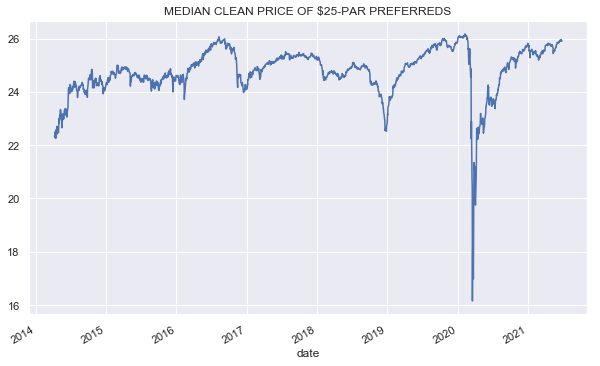 Source: Systematic Income
One of our favorite charts is to compare the stripped yield of the preferreds sector to its yield-to-worst (defined as the minimum of yield-to-first-call and the stripped yield or yield-to-maturity depending on whether a given security has a maturity or not). The reason we like it has to do with the wide divergence between the two. Normally, we present the median figures for the entire market, however, in this weekly we shift our focus to the crossover-rated segment i.e. the higher-quality part of the market that tends to be the focus of CEFs and passive preferreds ETFs. For example, the iShares Preferred & Income Securities ETF (PFF) which has nearly as much assets as all the other preferred ETFs put together has a 70% allocation to securities rated either BBB or BB.
The chart below plots the average stripped yields of this segment of the retail preferreds market. The stark divergence between the YTW and stripped yield is obvious.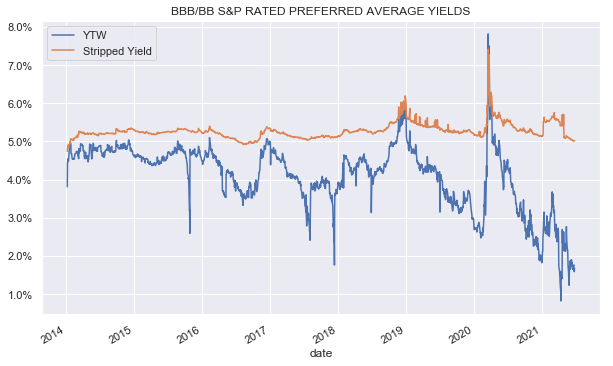 Source: Systematic Income
The reason this distinction is important is that preferreds funds make distributions according to the coupons they receive (i.e. stripped yield) rather than the expected lifetime yields of the securities in their portfolios (best proxied by YTW).
In other words, most preferreds fund investors think they are getting a sweet deal - earning around 5% for fairly high-quality assets (majority rated BBB/BB) and with fairly low duration of around 4.5. In an environment of corporate BBB/BB yields averaging around 2.8% the preferreds fund market looks like a steal.
The problem with this is that it's mostly a fiction on two fronts. First, as the chart above suggests, the 5% yields on preferreds ETFs are not "real" given the much lower yields-to-call on their holdings. And secondly, the relatively low durations are contingent on interest rates remaining range-bound. If interest rates rise, the durations of preferreds will increase. This has to do with the issuer call options embedded in most preferreds and is similar to the behavior of mortgage-backed securities.
This confusion around yields isn't limited to retail investors. For example, State Street put out a fixed-income update where they described the yield-to-maturity in the preferreds sector as being 4.66%.
The first issue is their use of "YTM" to describe the yield of the preferreds space. Anyone who has spent any time with preferreds knows full well that few preferreds have a specified maturity with makes the term "yield-to-maturity" irrelevant. What they should have said is "yield-to-worst" or YTW which is how the preferreds sector is normally described (often shortened to just "yield") When people talk about the yield of high-yield bonds they are implicitly talking about yield-to-worst. So when you graph the HY bond "yield" on FRED you are getting the yield-to-worst not the stripped yield (or current yield i.e. coupon / price) nor the yield-to-maturity.
Their second error is the failure to realize that a figure of 4.66% cannot possibly be the yield of the preferreds sector (they use the BofA Hybrid Prefs Index which is mostly composed of IG issuers) when the BBB/BB corporate debt has a yield of sub-3%. Historically, the difference between yield-to-worst and stripped yield (or current yield) has not been very obvious because yields have trended lower which boosted asset returns above their yields-to-call. In other words, funds that hold bonds with a 3% YTW have generated returns on the order of 4-6% due a downtrend in yield. However, since a further yield downtrend is unlikely to materialize the difference between the two yields is especially important for allocating to income sectors.
Using other sources, Nuveen pegs the preferreds market yield at 2.55% as of 21-June. UBS pegs both the retail and institutional market yields at around 3% as of 18-June and Spectrum pegs it at 2.79% as of the end of May. These numbers will tend to be higher than the yields of securities held by ETFs because the indices that underlie the ETFs tend to skew in the higher-quality direction.
Market Commentary
The trades in OXLC preferreds and bonds by Eagle Point Credit Management (who are related to the CLO CEFs Eagle Point Credit Co (ECC) and Eagle Point Income Co (EIC)) caught our eye. EPCM holds about $21m of the OXLC 6.75% 2031 Notes (OXLCL) and two of OXLC preferreds: OXLC 6.75% 2024 Preferreds (OXLCM) and OLC 6.25% 2027 Preferreds (OXLCP). The OXLCL holding is by far the largest with a fifth of the outstanding amount. The holdings are probably there on behalf of the firm's managed accounts which are accounts for individual investors. It's interesting that two of the three holdings are those we have highlighted recently as being attractive. OXLCL has the highest asset coverage in the sector and a 5.58% YTW while OXLCM is a pinned-to-par option that should be somewhat more resilient in the sector with a 6.64% yield.
Gladstone Commercial REIT is out with Series G (GSCCV) trading at a 5.75% yield and is in the Prefs Tool. This one is likely to converge with the Gladstone 6.625% Series E (GOODN) which is trading at a 4.9% yield.
Mandatory convertible BB+ rated Canadian utility 7.75% Algonquin Power & Utilities Corp (AQNNF) started trading recently and looks attractive from a yield to rating perspective alongside limited duration. However, the conversion and foreign security elements may put off some investors.
The 5.875% Great Elm baby bond (GECCO), rated BBB- by Egan Jones looks attractive relative to its two counterparts at a 6.11% yield for investors who are looking for some call protection in this environment.
We have finally updated some of the remaining hybrid mREIT preferreds Q1 data in our Preferreds Tool. The focus on mREITs preferreds as a shift away from fixed-income CEFs proved to be a sensible one earlier in the year. Ever since the high-yield corporate bond credit spreads retraced back to their pre-COVID level in January, the valuation of major fixed-income assets suggested fairly tepid returns going forward. Since the start of the year, mREIT prefs delivered a 13% return versus NAV returns of CEF fixed-income sectors of around 3-7%. As we have highlighted a few times, the sector offered an unusual combination of better valuation and a lower risk profile relative to early 2020. This is now changing as valuations tighten and leverage ticks up across the sector. Though this is expected, if unfortunate, the compression in yields in the sector will offer a decent opportunity for relative value positioning into higher-quality options since the opportunity cost for taking on more risk will be reduced. In the hybrid space, select Chimera Investment Corp (CIM), New York Mortgage Trust (NYMT) and Arlington Asset Investment Corp (AAIC) preferreds remain attractive.
Stance And Takeaways
The outlook for preferreds fund investors remains extremely challenged due to the low level of underlying yields in the higher-quality assets that these funds tend to allocate to as well as the unlikely tailwind of ever lower yields that fixed-income investors enjoyed over the last decade or so. In fact, the so-called breakeven yield metric (which measures how much risk-free rates need to rise to wipe out an entire year's worth of yield) is extremely low at around 0.5%. Given that 10-year yields have come off around 0.2% from recent highs, a 0.5% move higher doesn't look like a tall order. This doesn't mean that investors must avoid higher-quality preferreds because these assets do have a role to play in the portfolio due to their greater resilience in case of a market drawdown. Therefore, our stance in the sector is a tripartite one of owning actively-managed ETFs which ticks both the active management and higher-quality box, pinned-to-par securities and higher-yielding sectors that continue to offer value such as select mREIT and CEF senior securities.