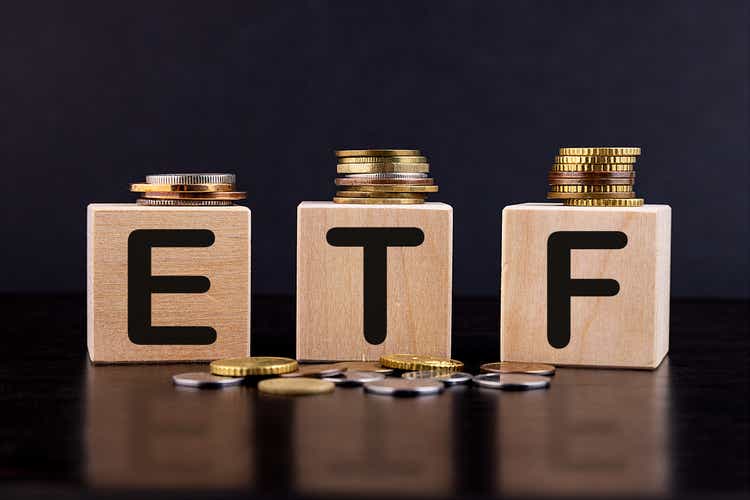 I had always seen ads for Global X ETFs on financial websites but hadn't looked into them until recently. I had traditionally stuck with funds from Vanguard, State Street Global Advisors, Schwab, and Fidelity when it came to ETFs. I started writing a dividend series on Seeking Alpha called Dividend Harvesting, and week after week, I would receive comments & messages about the Global X ETFs. Honestly, I am shocked I didn't research the ETFs from Global X sooner, and I have added five Global X ETFs to my Dividend Harvesting portfolio. I have to say the Global X ETFs are growing on me, and I am planning on adding to my positions in the five funds I have currently invested in. Global X offers a wide variety of funds, and there is a fund for just about every investment objective.
Many investors are focused on dividends and generating income. Dividend-producing investments have been part of my investment strategy for some time, and I plan on supplementing my retirement income with dividends from investments I am making today. Regardless if you're planning on working another thirty years like myself, if your approaching retirement or enjoying your golden years, retirement income is critical. The Global X S&P 500 Covered Call ETF (NYSEARCA:XYLD) has become one of my favorite income-producing funds, and I liked it so much I also invested in similar funds from Global X. At $49.20 per share with an annual dividend of $4.31, this 8.75% yielding fund is something income investors should look into.
What is a Covered Call?
There are many types of options and options strategies an investor can utilize. Options can get tricky, and a lot can go wrong, so I am not an advocate of many types of options. I like two types of options strategies, and that's writing covered calls and selling puts. I have written covered calls on some of my positions to increase the amount of income it generated. I have talked about writing covered calls on my investments in Omega Healthcare Investors (OHI) and AT&T (T) in previous articles. To find a fund that utilizes a covered call strategy spiked my interest, to say the least.
So, what is a covered call? All call options represent a block of one hundred shares (1 call option = 100 shares). Per Investopedia:
"A covered call refers to a financial transaction in which the investor selling call options owns an equivalent amount of the underlying security. To execute this an investor holding a long position in an asset then writes (sells) call options on that same asset to generate an income stream. The investor's long position in the asset is the "cover" because it means the seller can deliver the shares if the buyer of the call option chooses to exercise. If the investor simultaneously buys stock and writes call options against that stock position, it is known as a "buy-write" transaction.
I am going to provide an example. Hypothetically let's say company XYZ trades at $10 per share and pays a dividend of $0.50 for a 5% yield, and the investor owns 100 shares. The investor sells a covered call at a $12 strike for .08 with an expiration date of 9/1/21. The investor just sold the right to purchase their 100 shares of company XYZ on or before 9/2/21 for $12 regardless of what the share price appreciates to for $8. If XYZ goes to $15 and the option is exercised, the investor who wrote the covered call would only get $1,200 for their shares because they sold the right to buy their shares at $12 on or before 9/1/21.
I look to sell covered calls on dividend stocks that don't fluctuate in price much that I want to hold for long periods of time. OHI has been a great covered call machine for me because it has a 7% dividend that I can turn into about 11-12% through covered calls. I normally look 4-6 months out so I can repeat the process two to three times per year.
The Global X S&P 500 Covered Call ETF Overview
As you can see from the chart below, XYLD isn't a fund someone invests in for the sole purpose of growth or appreciation. This is a high-yielding fund dedicated to generating large amounts of income. Based on XYLD's price history, this is a fund that I expect will loosely follow the market and basically trade sideways. Honestly, when it comes to income investments, as long as they don't go down, I am perfectly happy with it trading sideways and generating stable dividend income. These are investments focused on generating income through dividends anyway.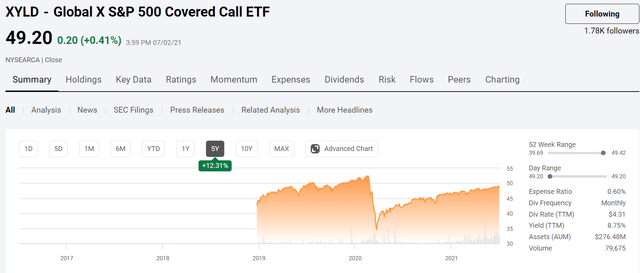 (Source: Seeking Alpha)
Finding XYLD was exciting because Global X created a fund that does what I do for myself but on a larger scale when it comes to writing covered calls. XYLD follows a covered call strategy as it invests in companies throughout the S&P 500 index then writes corresponding call options on the S&P 500. This is an efficient way for investors to gain exposure to income generated from the options market without worrying about doing something incorrectly or spending time learning what to do. XLYD does all of the work as it writes call options on the S&P 500 index saving investors time and the broker fees of doing this independently. XYLD also invests in the S&P 500 index, a market-capitalization-weighted index of the 500 largest companies in the United States. When a company enters the prestigious S&P 500, it's hard to call them a fluke. S&P 500 companies have proven themselves and are not startups with a wait-and-see story ahead of them. This provides a level of confidence for me as only the largest companies in the United States will be found within XYLD's holdings.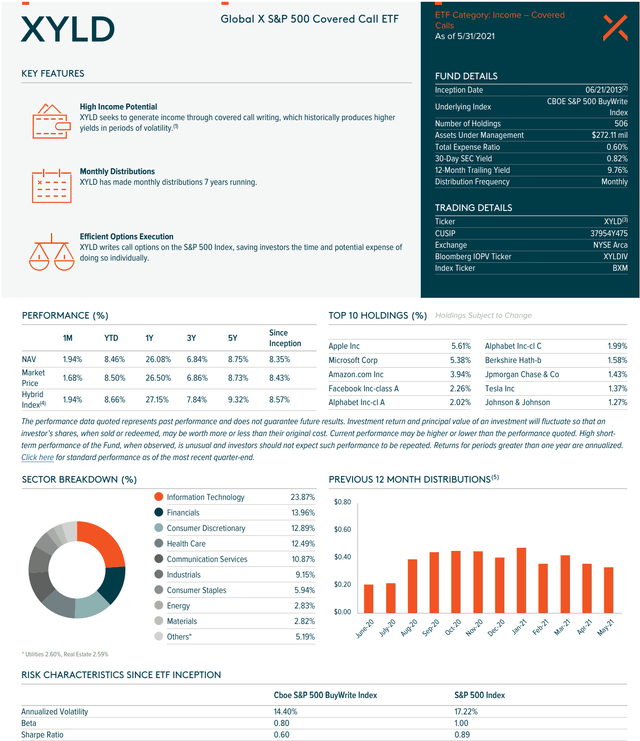 (Source: Global X)
XYLD invests at least 80% of its total assets in the securities of the S&P 500 and writes call options on the S&P 500 index. Each time the fund writes a covered call option, the fund receives a payment of money from the investor who buys the option from the fund. The premium paid by the buyer of the option provides income in addition to the security's dividends or other distributions. XYLD uses an at-the-money call option strategy, and the options are written systematically on the monthly writing option date of the S&P 500. For all of this work, XYLD only charges 0.60% in management fees.
Yes, XYLD invests in the S&P 500 index but look at its holdings. It's hard to complain about a fund that has Apple (AAPL), Microsoft (MSFT), Amazon (AMZN), Facebook (FB), Alphabet (GOOGL), Berkshire Hathaway (BRK.B), Tesla (TSLA), and Nvidia (NVDA) in its top ten holdings. I put a picture of XYLD's top twenty holdings below, and the portfolio is filled with the creme de la creme of investments (in my opinion). Finding a fund that invests in the largest companies in America then writes covered calls against the S&P index is unique and an interesting fund for income investors who want passive income and exposure to top-tier companies.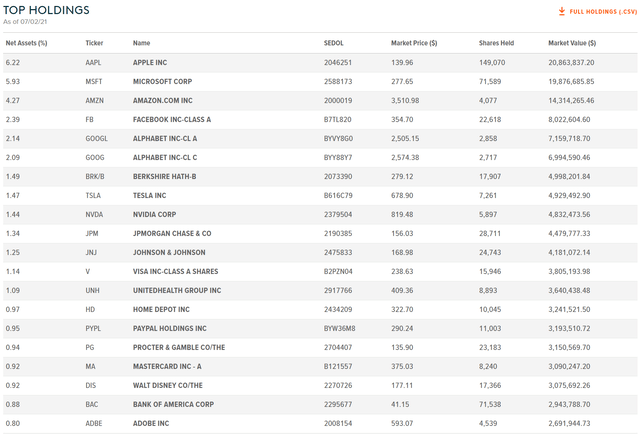 (Source: Global X)
XYLD is a dividend machine
If there is one thing, every income investor loves its dividends. Many funds and companies pay their dividends on a quarterly basis. XYLD lives up to its investment thesis and pays investors dividends on a monthly basis for a continuous stream of dividend income. For more than seven consecutive years, XYLD has paid monthly dividends to its shareholders and has a trailing twelve-month yield of 10.01%. This fund is an absolute dividend machine as it writes call options, collects dividends, and pays investors every month.
In the first six months of 2021, XYLD has paid investors $2.34 per share at an average rate of $0.39 per month. If XYLD was to replicate this in the 2nd half of 2021, based on its current share price of $40.20, XYLD would generate $4.67 in dividend income and pay investors roughly $0.78 per month on each share owned. From an income perspective, there aren't many funds or investments that can match this yield especially given the actual assets XYLD holds. For every 100 shares ($4,920 in today's value) investors would generate $467 in annual dividend income. If you're reinvesting the dividends instead of taking the income as cash XYLD could become a dividend compounding machine quite quickly.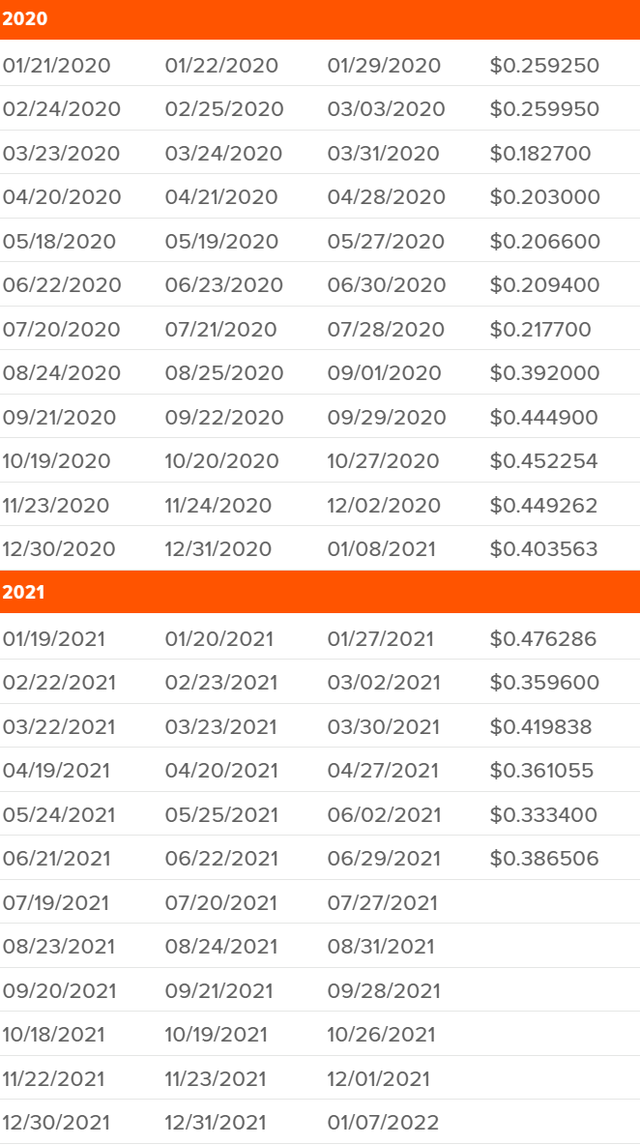 (Source: Global X)
Conclusion
I love dividends, and I have invested in many individual equities to create a diversified dividend portfolio. XYLD takes the homework out of the equation and lets investors put their capital to work and go on their way. XYLD is a unique fund that writes covered calls against the S&P 500 index to increase its yield for investors. With a 0.60% expense ratio, investors are getting a lot out of this management team. Global X has become one of my favorite fund families and offers several funds that are right up a dividend investors ally. I think income investors should research XYLD as it's a great option to generate large amounts of yield through monthly dividends without doing a ton of work.