Abcam: A Promising Business Model In The Drug Industry
Summary
I will outline the history of drug development.
Information for the Abcam business model will be outlined for my readers.
As a secondary model for my readers, I will cite Syneos Health, Inc.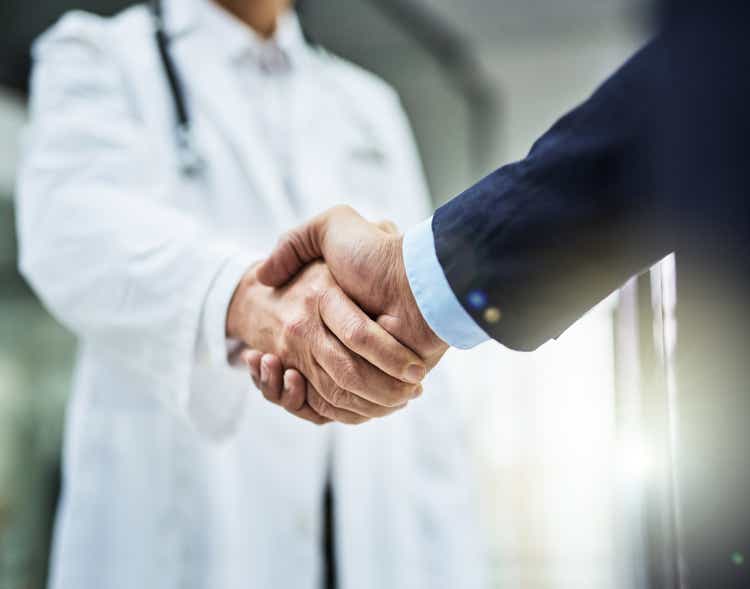 Abcam plc (NASDAQ:ABCM) is a life sciences company created in 1998 and has their headquarters in Cambridge, the United Kingdom. Their business model is set up to conduct research where they develop and distribute biological reagents and tools for research, drug discovery, and diagnostics. They concentrate on the markets found in the United States, China, Japan, the Middle East, Africa, and other Asia Pacific rim countries.
Abcam offers various research products, including primary and secondary antibodies; ELISA (enzyme-linked-immunosorbent- assay) and matched antibody pairs; cell and tissue imaging tools; cellular and biochemical assays; proteins and peptides; proteomics tools; agonists, antagonists, activators, and inhibitors; lysates; and multiplex assays.
Their research products are used in the areas of:
* cancer
* cardiovascular
* cell biology
* developmental biology
* epigenetics
* nuclear signaling
* immunology
* metabolism
* microbiology
* neuroscience
* signal transduction
* stem cells
After reviewing the array of products and solutions that Abcam offers their clients, one might draw a parallel to what Amazon offers---one site shopping and delivery service. This approach, and Amazon being the business model, the likes of Abcam and Syneos Health, Inc. (SYNH) are the wave of the future in the medical product development arena. In the case of Syneos, they also have a dedicated team for building out a marketing model and related staffing needs for the launch of a new drug or medical device.
For this article, I am going to concentrate on Abcam. However, Syneos offers the investor with a long-term horizon for their investments where they could benefit from holding their shares. However, it should be noted their shares have advanced YTD by about 35%. This currently indicates, Abcam offers a better play for your money. However, implementing a small holding in Syneos' shares at this time will give one a vested interest in watching for any pullback, so you can add more shares.
Historical Background Related to Article Thesis:
In the early days of our European ancestors, they took a perilous journey by crossing the Atlantic Ocean to the distant shores of what is today known as the United States of America. They truly had few material possessions for them to bring to their new homeland. The one thing they did bring in abundance were the European diseases that had spread rapidly through the European continent-plagues that killed annually massive numbers of their population. Upon arrival here, these deadly diseases caused massive havoc and death to the Native Americans who had no immunity to these European born killers of humans.
In 1798, President John Adams faced his first financial crisis. The merchant seamen refused to man the ships needed to get our raw materials and finished goods to the foreign markets and manufacturing facilities. For a merchant seaman boarding a ship and transporting goods to distant locations was practically a case of signing up for their death. President Adams and our Congress went into action where they passed the Act for the Relief of Sick and Disabled Seamen. This legislation mandated twenty cents per month being automatically deducted from the mariner's pay. This funding then was used to build Marine Hospitals that were erected in new locations as our nation made its westward expansion -from Boston and all the way to Hawaii.
This action was the first federal government created healthcare system in the United States-and it saved our nation from a disaster in the making in 1798. In the ensuing 220+ years our nation's healthcare system has made a few steps forward and a few steps backwards. But overall, it has moved forward, so that today it represents the world's largest healthcare system-but still with some warts and blemishes that mar the overall effectiveness for how it works.
Today, 2021, and going forward, we are at a new crossroads where major changes are coming to the way the nations must work together in a new business model. If we have learned one thing from the COVID-19 pandemic, that is we can no longer isolate from other nations. Rather, we must work together in a semblance of unity and urgency. As we have seen since late 2019, virulent air borne diseases are not prevented from crossing from one nation to the next nation where they have adjoining borders.
Historically, drugs were mainly created in Europe and China. Then it began to spread across the world-India, Middle East, and eventually to the United States. As for the US, originally our drug development companies were domiciled in the likes of New York City, Boston and then latex, Silicon Valley, California. Basically, everything was fragmented resulting in every drug company duplicating essential steps that applied to validating through mandated clinical trials that can take millions of dollars and decades of time.
With this article my intent is for showing long-term investors that the fragmented and no cohesion between drug development companies (both large, small, and newly created companies) can no longer afford the 'go it alone approach' spread throughout the world. With every drug developer duplicating their efforts the consolidation and distribution of products used in a drug's development, the Abcam and Syneos business model will address a critical need that all drug companies face in their development process. 100 drug companies developing the same biological reagents, antibodies, multiplex assays, Abcam can handle this aspect of drug development and based on scale they can do it for less, and still make a profit marketing it to the 100 drug companies.
Full Year Results Presentation (abcam.com)
Current Key Metrics:
It should be noted that prior to the end of June 2021, Abcam has operated on a fiscal year that ended in June. They will now switch to a calendar year reporting for their financials, so the reports going forward must be looked at with the understanding the numbers must be adjusted to account for the new calendar year time frame. When you see H1 2021, make note that is July 1, 2020, to December 31, 2020. H2-2021 covers January to the just concluded in June 2021. The main point looking at the following data, the H1-2021 numbers cover the period of 2020, when the Covid-19 pandemic was impacting the worldwide markets where Abcam's business model covers. Seeing the 6.7% growth in revenue during this period, though small, it shows that Abcam was successful in maintaining their growth in their diverse markets. Now with the 2H results for 2021 closed out, one should keep an eye on these critical metrics for continuing to show growth and positive earnings.
Summary Performance
Reported

Adjusted 1

H1 2021

£m

H1 2020

£m

H1 2021

£m

H1 2020

£m

Revenue

147.5

138.2

147.5

138.2

Gross profit margin, %

70.9%

69.7%

70.9%

69.7%

Operating profit

15.5

26.6

23.6

33.4

Profit Before Tax (PBT)

13.8

26.0

21.9

32.8

Diluted earnings per share (EPS) (pence)

5.3p

12.6p

8.1p

13.0p

Net Cash*

211.9

88.5

211.9

88.5
* Net Cash comprises cash and cash equivalents less borrowings.
Key Business Model Goals:
In their latest financial reporting, Abcam outlined they are concentrating on building their in-house developed product versus them operating merely as market maker for other companies' products. This is a prudent decision as this approach will built their revenues and profit margins at a more rapid pace. This approach is outlined in great deal in their recent Full Year Results Presentation (abcam.com) found on page 16.
Mergers and Acquisitions:
In their history of operations, Abcam has had an active acquisition platform. Most of their related activity has been smaller companies, but having products filling out their business model of concentration has been doable and did not impede their growth. A full and detailed discussion of this issue can be found on Page 27 of the above cited link.
I am a strong believer that making an investment solely on the likelihood of the company being acquired is not a #1 priority for my investment funds. With that be stated, even Abcam has shown that acquisitions have and will be an important consideration for future growth. If my thesis of the Abcam and Syneos business model proves to be the case for the drug development industry, at the current level and the potential for growth accelerating as we recover fully from the Covid-19 pandemic, Abcam could be a perfect candidate for being acquired. Having operating units around the world could be an added enhancement for a more mature operation seeking to expand their business model. But again-do not invest if you do not like the current underlying features that Abcam has now!
A Brief Summary of Abcam's Goals for the Future:
They have a clear purpose and vision for expanding their internally developed products. Operating in a growth industry where currently the market is approximately $8 billion (USD). A strong business model where they are in a leading position in research using antibodies and related products. Appealing business fundamentals that are profitable. Generating cash that is providing capital to make positive expansions achievable. Conservative organic investment plans that should be sustainable and bring near-term and long-term revenue growth and profits. Steady growing team of employees with commitments to grown with the company's goals and vision for the future. Abcam management is projecting they will grow revenues to upwards of £560 million in 2024. This would represent a near double from the current revenue level.
And there is one feature that I like to see in my investments. Abcam's CEO, Alan Hirzel, has a personal stake of £2.9 million of company stock. This makes an additional reason for the CEO to perform well in his overall company goals.
Conclusion:
Assuming my thesis is achievable, I do not expect to see Abcam's stock exploding upwards like a rocket launch. Reaching the revenue goals, they are projecting by 2024, it is doable and a double in share price could be achievable. In the next 4-5 weeks, we should expect the June results for the end of the current fiscal year. Keep your eyes on the return to the previous revenues and profits as the pandemic remains under control. Also, make note of any positive information that might come from Syneos, as they are a good precursor for how this market segment will perform in the future.
Good luck with your future investing decisions! Always apply your personal due diligence process for a stock before opting to invest your money!
This article was written by
I'm retired from a near 40 year career in the publishing industry working with an international publishing company. I obtained the position of Vice President and I led the sales efforts in the two largest markets in the textbook industry -California and Texas. My investing experience is over a span of 40 years.Luckily with more winners than losers! My hobbies are traveling , reading good books(non-fiction)--and researching stocks that I have an interest. I teach a continuing education class at our local college each semester. I volunteer my time working in assisting several lawyers with their Child Protective Service cases.Drugs are destroying our society and family structure). Finally, I serve as a reviewer for a national literary prize given each year. No pay, but I get to keep the books and add to my ever growing library. Other than these activities---I'm just plain lazy!
Analyst's Disclosure: I/we have a beneficial long position in the shares of ABCM SYNH either through stock ownership, options, or other derivatives. I wrote this article myself, and it expresses my own opinions. I am not receiving compensation for it (other than from Seeking Alpha). I have no business relationship with any company whose stock is mentioned in this article.
Seeking Alpha's Disclosure: Past performance is no guarantee of future results. No recommendation or advice is being given as to whether any investment is suitable for a particular investor. Any views or opinions expressed above may not reflect those of Seeking Alpha as a whole. Seeking Alpha is not a licensed securities dealer, broker or US investment adviser or investment bank. Our analysts are third party authors that include both professional investors and individual investors who may not be licensed or certified by any institute or regulatory body.