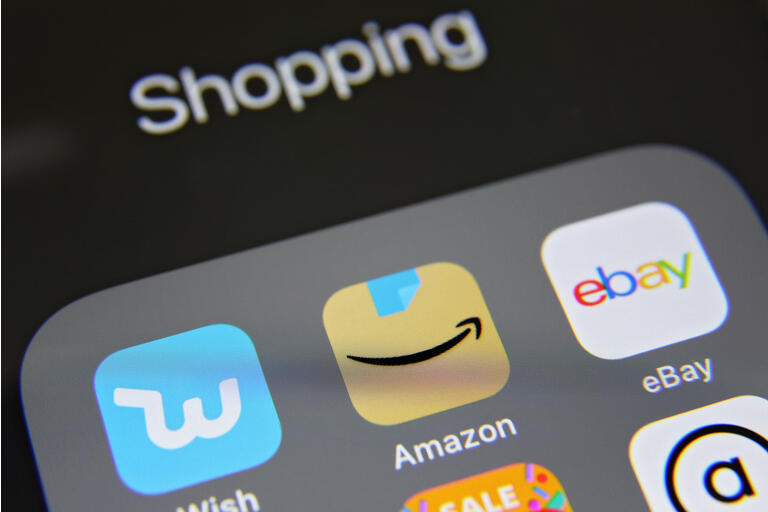 Performance So Far
ContextLogic (which I will refer to as Wish from now on) (NASDAQ:NASDAQ:WISH) has been publicly listed since December of last year. The stock has had a tumultuous time since its IPO with inconsistent quarters and continuous cash crunch. The destruction of shareholder value at Wish has left many shareholders, bag holders. The disappointment is real, but can the company turn the corner? Let's find out, as I make the best bull case possible for Wish.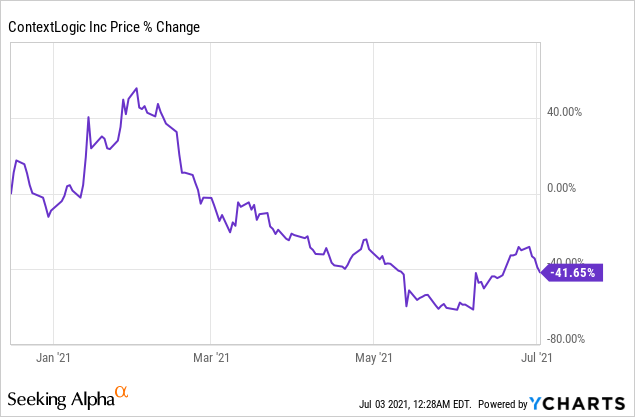 The Bull Case
Let's start with the Wish bull case. Wish has multiple layers to the bull case. Let's start where it all starts really: the product.
Differentiated And Competitively Advantageous Platform
Wish has built a truly unique platform. It blends a lot of factors together: gamification (more on that later), efficient logistics, ridiculously high discounts, rewards, and strong data science and algorithm leveraging. The majority of products sold on platform is unbranded products. This is product that tends to be extremely low in price by nature, attracting lower income consumers searching for deals. This has been one of the problems with larger scale, more traditional eCommerce platforms. Lower income segments have been left out of the eCommerce wave while the middle class and upper class have had the greatest adoption. Even the eCommerce titans have struggled to make affordable product available at scale. Enter Wish. Wish has built a unique platform almost exclusively catering to the <$75K annual income consumer.
Additionally, Wish has built a platform that like Pinterest (NYSE:PINS) (a top holding of mine) focuses less on pushing product in the user's face, and more on letting the user go through the organic discovery process on their own. They scroll through the Wish feed that has been targeted based on past interests. Additionally, the platform sends users notifications for certain items available on Wish that they might be interested in. You can also get notifications for particular rewards being offered. Sending user notifications makes the buying patterns of those users more sticky long-term, which is very good for user retention.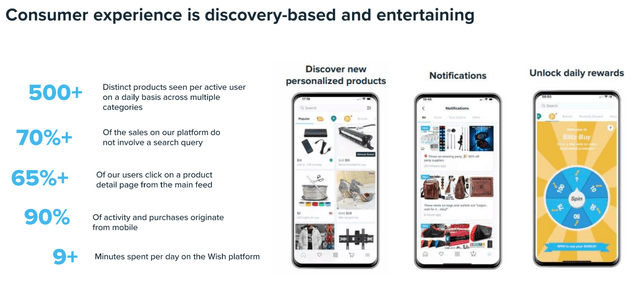 (source: Wish IR)
These are some numbers Wish has published that show the platform in action. As you can see, Wish users see hundreds of different products on a daily basis. They aren't necessarily looking for product. They are simply scrolling through a curated feed of products that Wish's data science team believes might be interested. That is why 70%+ of sales conducted on the Wish platform are done by scrolling, not necessarily by searching. The algorithms used to target products to users are proven effective by the next stat, which says that 65% of users click on a product they are shown in their main feed. This is important as it means the products being shown in the feed are deemed relevant to the users clicking on them. And finally, we see that nine minutes per day are spent on the Wish platform on average, which is more than competing comp eCommerce sites.
Basically, what I'm saying is we can clearly see the cause and effects of Wish's success. They have built a differentiated and unique platform that other competitors haven't been able to tap into. This is being shown by the engagement results the company has published.
Having a good product that people love and engage with is paramount in tech, but it's not the only thing Wish has going for it.
Multiple Revenue Streams
Revenue diversification is incredibly important for any business. Generally, I don't like owning businesses that have one revenue stream unless they are really good at being consistent with that revenue stream. I would argue Wish has very consistent revenue from multiple different revenue streams. The revenue streams are as follows:
Core marketplace
ProductBoost
Dynamic Pricing
Logistics
Wish makes money in four fundamental ways. The first way is core marketplace. Core marketplace is a combination of commission based revenue and Dynamic Pricing (more on that later). The majority of core marketplace is commission revenue. Commission revenue is essentially the percentage of the transaction for a particular product that Wish keeps. Core marketplace commissions (unblended) are at ~15% right now. Assuming purchase consistency stays and Wish develops some form of brand loyalty from its users, elevated GMV will lead to elevated commission revenue. It's really that simple.
The next segment of Wish's business is ProductBoost. This is their Wish native advertising business. Essentially ProductBoost is an ad tool that Wish offers to its merchants, allowing them to advertise particular product listings at the top of the user feed. This is a value add service that Wish has found a way to implement and make money from. As users and merchants increase as well as purchase activity on platform, I would expect an uptake in ProductBoost revenues.
Third we have Dynamic Pricing, which is looped in with Wish's marketplace revenue segment. Dynamic Pricing is a simple, yet almost ingenious way that Wish has found a way to squeeze more money from its platform. Dynamic Pricing is Wish's way of guaranteeing merchants on platform get the prices they want for inventory, and then selling the inventory at markups or markdowns. Confused? Here's a handy model from Credit Suisse.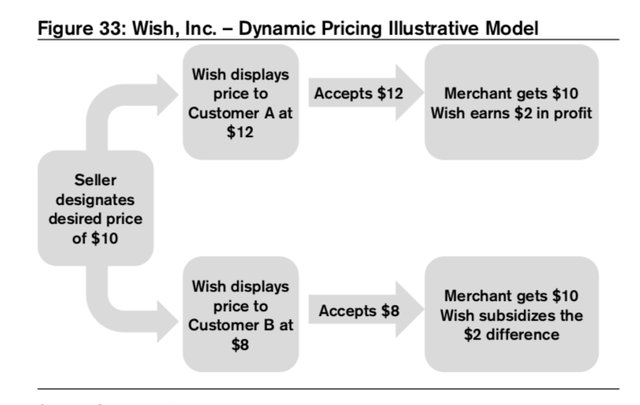 (source: Credit Suisse)
This revenue has been taking up a greater and greater portion of Wish's total core marketplace business as time goes on. I would expect it to eventually surpass commission based revenue.
The fourth and final revenue stream for Wish is logistics. Logistics has been far and away the lowest margin segment (long-term), but has also been Wish's fastest growing segment. Wish fulfills logistics a few ways: A+ and FBW (Fulfillment by Wish). FBW handles packaging and shipping, as well as last mile expenses. A+ is different, adding a broader variety of services from first mile to last. With A+ you pay a services fee to let Wish handle first mile, bundling, packaging, and last mile services. With these two logistics services, Wish's goal seems to be to improve margins long-term and keep free-shipping as a key selling point to the users. This keeps user retention and attraction up, while fixing a key cog in the machine of any eCommerce company: logistics. By July of 2020, Wish's proprietary logistics platform had gone from doing zero shipments to ~90% of total shipments of product. It's clear that merchants on the platform have placed a great deal of trust in Wish's platform, trust that Wish can continue to capitalize on and monetize over the stretch.
Large & Expanding Market
In addition to building a unique product and having multiple revenue streams, Wish operates in a large and expanding market: eCommerce. More specifically, unbranded/discount goods, a niche part of the eCommerce market that has been relatively untapped in the grander eCommerce tidal wave/take over.

(source: Wish IR)
Mobile eCommerce is projected to be a $2.4 trillion market by 2024, almost double the size of the 2019 market. Within that, there is the lower income segment that Wish is targeting. With Wish's unique and differentiated platform, they are primed to grab a good share of this mobile centered eCommerce market.
Mobile Native & Discovery Based Shopping
The next part of the Wish bull case is the platform's ability to combine a mobile native proposition with discovery based shopping. A lot of eCommerce remains desktop oriented, with users searching for goods not with their phones, but with laptops, tablets, and personal computers. Mobile remains relatively underpenetrated in comparison. That said, Wish's entire business is almost exclusively run on mobile. The user interface is clean and easy to use, a critical factor in driving users to the platform, and keeping them on the platform once they get there.
The other factor is discovery based shopping, a relatively new phenomenon that companies like Wish are helping go mainstream. Discovery based shopping involves the "scrolling" mechanic taking first place in a user's experience. This scrolling mechanic allows for passive consumption of content, rather than active. Rather than users actively looking for things to buy, they are able to passively scroll through, and see what the algorithm pops up with. This is similar to the dollar store mechanic (more on that later) of not specifically looking for particular goods, but discovering deals and buying things anyway.
Discovery based shopping can make eCommerce shopping fun, an experience that online shopping has failed in for so many years, and companies like Wish are pioneering this dynamic. This can also help Wish's advertising revenue, as users may become more likely to click on ads over time as the algorithms and data science become more efficient.
The bottom line is, Wish is pioneering mobile eCommerce and discovery based shopping patterns for good. Their platform will likely become a leader in eCommerce because of this.
Inexpensive Valuation
The next component of the Wish bull case is the company's valuation, which I will delve into more at a later time. While revenue growth is slower than its peers, the stock trades ridiculously cheap. While unprofitable, Wish does have a large amount of revenue and solid gross margins. Let's look at it compared to other eCommerce companies: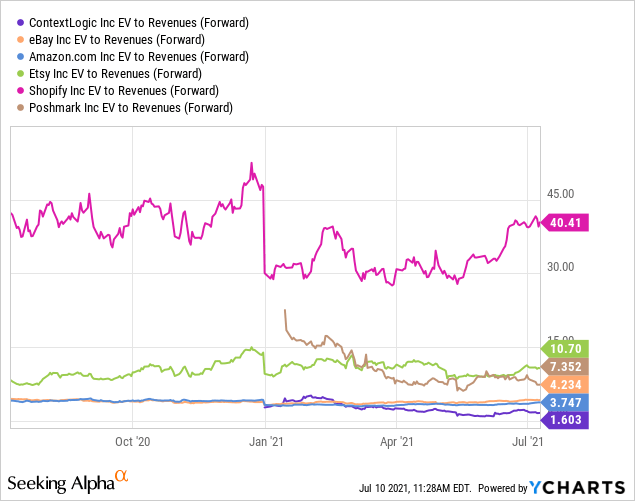 As you can see, against merely a few eCommerce companies, Wish is by far the cheapest. Even without comparing it to these companies, almost any stock trading at ~1.6x EV/NTM Sales is cheap, Wish being no exception.
It can look even cheaper when comping it against management's long-term model for the business.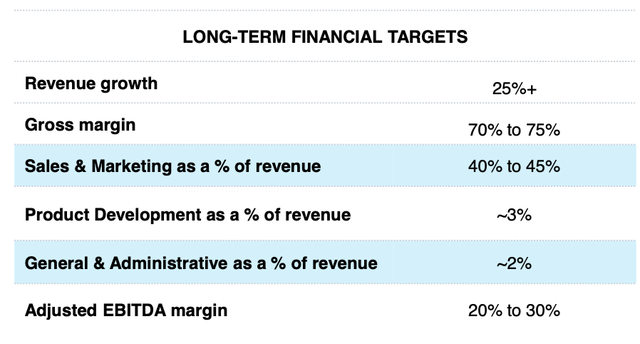 (source: Wish IR)
For a company projecting long-term revenue growth of 25%+ with 70-75% gross margins and 20-30% EBITDA margins, ~1.6x EV/NTMS is ridiculously cheap.
Having such a cheap valuation sets up two dynamics: a cushion for error, and large potential upside. Wish has both with its valuation, which is a key part of why this stock is so compelling.
Gamification of Purchasing
The next thing that Wish is doing is incredibly important, as it may become Wish's largest value unlock and point of differentiation from other eCommerce platforms. Wish offers its users incredibly steep discounts on deals in a gimmicky manner. You spin a wheel in the app and you see which of the discounted goods you are eligible for. It would be interesting to see Wish expand on this concept more, turning the eCommerce experience into more a game, elevating the enjoyment factor in shopping as a whole. This incentivizes increased user attention and spend. This could improve user growth and user retention. Adding a "fun" factor to shopping could be a revolutionary step in both Wish's business and the eCommerce business as a whole as it takes the burden out of commerce and replaces it with fun. However, this could prove controversial down the road. I can already see people comparing it to video game micro transactions or even gambling.
Potential Takeover Target
With Wish's valuation being so low and the company being in such a compelling position long term, it seems a buyout is a reasonable possibility. This speculation is not unmerited as a few years ago, management was rumored to be in talks with eCommerce giant Amazon (NASDAQ:AMZN) with a rumored price tag of $10 billion. Keep in mind, if this rumor is true (it was reported by Business Insider), then Amazon was willing to pay more for Wish six years ago, prior to lots of growth, than it is trading for now. For reference, Wish currently trades at a market cap of ~$7 billion.
This company is compelling enough, valued well enough, and priced low enough to be a really compelling acquisition target for mega tech FAANG names. This is definitely not reflected in the stock's current valuation.
The fact of the matter is, Wish is a takeover target. Whether or not they end up getting acquired is beside the point. The point is, they are a business trading like there is no potential for acquisition when in reality, Wish will likely be great acquisition bait for Big Tech.
Financial Footing
Most early stage tech companies generally have poor operating economics and while Wish remains unprofitable, they do boast quite a strong balance sheet. With $1.77 billion in cash (most recent quarter) and only ~$48 million in short and long-term debt, the company seems to be on rock-solid financial footing.
As mentioned earlier, the company is also planning on being a robust growth business with solid cost economics driving growth and profitability. While this is merely a target right now, they have the balance sheet to execute on this vision.
The Internet's Dollar Store (Why Wish Thrives In Downer Economies)
The next and final component of the bull case is the comp. I would compare Wish, in its current form, to an international digitized version of America's popular dollar store chains. This is a business that until this point, had not been tapped into in the eCommerce market. Wish mimics a lot of the dollar store experience.
When consumers enter a dollar store, often times they aren't looking for any product in specific. Rather, they are merely browsing, looking for compelling deals. Wish does the same thing, expect the storefront is a mobile user interface and feed. This market for online specifically is completely untapped, and generally thrives on lower income individuals.
In downer economies, as a greater percentage of the population sees their income and net worth decline, meaning they are less likely to spend on higher cost platforms. Since Wish can be seen as the internet's dollar store, positive results can still come from the company in spite of poor performing economies. This is part of why Walmart (NYSE:WMT) is considered to be one of the world's most resilient businesses. Being able to survive and expand in bad economic situations is incredibly important, and Wish, being the internet's dollar store, has an opportunity to be strong in this area.
The Bear Case
No stock is without a bear case, and Wish is no exception. Wish actually has a relatively large risk profile, as is evident by the number of headings in this part of the article. Let's break it down, one part at a time.
Compressing Gross Margins
The first red flag is a big one. Wish has seen continuously compressing gross margins.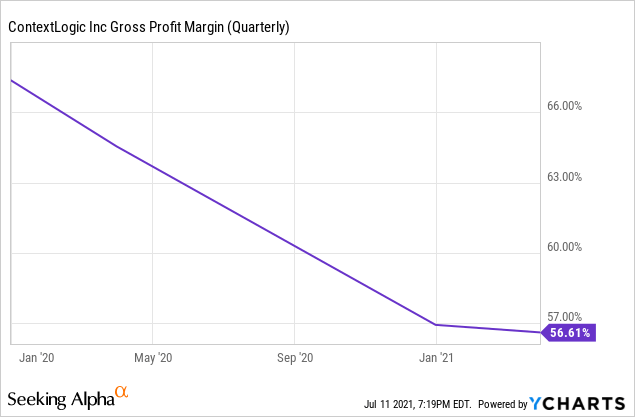 A lot of this can be blamed on logistics buildout, and while Wish is modeling 70-75% long-term gross margins, where they are right now is concerning. In order for Wish to scale into operating income, they need to reverse this negative gross margin trend. If they fail to do that, profitability may be minimal to non-existent long-term.
Competition
Wish operates in the eCommerce industry. While their product is unique and definitely different, this is a market dominated by tech titans both domestically and in China. Wish competes with companies dozens of times their size, and if these competitors can crack into the niche market that Wish seems to be dominating, it could be game over for them. It's never good when you have massive multinational tech titans breathing down your neck. That said, because of the scale and uniqueness of Wish's platform, I am not too concerned.
Growth Already Decelerating
This is arguably the biggest problem with Wish, and the primary reason that the valuation is so dampened. Wish's revenue growth has been consistently decelerating over the years and analyst expectations are for continued decelerating growth.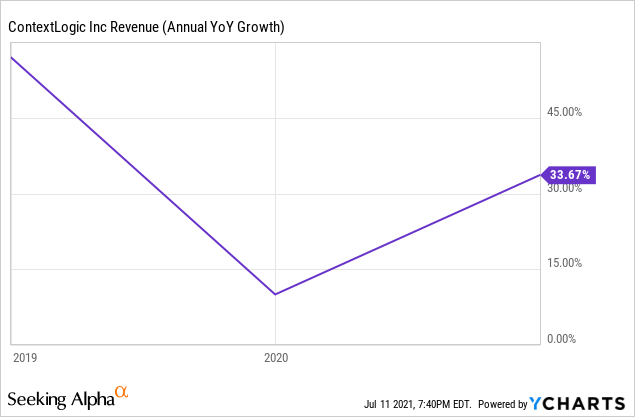 While there is a bounce in this chart, it is mostly because 2021 is going against a weak comp in 2020. Let's look at forward expectations for revenue growth.

(Seeking Alpha)
While growth is at ~33% right now, consensus is calling for a slowdown to 26% by the end of the year, and 18% in 2022. While this isn't slow growth by any stretch, it just isn't the hypergrowth that many tech investors have come to expect from the sector. While the business is targeting long-term growth of ~25%+, the trend is clear, growth is decelerating. If this continues, the current valuation may actually be justifiable.
Logistics Bottlenecks Can Lead To Lumpy Quarters
On a more fundamental level, 2020 was an incredible year for eCommerce companies. The digitization of commerce was accelerated by the outbreak of the pandemic and the resulting stay at home orders. However, changes in Wish's logistics, higher product returns, and longer return times hurt Wish's ability to capitalize on the pandemic like other companies. Logistics is the single biggest headwind of Wish's business. They are not an eCommerce powerhouse, but they need to be competitive with powerhouses in delivery times. Otherwise, everything else might as well go up in smoke. Investors need to watch delivery times on particular products, especially from merchants in China if geopolitical tensions heat up.
Logistics bottlenecks can lead to lumpy quarters for both profitability and revenue growth. As such, investors need to keep an eye on this factor going forward.
Marketing Expense Ties In With Engagement
Wish's largest expense is, by far, marketing. Even in Wish's long-term target operating model, marketing is expected to take up 40-45% of total revenue. That's ridiculously high. I have a suspicion as to why. While the product is compelling, new deals are what keep users coming back. If Wish wants to maintain itself within consumer mindshare, they need to keep marketing up until they've built up brand loyalty. As such, I believe that if Wish attempts to cut marketing spend to reign in costs and push for profitability, engagement and total revenue may suffer. Investors need to weigh how important marketing, and therefore profitability, are in the short term.
While I do expect marketing expenses to decrease as a percentage of revenue over time, investors need to make sure they take the high emphasis on marketing into consideration.
Valuation, Rating, Price Target
Now we have the fun part. What do we do with Wish. While there are a host of fundamental risks to dissuade investors from purchasing, I strongly believe that the stock's potential reward long-term more than counterbalances the risk. The stock trades <2x '22 revenue while still having mid 50s gross margins and high teens revenue growth. That's simply dirt cheap. And this isn't even really a value trap company that has a bad business model and sells at a low price. This is a quality business with lots of potential operating in a massive market. While management needs to prove its worth to the market, if they can do with (which I'm confident they can), the stock should fundamentally rerate higher.
Taking into consideration the real risks of decelerating growth, compressing gross margins, volatile quarters, and competition, the multiple should be relatively lower. I'm targeting a fair multiple of 4x 2022 revenue. This multiple is comp based against lower growth eCommerce businesses while also factoring in the elevated risk profile. 4x sales leaves plenty of upside if the company can vanquish the aforementioned risks and return to accelerating growth. 4x consensus 2022 revenue yields a market cap of ~$15.12 billion. On 619 million outstanding shares, that yields a per share valuation of ~$24.42/share. Thus, I have a $24 end of 2022 price target. Because of the more than double upside implied, I'm initiating Wish with a buy rating.
Conclusion
Wish is a company that doesn't lack risk, but its risks feel outweighed by the potential upside and cheap valuation. It's a different business in a massive and evolving market. While the stock is in the doldrums for now, I believe this could wind up being a long-term holding and a potential multibagger.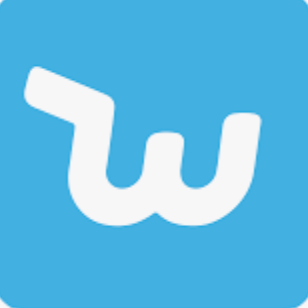 (source: Wish logo)