Editor's note: Seeking Alpha is proud to welcome Sachin Nair as a new contributor. It's easy to become a Seeking Alpha contributor and earn money for your best investment ideas. Active contributors also get free access to SA Premium. Click here to find out more »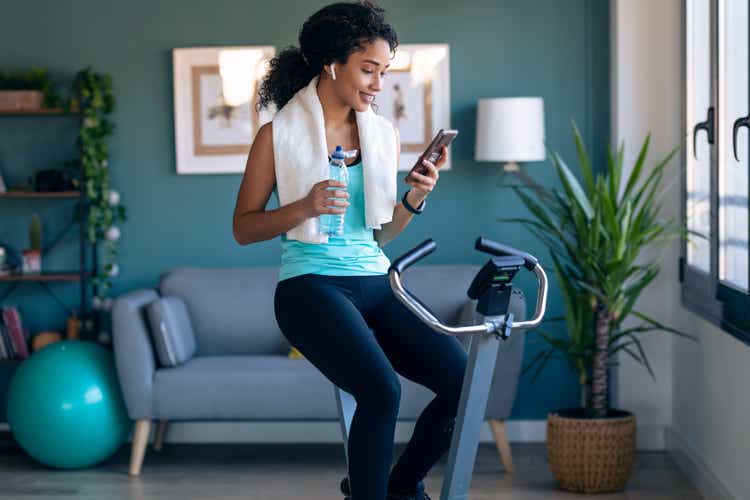 Investment Thesis
Peloton (NASDAQ:PTON) has had a tough 6 months, with its share price trading down 25% from its peak. Like many early-stage companies that are growing quickly and going after huge markets, there can be missteps along the way to growth. The recent market correction offers an attractive entry point into Peloton. Despite recent headwinds, Peloton remains the market leader in the connected fitness industry with a business underpinned by solid customer unit economics, strong brand loyalty and unprecedented customer engagement. My estimated value per share of ~$258 represents >100% upside from today's price. I'm forecasting strong revenue growth and a clear pathway to profitability driven by the high operating margins of the subscription business.
Introduction
In 2014 Peloton released its first stationary bike, and in so doing pioneered the fast growing at-home interactive fitness industry that we see today. While home fitness equipment and fitness content have been around for a while, Peloton was the first company to integrate the hardware, software and content in one tech-powered product. The company's goal is to resolve many of the pain points in the offline fitness industry. Its core product range currently includes hardware (Bike & Tread products) and a subscription platform (Connected Fitness and Peloton Digital).
Over time, Peloton has attracted a growing community of die-hard fans, increasing its Connected Fitness subscribers to 2 million as of Q3 2021. Along the way, Peloton has inspired numerous copycat brands (Echelon for bikes, Hydrow for rowing, FightCamp for boxing, Mirror for cardio exercises, and Tonal for weight training). Even luxury gyms are updating their clunky equipment to be more tech-focused. In effect, Peloton has materially changed the fitness industry.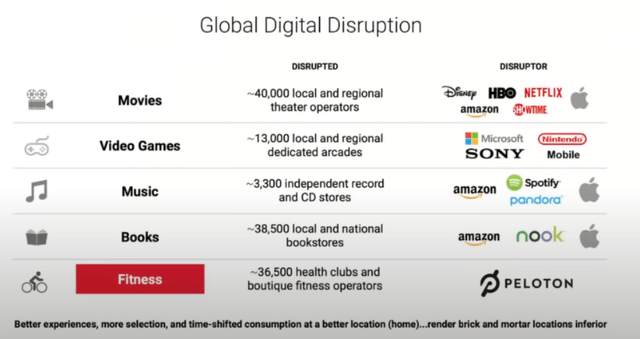 Source: Peloton's Investor & Analyst Session (September 15, 2020)
The path has not been without hiccups. Whilst 2020 proved to be a year of explosive growth for the company, it was also one that was characterized by heavy supply shortages due to the high level of customer demand and subsequent cancellations by customer frustrated by very long wait times. Earlier this year, the company dealt with the fallout from a tragic incident involving the death of a child. Since then, Peloton has agreed to voluntarily recall 125k Tread and Tread+ machines on the back of safety concerns around the display consoles. More recently, security software company McAfee discovered that Peloton's Bike+ was vulnerable to hacking. Peloton has since fixed this issue. Whilst this string of incidents will hit the companies top-line figures in the near term, I'd argue that the long-term prospects remain very attractive and the heavy sell-off reflects a good buying opportunity.
Business Segment Overview
Subscription business

Source: Author, with data from Seeking Alpha
The table above shows the margin breakdown for Peloton's subscription business. The first thing to note is that while this business segment currently represents just ~20% of overall revenue, it is arguably the most exciting part of the business. It commands high gross margins and has the potential to scale quickly at low marginal cost. The biggest expenditure here is ongoing content creation costs for the subscriber base. While margins have steadily improved over the past four quarters, this can be partly attributed to a decrease in travel and studio expenses for filming due to COVID-19 restrictions. Notwithstanding, as content production costs are relatively fixed (studio expenses, instructor salaries etc.), the per unit cost per customer will decline over time as Peloton expands its member base. Given the recurring revenue model of the subscription business and low customer churn, this business segment will command a higher multiple over time.
Connected Fitness Products (hardware)

Source: Author, with data from Seeking Alpha
In more recent quarters, Connected Fitness gross profit margins were primarily impacted by shipping investments to expedite deliveries and reduce Peloton's backlog of undelivered purchases. While margins will likely normalize to their pre-COVID levels in the short term, margins will likely come under pressure in the medium term as more competitors and copycat brands enter the space and develop their own hardware. Peloton's products are currently priced at a premium relative to peers. Going forward, it will be important to see whether Peloton's brand power and category leading position allow it to maintain its margins on its hardware products.
Unit Economics
Source: Author, with data from Seeking Alpha
The table above details the customer unit economics for Peloton's subscription business. Before we dive into the key takeaways, some things to note:
Lifetime Value = (Average Revenue per customer x Gross Margin)/ (Annual Churn + Discount Rate)
CAC Payback = CAC / (Average Revenue per customer x Gross Margin)
The Annual Churn and Discount Rate used were 7.5% and 4.5% respectively
I have made a simplifying assumption that 50% of all Peloton's sales and marketing (S&M) spend was required for customer acquisition in the subscription business
Peloton's LTV/CAC ratio for the current period of ~7:1 is excellent. The LTV/CAC ratio measures the lifetime value of a customer against the cost of acquiring that customer. In other words, spend a dollar and get $7 dollars back over time. Given S&M is usually the primary tool for customer acquisitions, it is also a good gauge on the return on investment (ROI) of a company's S&M spend. If the LTV/CAC ratio is <1.0, the company is spending too much to acquire customers and will destroy shareholder value over time if it persists. A very high ratio could be undesirable as well as it could indicate that the company is sacrificing growth for profit margin and underinvesting in its sales & marketing spend. As a rule of thumb, for fast-growing companies, a ratio >3.0 is considered good. The big increase in the LTV/CAC ratio from 2020 to 2021 no doubt reflects the COVID-19 boost. This is one of the reasons why the multiples for many SaaS companies expanded so dramatically last year. This will be a key metric to monitor with Peloton going forward to see if the effects of COVID-19 are transitory or ongoing.
As at March 2021, Peloton's CAC Payback period of ~14 months is reasonable. CAC Payback measures how long it takes to earn back the money invested in acquiring customers. The shorter the payback period, the better. Generally, 6 - 15 months is considered good for SaaS companies. However, this analysis is looking at Peloton's subscription segment in isolation. The important distinction to make here is that most other SaaS companies don't have a hardware business to subsidize the cost of scaling their subscription business. Another way of thinking about this is: Peloton's gross margin of $1.05B for the hardware business for the trailing 1 year period is more than 3.5x the estimated S&M expense for the subscription business. Peloton is essentially building its subscription business for free.
Competitive Moat
Ok, but what about the proliferation of competitors over the past 2 years that are nipping at Peloton's heels? Can Peloton sustain its explosive user growth and more importantly, keep its existing customers from migrating to other products/platforms? I believe it can, but before diving into why, I will detail how I view the competitive landscape first.
Much like how Netflix's competitor in the early days was Blockbuster, and more recently includes other streaming providers like Disney+, Amazon Prime and Hulu, much of Peloton's primary competition today are the boutique fitness gyms and studios globally, with secondary competition coming from other connected fitness companies like NordicTrack, Echelon, Mirror, Tonal, etc. I won't be discussing the primary competition here in detail but in short, I believe there is a structural shift underway from offline fitness sites to more home-based connected fitness products as companies like Peloton make it increasingly fun, interactive and engaging. So that leaves us with the secondary competitors. Below are the reasons why I think Peloton will 'maintain its moat'.
1. Strong Brand Loyalty + Sticky User Base
Herein lies the central tenet of the investment thesis for Peloton: Put simply, customers love the brand. And while I hesitate to draw too close of a comparison to Tesla (TSLA) and Apple (AAPL) (they both have a hardware and software component to their business as well), one thing all three brands have in common is deep customer love. That directly translates to higher pricing power, higher margins and rapid adoption that then filters back into higher revenue growth. There are two measures of customer satisfaction for Peloton that I find particularly compelling:
Exceptionally High NPS (Translation: Lower Customer Acquisition Cost = Higher Margin): In a North American bike owners survey in 2020, Peloton scored +94. For context, NPS range from -100 to 100. Anywhere between 71-100 is regarded as the Holy Grail. As a point of comparison, in 2018, Netflix had an (NPS) of 64, PayPal 63, Amazon 54, Google 53, and Tesla 96. NPS measurements are not without their drawbacks and should not be viewed in isolation, but they do offer insight into the willingness of customers to recommend a company's products to their friends and family through the simple question, "How likely are you to recommend us on a scale from 0 to 10?". With a loyal army of Peloton users serving as free brand advocates, I'd expect Peloton's customer acquisition costs (CAC) for new users to decline over time. Competitors will need to pedal faster and burn more incremental S&M dollars to keep up.
Low Churn Rate (Translation: Higher Customer Lifetime Value = Higher Revenue): Given acquiring new customers can be 5-25x more expensive than retaining one, churn rate is a closely-tracked metric with subscription businesses. As of FY Q321, Peloton reported a monthly churn rate of ~0.65% or about ~7.8% annually. As a rough proxy to other well-loved subscription businesses: Netflix's annual churn was 10% in 2020 and Spotify's churn was estimated to be around 19% in 2019. Using a more direct proxy comparison within the fitness industry, the churn rate amongst gyms is estimated to be as high as a whopping 50% annually, and that encompasses members that may already be locked in on 6 to 12-month contracts! The interesting insight here is that the fitness clubs that have steered clear of those horrendously high churn rates are the venues that have successfully built community amongst their members. Group fitness models lead to higher retention, and that falls squarely in Peloton's wheelhouse. Over the past few years, few fitness companies have better demonstrated the ability to build a vibrant and zealous community than Peloton. The closest comparator would be CrossFit in the offline fitness space; both brands have an aspirational quality and enduring sense of community.
2. Unprecedented Customer Engagement
This is a riff on the first point but with different implications. The diagram below shows that average monthly workouts per Connected Fitness subscriber increased from 17.7 a year ago to 26.0 today. This is an incredible result. No doubt some of this was COVID-19-induced, but Peloton has also been aggressively adding more content and new social features while expanding its product range to include a variety of other workouts that span strength training, floor workouts, meditation/yoga and beyond. These figures show that far from exercise with Peloton being a chore, users are finding every opportunity they can to workout, well above the average 2-3x a week exercise routine. There's a reason why "cult-like" has been used to describe Peloton users. Customers that are this engaged don't tend to switch platforms.

Source: Peloton's Q3 2021 Shareholder Letter
This next chart shows that while newer cohorts of Peloton customers have the highest engagement levels, older cohorts have also incrementally increased their number of monthly workouts over time. Peloton's investments in building better content and a stronger community are paying off.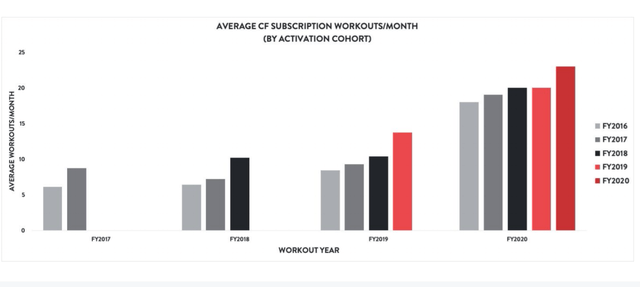 Source: Peloton's Investor & Analyst Session (September 15, 2020)
3. Vertically Integrated Platform = Higher Margins
The management team at Peloton realized early on that to achieve their desired goal of disrupting the fitness industry through tech-enabled hardware, they had to develop their capabilities across all areas of business to be self-sufficient. Indeed, after realizing that "Frankensteining" existing exercise bikes and tablets together was going to lead to a sub-optimal result, Peloton decided to design and manufacture its own bike from scratch, including both proprietary hardware and software. Importantly, it led Peloton to pursue vertical integration across all relevant touchpoints:
Hardware = Manufacture their own equipment. Peloton recently acquired Precor to boost its local manufacturing capabilities in the U.S to better keep up with demand.
Content = Produce their own content from purpose-built production studios. Peloton recruit and train their own instructors.
Logistics = Build a network of last mile field operations centers across U.S, U.K, Canada and Germany. Field operations team members support customers in the initial set up of Connected Fitness Products following delivery.
Retail = Operate their own high-end retail stores instead of selling through other retail stores.
Through vertical integration, Peloton is better able to control its own destiny through tighter quality control, better cost reduction, reduced supply disruptions and higher agility (quickly leveraging customer data to improve) to deliver superior products and better experiences at every customer touchpoint.
Risks
Some risks to consider:
Execution with the hardware segment: 'Hardware is hard' is a cliché for a reason. A lot of the issues that Peloton is currently facing from the product recalls to the supply chain problems is an illustration of this fact. The growth of Peloton's subscription business is also directly impacted by stumbles of the hardware business. Peloton has already taken steps to build its own manufacturing capabilities and move its supply chain onshore. However, poor execution here will impact the company's ability to continue to scale quickly.
Impact on Brand: It remains to be seen whether the safety issues have put a dent on the brand's aspirational status and social cachet. Any lingering public safety concerns could impact sales and customer acquisitions.
Competition: Peloton's success in the connected fitness industry has not gone unnoticed. Since Peloton introduced its bike in 2014 and tread in 2018, numerous startups have come to market, offering exercise equipment in adjacent fitness verticals. Venture capital firms have pumped more money into startups that aspire to be the 'Peloton of X'. More competition can put pressure on margins in the medium-term. However, as alluded above, building good reliable hardware is capital intensive and challenging. There's also a longer product development cycle and time to commercialization for hardware. A few years head start can be material. If Peloton can continue to successfully scale the business, expand into adjacent fitness verticals and maintain its low churn, it will be in a good position to fend off competitors.
Valuation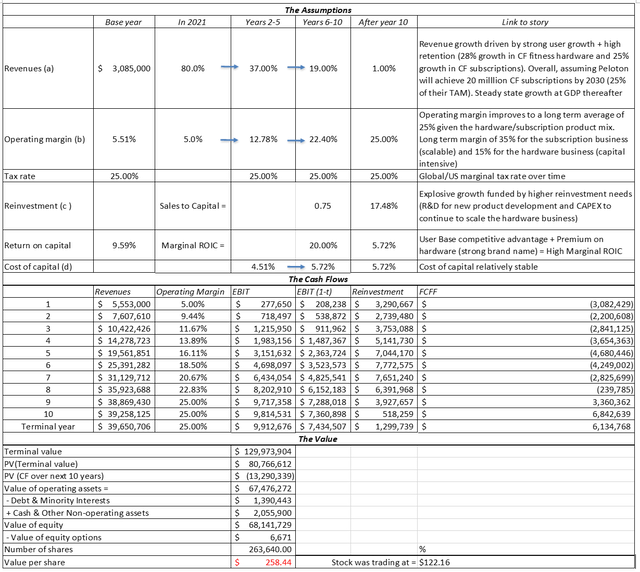 Source: Author
Key Takeaway:
Estimated value per share of $258 offers >100% upside from today's price. I'm forecasting strong revenue growth, continued user growth, and a clear pathway to profitability driven by high operating margins of the subscription business.
All things considered, this is a reasonable estimate. The management team's "big hairy audacious goal" is to hit 100 million subscribers. Obviously, it is anyone's guess how long it will take the company to reach this goal or whether they will at all. I'm projecting that the company should be able to hit 20 million subscribers by 2030. As such, this "fair value" share price is a guidepost. I'm a long-term investor and will remain so, unless there's reason to believe Peloton's "moat has been invaded" or the management team has deteriorated.
I update my valuation model more frequently with young fast-growing companies as they demonstrate successful execution across nascent but growing product lines, particularly when these materially increase the company's TAM. For this valuation, I have excluded ancillary categories like apparel, wearables, and the recently launched 'Corporate Wellness Programs' where Peloton is still in the early innings but can offer material upside down the line.
Valuation Housekeeping:
Feel free to skip this section if you feel that it offers too much detail, but I have highlighted some of my valuation adjustments below for those interested in going into the weeds:

Operating Leases = I have capitalized operating leases given they really are financing expenses.
R&D and S&M = I have capitalized 100% of R&D and 50% of S&M costs. As a recap, capital expenses are expenses that create benefits over many years while operating expenses are expenses that generate benefits just in the current period. Given the full R&D costs and a portion of Peloton's S&A expenses are designed to bring in new customers that remain on the platform for a long time (retention ratio of 92.5% and estimated CLV of 13 years) and provide annual recurring revenue throughout this period, this seems appropriate to me.
Equity Options adjustment = Like many other tech growth companies that reinvest heavily and rely of human capital to grow the business (as opposed to PP&E), Peloton rewards its employees with stock options. That dilutes me as a shareholder, so I have accounted for this by estimating the value of stock options outstanding and subtracting that from the value of equity.
Conclusion
Peloton has the potential to be a long-term compounder and I consider the near-term volatility an attractive opportunity for investors to build a position in the company. If you believe, as I do, that technology markets tend to be winner-take-all, the leaders in any given category will get a disproportionate share of the overall economic pie. True, not every first-mover deserves the benefit of this doubt. But for category-leading companies like Peloton who are going after huge markets, have true customer love, and are operating a business model that demonstrably scales, we can expect Peloton to have their cake and eat it too.