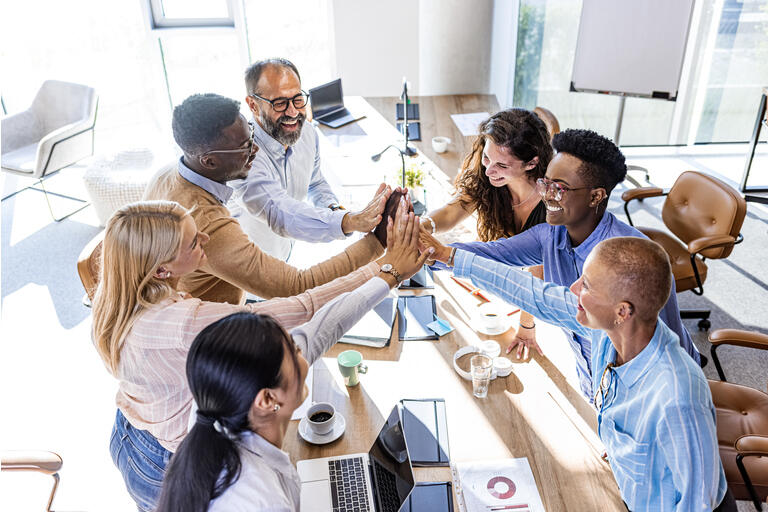 (This report was issued to members of Yield Hunting on June 27th.)
Macro Picture
The major indices had their best week since March after having their worst week since January. New highs were recorded on both the S&P 500 and the Nasdaq but on low volumes. Oil prices reached their highest levels since October 2018. Utilities and real estate continue to lag.
Performance in energy continues to do well as oil prices reach ever higher levels. This will last for a while until rigs and production catch up. Drillers are still reluctant to commit new capital to projects given the pain they received last year when oil tumbled below $30 a barrel.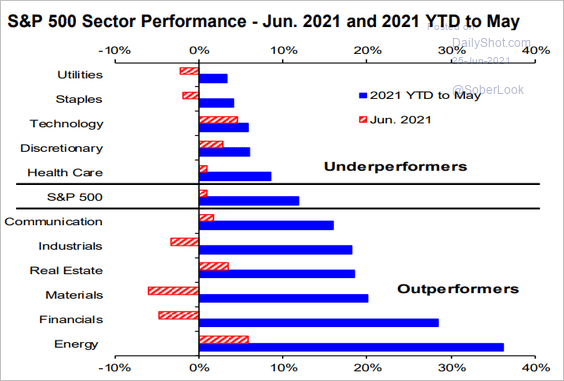 (Source : The Daily Shot)
The market is being driven by fears of inflation, tapering, and the first rate hike. The timeline looks to be getting clearer which could be helping the equity markets. There are moderating inflation fears as some signs that supply chains are easing, especially in commodity areas like lumber, are helping.
On Thursday, Bloomberg noted that used car prices may have peaked and that retail vehicle prices might soon follow. Those two variables contributed one-third of the increase in consumer prices in the last quarter.
Still, inflation rising to the fastest level since 2008 will continue to be an overhang to the market until later this year when the CPI yoy effects start rolling off.
I continue to hold Invesco S&P SmallCap Energy ETF (PSCE) in my account which was up 10% in the last week and 21% in the last month. I think the value/cyclical trade should continue to work for the remainder of the summer - at least. For value stocks, my two go-to investments have been Yacktman Fund (YACKX) and iShares Value ETF (VLUE) among larger-cap equities. For small caps, I mostly use Vanguard Small-Cap Value (VIOV).
I did add to some of my individual equities buying up some CrowdStrike (NASDAQ:CRWD), Spotify (SPOT), Zoom Video (ZM), and Teladoc (TDOC).
Commentary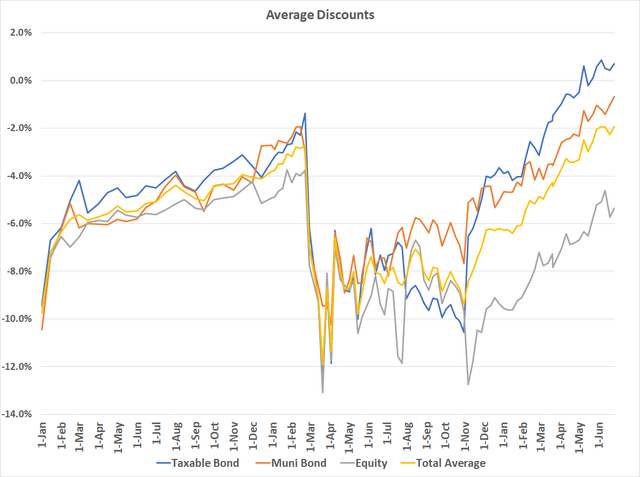 (Source: Alpha Gen Capital)
Discounts were again up on the week with taxables getting near their interim highs at +0.70%. Munis continue to power higher as well closing at their tightest levels in several years at -0.68%. Munis are, by far, my largest CEF allocation but I understand due to personal circumstances, they are not for everyone.
Taxable munis look okay here too. The risk, of course, is that rates jump back higher. However, I don't own munis for the market value changes - but for the income streams. Long-term, I've noticed the market value changes tend to offset. BlackRock Taxable Muni (BBN) is my favorite in that space near par.
The muni side of things - taxable or not - is becoming more expensive by the day. They now reached the top 5 z-score threshold with a +1.7 and single states at +1.9. But remember, these are one-year numbers, and a year ago, investors were worried about rising interest rates hitting NAVs.
I still think the muni space is heading to an average premium level and will continue to hold for the interim. The risk here is that an infrastructure bill floods the muni market - but from the research I've seen from JPM and Goldman, it appears the Fed would be funding the majority of the spending. There's still a ton we don't know and Goldman suggests that the chances of the infrastructure bill actually passing are very low.
Opportunities today come by fast and you need to pounce. On Friday, I added a few hundred shares of Nuveen Credit Opp 2022 Term (JCO) which is a target term that liquidates at the end of next year. On Friday, the deflation of the premium was complete. The fund went from a +10% premium to a discount of about -1.5%. The +10% premium - we noted several times - was crazy for a fund that was liquidating at the end of next year. Perhaps investors were calculating what they would earn if the fund returned the target $9.83 which is, at this point, a statistical impossibility. In any case, at a discount, this fund looks relatively attractive.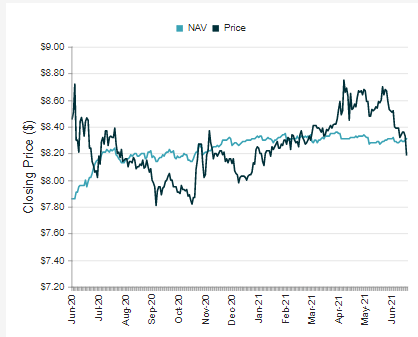 (Source: CEFConnect)
Also on Friday, I added to my position in Templeton EM Income (TEI). My initial purchase was ill-timed as the NAV took a hit after EM rolled over a bit. The discount is now -8.4% but the yield has not been adjusted on CEFConnect. The new yield is really 9.2%, which is still going to draw in a lot of newbie investors. The NAV turned higher recently but it remains to be seen if that is a new trend or just a head-fake. Long-term, this NAV should be on a downtrend given the over-distributing. So you need to assess on a total return basis.
Another fund I like - this one based on NAV trend and the term structure - is AllianzGI Convert & Income 2024 (CBH). The recent resurgence in tech/growth thanks to lower yield has been reversing and boosting the NAV. The NAV is $10.62 which is above target and the price is below par with a discount of -2.5%. I picked up a few shares.
You can see the opportunities are bare and not all that great so you have to attack when you can. Put these on your radar and maybe set a few stink bids to grab some shares. I'll keep posting these opportunities on the morning notes and on these weekly commentaries.
Ares Dynamic Credit Allocation (ARDC) finished the week at a -2.35% which is the tightest the fund has ever traded - except when it IPO'd. The fund has slowly been closing the discount over time thanks to the higher distribution rate attracting new investors. My worry is that the trailing 30d NAV is now -2 cents, which means, net of the distribution, the NAV is now down slightly. Two cents is nothing to really worry about but the trend is not overly favorable. More short term the NAV is down about 13 cents from two weeks ago. I haven't sold anything yet but I am getting locked and loaded to do so.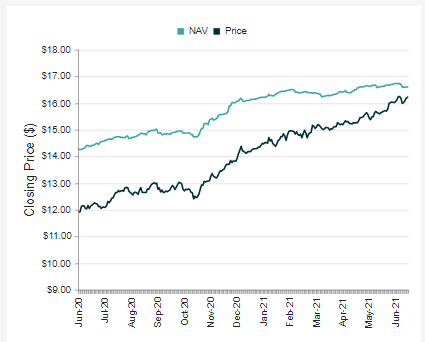 First Trust Sr Floating Rate Inc (FCT) again cut their distribution. The fund had boosted the payout a few years ago after a favorable legal outcome to a lawsuit they were a party in. Now that the accrual has been exhausted, they are adjusting it back down. The fund was earning about 50% of the distribution back in November and we will get a new report shortly to see where they are today. They've already adjusted the distribution down about 15%, so my expectation is for coverage to be up to about 65%-70%. So additional cuts are highly likely to be coming.
Saba Capital Income & Opps (BRW) initiated their tender offer last week for up to 30% or the shares. Saba owns about 26mm shares. The last Form 4 I see is from April where they sold about 100K shares. The tender could be an avenue for Saba to get out of their position in a quick fashion. I bought a bunch of shares last week around a $4.65 with the intention of tendering all the shares. They are also moving to a managed distribution policy where they will pay out 8% based on NAV. Once that happens, investors will start buying it up. At an 8% yield on NAV and a -5% discount, the yield will be about 8.5%. How quickly do you think an 8.5% yield will be bought up in this market?
Lastly, Eagle Point Credit Co (ECC) is issuing a new preferred terms maturing in 2031 (callable 2024) with a 6.50% coupon under the ticker (ECCC). That's an attractive issue which is why it is trading so far above par at the moment - $25.70. Landlord noted that $25.50 is the "upper limit" of where he would buy these shares.
CEF News
Distribution Increase
KA NextGen Nrg & Infra (KMF): Distribution increased by 56% to $0.14 from $0.09
KA Nrg Infra: Distribution increased by 16.7% to $0.175 from $0.15.
Distribution Decrease
First Trust Sr Floating Rate Inc (FCT): Distribution decreased by 8.2% to $0.0896 from $0.0976.
Tender Offer
Saba Cap Inc & Opp (BRW): The fund announced a new tender offer for its outstanding common shares.
As previously announced, the Fund will purchase for cash up to 30% of its outstanding common shares, at a price equal to 99% of the Fund's net asset value ("NAV") per share as determined as of the close of the regular trading session of the New York Stock Exchange ("NYSE") on the day the tender offer expires. The tender offer will expire at one minute past 11:59 p.m. Eastern Time on July 19, 2021, unless otherwise extended.
EV Senior Income (EVF): As previously announced on May 12, the board authorized a new tender offer for up to 60% of the shares at a 1% discount to NAV. The tender was conditional on the approval of the new investment advisory agreement with MS.
Accordingly, there is no assurance that the Fund will purchase all of a shareholder's tendered common shares in the Initial Tender Offer. In addition to the Initial Tender Offer, the Fund will conduct cash tender offers by the end of the fourth quarter of each of 2022, 2023 and 2024 (each, a "Conditional Tender Offer" and, collectively with the Initial Tender Offer, the "Tender Offers") for up to 10% of the Fund's then-outstanding common shares if, from January to August of the relevant year, the Fund's shares trade at an average discount to NAV of more than 10% (based upon the Fund's volume-weighted average market price and NAV on business days during the period).
Activist Activity
Miller/Howard High Income Equity (HIE): Saba continues to build their position adding another 95k shares or $1mm for a 3.5% increase in ownership. They now have over 15% of all shares.
Statistics
Sectors: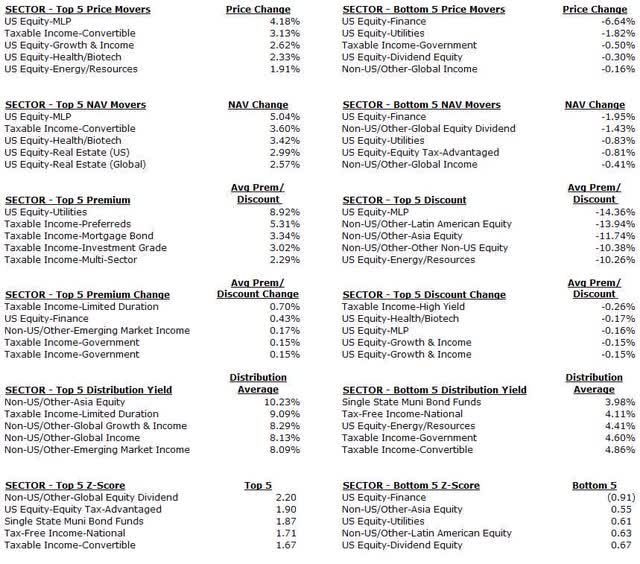 Core: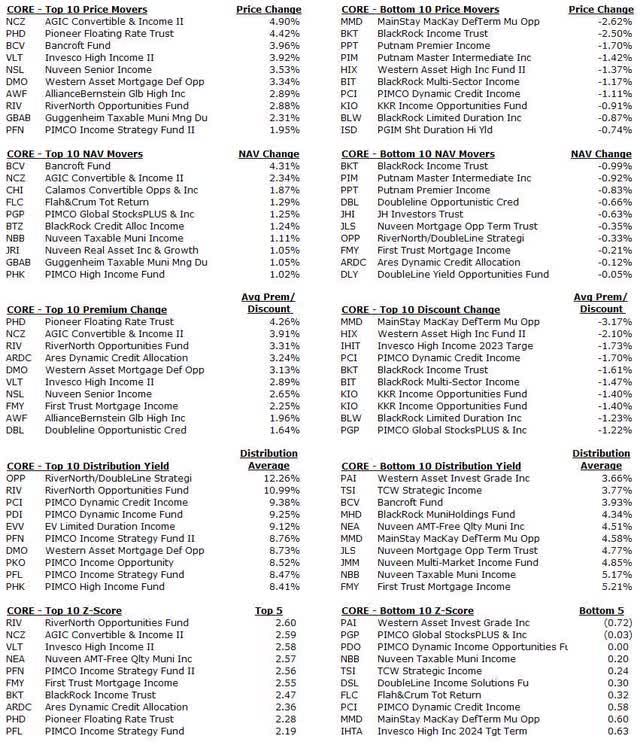 All CEFs: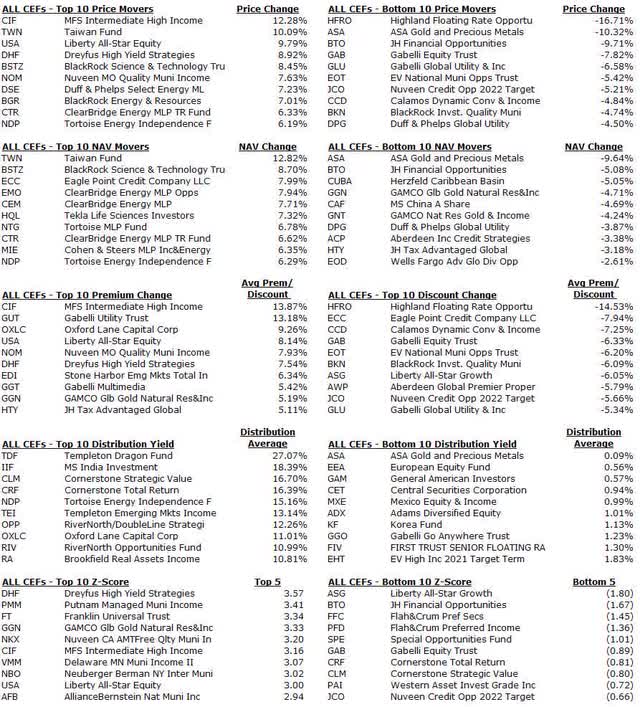 -----------------