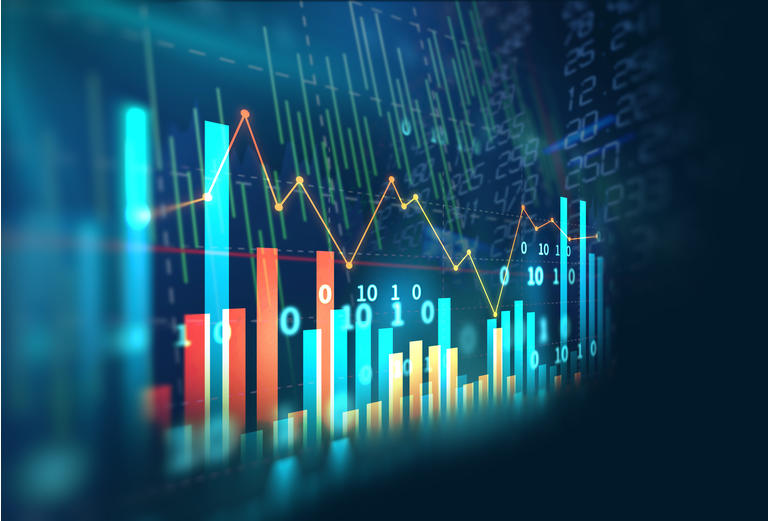 Written by Nick Ackerman, co-produced by Stanford Chemist
We covered Nuveen's Core Equity Alpha Fund (NYSE:JCE) last in February of this year. Shortly after that coverage, they announced a distribution boost. At that time, the fund's historical performance and prospects were appealing. However, the fact that it had declining distributions was a bit off-putting for investors who want more stable income payments - preferably monthly as well. For those investors, the latest boost isn't likely to rally support behind the fund but it is a step in the right direction.
JCE's investment objective is "to provide an attractive level of total return, primarily through long-term capital appreciation and secondarily through income and gains."
To achieve this, the fund will invest "in a portfolio of actively managed large-capitalization common stocks, using a proprietary quantitative process designed to provide the potential for long-term outperformance." They will additionally; "sell call options with a notional value of up to 50% of the Fund's equity portfolio in seeking to enhance risk-adjusted performance relative to an all-equity portfolio."
Writing calls is a slightly defensive strategy as premiums collected can help offset potential declines. However, this can also give up some of the upsides if positions are called away. In the case of JCE, they write call options against indexes. Most notably, the Russell 2000 Index. Since you can't own an index directly, these types of options are cash-settled. Ultimately, it means it can lead to losses if the index rises above the strike price. They target 50%, but they last reported being overwritten by just 28%.
A lower overwritten portion of their portfolio would generally mean they are more bullish. It is an indication that they suspect the indexes are heading higher and, therefore, want to limit the index option writing drag on performance.
The fund is on the smaller size at just under $270 million in total managed assets. That can cause some issues if you are a larger shareholder and need much greater liquidity. The average volume is less than 60k a day. The total expense ratio for the fund is reasonable at 1.07%.

(Source)
Performance - Competitive Performance
Effective October 26th, 2020 - this fund's sub-advisor has changed and that also included a change of managers. Now that we have more time to observe the new manager's performance, we can revisit since that point. We will be using Eaton Vance Tax-Managed Buy-Write Opportunities Fund (ETV) since that is a familiar and popular EV fund.
We will also be looking at Eaton Vance Tax-Managed Buy-Write Strategy Fund (EXD) for comparison. Though do keep in mind that these funds utilize option writing on nearly 100% of their portfolio. Thus, in a bull market, will typically lag a fund with a reduced amount of its portfolio being overwritten. So we will also be included in the Eaton Vance Tax-Managed Diversified Equity Income Fund (ETY). That fund also targets around 50% of its portfolio being overwritten. Though interestingly enough, it has performed similarly to its ~100% overwritten peers since that manager change for JCE.
So overall, all of these funds have a fairly different approach but can be used for context.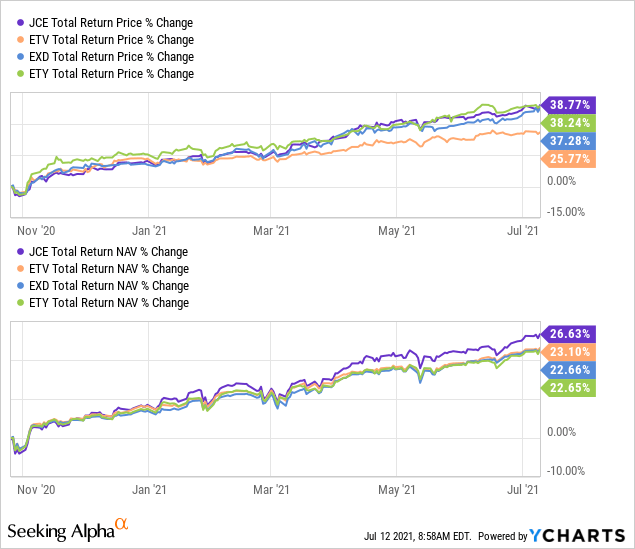 For the longer term, we will take a look at the last 10-year performance. This time, we will exclude EXD as the fund made a strategy change in 2019 that made it completely different. Once again, we see that JCE comes out on top, though this could be partially due to the fund not writing as many index options.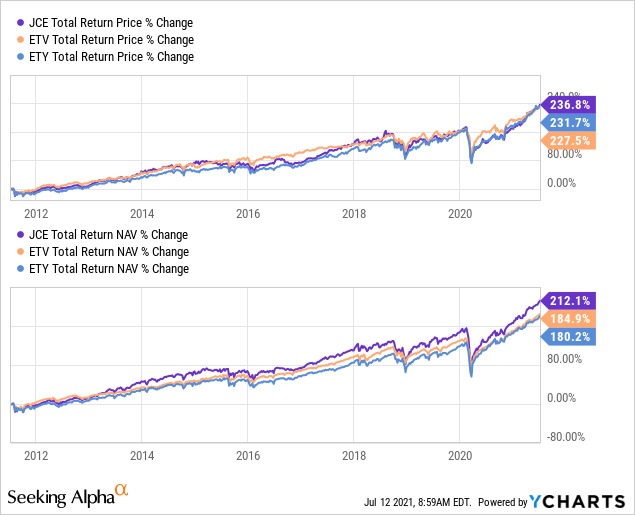 Despite this, the fund still trades at a discount while the others trade at a premium. Which I also see as an okay thing as several of the option-based EV funds traditionally do trade at premium pricing. In the past, JCE has even hit premium pricing but only ever so briefly. We also know and can see that almost all CEFs are starting to trade at a richer valuation across the board.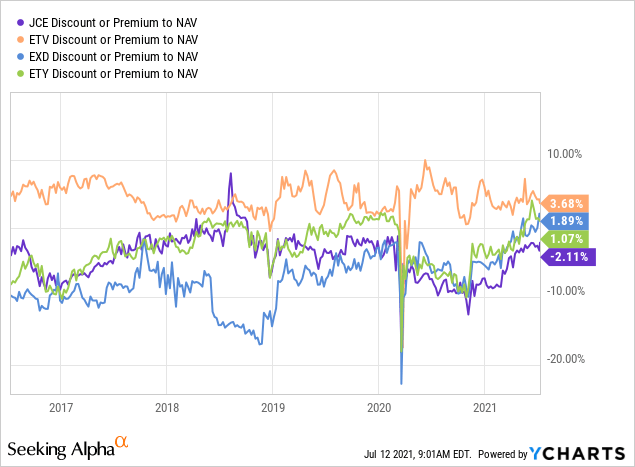 Distribution - Boost In 2021
Shortly after covering this fund previously the fund announced a 35.1% distribution boost. Taking the distribution from a quarterly amount of $0.225 to $0.304. This was after years of steady declines which income investors generally loathe. It does seem encouraging though that the fund's distribution pushes it back to pre-2008/09 levels now.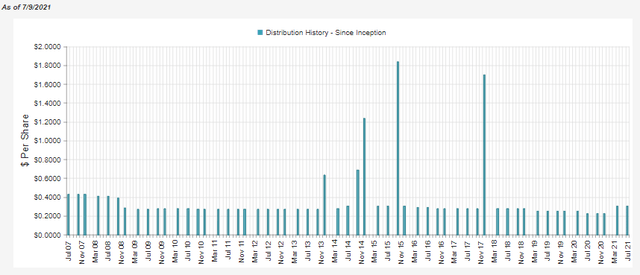 (Source - CEFConnect)
In terms of distribution coverage, the earnings of the fund will primarily come in the form of realized gains. This is typical of what we see from equity funds. The options strategy resulted in a fairly sizeable loss for the prior year. However, the realized gains they had harvested had made up for that. Even enough to have made up for the unrealized losses the portfolio had garnered through the year as well.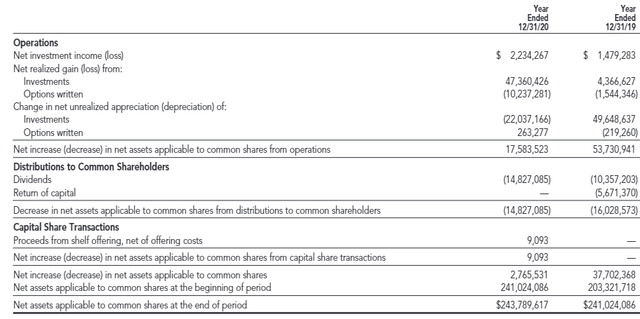 (Source - Annual Report)
Despite what a fund has for earnings, it's important to realize that the classifications of the distributions don't always line up. In this case, it is close but you'll note that ordinary income last year was higher than the net investment income [NII] of the fund.

(Source - Annual Report)
Additionally, in 2019, the fund had a healthy source of return of capital. A healthy source would be non-destructive ROC. Where ROC was in the distribution but the fund still increased in NAV due to other earnings to offset this.
I think this is an important distinction because it doesn't always mean that any fund that utilizes options automatically means ROC in their distributions. The EV lineup of funds, which are quite popular for their ROC, are tax-managed. JCE is not ran in that same manner - so it is not a focus to be as tax efficient. I believe this could be one of the reasons why the EV funds are more popular, typically trading at larger premiums relative to other option-based funds.
Holdings - Mega-Cap Tech
The portfolio for JCE is fairly standard. We see all the FAANG names excluding Netflix (NFLX). For some reason, this is pretty typical and I'm not sure why a lot of CEFs don't actually include NFLX. Though a lot of diversified funds include Microsoft (MSFT) - which isn't incorporated into the acronym.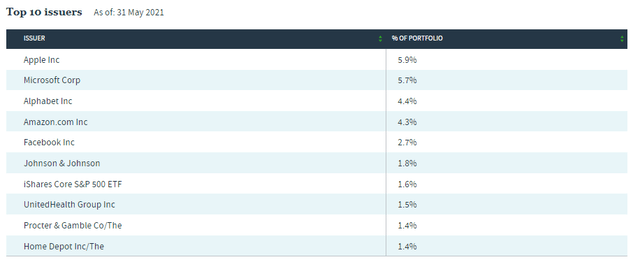 (Source - Fund Website)
That being said, amongst those mega-caps Apple (AAPL), MSFT, Alphabet (GOOGL)(GOOG), Amazon (AMZN) and Facebook (FB) - we have a couple of other interesting holdings. I would note though that the top 5 holdings constitute a significantly larger piece of the pie. There is quite a dramatic drop from number 5 allocation FB at 2.7% to Johnson & Johnson (JNJ)'s 1.8% relatively speaking. The top 5 constitute 23% of the portfolio, which has been positive and has driven that solid historical performance. I suspect it will also continue to do so far into the future as tech is here to stay.
JNJ has been in the headlines more so than usual since the COVID pandemic, thanks to being in the healthcare field and developing a vaccine. When they last reported earnings they raised 2021 guidance and lifted the dividend by 5%. They are a long-time dividend grower - showing over 58 years of consecutive growth.

(Source - JNJ Seeking Alpha)
Below JNJ, we have an interesting holding; the iShares Core S&P 500 ETF (IVV). I'm not really sure why they would hold this ETF in such a small allocation. I understand it could be a hedge against their index writing options. However, at just 1.6% of assets, the hedging is negligible.
From there, we have another healthcare player - UnitedHealth Group (UNH), though they are focused on the managed healthcare side of healthcare. When they last reported they also bumped up 2021 guidance. Most healthcare industries are recession-resistant companies. Therefore, economic shocks aren't going to negatively impact the sector as much. These are seen as defensive names that are worth investing in during times of panic.
We see this play out with UNH in that their revenue didn't really budge over the last several years.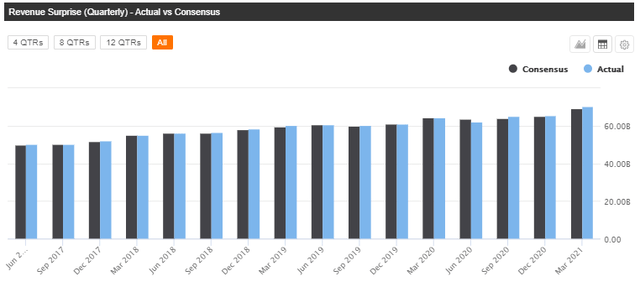 (Source - UNH Seeking Alpha)
UNH is a little late to the dividend growth growing scene relative to the likes of JNJ. Though they are making up for the lost time by increasing quite aggressively.
(Source - UNH Seeking Alpha)
The company is amongst the top in the healthcare sector for growing its dividend, coming in at a cool 25.48% 10-year dividend growth rate.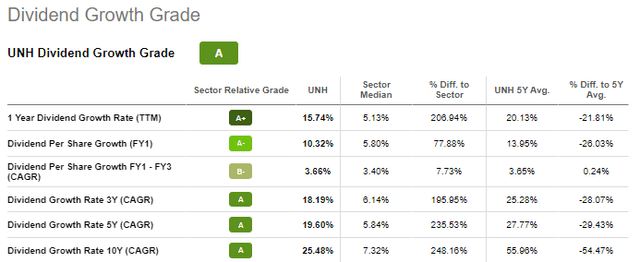 (Source - UNH Seeking Alpha)
Conclusion
JCE owns a fairly standard mix of positions with a couple of positions that aren't necessarily seen in every other portfolio. Though a majority of their holdings are the usual mega-cap tech names. This lineup has served the fund extremely well, with attractive returns on both the short term and the longer term.
Since the management team changed at the end of 2020, it is still encouraging to see that the fund is continuing to perform well. Then again as we just touched on, they went with a fairly standard portfolio in a strong upward market. It's a bit hard to lose out in that scenario. Going forward, this could be something to monitor as the managers are presented with a more difficult market.
For now, though, JCE seems as though it is an appealing fund. The distribution boost a couple of quarters ago seems promising. That now pushed the fund's distribution back to pre-2008/09 levels after years of decline. That being said, we know a CEF can pay what it wants for however long it wants to. I suspect the rate of 7.26% and 7.11% on a NAV basis seems fairly sustainable in the current environment.