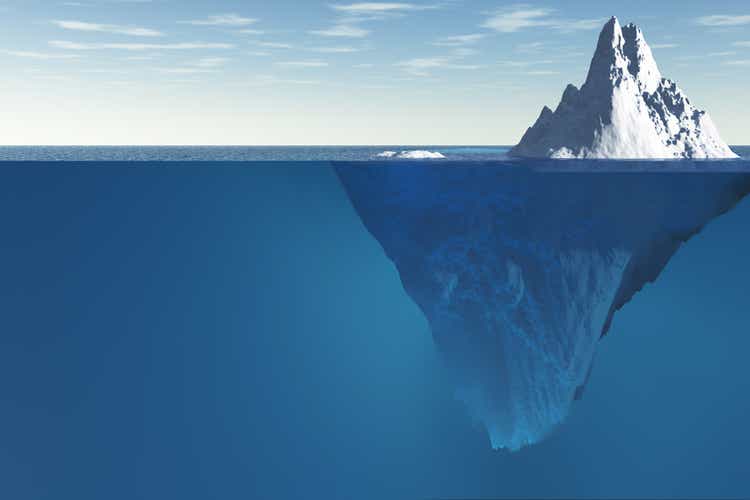 As many of you know, I've been writing on the Seeking Alpha platform for over a decade now.
During this time, I've amassed closing on 100,000 followers (96,309 to be exact). I've gained that level of trust because I focus on not just return, but risk as well.
I'm not just about building your portfolios up during the good times – though I do enjoy that too. Believe me.
It's just that I also want to make sure to save them during the bad times. And let's face it, we've seen some of those recently.
Today, I'm proud to announce that this is my 3,000th article on Seeking Alpha. In honor of that major milestone, I thought it would be worthwhile to focus on keeping everything we've gained so far.
In other words, we're addressing relevant real estate investment trust ("REIT") risk below.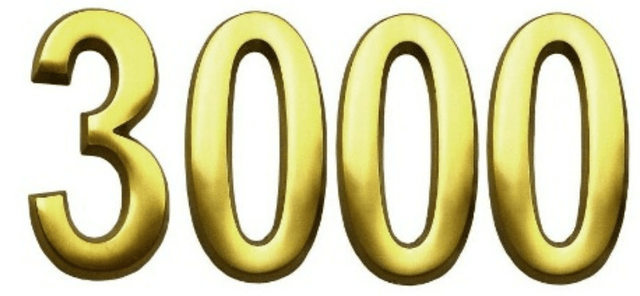 Having lived through multiple recessions and now a global pandemic, I can attest to the importance of risk management. Or, as Howard Marks explains in The Most Important Thing, "Skillful risk control is the mark of the superior investor."
Let's all strive to be nothing less than that.
Recognizing REIT Risk Management From One of the Best
Marks is certainly a terrific instructor as it relates to risk – regarding REITs or otherwise. He served as the co-founder and co-chairman of Oaktree Capital Management, the largest investor in distressed securities worldwide.
According to Warren Buffett:
"When I see memos from Howard Marks in my mail, they're the first thing I open and read. I always learn something, and that goes double for his book."
Marks focuses on risk management a lot, telling investors to set a strategy according to their personal situations. They should also ask themselves whether they worry more about losing money or missing an opportunity.
He also explains in the above-referenced book that:
"Risk is inescapable. You're unlikely to succeed for long if you haven't dealt explicitly with risk."
With now over 30 years of experience as a real estate developer, investor, analyst, and author, I can certainly attest to that fact. I've lived through multiple recessions, for one thing.
In fact, as many here know, the Great Recession is the reason why I write on Seeking Alpha (as well as other platforms such as Forbes and The Property Chronicle).
As Marks explains, "Risk assessment is an essential element in the investment process." So in this article, I'll provide readers with some of the most relevant risks in the REIT sector.
Does this mean I can completely prepare readers for the next black swan?
I wish I could. But I'm not the Wizard of Oz.
Much like the Tin Man or the Scarecrow instead, my main goal here is to point you to Kansas – a place that's free of extreme stresses. That way, you can see how:
"… great investing requires both generating returns and controlling risk. And recognizing risk is an absolute prerequisite for controlling it."
Don't take it from me. Take it from Marks.
The Game is Called Risk Management
To quote him again, "Risk is the potential for loss if things go wrong."
So, at the risk of being repetitive, the purpose for this 3,000th article is to empower REIT investors. Specifically, I want to encourage you to do as Marks does:
"Think outside the box."
Always remember that "skillful risk control is the mark of the superior investor."
After all,
"Loss is what happens when risk meets adversity."
Loss is also what happened to me personally in 2008. I can remember it like it was yesterday.
At the time, I was working with a large regional homebuilder, heading up the commercial real estate business. My business partners had sold their homebuilding business to a national entity. And after the non-compete clause burned off, they were in the process of launching a vertically integrated homebuilding business.
Around 2008, they had around 500 homes on the ground in various stages of completion. In addition, they owned over 2,000 lots with plans to become the area's most dominant builder.
Then it hit.
Officially, the Great Recession began in December 2007 and lasted until June 2009… a long, long 19 months. And while I'd gone through other recessions before, that one hit me hard with lasting impacts to my family.
On January 6, 2010, Green Street Advisors' Mike Kirby said in a Wall Street Journal story:
"At its core, commercial real estate should be an income-oriented investment… when you over-lever, you take away those merits."
By then, I'd already internalized that fact quite well.
How to Be an Intelligent REIT Investor
In my new book, The Intelligent REIT Investor Guide, I examine debt's impact over the last 10 years or so. My one contributor, Eva Steiner, does an especially great job explaining how:
"In well-functioning capital markets, there's an exact offset between higher returns and higher risk. Yes, debt is cheaper than equity. It has priority over cash flows, with equity being the residual claim. But adding it doesn't add value to a REIT because higher leverage implies a higher cost of equity capital."
The Great Recession forced many REITs to cut their dividends as they re-evaluated their higher leverage. Their list of dividend aristocrats even went down as Kimco Realty (KIM), Simon Property (SPG), and Ventas (VTR) all played it safe and kept their payouts at previous levels.
Steiner notes that:
"… studies still show that, one way or the other, highly levered REITs have substantially underperformed their less indebted peers over time."
Having lived through the Great Recession and witnessed firsthand the painful losses in my retirement portfolio, I can attest to my "learned" conservative habits. There's a reason I now focus on quality REITs like Realty Income (O), Digital Realty (DLR), and American Tower (AMT).
As Steiner also says:
"Prudent financing strategy includes a firm commitment to maintain low leverage, mitigate refinancing risk by matching debt and asset maturity, rely on unsecured debt as a general rule, and manage interest rate risk using fixed-rate debt."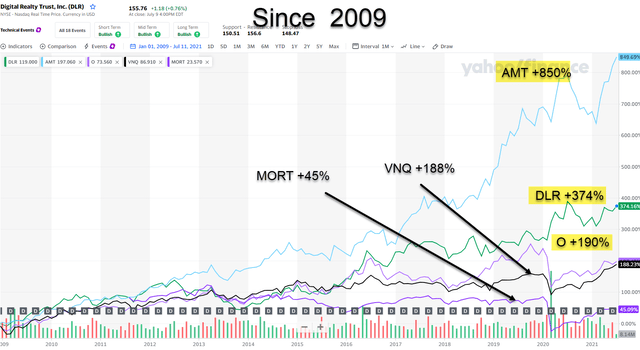 (Source: Yahoo Finance)
As you can see above, American Tower and Digital Realty both outperformed Vanguard Real Estate Index Fund ETF Shares (VNQ) and VanEck Vectors Mortgage REIT Income ETF (MORT) by a wide margin. That's because these sectors, over many years, have reported FFO growth of 6%-10%.
Managing and Maintaining Very Durable Income
I began The Durable Income Portfolio in 2013 based on the premise of managing risk. As illustrated below, it's returned 29.3% annually compared with the VNQ's 9.4%.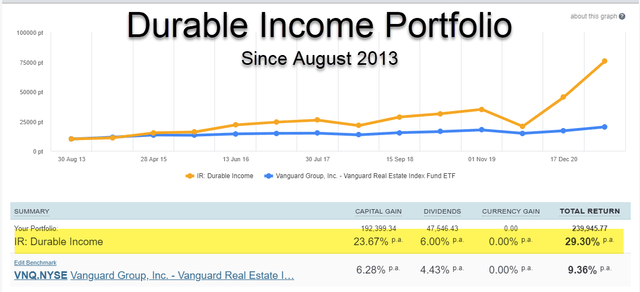 (Sharesight)
Risk control is invisible in good times, but essential when the chips are down.
One of the great things about REITs in general though is how many ways they allow investors to invest capital. As illustrated below, there are 220 in the U.S. and 182 traded on an exchange.
All told, they have a market cap of over $1.5 trillion.
(Source)
In a recent research report, Cohen & Steers explain:
"When investors think of commercial real estate, they may envision office buildings, malls, shopping centers and apartments. REIT ownership of these kinds of assets exists, of course. However, REITs have become increasingly specialized in new property types over the past 20 years, shifting the REIT market's composition away from traditional sectors."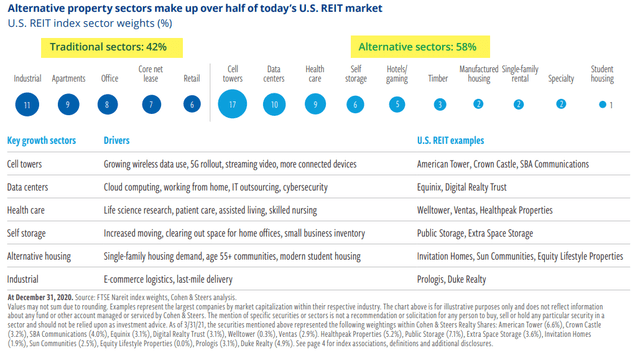 (Source)
Furthermore:
"These new sectors provide a broad selection of REIT-owned assets for constructing portfolios: 200-foot cell towers disguised as trees that lease space to wireless carriers and first-responder networks; secure data centers where companies rent by the kilowatt to connect cloud servers; high-tech distribution hubs that facilitate next-day shipping on e-commerce orders; climate-controlled storage facilities; biotech research labs; and senior living centers, just to name a few."
Who would have imagined 15 years ago that there would be REITs that invest in such a diverse spread, including cannabis?
"REIT sectors and companies tend to respond to market conditions very differently depending on factors such as lease durations, types of tenants, economic drivers and supply cycles. These differences have historically resulted in a wide dispersion of sector returns in any given period."
That makes them more risk management-friendly if you only know what to do with that information.
Continuing With Cohen & Steers' REIT Review
There are plenty of gems in the Cohen & Steers piece, so let me continue with it:
"More economically sensitive sectors with short lease terms, such as hotels and self-storage, can adjust rents relatively quickly to capture accelerating demand in a cyclical upswing.

"By contrast, longer-lease sectors like net-lease and [healthcare] have more defensive cash flows that may be more resilient during economic downturns. In 2020, the best and worst sectors were separated by 58 percentage points as the pandemic upended retail, hotels and offices, but benefited technology-related REITs amid acceleration in e-commerce and working from home."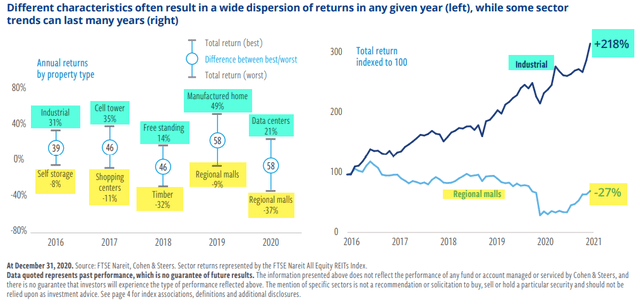 (Source)
As I mentioned earlier, The Durable Income Portfolio has returned just under 30% annually since 2013. That's as a result of broad diversification and selective screening.
For instance, recognizing that U.S. malls were overbuilt, we were underweight (malls) several years before Covid-19. And we were overweight data centers and cell towers.
By maintaining tactical allocation strategies today, we continue to put capital in the sectors where we see the best risk-adjusted returns.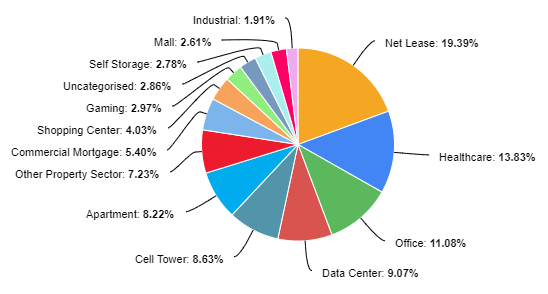 (Sharesight – Durable Income Portfolio)
Our REIT research, in general, across our portfolios is based on fundamentals. Cohen & Steers sums up our philosophy well when it says:
"As the economic cycle progresses, we believe property types are likely to have different fundamentals, especially in an environment of potentially rising interest rates and inflation."
Like I said before, risk control is invisible in good times, but essential.
Before My REIT Life Began
Going back to my previous life as a developer for a moment, most of my portfolio was invested in southeastern U.S. retail. That's one of the reasons I got hit so hard when the recession rolled around.
I found out very quickly how vulnerable I was to concentration risk.
Very quickly and very hard.
Now today, as we're finding out, many property sectors and towns are witnessing lasting effects from the pandemic. This includes certain trends away from big cities to more suburban markets. And e-commerce got bigger than ever faster than any of us imagined possible.
Meanwhile, there's this giant question: What about rising rates?
That's a question I get almost daily, and with good reason. I'm the last person to tell you to ignore that kind of force.
Fortunately, the economy and job growth tend to have a greater impact on REIT returns than rising rates. As illustrated below, since 1990, REITs have averaged a 10.8% annualized return in months when both the 10-year Treasury yield and leading U.S. economic indicators were rising.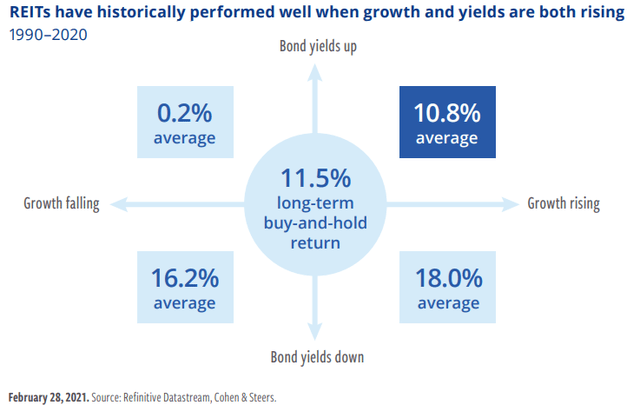 (Source)
Although long-term interest rates can affect capital costs, a growing economy typically drives stronger demand. That often results in higher occupancy levels, which gives landlords greater negotiating leverage to increase rents.
Keep in mind the retail and office sectors aren't completely out of the woods yet. The shutdowns may have ended in the U.S., but the mentality still exists in many ways and in many areas.
That's a primary reason why we're underweight these sectors.
However, for many other sectors – like industrial, multifamily, towers, data centers, manufactured housing, net lease, and healthcare – rate increases should equate to higher property cash flows, higher distributions, and higher property values.
Recognizing As-Is Economic Conditions to Evaluate REITs as They Go
Cohen & Steers points out that the unemployment rate spiked "to nearly 15% in April 2020." But it's "steadily declined" since. Moreover, "many of the jobs lost in the early stages of the pandemic have since returned, and a return to full employment is estimated in 2022."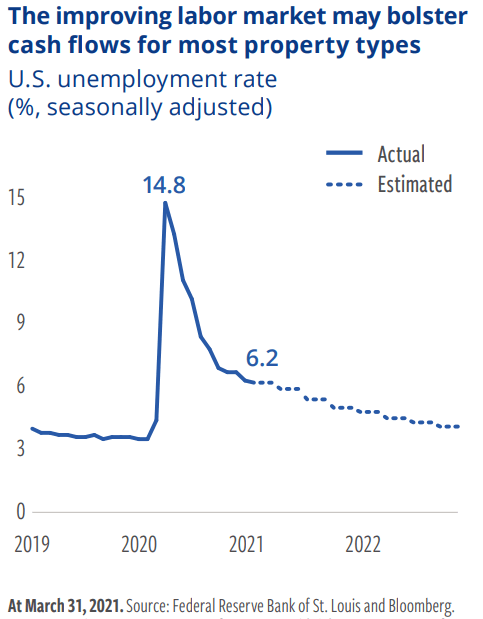 (Source)
I already began talking about economic factors in the last segment, but this is worth mentioning too. How a
"… resulting rise in incomes may translate into greater discretionary spending by consumers. This, along with improved business confidence, may drive demand for all types of real estate."
Also, for most property sectors, supply growth has generally remained at low levels. Add in increased and even oversized demand, and you've got a happy REIT situation overall.
But what about inflation?
Believe it or not, REITs tend to respond positively to inflation scares, especially compared to stocks and bonds. Real estate rents and values tend to increase when prices do, partially because many leases are tied to inflation.
This supports their dividend growth as well, providing reliable streams of income inflation or "outflation."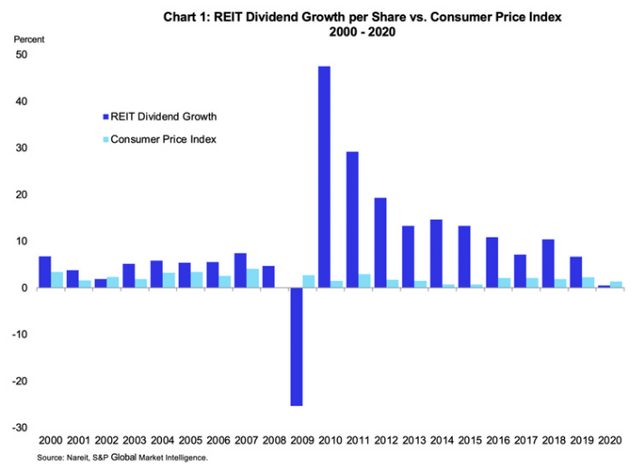 Consider the above chart, for instance. It shows market cap-weighted average dividend growth per share compared to the annual inflation rate.
In 2002, dividend growth failed to edge out inflation by just half a percentage point. Dividend growth fell far below it after the financial crisis in 2009. And 2020 did see dividend growth fall to less than a percentage point shy of inflation.
Over the 20-year period though, average annual growth for dividends per share was 9.4%, or 8.4% compounded. That's compared to only 2.1%, or 2% compounded for consumer prices.
An Inflated View
As Nareit suggests, to see how well REITs protect against inflation, directly compare their "dividend growth per share with inflation". As viewed below, "in all but three of the last 20 years, REITs' dividend increases have outpaced inflation as measured by the Consumer Price Index."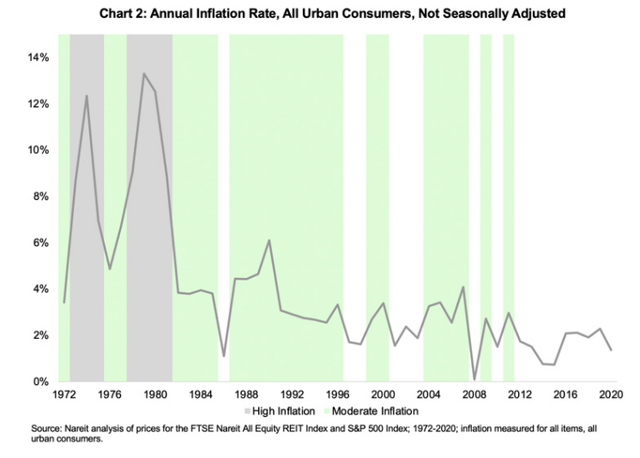 I was in elementary and middle school the last time the U.S. had periods of high inflation. That would have been in the 1970s and '80s, when it went as high as 13%.
So it's hard to compare that period to now. Since 1990, the inflation rate has rarely gone much over 3%, despite several periods of moderate or low inflation thrown in there.
For the record, high inflation is defined as greater than one standard deviation from the time period's average of 3.9%, greater than 6.9%. Moderate inflation is 2.5%-6.9% (based on the Federal Reserve target), and low inflation is below 2.5%.
It's important to be aware of inflation and the toll it takes on your portfolio. However, I don't see it returning to the double-digit rates of yester-decade. To quote CIRE Equity:
"The economy 'ran hot' for most of the 1960s as spending on both domestic programs and the Vietnam War pushed GDP beyond potential. But it took more than half a decade for these pressures to translate into rising inflation.

"Today's fiscal stimulus is aimed at helping the economy recover from well below its potential. And many of the stimulus measures will have ended before this stimulus can push the economy to the degree of overheating seen in the 1960s."
As I already said, I'm not the Wizard of Oz. So I have no clue when the next black swan event will occur.
However, REIT investors do have the luxury of modeling future cash flows. And reliable dividend payments have generally increased over time, often faster than inflation.
For those reasons and others, I'm more than happy to share the statistics down below.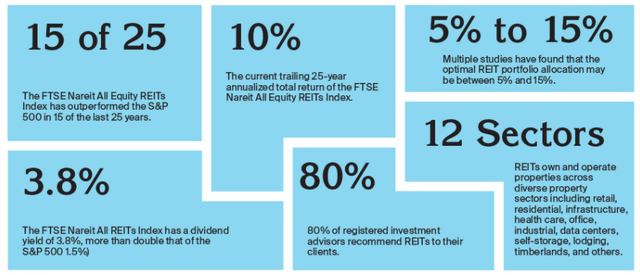 (Source)
Are REITs right for you? I'd recommend you read the rest of this REIT Risk article to further explore that question.
In Conclusion…
As Howard Marks reminds us:
"When you boil it all down, it's the investor's job to intelligently bear risk for profit. Doing it well is what separates the best from the rest."
And Ralph Block said this:
"What makes REIT shares so attractive compared with other high-yield investments like bonds and utilities is their significant capital appreciation potential and steadily increasing dividends. Long-term investors should be looking at REITs with dividends that are not just safe but also have good growth prospects."
Block inspired me to become a REIT analyst in the first place. I purchased his book around 10 years ago and am honored to tribute my own to him today.
Last but not least, I'll caution against putting all your eggs in one basket. Remember my pre-REIT story, and don't repeat it.
Benjamin Graham was right in saying:
"Adversity is bitter, but its uses may be sweet. Our loss was great, but in the end, we could count great compensations."
But if you don't have to learn the hard way, then don't learn the hard way. Take it from me, and happy REIT Investing!