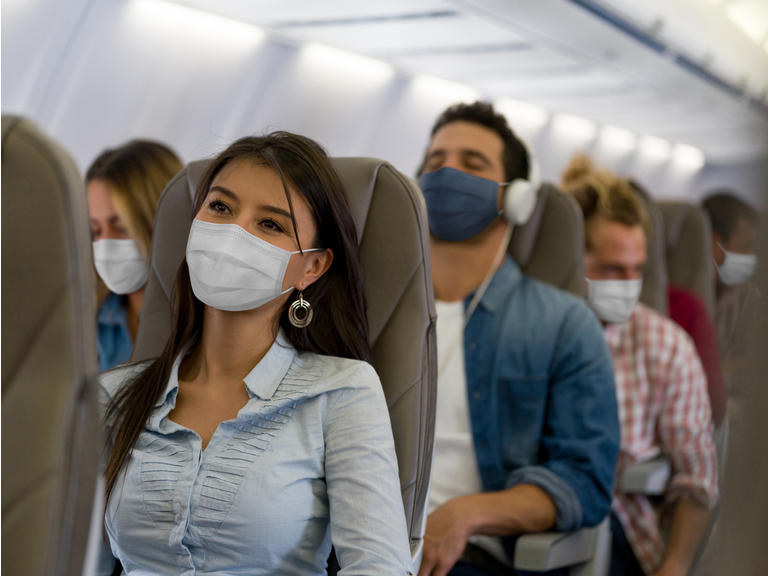 "The concerns which fail are those which have scattered their capital, which means that they have scattered their brains also. They have investments in this, or that, or the other, here, there and everywhere. "Don't put all your eggs in one basket" is all wrong. I tell you "put all your eggs in one basket, and then watch that basket."
- Andrew Carnegie
This is my third article on U.S. Global Investors (NASDAQ:GROW) in the past 7-months. The first two can be found here and here.
You may be wondering, if I've written two articles within 7-months, why write another? The answer is quite simple: GROW represents 75% of my book and I believe recent events have made the shares more undervalued than ever before. And thus, another article.
Background
For those new to the story, GROW manages eight mutual funds and two ETFs (JETS and GOAU). Over the past 18-months, GROW's assets under management have soared, helping the stock rise from less than $1 to $12.89. Currently, GROW manages approximately $4 billion and charges a fee of anywhere between 0.60% and 0.75% of assets it manages. Over the next 12-months alone, GROW will generate roughly $25MM in fee revenue from the funds it manages.
Separately, GROW invests its excess cashflow into various public and private companies. These include a 2.4% ownerships stake in Thunderbird Entertainment (OTCQX:THBRF), an investment that has appreciated 250% over the past year, a 1.8% stake in GoldSpot Discoveries (OTCQX:SPOFF), an investment that has appreciated 650% over the past year, and an investment in HIVE Blockchain Technologies (HVBT), an investment that has appreciated 850% over the past year.
It is an understatement to say management has a proven track record of strong capital allocation abilities.
For a more robust breakdown of these investments, please see my two previous articles linked above.
For this article I'd like to address three main questions:
1. Will the Delta Variant curb traveling and diminish GROW's ability to garner more interest in its smart-beta JETS ETF?
2. Will the crypto sell-off inhibit GROW's ability to profit off of its strategic debenture and warrant investment in HVBT?
3. Will GROW be able to maintain and grow its assets to gain strong operating leverage and consistent cash-flow generation into the future?
Delta Variant
As predicated by the CDC, the Delta Variant has become the dominant strain active in the United States. But, what does this mean for airline travel and specifically JETS and GROW?
Some news outlets are reporting that airline travel worries have resurfaced as passengers fear a resurgence in Covid cases.
"There are also worries that the high number of new COVID cases, even with hospitalizations and deaths still low, could curb travel, especially internationally." (Seeking Alpha)
But is this substantiated by prevailing data?
A recent study posted on Nature has indicated that although the Delta Variant is more transmissible and has the ability to evade natural antibody responses to individuals who might have had Covid already or just one dose of the vaccine, it isn't tremendously dangerous to those who have received two vaccine shots. The study states a double dose provides enough protection against severe illness to the tune of 60% - 80%.
"A recent report analyzing all sequenced symptomatic cases of COVID-19 in England was used to estimate the impact of vaccination on infection. Effectiveness was notably lower with Delta than with Alpha after one dose of AstraZeneca or Pfizer vaccines. The two-dose effectiveness against Delta was estimated to be 60% and 88% for AstraZeneca and Pfizer vaccines, respectively. Our neutralization experiments indicate that Pfizer and AstraZeneca vaccine-elicited antibodies are efficacious against variant Delta, but about 3-5 fold less potent than against variant Alpha."
So, although the variant may be 3x - 5x stronger against Delta, known positives have gravitated towards cities with a lower percentage of double vaccinated people.
Why? Because vaccines work.
So, where does that leave air travel?
Prevailing TSA information and airline specific commentary point to a booming recovery for the industry, despite the Delta Variant.
As noted by the below chart, traveling has picked up substantially. This is largely due to the increase in vaccinations across the nation.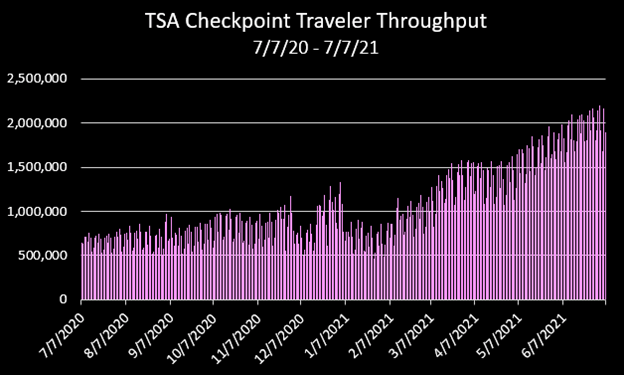 (Source - Seeking Alpha)
And, for the first time since the pandemic, TSA checkpoint travel number have exceeded the number of travelers during the same date two years prior.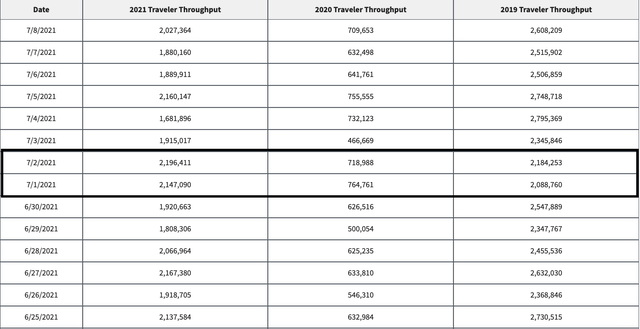 (Source: TSA)
However, despite the recent up-tick in travelers, we've just scratched the surface.
From a vaccination standpoint, America and the surrounding world is definitely not where they need to be.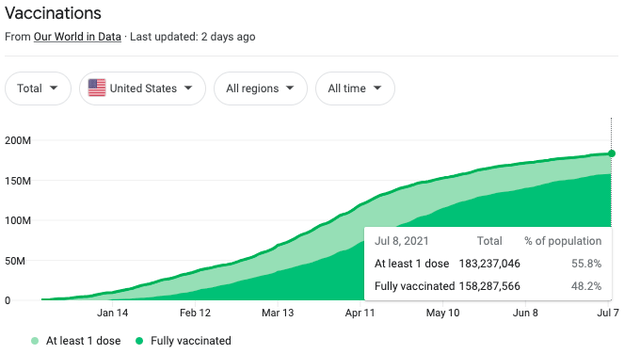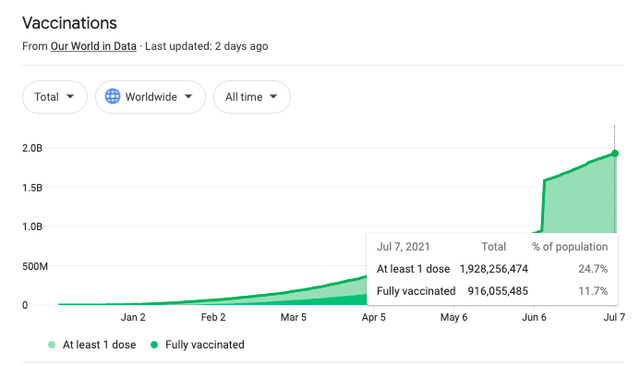 As people get vaccinated and it becomes apparent that hospitalization rates will fall within the scope of expectation despite the incumbent variant, travel will follow suit and the market will pick up on it.
Keep in mind - cases and hospitalization WILL go up as the variant spreads, however it is unlikely the ICU's will get flooded as people become more immunized over time. States with lower immunization rates amongst adults will continue to suffer more, but the impacts on travel will likely be minimal.
In America, President Biden has addressed the nation that he will work to make a tremendous push to get those unwilling or unable to get vaccinated a vaccine. This will include door-to-door representatives and making the vaccine more available at a broader set of pharmacies. The rest of the world is making a similar push, albeit at a slower pace.
Australia, a nation known to have struggled with a successful roll-out, is picking up the pace as well.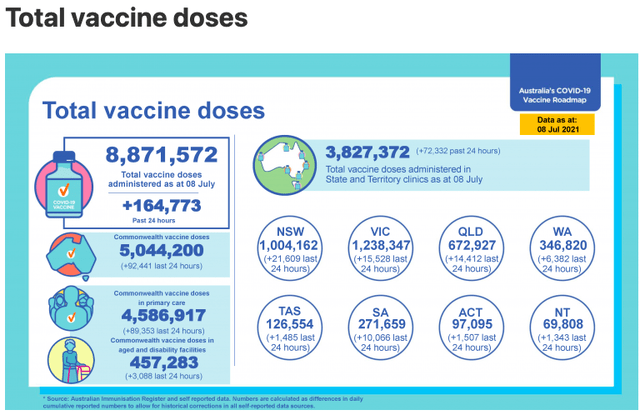 (Source: Australian Government)
As a result, the International Air Transport Association (IATA), an association making up 82% of total air traffic, expects international air travel to rebound 88% in 2022 - likely with a higher rebound rate in more heavily vaccinated regions.
In response, airlines such as United Airlines, American, and Southwest have made a major push to expand their offerings in anticipation of a global travel recovery.
Just the other day, United announced their largest airplane order in their history of operations, Delta announced more hiring as leisure travel picks up to pre-pandemic levels, and American had to actually cancel flights due to the surge in demand and limited available workers.
Business travel on the other hand has been slow to recover. Scott Kirby and Gary Kelly CEOs of United and Southwest, respectively, have noted that business travel is inching back, just at a slower pace than leisure.
Anecdotally, I've noticed that corporate events and industry expos have begun to re-emerge back to in-person encounters. As more offices return to in-person, I anticipate business travel will return as well. However, jury is out to see to what extent.
JETS
As of July 8th, JETS AUM stood at $3.5 billion, off slightly from the quarter average of approximately $3.9 billion. Based on the improved vaccine roll-out and my assumption that Delta Variant worries will slowly abate, I believe we've reached an inflection point.
JETS is off roughly 18% from its 52 week high yet despite the negative news coming in, its AUM has only dipped by 10%. I fully believe as GROW expands JETS to international markets like it's done with Mexico and London and the market sees the airlines return to profitability as travel picks up and international markets open, JETS AUM will return to new heights and solidify its staying power in the market.
If JETS maintains a $3.5 billion - $4.5 billion AUM as vaccines roll-out and the world reopens, GROW will rake in $50MM in fee revenue over the next 24 months alone. The market is not picking up on this.
JETS is going global and JETS is here to stay.
Crypto
In my previous article I spoke about a handful of catalysts underway at HIVE Blockchain Technologies that would propel the stock higher - most notably the NASDAQ up-listing.
On July 1st, HVBT finally listed on the NASDAQ and the Canadian shares traded up the $3.90 CAD - representing a $21MM value for GROW's debentures and warrants - or approximately 23% of its market cap. At $21MM, GROW's legacy ETF and mutual fund management business traded at just 2.5x full-year estimated EBITDA ex-cash and investments.
Although HVBT shares have since dipped considerably since the up-listing there are a number of key events materializing:
1. The London Hard Fork
2. Expanding revenue and profitability
London Hard Fork
The London Hard Fork is set to take place on August 4th.
The core feature of Ethereum's London update — known as EIP 1559 — will be capping the rate of increase of gas fees associated with mining Ethereum. As a result, the typical fees miners were accustomed to receiving for their work would disappear - making mining financially irresponsible.
However, many crypto enthusiasts note that as a result of the reduced mining, Ethereum will turn into a deflationary asset with a capped supply. And, since the coin is still in high demand for NFT and DeFi markets, the price will increase.
At this point, the impact of the London Hard Fork is yet to be determined, however HIVE recently announced that they have expanded their GPU production to remain profitable far beyond Ethereum 2.0 adoption.
The company anticipates it will take roughly two years for mining to become financially unattractive at which point they will look to stake their Ethereum for additional income and use their GPU centers for other industries such as animation and gaming.
Expanding Revenue and Profitability
Over the past few weeks, HIVE has announced a number of key developments:
HIVE Buys 3,019 High Performance Bitcoin Miners Increasing Production By 46% Immediately :: HIVE Blockchain Technologies
HIVE Joins NVIDIA Partner Network and Grows Professional GPU Footprint with US$66 Million Purchase :: HIVE Blockchain Technologies
HIVE Expands Its Growth Strategy in Sweden by Sourcing More Green Energy :: HIVE Blockchain Technologies
Each of these developments aim to diversify HIVE's mining capabilities away from traditional Ethereum mining into Bitcoin and other industries as Ethereum 2.0 builds out. This will help HIVE triple its revenue over the next 12-months - something Frank Holmes, CEO of GROW and Interim CEO of HIVE, has said numerous times throughout various podcasts and interviews.
The crypto market continues to be a source of tremendous opportunity for miners - especially those with an ESG footprint like HIVE that have become extremely profitable as China cracks down on mining.
GROW's convertible debentures in HIVE offer a great way to get exposure to the rapidly growing industry with tremendous upside and substantially capped downside.
What's Next for GROW?
It is no secret the mutual fund business is a dying industry. Although GROW is set to make roughly $3MM - $4MM in revenue from its variety of funds, the predictability and earnings power of this line of work is unpredictable as the world shifts to an ETF-favored model.
But GROW has innovated.
The company has done an incredible job launching, marketing, and attaining assets for its two ETFS - JETS and GOAU, each standing at approximately $3.5 billion and $100 million in assets, respectively.
Over the next few months, we'll likely see more innovative U.S. Global ETF products launching into the market.
In this podcast, Frank alludes to an exciting new ETF product bridging the gap between airlines and resources set to launch shortly.
Although the earnings potential for the product is unknown, the exciting prospects cannot be ignored.
Conclusion
The Delta Variant has become the dominant strain sweeping the nation as markets, news outlets, and industry experts debate its potential impact to society and travel. I believe, based on airline commentary, scientific research, and the cumulative impact of growing inoculation rates across the world that the variant won't materially impacts airline travel and the subsequent asset in-flows into JETS.
This, coupled with a growing interest in HIVE Blockchain Technologies, will help the market realize the tremendous earnings power GROW has in its ETFs and its investment portfolio.
At less than 3x EBITDA ex-cash and investments, the stock is simply too cheap with too many catalysts to not materially appreciate over the coming year.
Disclaimer: I am not a fiduciary and this is not a recommendation to buy or sell any securities mentioned in this article. I reserve the right to buy or sell or change my stance at any time regarding any security mentioned in this article as new information unfolds or my opinions change. I am not, nor claim to be, a science professional. Statements regarding Covid-19 and its associated variants are my own personal opinions.