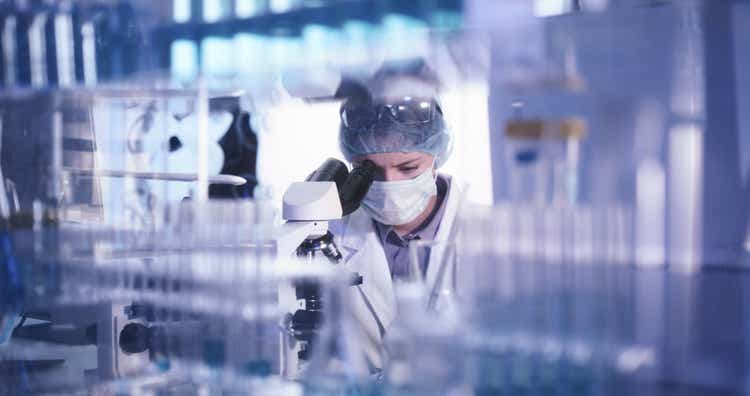 Investment Summary
We are long Avantor, Inc (NYSE:NYSE:AVTR) shares and believe the company has the economic pillars combined with a defensive bastion around its portfolio to continue unlocking shareholder value over the years to come. By our view, AVTR remains a premier laboratory products and services provider, that hedges its top line against large sigma events via key diversification efforts, that sees each portfolio segment remain ~3-4% exposed to total sales.
Exhibit 1. AVTR single-year price performance

Data: Author's Bloomberg Terminal
AVTR's global operations sit on a backdrop of several key growth levers that may yet to be fully realised at the share price level. We advocate there is plenty of price discovery to be made in this name. Further, we feel the company is set to benefit from market crosscurrents that will ultimately produce positive pricing effects in AVTR's end-markets, which are headed up by consumables-led demand, in which the company effectively realises 85% of recurring revenues on a sequential basis from its deep customer networks.
These factors alone are catalysts for margin decompression and free cash flow conversion to unlock shareholder value over the coming periods, by estimation. Alas, we remain bullish on AVTR as a going concern, especially when it trades at a respectable discount to peers at ~27x P/E and 3.6x sales. Moreover, given our extensive participation in the derivatives markets, we firmly believe that AVTR call lots are an ample selection for low gamma seekers, given the historically low volatility in the underlying share price and the respective gamma positions on AVTR calls in response to this. Hence, we view the risk/reward calculus is skewed disproportionately towards investor's favour in AVTR's investment case.
Here, we provide investors with the necessary updates to Avantor's growth narrative, building on our original theses previously published here and here.
Q1 performance provides indication for FY2021 performance expectations
AVTR's scale of operations and depth of product and service offerings are key insulators to its success on the charts. As much is observed throughout the first quarter's performance, beating the Street's call at the top and bottom lines in Q1. To illustrate, Q1 revenues came in at ~$1.8 billion, a 13.5% YoY growth schedule that included a ~700bps Covid-related tailwind, down around 200bps from the previous quarter. Much of the upside at the top was underscored by a ~14-15% organic growth schedule exhibited throughout the US and South America, in addition to an impressive 27% sales expansion throughout its Asia, Middle East and Africa (AMEA) designations.
Exhibit 2. AVTR Earnings summary (quarterly)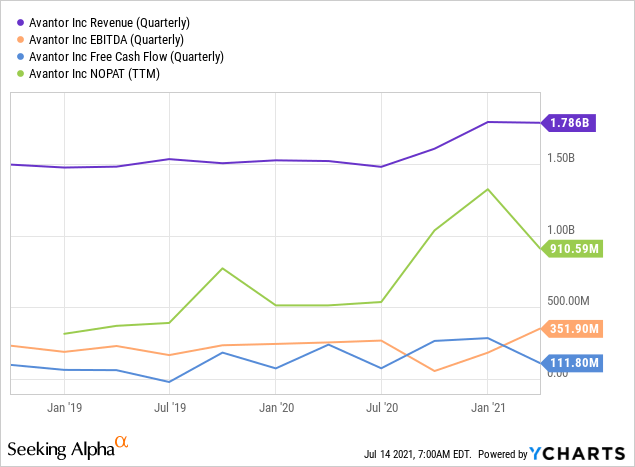 The company continues to realise cash flow from Covid-19 testing volumes, which continue at a high pace, and contributed ~700bps of upside this quarter, as mentioned. This was especially true throughout Europe, where Covid-19 testing volumes remain high given the state of the pandemic there. Consequently, on a segmental basis, the biopharma segment was the major performer this quarter, with a ~20% sales expansion. Of particular note was strengths observes in AVTR's bioproduction segment, which realised a 30% expansion over the quarter. The healthcare segment was propped up by a gradual return to patient volumes that have normalised back to pre-pandemic levels, and the pull-through of this uptick in patient turnover will carry over into Q2 by our estimation.
Exhibit 3. AVTR relative share price performance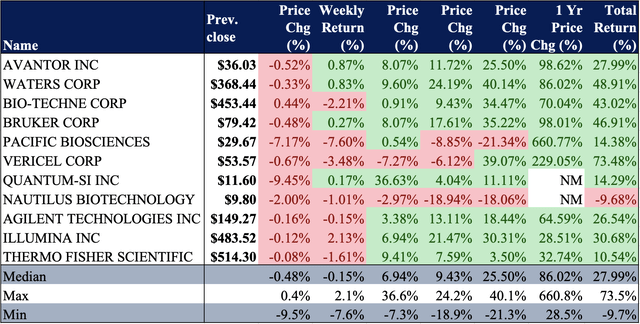 Data: Bloomberg; Author
AVTR's favourable product mix also served strengths this quarter, with all segments realising double digit upside as a result of high demand-pull in bioproduction and laboratory testing seen throughout FY2021. Moreover, regarding the Ritter GmbH ("Ritter") transaction – which is set to close in Q3 2021 according to management – this seems to provide adequate synergies and will also seemingly integrate well to increase exposure to the high margin consumables segment in its portfolio.
We feel the integration will tuck-in nicely, providing an additional high-margin revenue stream for the company that has adequate runway for ongoing margin expansion in time to come. Ritter is a private liquid handling consumables manufacturer, and thus offers quite obvious synergies to AVTR's proprietary offerings. Back to the P&L, gross margins decompressed by ~200bps to reach 34.3%, whilst the company also gained ~300bps in operating leverage. This came through the remainder of the P&L, and resulting in a free cash conversion of 6.26% to generate ~$112 million in free cash flow.
Avantor's bastion - maintaining each account's exposure to <3-4% of total sales
By our estimation, the major inflection point for AVTR's share price lies in its defensive portfolio setup that sees each portfolio segment's exposure to total sales remain light. In addition, the company has deep supply and customer networks, many that have spanned across 2 decades. These two very key insulators provide a reasonable hedge to the top line and free cash flow against large sigma events – such as Covid-19, for example. The beauty of this model that if one particular account or industry fails, then AVTR only realizes a net impact to a maximum of 3-4% of sales, however, it also gets access to 100% of the revenues that portfolio segment provides when said accounts are performing well.
This model also ensures the company retains about 85% of recurring revenue on a sequential basis, which we find incredibly attractive in industries rife with disruption and innovation. AVTR does not need to maintain a constant speed of innovation unlike its peers. Instead, it focuses on deepening the trenches of its supply chains and customer base, thus enjoying industry and sector wide diversification benefits, whilst unlocking additional sources of alpha that are embedded into these various industries.
Exhibit 4. Birds eye view of portfolio breakdown

Data: AVTR 10K; Author's previous AVTR analysis
As such, the company also enjoys positive pricing benefits that have been realised in AVTR's key end-markets in recent years, which have effectively resulted in a decompression in gross and operating margins over this time. The company has also significantly grown free cash flow and CFFO over the previous 3-4 years. In 2017, the company was cash flow-negative, posting a net cashflow deficit of $167.5 million and FCF loss surmounting to $193 million. AVTR grew CFFO and FCF to $200 million and $163 million respectively over the next 12 months, and has since seen both items expand at CAGR 100.3% and 113.7% respectively. Hence, AVTR realizes cash at a significantly higher cadence versus many competitors, and continuously expands its absolute cash flow on an annual basis.
Exhibit 5. AVTR FCFF Schedule FY2018 – 20'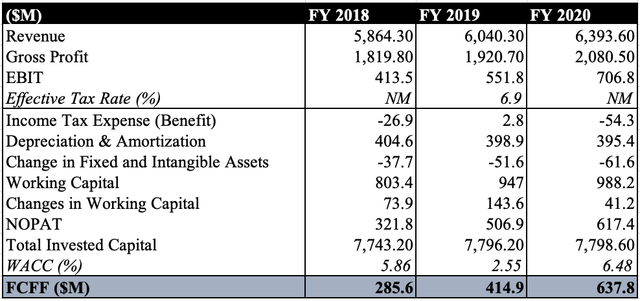 Data: AVTR SEC Filings; Author's calculations
This sentiment is carried through in management's guidance for FY2021, which it increased on the last earnings call to reflect strengths in its end-markets and the extended Covid-19 testing tailwind. Management sees 6-9% sales growth on a YoY annual basis, which apparently includes ~$350-450 million in Covid-related tailwinds, ~$0.60-$0.77 per share.
Credit Summary
Of important note to investors, is that the company holds $1.03 billion in preferred equity, who enjoy the position as primary claimants ahead of common shareholders, who sit behind as residual claimants to the company's assets. This also increases the divergence in enterprise value to market cap, and this must also be taken into account when valuing the company's shares, which we do in the subsequent section. Alas, management has displayed sound balance sheet management, reducing the total debt figure by ~13% to $4.6 billion at the Q1 exit. AVTR also continues its walk towards achieving a 2-4x leverage range, currently leveraged at 3.5x, a 0.5x down-step from the previous quarter. Notably, the Ritter transaction and a recent debt re-pricing may impact these figures, depending on the leadership's covenant management.
Exhibit 6. AVTR Balance sheet summary, FY2017 – 20'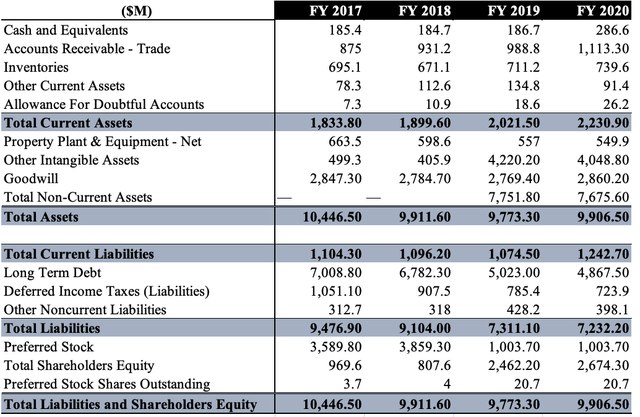 Data: AVTR SEC Filings; Author's calculations
Combing through the balance sheet, the interest expense is covered 6.9x from EBITDA and common equity to total assets it currently at ~19%. Long term debt to total capital is ~62%, whilst the debt ratio is just under 48%, meaning the capital structure is a healthy balance between equity holders and primary claimants. We like this structure, given that shareholders maintain a respective portion of the balance sheet, with the opportunity to grasp additional equity with the aforementioned deleveraging efforts. Short-term obligations are covered from liquid assets 1.8x but perhaps of slight concern are only covered 0.14x from cash alone, despite the recent acquisition. Luckily, the company generates sufficient CFFO and FCF to mitigate this factor, and the Altman's Z score of 5.0 indicates the cash balance of ~$173 million has runway for the coming 2-year period.
Impressively, the company has held its cash conversion cycle and inventory to cash days numbers relatively flat over the previous 3-years to date, with a slight expansion from 67 days in FY2017 to 68 days in the most previous quarter. This further demonstrates the strengths in the company's business model, as there is a minimal amount of additional working capital tied up in operations, and the company is realising a similar amount of profit from each unit of cash that is invested into the operating cycle. Should this trend hold, then we are confident that factors of liquidity will improve alongside this.
Valuation
Shares are trading at around 27X P/E, around 19X EV/EBITDA, and at 3.6 X sales. Each of these figures represents a significant discount to the peer group, and this makes the valuation incredibly attractive on a multiples perspective by our view. Coming in at 11.6x book value demonstrates significant value creation for shareholders albeit at a respective discount to the peers.
Exhibit 7. Multiples analysis and comps table

Data: Author
Shares are also trading at 22X FCF with $0.19 in free cash flow per share on a free cash flow yield of $4.42, on the higher end. The company is also trading at a premium to 2 year historical averages, and the valuation expansion over the previous two years is certainly justified by our estimation. Given that ROIC has averaged around 7.5% over the previous 3 years, this alongside a low stock market beta of 41%, helps separate the companies valuation from the frothy growth-type drivers that have been driving equity returns this year.
Our price target remains unchanged from previous analysis, which signifies significant upside by our estimation. Given the company's success in a string of recent integrations from acquisitions, including the Ritter GmbH transaction, earnings of $1.15 to $1.20 is not an unreasonable expectation for this coming year, and this Implies a price target of approximately $76 at 65X normalised 3-year historical P/E metrics. Utilising 3-year normalised FCF multiples of 21.2X2 FY2020 2FCF estimates of $969 million, this yields a price target of ~$36, at par to today's open.
Exhibit 8. Normalised multiples analysis

Data: Author
The arithmetic mean of these two figures give us a price target of around $57, which implies a margin of safety of ~58%. This is well out of the scope of consensus who view a price target around the $40 mark for December 2021. given the lack of at least exposure and this clear divergence in the cell sides price target, we firmly believe that there is a raft of exploitable opportunities yet to be realised in this name. Price discovery has been consistent with this stock, and we continue to advocate investors remain constructive on this name if seeking exposure to any of the company's end-markets or if seeking a low volatility inclusion into one's portfolio.
Further considerations
We view the fact that AVTR shares trade within such a narrow ascending channel as extremely favourable in the technical setup for this name. Shares consistently display a very clear defined support level, having bounced away from support numerous times over the previous 12 months. Additionally, shares currently trade above all 3 moving averages, with the 50 day serving as a good indication of support and potential entry level if prices were to tick below this point.
Exhibit 9. AVTR Price action (1-year)

Data: Author's Bloomberg Terminal
Shares have also tested the upper resistance level several times over this period as well, but have not managed to break the ceiling of resistance at this point. We define the resistance level in the near term around the $36-$37 mark, consistent with the spread observed from support to resistance this year to date.
Exhibit 10. AVTR technical price target = $38

Data: Author's Bloomberg Terminal
As we view the ichimoku cloud and AVTRs position above these points over the previous 6 to 8 months, any pull back towards the level of support (where we see the area of the cloud) would serve as an exciting entry point or re-allocation point by our estimation. We feel there is a topping pattern that has occurred at the current ranges since mid June-July, and this may warrant a pullback towards support where shares will land within the pink ring that is defined on the chart below. Given the respect that the company has displayed in respect to the cloud during our examination period, we firmly believe that if this pullback were to happen, that the share price will bounce of support again and head towards the $38-$40 mark. Hence our short-term (1-3 months) technical price target sits at $39, a small premium to today's trading. For context, we aim to knock out 3 short-term price targets before trimming a position or making decisions on rebalancing.
Exhibit 11. RSI and On-balance volume corroborate long-term trend intact

Data: Author's Bloomberg Terminal
Adding weight to this scenario, is that RSI ranges have recently breached the 70 level, and on-balance volume has recently begun to plateau, although still remains above the key zero level and sits at around 26.5 million at the time of writing. Therefore, the longer-term trend looks set to remain in place, and investors may improve their total return prospects by entering on any weakness that may occur over the coming months.
In Short
Avantor Looks primed to star amongst our large cap growth universe. The view that AVTR will continue benefiting from its favourable portfolio setup, that sees it generate high recurring revenue and equally as impressive defence against large sigma movements, is not an unreasonable expectation. The company continues to demonstrate formidable upside on the charts, albeit within a narrow trading range that makes the company's shares incredibly attractive for low gamma seekers or those seeking to reduce overall volatility exposure in portfolios. Recent acquisitions seem to be the right fit by our estimation, and the company is set to realize additional cash flows on the back of Covid-19 testing volumes that will remain in situ for the remainder of FY2021. We remain extremely bullish and constructive on AVTR shares, and look forward to providing additional coverage as we walk through the remainder of this year.