Cyclical Stocks: What They Are & How To Invest
Cyclical stocks are those of companies whose sales ebb and flow with the economic cycle of recession and expansion. Cyclical businesses generally thrive during times of economic expansion, but they usually see steep declines in profits and sales during recessions and economic downturns.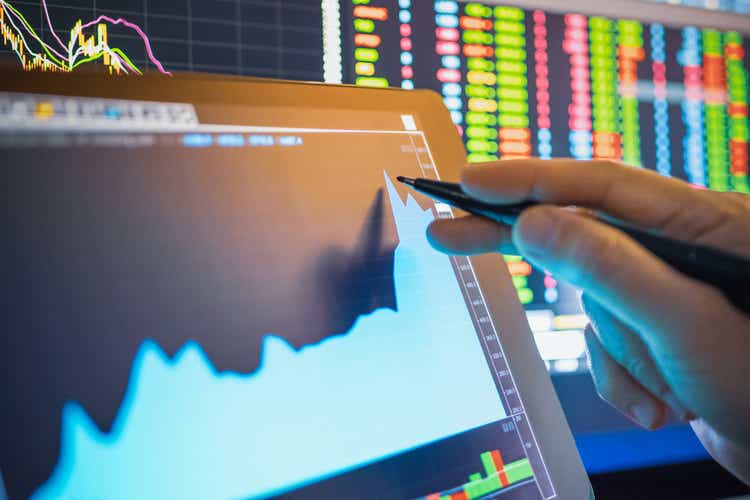 What Sectors Have Cyclical Stocks?
Investors can identify cyclical companies by looking for those whose products and services are more immune to economic downturns. Cyclical stocks are, to some degree, usually concentrated within certain sectors/industries.
Some examples of cyclical industries are:
Restaurants and hotels
Furniture
Construction companies
Airlines
Luxury retailers
Automakers
The companies that operate in these types of businesses may not do as well when the economy is struggling.
Cyclical vs. Non-Cyclical Stocks
Cyclical stocks differ from non-cyclical ones in how leveraged they are to the economic cycle.
Cyclical stocks typically outperform during times of economic expansion, but they usually underperform when the economy displays weakness, or when investors are anticipating economic weakness.
Non-cyclical businesses are less exposed to the economic cycle and typically outperform during times of economic contraction.
Cyclical stocks underperform during economic downturns because consumers and businesses cut back on less essential spending. Many cyclicals companies sell discretionary items, and consumers don't spend as much on them when they're in a bind, or worried about their economic future.
Consumer Discretionary vs. Consumer Staple
Companies that serve consumers can usually be classified as a Consumer Discretionary or Consumer Staple.
Consumer Staple: People tend to continue purchasing essential goods from Consumer Staple companies, goods like toilet paper and groceries, during recessions. Stocks in these sectors are generally non-cyclical.
Consumer Discretionary: Consumers might avoid consumer discretionary purchases during economic downturns if they maintain a tighter budget, like luxury goods or high-end travel purchases. Stocks in these sectors are generally cyclical.
Consumer Discretionary stocks are therefore generally more cyclical than Consumer Staple stocks.
Key Takeaway: Cyclical stocks track the economic cycle, which means they usually outperform when the economy is in good shape and underperform when it's not.
How To Invest In Cyclical Stocks
The process of buying cyclicals is the same as for any other stock.
Step 1: Create an Account with a Brokerage
The easiest way to buy stocks is through an online brokerage like eToro or Robinhood. Stocks are mostly bought and sold on exchanges like the NASDAQ or New York Stock Exchange. Investors can start by creating an account with an online brokerage.
Step 2: Research Cyclical Stocks
Before buying anything, it's a good idea to research and do due diligence on any stocks you are considering. In the case of cyclicals, it makes sense to look at the current state of the economy to ensure that it is an appropriate time to buy them.
When the economy starts to recover from a downturn, it can be a good time to buy cyclical stocks because they may still be trading at a low enough price-to-earnings multiple that will allow investors to capture upside when the recovery is in full swing. If you believe it is a good time to buy cyclicals, you can look for them in non-essential sectors where consumers only spend money when they have plenty of it.
Step 3: Choose How Many Shares To Buy
After deciding which stocks you believe will be a good investment, you will have to decide how many shares you want to buy or whether you want to buy part of a share in high-price stocks. Not all brokers allow fractional share purchases.
Step 4: Select an Order type
After deciding how many shares to buy, you have to choose the order type, which can be a bid, spread, market order, limit order, stop or stop-loss order, or stop-limit order. The most basic order type is a bid, in which you say how much you will pay for a certain number of shares of a particular stock.
Are Cyclical Stocks Risky?
All common stock investments involve some degree of risk. Capital invested in stocks is not guaranteed. When it comes to deciding whether to buy cyclical stocks specifically, the best thing to do first is to look at where the economy is in the current cycle. Investors who can tolerate a lot of volatility and have a buy-and-hold mentality might consider buying cyclicals while the price is lower during an economic downturn—as long as the downturn isn't just getting underway. However, this strategy doesn't always work. It may take years of ups and downs before the stock recovers if investors don't time their purchase accurately.
It's also important to realize that cyclical stocks can be volatile. They tend to follow whatever the economy is doing, so when economic data is mixed, cyclical stocks may move up and down quite a bit in a short period of time. Timing always matters with stocks, but that is especially true of cyclicals.
Tip: Cyclical stocks tend to be more volatile than non-cyclical stocks because they rise and fall with shifts in the economic cycle.
As already stated, cyclical stocks can plunge during recessions, or just in anticipation of a recession. Investors who aren't prepared for an economic downturn could be left holding the bag after everyone else has sold. It's not usually a good idea to buy a cyclical stock just as the economy is starting to slide down.
Just as with buying any stock, there is always a risk that it will decline in value after you buy it. If a company starts to struggle or even just falls out of favor with investors, its stock can plunge, resulting in investor losses.
This article was written by
Michelle Jones is editor-in-chief for ValueWalk.com and a daily contributor for ValueWalkPremium.com and has been with the sites since 2012. Previously, she was a television news producer for eight years. She produced the morning news programs for the NBC affiliates in Evansville, Indiana and Huntsville, Alabama and spent a short time at the CBS affiliate in Huntsville. She lives in the Chicago area with her son, dog and two cats.
Analyst's Disclosure: I/we have no stock, option or similar derivative position in any of the companies mentioned, and no plans to initiate any such positions within the next 72 hours. I wrote this article myself, and it expresses my own opinions. I am not receiving compensation for it. I have no business relationship with any company whose stock is mentioned in this article.
Seeking Alpha's Disclosure: Past performance is no guarantee of future results. No recommendation or advice is being given as to whether any investment is suitable for a particular investor. Any views or opinions expressed above may not reflect those of Seeking Alpha as a whole. Seeking Alpha is not a licensed securities dealer, broker or US investment adviser or investment bank. Our analysts are third party authors that include both professional investors and individual investors who may not be licensed or certified by any institute or regulatory body.