Shares of Valero Energy Corp (NYSE:VLO) are up over 32% so far in 2012 as the company has benefited from the widening of the spreads between crude oil and refined products.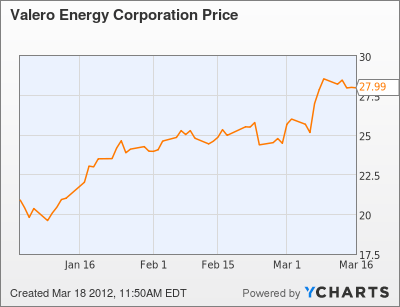 The year-to-date chart below shows the United States Gasoline Fund LP (NYSEARCA:UGA) vs. the United States Oil Fund LP (NYSEARCA:USO). USO is the foremost ETF that tracks WTI crude prices while UGA is the foremost ETF that tracks gasoline.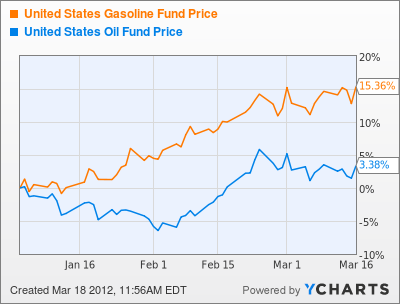 The strong relative performance of gasoline vs crude oil has led to a major rally in the refinery stocks. While these stocks have been among the hottest this year, many investors still have doubts about the outlook for the refinery stocks.
Short Interest
Valero Energy Corp: 2.5%
Tesoro Corp (TSO): 9.8%
Western Refining Inc (NYSE:WNR): 21.8%
Holly Frontier Corp (NYSE:HFC): 8.2%
The high short interest in these stocks suggest that investors doubt the ability for these companies to deliver on the increased margin between gasoline and crude. Interestingly, VLO has a much smaller short interest than its competitors. While this means that investors are less worried about VLO, it also means the potential for a short squeeze is lower. If WNR, TSO, and HFC are able to deliver strong numbers, it will likely lead to a short squeeze which will lead to much higher prices very quickly. The short interest is simply too low for such a move to occur in VLO.
Net Debt
VLO: $6.7 billion
TSO: $800 million
WNR: $637 million
HFC: 0
While VLO is larger than its competitors, VLO has much more debt. VLO's debt provides a unique risk to the company if margins were to take a turn for the worse.
Buyout Potential
VLO is less likely to receive a takeover offer than its competitors because it is much larger.
Market Caps:
VLO: $15.5 billion
TSO: $4.2 billion
WNR: $1.8 billion
HFC: $ 7.5 billion
In 2011, Holly Corp and Frontier Oil agreed to a merger. In early 2012, billionaire investor Carl Icahn announced $2.6 billion takeover offer for refiner CVR Energy Inc (NYSE:CVI). The merger activity in the refining sector will likely continue, but VLO's market cap makes VLO a difficult target. VLO's smaller rivals are more likely to be involved in a transaction that would be bullish for shareholders.
Conclusion
VLO's low short interest, high debt, and large market cap make it less attractive than its peers. Investors looking to buy a refining stock should avoid VLO and instead consider its competitors.
Disclosure: I have no positions in any stocks mentioned, and no plans to initiate any positions within the next 72 hours.