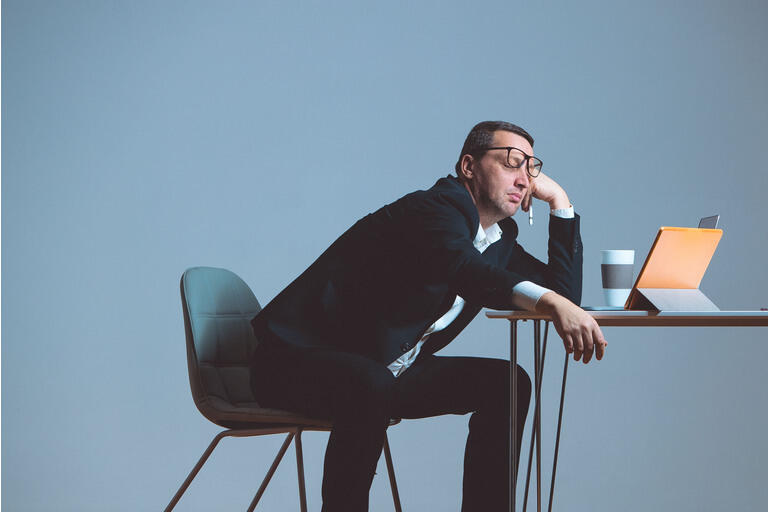 Co-produced with Treading Softly
As I get older, I'm less drawn to the flashy, new, and "exciting" than I used to be. I'm no longer rushing to get the latest version of the iPhone, when my current phone works excellently and the new features would not add value to what I already have.
When it comes to the market, investors - especially young ones - always are seemingly being pulled into new, exciting ways of doing things. IPO speculating was all the buzz, then it was SPACs, now crypto has emerged as a front runner for attention. It seems everyone is running to try and be ahead of the curve. Meanwhile, their goals can and have always been achievable through tried-and-tested means.
If we want to generate wealth, why do we jump at new, exciting means to do it, when they are just thinly veiled copies of the lottery. When guessing which crypto will soar next, you have the same odds as guessing the right lottery numbers. People will claim they have a method to do it successfully, but then every gambler claims they have a special method that always works.
Instead, boring and simple income generation is the historical means to generating long-term wealth.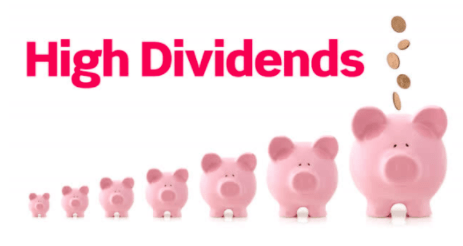 Source: Dreamstime
Creating Wealth Is Not Complicated Or Snazzy
I'm constantly amazed at how so many people try to generate wealth and riches through unusual steps that they feel are more exciting and "new." It's extremely simple to follow the process of historical wealth generation to create lasting multi-generational wealth. You're not instantly rich if you're wealthy, and likewise, you're not wealthy just by being rich. Historical wealth generation is this: Making your current assets generate additional income, which is used to generate even more income. Rinse and repeat.
Being wealthy, having excess income over your expenses, can lead to being rich, which means you have a high level of net worth or assets. The goal of those who are rich and wealthy is to have their large asset base produce a large amount of income, so they have the ultimate level of financial independence.
The old adage of "live below your means" continues to be entirely true. Live below your means, taking the extra and reinvesting it.
Bring Boring Equities to Your Portfolio
Keeping our focus on simple and boring with regard to the markets means our picks should likewise have an extremely straightforward and boring setup. Often, the oldest and most successful income investments are those with easily repeatable long-term processes.
1- UTG, Yield 6.5%
One excellent example of this is Reaves Utility Income Fund (UTG) which yields 6.5%. This fund invests in infrastructure that is necessary to operate a nation. Utilities and telecoms make up the backbone of UTG's portfolio and will be some of the biggest beneficiaries of the new infrastructure plan. The method behind its success is to mix in a leverage to create a higher degree of income from proven dividend growth names.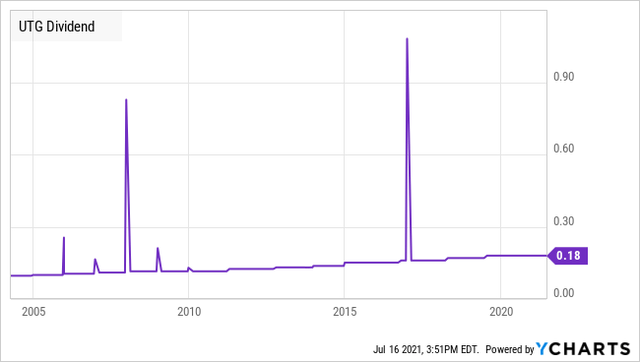 The fund has done exceptionally well since its inception in February 2004. It has systematically raised the monthly distributions. Importantly, it's one of very few CEFs (closed-end funds) that has never reduced its distributions in its 17-year history. Income investors and retirees can rely on UTG for stable monthly dividends and expect those dividends to grow over time.
How is this possible? Firstly, Reaves has placed excellent portfolio managers in charge who oversee the fund carefully and actively manage their positions to ensure it's invested in the right securities. Secondly, the underlying securities have long histories of dividend increases themselves. This results in dividend increases while also providing more "immediate income" for investors.
It takes boring investments - like utilities and telecoms - mixes in expert management and leverage and the result is an extremely reliable income-paying fund on the back of incredibly reliable sectors.
2- CEPQ.PR Preferred Stock, Yield 9.1%
A second route to generating steady income is through "fixed income" securities such as "preferred stocks" and "baby bonds" which are ideal for conservative investors who are purely income-oriented and do not wish to ride the ups and downs of the markets. We're currently recommending a 40% allocation to fixed income, including preferred securities. One of my favorite preferred securities today is the Crestwood Equity Partners LP, 9.25% Preferred Partnership Units (CEQP.PR). This is a special and unique preferred security issued by Crestwood Equity Partners (CEQP), a midstream company with a focus on natural gas, a commodity that's in high demand. The reason that it's unique is this preferred stock cannot be called, thus allowing investors to lock in a 9.1% yield potentially forever.
Note: CEQP is a partnership and issues a K-1 for its preferred units.
3- ECCX Baby Bond, Yield 6.6%
Another boring fixed income option we like is the bonds or "baby bonds" of a stable firm or fund. Take Eagle Point Credit Co., 6.6875% Notes due 4/30/2028 (ECCX) which yields 6.6% currently. This baby bond issued by Eagle Point Credit (ECC) is a straightforward investment. ECC is a CEF, but its share price can be volatile. Income investors can sleep well at night knowing that the "baby bond" ECCX's interest is paid in full long before ECC shareholders receive any money, in case of any trouble. This means you can get a boring, steady income stream from a CEF with lower risk, lower volatility by investing in the bond instead of the common shares.
By buying boring investments, you can discover a stress-free lifestyle and an income stream that meets your needs and lets you feel comfortable reinvesting back into those investments to generate even more income in the future. This is the power of "income investing" to generate long-term wealth.
Risky and Flashy Go Together
There has been a recent splash of crypto speculation, betting on meme stocks, and the like. A few people are walking away extremely rich. For the vast majority of investors, the flash, dash, crash, and often non-existent rebound produce nothing in dividends and often little more than large unrealized gains. The time to buy is often before it has become common knowledge or open to anyone to purchase.
Furthermore, growth names have seen much of their upward momentum sucked out of them, as value names have beaten them.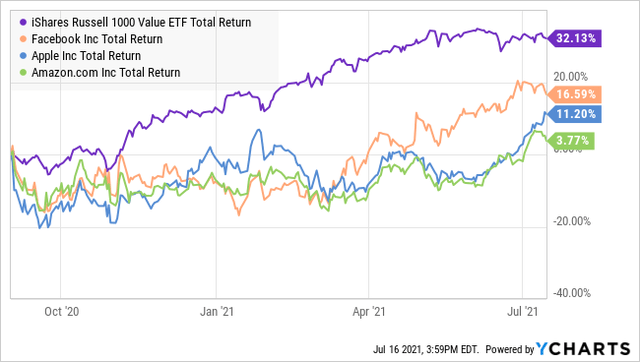 Since September 2020, we have seen value stocks as a whole soar toward more unrealized gains, along with dividends. For years, growth stocks have outperformed value stocks on price appreciation. I would be remiss in not acknowledging this. However, price gains alone do not meet my investment goals, and as for so many others, income is the key. Looking forward, we expect value names - such as utilities, telecoms, REITs, and business development companies - to outperform on a total return basis, price plus dividends. This means retirees, as well as income investors, can buy boring value stocks that pay dividends and see both strong income and great unrealized gains combined. Boring has been better in recent times on a total return basis, not just income only, and is set to continue to be better than flashy names looking forward.
Don't Sell This Summer
Many investors and retirees are worried that the market has gotten too "frothy" and some are considering selling out of all their positions. I hear your concerned voices and understand your perspective. I don't share that outlook at this time. I provide weekly market outlooks for our members that dive deep into where I see the markets heading and why. The market is a forward-looking mechanism, it's also being driven by high levels of liquidity.
This means that last March the market was selling over fears about COVID-19 and related economic challenges that we saw to some degree in June and July. Likewise, the market continues to see strength on the back of future liquidity coming into the market from government spending and a continued strengthening of the economy.
Furthermore, if you bought into steady, boring, and reliable dividend-paying securities like UTG, ECCX or CEQP.PR, you do not have to worry about their market price if the dividend or interest payments keep flowing. Your pocketbook will never know the difference! You're not investing with a twelve-month timeframe or even a one-week quick flip attitude, but a multi-generational timeframe.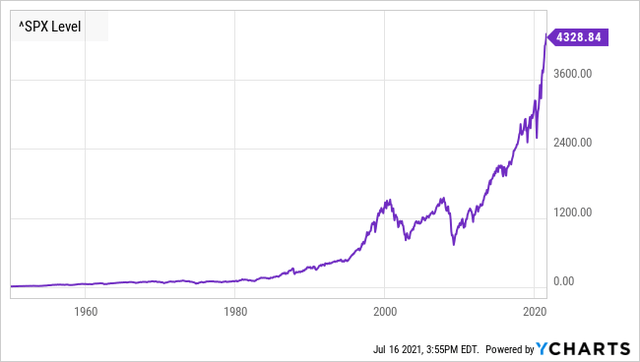 The rising and falling of the market feels so extreme day to day. In reality, it's considerably less when you have a long-term perspective. Keeping your cool, staying on plan, and picking your choices wisely will allow you to enjoy the market as it moves.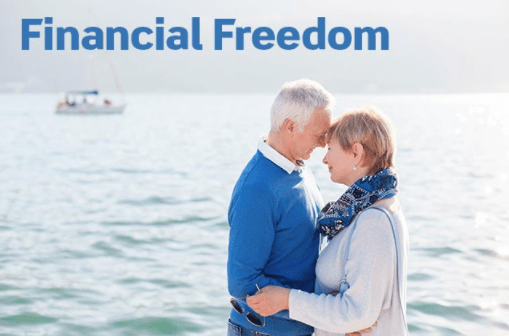 Source: Dreamstime
Buy and Buy Again
The summer months offer lower volume but higher levels of volatility. These months provide excellent opportunities to add to positions for the long run. The outlook for the market overall is very strong, we can expect income and capital gains.
The key to successful historical wealth generation is taking the small sum of money you have now and enabling it to grow and expand by carefully managing it and reinvesting as much of its income as possible. This is how you can take a trickle of income and turn it into a roaring river.
Want to achieve wealth in your lifetime? Learn to love being bored. Steady, strong, smart paying securities from boring, predictable sources will allow you to leave behind a hand-to-mouth life for one of wealth over time. Each dollar you put to work earning you more dollars will continue the cycle of growth. Nothing earns money like money does.
This is income investing. This is historical wealth generation. This is "The Income Method." You can do it. Retirement is not only coming, but a happy, easy retirement is entirely possible. You have the knowledge, now put it to work and start a legacy to be proud of.