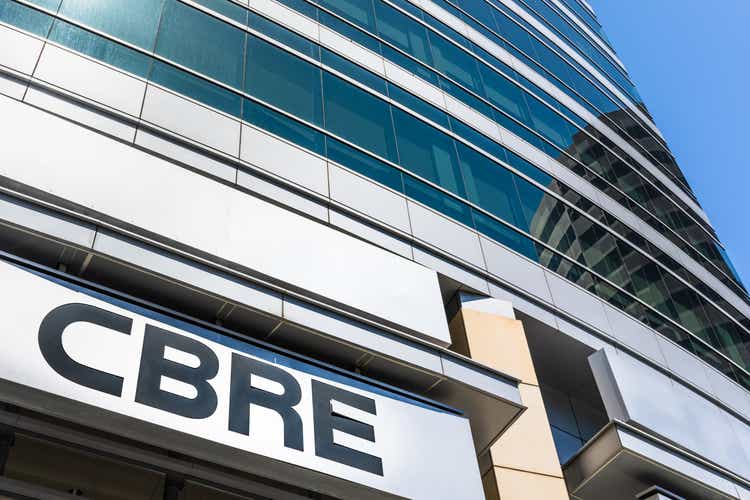 CBRE Acquisition (CBAH) had a ~$400M SPAC IPO last December. It used the SAIL (Stockholder Aligned Initial Listing) incentive structure. The distinctive feature of this structure compared to the traditional 20% upfront promote is that promote shares are earned over a ten-year period, but only if the share price appreciates. The aim is to incentivize the sponsors to help grow the company after the deal closes. In the traditional structure, the sponsors can sell after close (a lock-up period sometimes apply, typically three to twelve months) and from that point on they have no incentive to help the business.
Some details of the SAIL structure follow: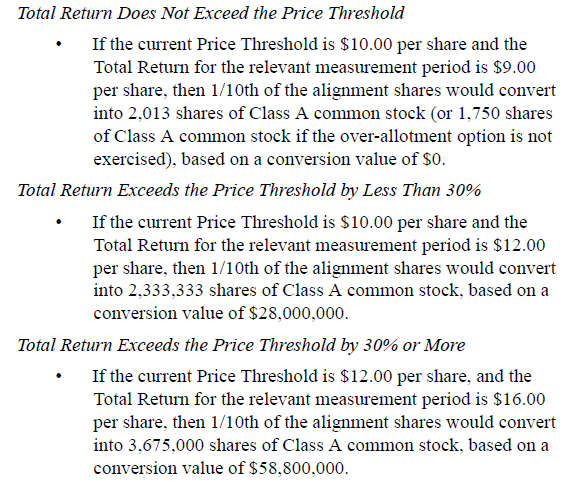 Source: Excerpt from CBRE Acquisition IPO Prospectus (Page 47).
The example above assumes $700M in capital delivered by the SPAC which is close to what it will be (~$400M trust + ~$275M PIPE) in the Altus merger. If the annual return from the price threshold ($10 in the first year) is less than 30%, a promote equal to 20% of the value delivered ($700 * 0.2 = $140M *0.2 = $28M) in Class A shares ($28M / 12 = 2.33M Class A shares) is earned. The promote is 30% of the value delivered if return exceeds 30% and de-minimis if no appreciation.
As illustrated, the sponsor CBRE Acquisition will earn handsome rewards annually for seven years (amended from ten years in the IPO prospectus), but only if the share price increases from the threshold (initially $10 and adjusted each year to be at-least the threshold in the previous year). Overall, the incentive structure aligns the sponsor economics to shareholder interest.

Source: Excerpt from Deal Prospectus Ex-2.1.
CBRE Acquisition has committed to backstopping redemptions up to $150M. The $275M PIPE along with the $150M backstop all but guarantees that the deal will close, as those add up to the $425M minimum-cash-condition. Management is rolling 100% of equity. Also, Blackstone who started with a $125M investment in a funding round in 2014 is rolling their equity and are also investing in the PIPE at $10 per share.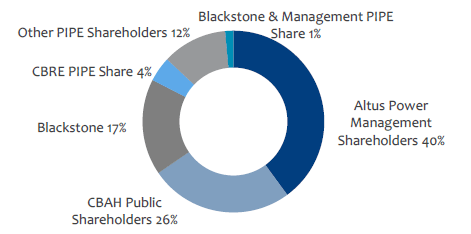 Source: Investor Presentation (Page 33).
Blackstone will control ~17% of the business, once the transaction closes. CBRE will have no stake to start out but it could go to ~10% of the business, if the $150M backstop comes into play and the promote is maximized based on the SAIL performance structure over the following seven years after transaction close. All told, over a quarter of the business could be controlled by CBRE and Blackstone (BX). This is pretty important as CBRE Group (NYSE:CBRE), an affiliate of the sponsor and Blackstone are projected to source sizable portions of Altus Power's growth in the coming years.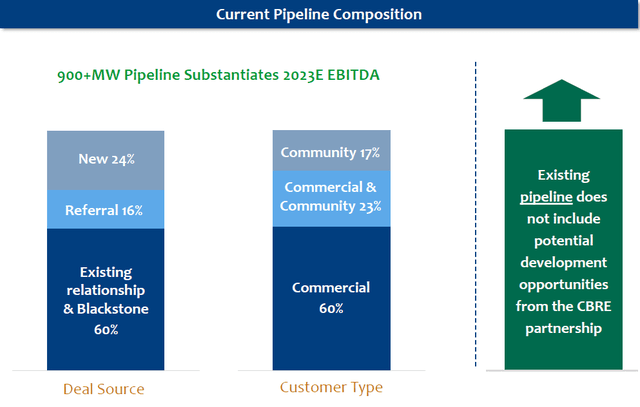 Source: Investor Presentation (Page 42).
As the largest global real estate services company, CBRE manages ~7B square feet of Commercial & Industrial space. They also have a 100 person energy optimization team who use market intelligence data from their proprietary AI & ML platform to identify optimal properties thereby helping clients achieve their ESG goals. There is no doubt that the energy transition solutions offered by Altus Power would fit perfectly into this scheme of things. CBRE should be able to supply sites from the vast Commercial & Industrial space they manage for hosting Altus Power's onsite distributed generation product. Their "land and expand" growth strategy would then allow increasing revenue per customer over time, as customers adopt more products in their vertically integrated energy transition ecosystem (energy storage, EV Charging, etc.).

Source: Investor Presentation (Page 16).
Summary
This analysis of the CBRE / Altus Power deal structure identifies how the incentives are perfectly aligned to make it an optimal SPAC transaction:
CBRE Acquisition's SAIL structure guarantees that the promote is earned annually only if the business is performing well and the stock price appreciates each year. This incentivizes CBRE to help source Altus Power's distributed solar projects.
Blackstone started investing in Altus Power from 2014. Given that they are rolling 100% of their equity and their participation in the PIPE, they are incentivized to support Altus Power's growth, going forward. Their board representation and leading the credit facility for Altus Power's distributed solar projects further validates this.
Although one could quibble over whether the valuation at ~$1.6B EV for a business that had just $45M in revenue but is profitable and projected to grow at a 66% CAGR over the next five years is reasonable, there is no doubt about alignment of interests. As such, IPO investors should feel comfortable committing capital through deal close and beyond. One distinct aspect of the CBRE SPAC that is helpful to warrant holders is the lower strike price compared to traditional SPACs – the strike price is $11 per share compared to $11.50 for all other SPACs.