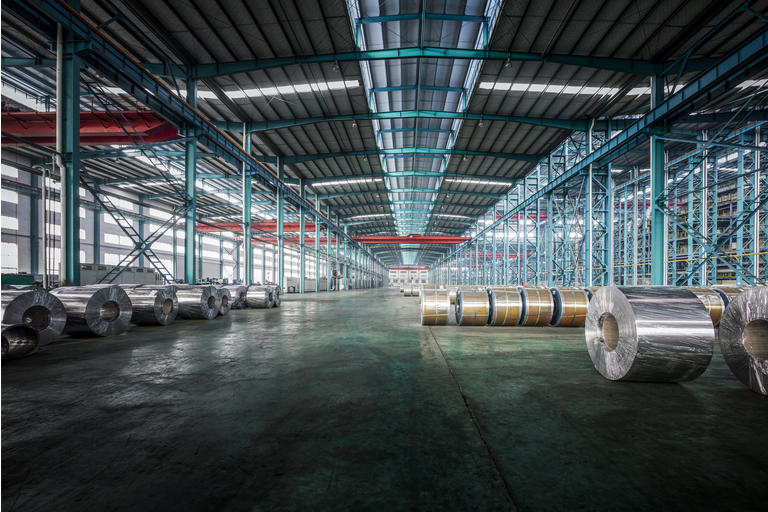 When I focus on a specific sector, I first look at the macroeconomic backdrop to determine if the sector is expanding or contracting. I then look at the charts to determine if this is an appropriate time to short (if the sector is contracting) or go long (if the sector is expanding).
Graphs that are shaded in blue and have the word FRED in the upper left-hand corner are from the St. Louis Federal Reserve's FRED economic data system.
All stock graphs are from the Stockcharts.com website. They are labeled by stockharts.com in the upper right-hand corner.
The Institute for Supply Management®, PMI®, ISM®, and Report on Business® are all registered trademarks of Institute for Supply Management®. The author has permission on file to use the current month's report in his articles.
Investment thesis: while the economic backdrop is strong, the XLI has gotten a bit ahead of itself. If you have a position, keep it. But don't add to it just yet.
Macroeconomic situation.
The overall situation is very bullish:
"Manufacturing performed well for the 13th straight month, with demand, consumption and inputs registering growth compared to May.

.....

"All of the six biggest manufacturing industries — Computer & Electronic Products; Chemical Products; Fabricated Metal Products; Transportation Equipment; Food, Beverage & Tobacco Products; and Petroleum & Coal Products, in that order — registered moderate to strong growth in June.
The accompanying table is from the latest month's report:

The Institute for Supply Management®'s PMI® is calibrated to so that 50 is the dividing line between expansion and contraction. Readings above 60 are especially strong. Oddly, employment is barely positive, which indicates that this sector is having difficulty with human resources. HR isn't the only area providing challenges:
Fiore continues, "Business Survey Committee panelists reported that their companies and suppliers continue to struggle to meet increasing levels of demand. Record-long raw-material lead times, wide-scale shortages of critical basic materials, rising commodities prices and difficulties in transporting products are continuing to affect all segments of the manufacturing economy. Worker absenteeism, short-term shutdowns due to parts shortages, and difficulties in filling open positions continue to be issues that limit manufacturing-growth potential.
These problems have been widely reported in the financial press.
A similar report issued by Markit Economics (which also provides global PMIs) describes the exact same situation -- a strong expansion plagued by supply problems:
June saw surging demand drive another sharp rise in manufacturing output, with both new orders and production growing at some of the fastest rates recorded since the survey began in 2007.

"The strength of the upturn continued to be impeded by capacity constraints and shortages of both materials and labor, however, meaning concerns over prices have continued to build.

"Supplier delivery times lengthened to the greatest extent yet recorded as suppliers struggled to keep pace with demand and transport delays hindered the availability of inputs. Factories were increasingly prepared, or forced, to pay more to secure sufficient supplies of key raw materials, resulting in the largest jump in costs yet recorded.
Other, publicly available data provide additional color. Durable goods orders rose in the latest report:
New orders for manufactured goods in May, up twelve of the last thirteen months, increased $8.1 billion or 1.7 percent to $495.5 billion, the U.S. Census Bureau reported today. This followed a 0.1 percent April decrease.
This marks a continuation of a near year-long expansion:

Total durable goods orders (left) dropped sharply last Spring due to COVID restrictions. But the data has expanded smartly since and is now near a 5-year high. Durable goods ex-transportation (right) show a similar pattern.
As a result, industrial production has rebounded as well. On Thursday, the Federal Reserve released the least report:
Industrial production increased 0.4 percent in June after moving up 0.7 percent in May. In June, manufacturing output edged down 0.1 percent, as an ongoing shortage of semiconductors contributed to a decrease of 6.6 percent in the production of motor vehicles and parts. Excluding motor vehicles and parts, factory output increased 0.4 percent. The output of utilities advanced 2.7 percent, reflecting heightened demand for air conditioning, as much of the country experienced a heat wave in June. The index for mining increased 1.4 percent.
This data has also rebounded strongly:

Total industrial production (left) dropped sharply last Spring but has since regained most of its losses. The same is true of capacity utilization (right).
Economic conclusion: the industrial sector is at its strongest level in over a decade. After last Spring's lockdowns, the industry has come roaring back. In fact, it is now suffering from the inability to deliver on surging demand, which bodes well for the future.
Whenever I look at a sector-specific ETF, I first compare its performance to 10 other sectors that collectively represent the US economy. Those sectors are the XLB, XLC, XLE, XLF, XLK, XLP, XLU, XLV, XLY, and VNQ.
| | | | | | |
| --- | --- | --- | --- | --- | --- |
| | Week | Month | 3-Months | 6-Months | 1-Year |
| XLI's Relative Performance | 7th | 8th | 7th | 5th | 2nd |
The NYSEARCA:XLI has been strong during the last year but has since fallen.
Three charts are relevant for this analysis:
XLI with only the following EMAs: 10-day (in blue), 20-day (in red), 50-day (in green), 200-day (in magenta). From Stockcharts.com
The analytical benefit of looking exclusively at the EMAs is they strip out the daily noise of price bars. We can also think about the EMAs as price movement averages of short (10-day and 20-day), intermediate (50-day), and long-term (200-day) duration.
While the longer-term trend is still intact (the 200-day EMA in magenta is still rising), the shorter EMAs (the 10 and 20-day EMAs in blue and red, respectively) are now moving sideways. In addition, the intermediate trend (the 50-day EMA in green) is barely moving higher.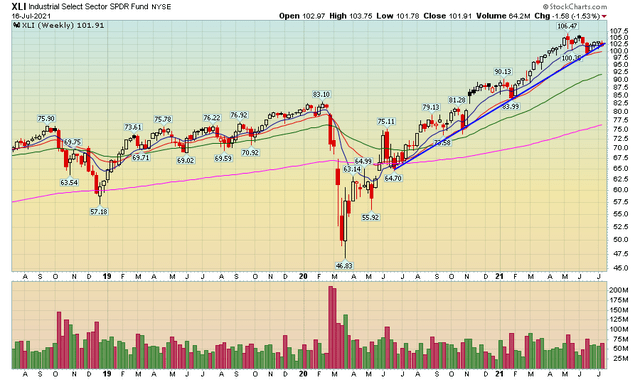 XLI Weekly Chart
The weekly chart shows that prices are still in a clear uptrend. But prices are right at support.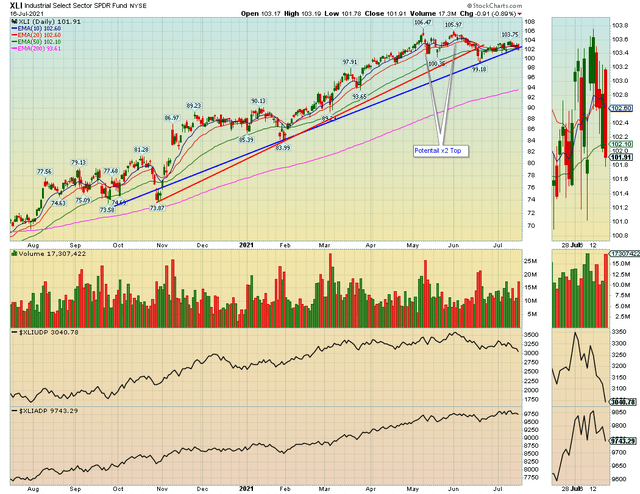 XLI yearly chart with the cumulative up/down volume (middle panel) and advance/decline line (bottom panel).
Out of a sense of completeness, I've added the trend line in red that incorporates the price dip in late October. However, I think the real trend line is the blue line. There is also a potential double-top that was printed in May. I use the adjective potential because the dip between the tops is small. Also, note the decline in the up/down volume that started at the beginning of June (middle panel).
The XLI was a key part of the reflation trade that dominated in the Spring. But it has since fallen a bit as traders have taken some gains off the table. If you hold this ETF, keep it. But don't add to your position right now.