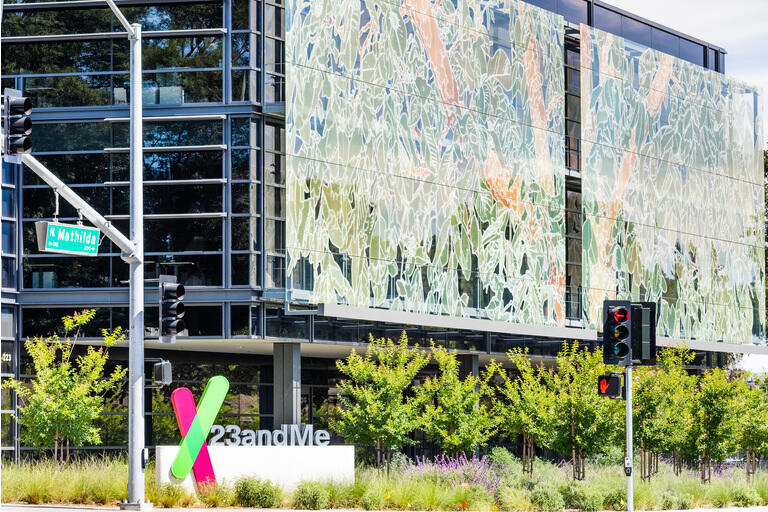 Introduction: What is

23andMe?
23andMe Holding Co. (NASDAQ: NASDAQ:ME) is the leading direct-to-consumer genetic testing company operating across two segments, Consumer & Research Services, and more recently Therapeutics. Following the Feb. 2021 reverse merger with the VGAC SPAC, 23andMe reached the public and is now investable.
Founded in 2006, 23andMe has since grown to a market cap of $4.21B with TTM revenues of ~$244M and a net loss of -$183.6M. For some time now, 23andMe has been touting its massive 11.3M genotyped customer database, but it has finally come to fruition. 23andMe has established a promising new GSK partnership for their 40+ therapeutic program pipeline (2 clinical-stage) across several new initiatives for rebuilding profit-oriented personal genome services growth. Together, 23andMe's management has outlined an expected 18% revenue CAGR until 2024 and a push towards profitability making 23andMe poised to be the next big investment. The following report will aim to concisely present 23andMe's operations to date and expectations for the future. It will present a largely bullish stance following the SPAC completion (with its dilution effects) and will elaborate financially on why 23andMe still holds strong upside potential.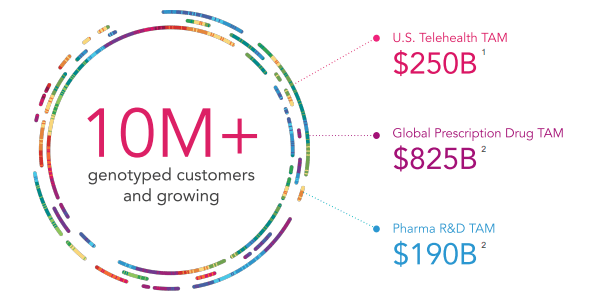 Graphics Source: Addressable Markets | 23andMe Holding Co. (2021)
Products/Pipeline
23andMe's products are broken into two segments, Consumer & Research Services (incl. Personal Genome Services - PGS) and Therapeutics. Both offer unique advantages and the synergies between the two business lines offer investors a potentially outsized upside over the coming 1-3 years.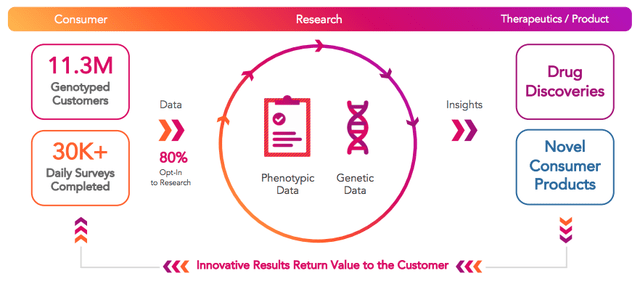 Graphics Source: 23andMe Holding Co. (2021)
23andMe's Personal Genome Services | Consumer & Research Services
The PGS business line offers a suite of genetic reports covering ancestry, genetic health risks, carrier status, and medication responses and represents largely all of the revenues to date. 23andMe's goal is to serve customers looking to make informed medical decisions and does so through their FDA-approved health-product lines. The health products are priced at a premium when compared to ancestry reports. 23andMe offers frequent updates to their genetic health/ancestry reports alongside frequent new product features and insights driven by a massive 66% of TTM revenue R&D spend. In Oct. 2020, 23andMe launched the subscription option for extended health insights which should strengthen recurring revenues.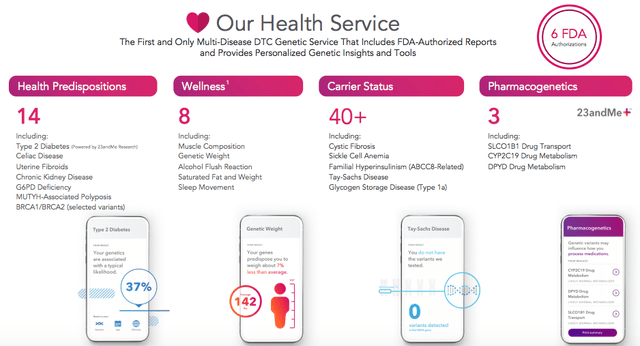 Graphics Source: 23andMe Holding Co. (2021)
23andMe as a company also benefits largely from the genetic and phenotypic data collected from their customers, boasting an 80%+ acceptance rate for participation in internal research programs. The Consumer & Research Services segment represents substantially all of 23andMe's revenues to date and is expected to remain as such until such drug candidates from the Therapeutics segment reach commercialization.
23andMe's Therapeutics Segment
In 23andMe's second business segment, Therapeutics, the company aims to revolutionize drug development and personalized medicine by developing novel therapies from their massive genetic insights/customer database. 23andMe aims to generate revenues largely from out-licensing IP for identified drug targets and expenses for clinical development. To date, 23andMe has over 40 programs covering Immuno-oncology, Cardiovascular/Metabolic Disorders, Immunology, Neurology, Gynecology, and Infectious Diseases.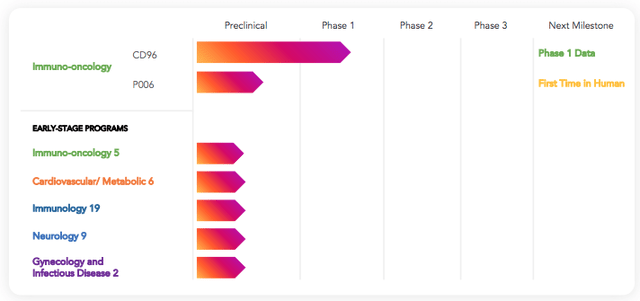 Graphics Source: 23andMe Holding Co. (2021)
Aiding this promising therapeutics business is the GlaxoSmithKline (GSK) partnership signed in 2H 2018. It is an exclusive collaboration agreement to "leverage" 23andMe's genetic insights to validate, develop and commercialize new drugs. It came with a $300M equity investment and $127M research services revenue, and $25M in cash for 4 years. The collaboration agreement spans multiple years and expects to cover novel drug target validation, rapid clinical trial progress (on a 50-50 cost splitting basis), and bring useful drugs to market. This is still a minuscule segment compared to Consumer & Research Services but is expected to provide substantial upside.
The lead program is GSK'608, an anti-CD96 immuno-oncology therapeutic selected by 23andMe and developed in partnership with GSK. It's currently in a Phase 1 multi-ascending dose trial for advanced solid tumors with the first patient already dosed. It can be monitored from GSK's side.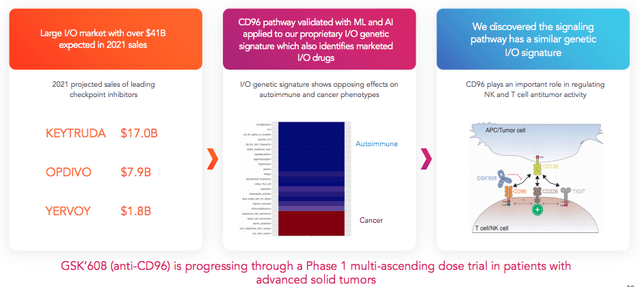 Graphics Source: 23andMe Holding Co. (2021)
The second lead program is P006, a potent pathway discovered which can block tumor suppression of T cells and can activate immune responses. It is advancing to clinical trials by the end of FY2022.
The genetic insights that 23andMe have compiled seem to hold promise, but these first trials (GSK'608 and P006) will need to be monitored. If initial success is seen, 23andMe's upside story may be likely several times higher than expected.
For more information on updates regarding the science and priorities of the therapeutic / product line, please see the most recent Investor Presentation (May 2021) by 23andMe for product-related insights or the SPAC Investor Presentation for financial figures.
Management
23andMe is being led by CEO and Co-Founder Anne Wojcicki. She's held this position since its inception in 2006. Anne has successfully navigated the many hurdles of direct-to-consumer testing, including successfully reaching FDA approvals across its product lines and establishing the promising Therapeutics arm. There is no doubt that she is a strong CEO and her ambitious plans for the company should reward investors both in the near term and long term. Before 23andMe, Anne spent 7 years as a healthcare investment analyst working for various companies including Investor AB and Passport Capital amongst others. She was also the former wife to Sergey Brin, the billionaire co-founder of Google (GOOG) (GOOGL). Anne graduated from Yale with a BS in Biology.
Financial position
23andMe Holding Co. is in a strong financial position for a still-loss-making company as of March 31, 2021, with $283M in cash and a -$78M TTM cash burn equating to ~3.5 years of funding. This doesn't account for the SPAC merger + PIPE investment which will net an additional +$696M in cash. Revenue as of the fiscal year ended March 2021 reached ~$244m with a net loss of -$184M. Investors should note that 23andMe's revenues are highly seasonal with a large portion of revenues earned in Q4 and less-so but still strongly in Q1.
Growth has decreased in recent years, dropping -20% in 2021 causing investors to question the long-term potential of 23andMe. This isn't a cause for concern. This was the result of 23andMe's decision to reduce advertising and brand-related expenditures alongside a reduction in marketing spending and discounting to reduce bottom-line losses. This reduced marketing expenditure is most likely not expected to continue as growth substantially declined and new SPAC+PIPE funding should strengthen the cash position. Together, 23andMe is expected to increase spending to drive kit sales and subscription revenue. Management expects kit sales to grow from 1.5M in FY2021 to 2.5M by 2024. Subscribers are also expected to grow from 0.1M in FY2021 to 2.9M by 2024. It certainly highlights some growth risk, but it seems 23andMe is resuming growth-oriented measures. The GSK/Almirall collaborations also helped to offset the marketing-related growth decrease with its +$18.5M y/y revenue increase.
Analysts seem to agree that growth will pick up with an expected CAGR until March 2024 of 13%. This is still quite sizable for a young company and entails sales reaching ~$348M by March 2024. Net losses are expected to continue, especially when R&D expenses equate to 66% of revenues (March 2021). Cash flow is still negative, but management has outlined some promising growth and profitability-oriented plans.
Management Guidance for
23andMe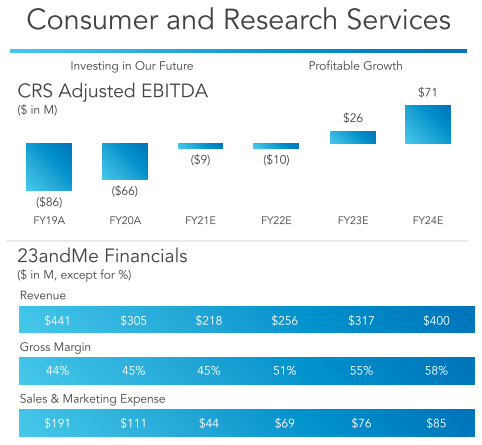 Graphics Source: 23andMe Holding Co. (2021)
Firstly, it can be seen that management expects strong revenue growth reaching $400M by March 2024 with an expected 18% CAGR. This is driven by an expected increase in annual kit sales and cumulative subscribers.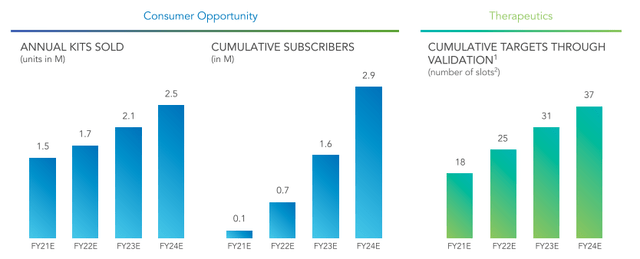 Graphics Source: 23andMe Holding Co. (2021)
23andMe's management also aims to ensure more profitable operations in the coming years, gradually improving margins and restructuring their business lines, aided by subscription revenues, a drastically reduced customer-acquisition-cost and a focus on high margin products (e.g. health products which average ~2x the price as ancestry products).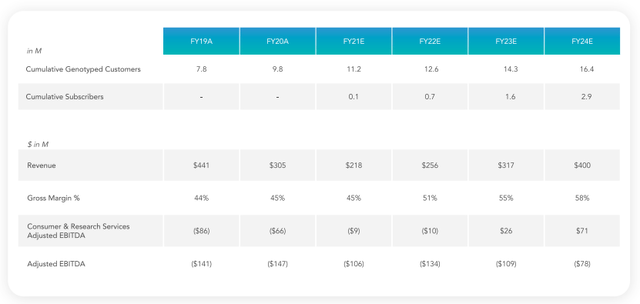 Graphics Source: 23andMe Holding Co. (2021)
Risk discussion
There is plenty of risks associated with D2C companies and particularly heightened when medical approvals are required. As was seen in FY 2020, revenues can deteriorate quickly if inadequate funds are supplied to marketing-related measures. The new funding from the SPAC merger should enable strong growth for the foreseeable future and stable operating financials. 23andMe may be a strong brand in the market, but there is also no guarantee this position will remain with Blackstone (BX) owning a strong competitor, Ancestry®. It is likely that within personal genome services and insights 23andMe will remain the leading enterprise, but the Therapeutics segment is still under question. Volatility will certainly rise as the Therapeutics segment progresses through clinical trials. On a positive note, dilution risk has lessened following the SPAC merger, which has provided ample resources for future development.
Price target and valuation
As 23andMe Holding Co. is new to the public markets, it doesn't have a large analyst following yet. What can be gleaned from the one analyst following is that there is a "bullish" recommendation with a price target of $14 (+42% upside).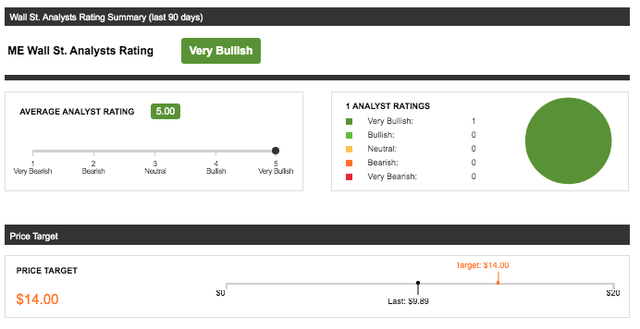 Graphic Source: Seeking Alpha, Inc: Wall St. Analysts Rating
In terms of author-derived valuation, 23andMe Holding Co. operates with only a few major competitors and those in PGS remain private. This came following Blackstone's acquisition of Ancestry in 2020 for $4.7B. Limited peers and data make it difficult to gauge a fair value on the stock, particularly in the multiples approach for a net loss-making company. Current company multiples do provide some insights and are seen as 18.3x on an FWD price to sales basis, slightly below what is expected for core drug-developing biotechnology companies, but above the industry average at 7.39x. The valuation below utilizes current multiples paid for revenues of 23andMe, a still-largely PGS company. Additionally, revenue forecasts incorporate both management and analyst guidance alongside current shares outstanding, even though float may be different.

Table Source: Self Created | Financial Data Source: Seeking Alpha
The result is that in year 1 (2021-2022) multiples are standardized to current valuation and are rendered less insightful. Moving forward, it can be seen sales growth up to $317M (management guidance) by 2023-2024 providing up to 44% price action upside at a price target of ~$14.3/share. This aligns quite well with analyst price expectations of $14, developed uniquely of each other using management guidance as the base case.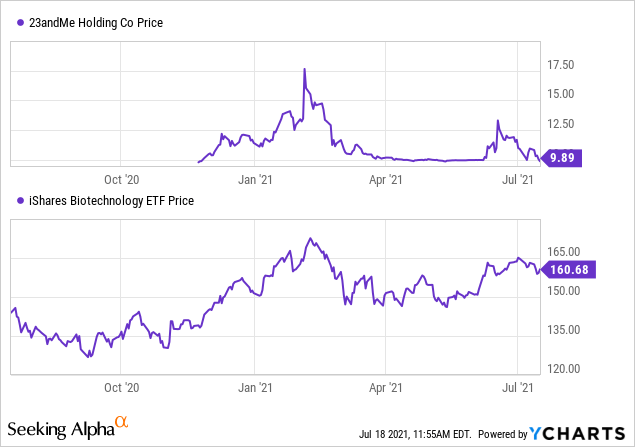 Conclusion / Investment thesis
To summarize, 23andMe offers investors a strong exposure to personal genetic services and 23andMe's massive genetic/phenotypic database with positive upside expectations. 23andMe's leadership is well-connected and presents ambitious developmental targets that should bring further upside. In the near term, 23andMe's value remains in PGS growth, but in the medium term, the therapeutic business line may prove strongly value-inducing, as was GSK's opinion when initiating its $300M equity position. 23andMe's genetic-derived pipeline is yet to be proven, but scientifically speaking, it should produce shorter time-to-trial and improved results not only for FDA approval but for personalized use-cases. 23andMe has very strong chances of redefining therapeutic failures with improved biomarker-driven design across various indications. Much has yet to be disclosed, but there is potential here with 23andMe. In the author's point of view, 23andMe is one of the most promising companies to invest in for the year 2021.
In summary, the author projects 23andMe Holding Co. as a "buy" at a 2-3 year price target of $14.3/share (+44% upside).