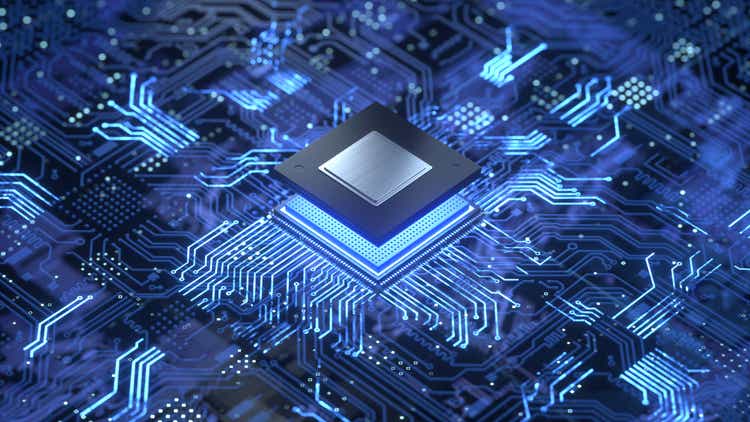 Current State of China Memory Semiconductor Industry
China has been making strides to decrease its dependence on foreign companies who make semiconductors. According to our report entitled "Mainland China's Semiconductor and Equipment Markets: Analysis and Manufacturing Trends," China imported 155.27 billion integrated circuits in the first quarter of 2021, a year-on-year increase of 33.6%. The value of imports was US$93.6 billion, a year-on-year increase of 29.9%. The export of integrated circuits was 73.7 billion pieces, a year-on-year increase of 42.7%. The export value was US$31.46 billion, a year-on-year increase of 31.7%.
Currently, there are two memory Chinese companies: Yangtze Memory Technologies (YMTC), manufacturing 3D NAND and ChangXin Memory Technologies (CXMT) (formerly Innotron Memory) manufacturing DRAMs. There used to be a third, Fujian Jinhua Integrated Circuit Co. (JHICC), but the U.S. Department of Commerce on Oct. 30, 2018 put Fujian on a list of entities that cannot purchase components, software and technology goods from U.S. firms to manufacture DRAMs.
Table 1 shows capacity of NAND suppliers in wafers per month between 2019 and 2022. According to a June 25, 2021, article in DigiTimes, YMTC is struggling to hit its planned production goals for its all-new 128-layer 3D NAND. The company originally planned to reach a monthly production rate of 100,000 wafers by the end of 2021. However, due to the low 70% yield rates for its 128-layer NAND, the company reportedly doesn't expect to hit its production targets until 2022.
YMTC's share of the NAND market increased from just 0.9% of wafers in 2019 to 1.6% in 2020, and I forecast it to reach 5.7% in 2022.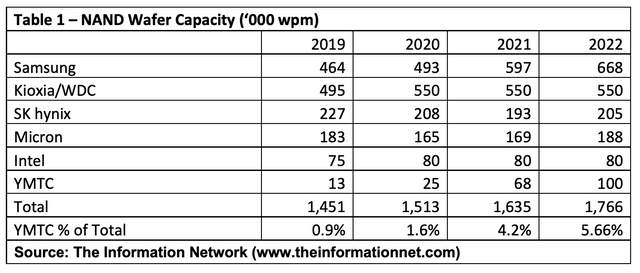 State-backed Tsinghua Unigroup - the parent company of many chipmakers, including YMTC - said it had received a notice from the First Intermediate People's Court of Beijing Municipality. A creditor has requested the court to support the bankruptcy protection for the conglomerate, saying the group has failed to repay debt. Defaults at that time amounted to $3.6 billion for several onshore and offshore bonds. According to analysts, assets of barely $8 billion are surmounted by $30 billion in debt.
House Foreign Affairs Committee lead Republican, Michael McCaul, and Republican Senator, Bill Hagerty, wrote a letter to Commerce Secretary, Gina Raimondo, asking that YMTC be blacklisted.
Equipment Market to Memory Companies in China
Chart 1 shows the estimated amount of equipment purchased by YMTC and CXMT by quarter between Q1 2019 and Q4 2020. According to a May 13, 2021, Forbes article entitled "Commerce Allows Sales To Memory Chip Maker YMTC Despite Ties To Chinese Military:"
"Dominance in the semiconductor market is a key objective of the Chinese Communist Party's "Made in China 2025" plan, which seeks to satisfy 70 percent of the country's demand for chips domestically within the next five years. To achieve that goal, the Chinese government has used state-owned companies to pilfer sensitive U.S.-made "dual-use" technologies, which have both civilian and military applications."
However, with the possible demise of the memory market in China, which includes YMTC and CXMT brought about by U.S. sanctions and/or cuts in investment by YMTC parent Tsinghua, equipment purchases could be halted.
One possible clue is a pull-in of equipment purchases by YMTC in anticipation of problems, just like we saw by SMIC (OTCQX:SMICY) prior to U.S. sanctions in 2020. Data in Chart 1 shows a sharp increase in equipment purchases by YMTC (data for CXMT is not available at this time). Equipment purchases tripled in Q1 2021 compared to Q4 2020.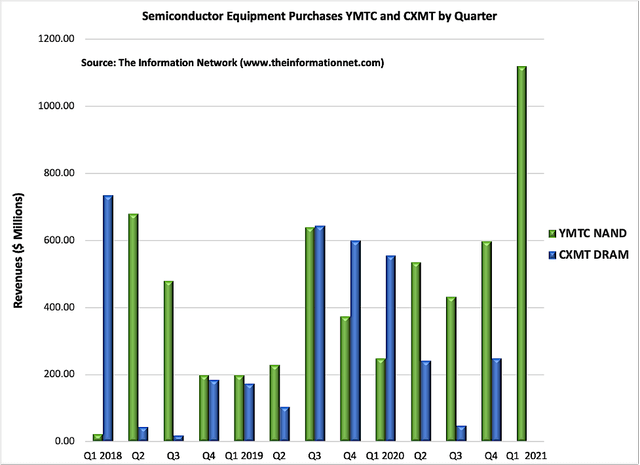 Chart 1
Chart 2 shows share of equipment purchases to YMTC in CY2020. Lam Research (NASDAQ:LRCX) had the greatest exposure of equipment sales to YMTC in 2020, representing 22.8% of the $1.8 billion in sales. Applied Materials (NASDAQ:AMAT) was second with a 18.0% share of sales to YMTC.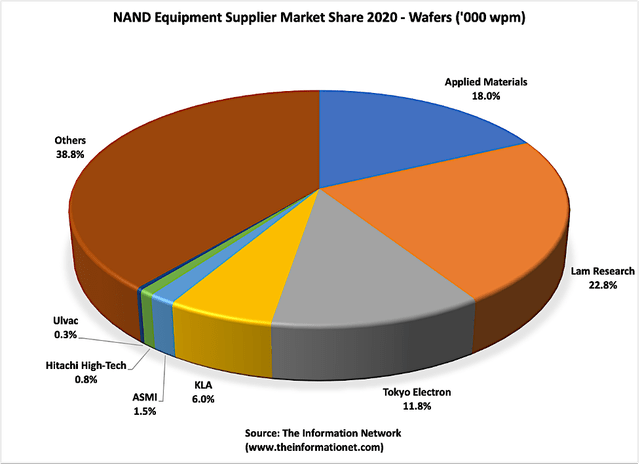 Chart 2
Investor Takeaway
Global NAND revenues will show little impact, because if there are cuts in YMTC output, its customers would be absorbed by the other NAND suppliers.
While the blacklisting/bankruptcy of YMTC is a tailwind for NAND suppliers Micron Technology (MU), Western Digital (WDC) and peers, it also will impact equipment manufacturers including Applied Materials, Lam Research, and peers, according to our report entitled "Global Semiconductor Equipment: Markets, Market Shares, Market Forecasts."
Shown in Table 2 are revenues from Global NAND equipment sales for AMAT, LRCX, Tokyo Electron (OTCPK:TOELY), KLA (KLAC), ASM International (OTCQX:ASMIY), Hitachi High-Tech (OTC:HICTF), and ULVAC (OTC:ULVAF) between 2019 and 2025.
Equipment revenues in 2020 for these three equipment companies, which totals $9.4 billion, represented about 60% of the total WFE (wafer front end) equipment revenues to all equipment suppliers. LRCX has the largest exposure to NAND, followed by AMAT and then TOELY.

In Table 3, what I present are YMTC equipment revenues based on my estimates for actual 2019-2020 revenues and a possible blacklisting/bankruptcy that will impact YMTC in 2022.
This means a halt to equipment purchases to YMTC, in a similar way that equipment sales were halted to China's Fujian because of U.S. sanctions, which I discuss in a Nov. 6, 2018, Seeking Alpha article entitled "U.S. Restricts Exports Of Some Chip Production Equipment To China - Impact On Memory And Equipment Suppliers."
Thus, Table 3 shows lost revenues to these three companies in the period 2022-2025, which totals $6.1 billion, as well as approximately an equal amount to other equipment suppliers. Since semiconductor equipment sales reached $75 billion in 2020 alone, these lost equipment revenues from the demise of YMTC are small.

This article is based on two uncertainties – (1) whether a bankruptcy and possible restructuring of Tsinghua will restrict investment in YMTC, particularly a new fab, and (2) whether YMTC will be placed on the restrictive list.
The latter will have a significantly greater impact, as the company would need equipment to make chips. It also depends on the nature of any sanctions -restriction of any equipment from outside China or restriction of <10nm equipment as is the case for SMIC.