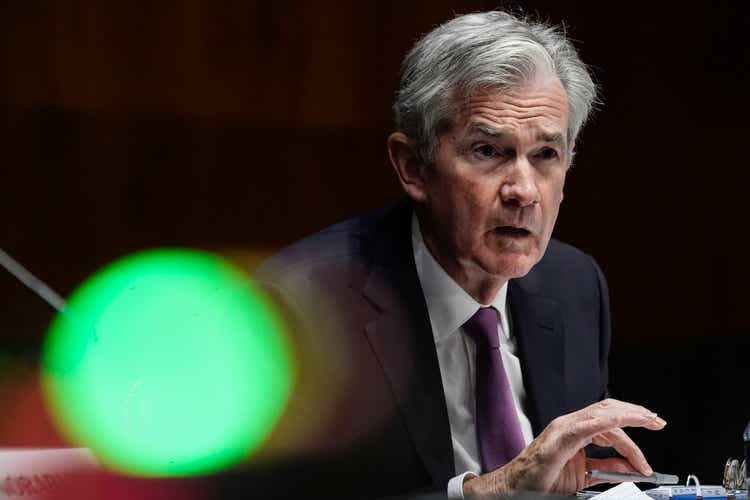 Co-produced with Beyond Saving
Agency MBS is a source of great opportunity that we have highlighted several times over the past year. Some have been asking about the impact of inflation on these mREITs. These investments are not directly impacted by inflation as they do not carry any credit risk and what's happening in the housing market does not have a direct impact. However, these mREITs are impacted by interest rate movements.
Our outlook is that the interest rate curve is likely to steepen as the Federal Reserve maintains strict control on the short-term rates and long-term rates rise with inflation. This makes agency mREITs a fantastic opportunity. We recommend sticking with the highest quality management with AGNC and NLY.
The Fed Is Ignoring Inflation: Get 9% Yield From Their Mistake
For about two years, we have been talking about "agency" mortgage REITs. These mREITs are a source of high yields and are in a sector that many do not fully understand. AGNC Investment Corp. (NASDAQ:AGNC) yields 8.9%, and Annaly Capital Management (NYSE:NLY) yields 10.4%.
The Federal Reserve is asleep at the wheel, ignoring the risks of inflation and choosing to keep its target rate near zero. As a result, inflation is going to run hot, and as investors, it's on us to figure out how to benefit from that. Agency mREITs are not directly impacted by inflation, but they are impacted by changes in interest rates.
The Federal Reserve holding the line at zero, even as inflation picks up, is a gift for agency mREITs. They will benefit from being able to borrow at near-zero rates while the yield they receive from their investments will go up with the long end of the interest rate curve.
Investors can take advantage of the Fed's actions, or lack of action, while collecting a healthy yield by investing in agency mREITs.
What Are "Agency" mREITs?
These are mREITs that invest primarily in MBS (mortgage-backed securities) with a principal guarantee from a government-sponsored enterprise like Fannie Mae or Freddie Mac.
The agencies guarantee the principal of the mortgages. If a borrower defaults, the agency buys back whatever principal remains on the mortgage at full price. Therefore, there's minimal "credit risk" for investors in agency MBS. In other words, the investor does not need to worry about whether or not the borrowers can pay their mortgage, what their credit scores are, what the value of the collateral is, and other typical metrics we would use to estimate the risk of default. Whether the borrower pays their mortgage or not is irrelevant, MBS investors will receive 100% of the par value.
Of course, to make profits requires taking on some risk. So what kind of risk do these mREITs profit from? Rate risk. That is, agency mREITs take a very low-risk investment, and they "leverage up," using borrowed funds to improve their return on equity. Agency mREITs profit from the difference between the interest rate they pay to borrow and the interest they receive from their assets.
Agency mREITs borrow short-term debt and hold long-term assets. They are profiting from the difference between 30-90 day yields and 10-year yields.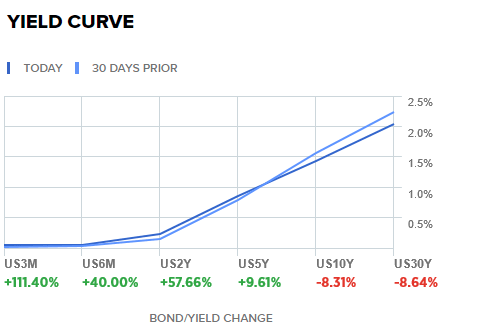 Source: CNBC
By understanding the interest rate curve, we can understand why agency mREITs are so strong right now and why conditions will get even better, with inflation likely to push the long end of the curve higher.
The Spread
The "net interest spread" is the difference between the effective yield an mREIT receives and the amount they pay in interest or their "cost of funds." The larger their net interest spread is, the more they're earning.
Here's a look at AGNC's net interest spread over the past two years: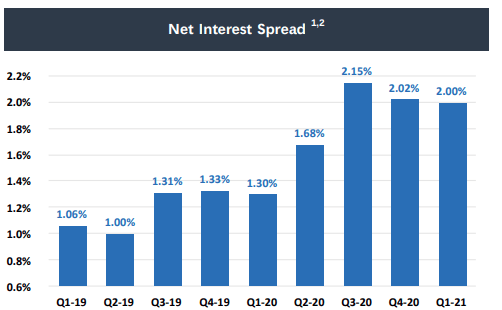 Source: AGNC Q1 Supplement
In 2020, AGNC's net interest spread nearly doubled. This has driven their income higher.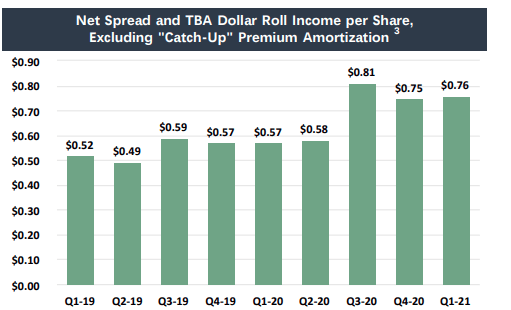 Source: AGNC Q1 Supplement
AGNC has gone from barely covering their dividend to having a substantial excess and on target for a dividend raise before the end of the year. The primary driver of this trend has been their low cost of funds.
Cost of Funds
The cost of funds is AGNC's average interest expense, including the positive or negative impact of hedging.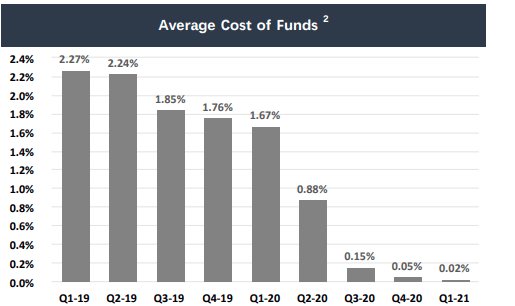 Source: AGNC Q1 Supplement
As you can see, AGNC's cost of funds fell off a cliff, from 2.27% two years ago to 0.02% last quarter. In Q1 2019, AGNC's interest expense was $541 million. In Q1 2021, AGNC's interest expense was $29 million.
This decline is directly due to the Federal Reserve's "target rate," which is currently set at 0-0.25%. Agency mREITs can continue to enjoy this very low cost of funds as long as the Federal Reserve keeps its target rate at zero. At their most recent meeting, the Federal Reserve reaffirmed that increases in this rate are not expected until 2023. This means that agency mREITs can expect these conditions to continue for the next two years.
MBS Yields
While beneficial for their cost of funds, low-interest rates also impact the yields they receive. AGNC has seen yields decline from 3.33% to 2.02%: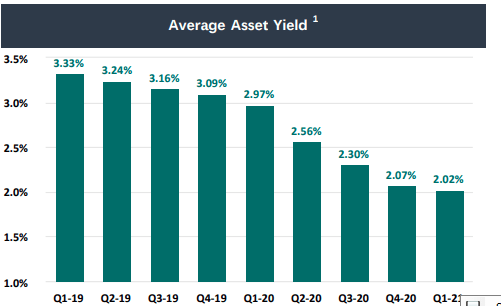 Source: AGNC Q1 Supplement
These yields usually correlate with 10-year Treasury yields. When the 10-year Treasury yields come down, MBS yields come down. When 10-year Treasury yields go up, MBS yields go up.
We have been discussing the likelihood of inflation running above the Federal Reserve's expectations. One expected impact from inflation is that long-term interest rates will rise as investors require a higher yield to be willing to hold an asset that doesn't mature for 10 years. MBS yields can be expected to rise as well.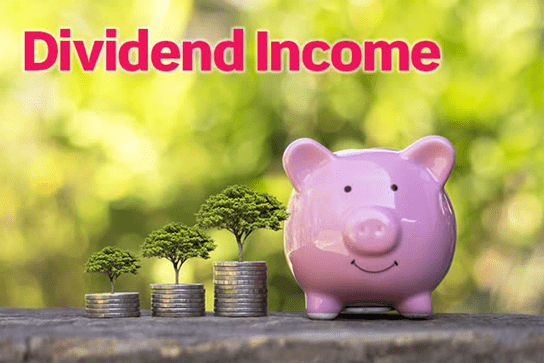 Source: Dreamstime
Book Value Vs. Rising Yields
Agency mREITs recently sold off after AGNC reported that their book value declined in May. As we noted above, yields can be expected to rise with inflation, and MBS yields have been going up.
Rising yields mean that the value of the existing MBS goes down. This is a headwind to book value for agency mREITs. A common hedge to protect book value is to hold a short position on U.S. Treasuries. As noted above, agency MBS correlates with 10-year Treasury rates.
The key thing that investors should understand is that "correlation" does not mean that the prices move in lock-step. It means that they generally go in the same direction most of the time. Sometimes they don't. Especially over short periods. AGNC's book value declined in May because Treasury prices were flat while MBS prices declined.
Some investors like to trade agency mREITs based on book value. They are actively jumping in and out as book value changes month to month. We don't. We're investing for the income, and the cost of agency MBS coming down is essential to growing income further.
With the cost of funds already near zero, it's unlikely to go lower. This means that net interest spread can only improve by the yield on MBS going up. By definition, this means that the value of already held MBS will go down. Hedging positions will offset those declines, but there will be periods where Treasury rates rise slower than MBS rates, causing book value to decline.
This impact will be temporary as lower MBS prices will result in higher income, and Treasuries will eventually climb as well. It's also worth noting that AGNC has significantly reduced its leverage.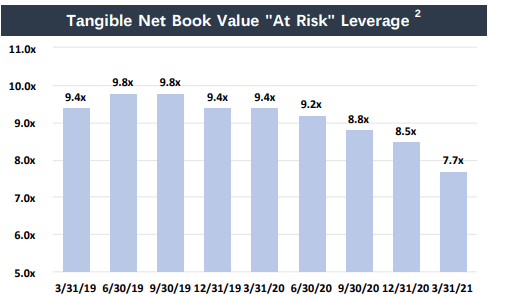 Source: AGNC Q1 Supplement
AGNC has quality management that recognizes the inevitability of MBS prices coming down. AGNC is building up cash and reducing leverage, waiting for an opportunity to buy at lower prices and higher yields. The rising income will offset a little turmoil in their book value.
When The Fed Raises
Agency mREITs will remain strong as their cost of funds remains very low, while the yields they receive from MBS rise. What happens if the Federal Reserve surprises with an early rate increase?
One feature that is very different today than we saw in the last cycle is that interest rate swaps are available at much lower rates. These swaps lock in low-interest rates. AGNC has nearly $50 billion covered by swaps with an average pay rate of 0.18% and matures in an average of 4.7 years.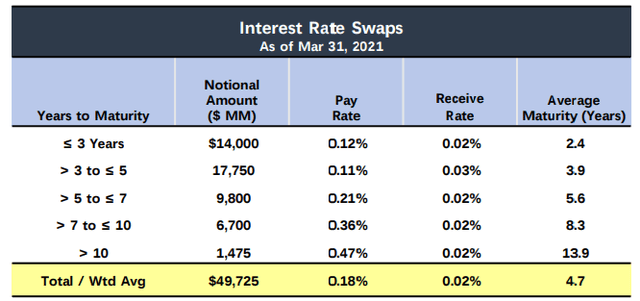 Source: AGNC Q1 Supplement
NLY has just under $40 billion covered by swaps with a pay rate of 0.8% and matures in an average of 3.28 years. We expect that in the coming months NLY will be increasing its swap positions to take advantage of the current prices.

Source: NLY Q1 Supplement
In other words, if the Fed increased rates to 1% tomorrow, AGNC would still be paying an average of 0.18% on $49.725 billion in debt and NLY would be paying 0.8% on $39.816 billion in debt. Those low rates would be maintained for several years. This provides a long runway for AGNC to adapt to changing conditions.
Conclusion
Understanding agency mREITs is all about understanding how changes in Treasury yields impact them. These mREITs thrive when long-term rates are high relative to short-term rates. These are precisely the conditions we expect to persist over the next few years.
The Federal Reserve has clearly telegraphed that they will allow inflation to run hot and that they do not intend to raise the target rate until 2023. This will ensure that the cost of funds remains very low. Meanwhile, we can expect longer-term rates to climb as inflationary pressures build.
AGNC and NLY are both well-positioned to "average down" as MBS prices drop and to grow their income even more. Income investors can take advantage of the dips that are caused when traders chase book value, confident in the knowledge that the dividend is secure and will likely be raised by the end of the year.