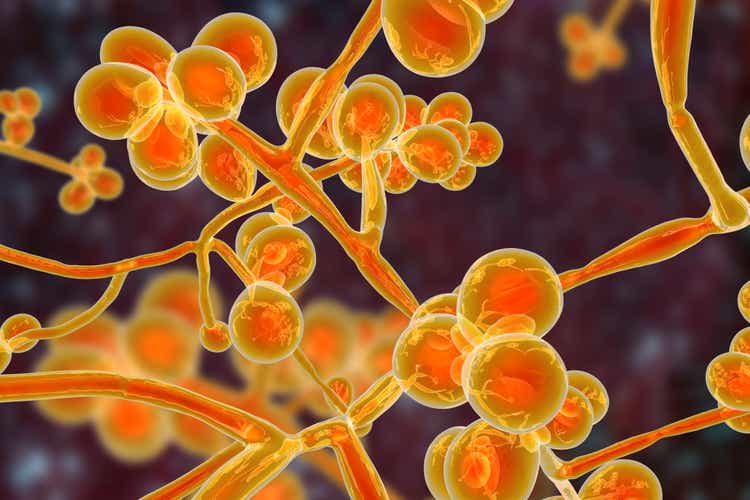 Cidara Therapeutics (NASDAQ:CDTX) has fallen into the microcap category, sporting a market cap of just $77 million at $1.58 per share in the morning on July 19. That is down from a 52-week high of $4.34, and a much more optimistic past. It went over $15 per share back in 2015, the year of its IPO. In March I took a very small initial position in the stock (at $2.73) and I intend to accumulate more, if data remains positive. In this article I will outline the investment thesis for Cidara. Despite derisking via the stock price drop, there is still risk, mainly the risk that the FDA will not approve rezafungin or that sales of rezafungin will be disappointing. I will start with the latest rezafungin update, then look at the broader platform and the cash situation.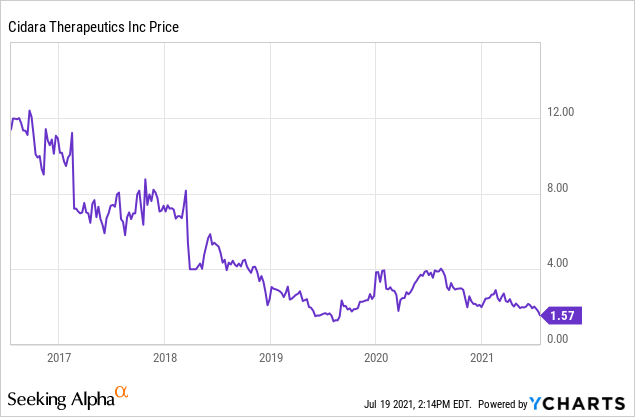 Rezafungin
Rezafungin is in a Phase 3 study for the treatment of candidemia, a fungal disease. It is in a second Phase 3 trial for prevention of multiple fungal types. Certain funguses have evolved to become serious human health threats, notably in hospitals and nursing homes. Candida species are yeasts that currently affect over 90,000 patients a year in the United States. Cidara management believes rezafungin represents a possible $750 million per year market opportunity (by 2032):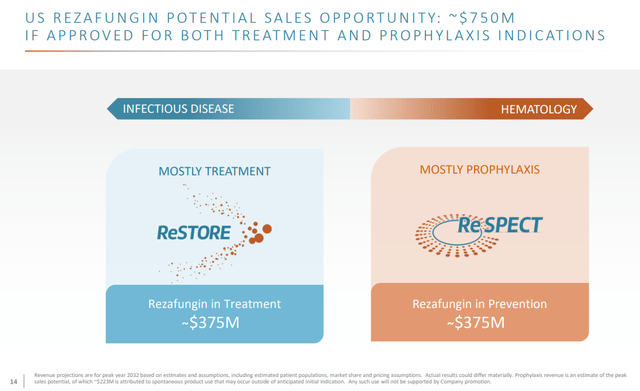 Source: Cidara Presentation, Slide 14
With Phase 3 topline data from the ReSTORE trial due by the end of 2021, FDA approval is possible in 2022. Good data should boost the stock, and an FDA approval would provide a second boost. However, the pace of the revenue ramp is difficult to predict. There are already rival antifungals on the market. Diflucan has had the highest annual global sales, at about $1.0 billion. There was only one new antifungal introduced last decade, Cresemba, which is approved for aspergillosis and mucormycosis, but not candidemia. Rezafungin is in a class known as echinocandins, which are used for candidemia. Even if Phase 3 results are better than data from the marketed echinocandins, it will have to take market share from established drugs.
So how good is rezafungin? Rezafungin is long-acting, allowing for once-weekly dosing. While the trial is for candida, it has broad spectrum activity including against aspergillus and pneumocystis. It also has good hepatic and renal safety, an improvement on older drugs. As we wait for the Phase 3 data sets, we can look back to Phase 2 results. Updated Phase 2 data was presented at the European Congress of Clinical Microbiology and Infectious Diseases on July 12, 2021. In the trial rezafungin was compared to caspofungin, which is sold by Merck (MRK). Rezafungin had superior time to negative blood culture, superiority in 30-day mortality, improved 14-day clinical response, and shorter ICU stays. The Phase 3 trial will include 184 patients with the primary efficacy objective of showing improvement of 30-day mortality versus standard of care. Note the Phase 3 trial for treatment of candidemia has the same number of patients as the Phase 2 trial; usually Phase 3 trials are substantially larger.
The second Phase 3 trial, testing for prophylaxis against aspergillus, candida and pneumocystis, is considerably larger, with 462 patients. The need for improved prophylaxis is great: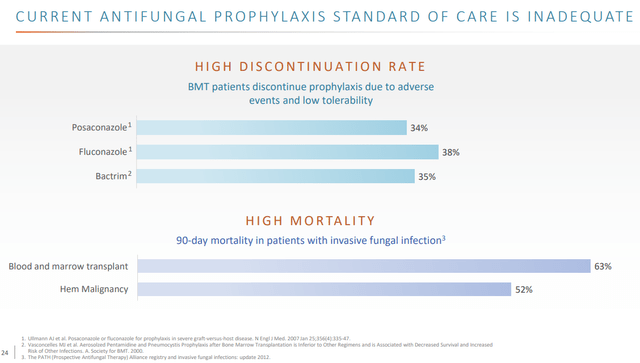 Source: Cidara presentation, Slide 24
The rezafungin arm will include 300 patients, with the 150 patient comparator arm patients receiving a combination of fluconazole and Bactrim. The primary efficacy outcome is fungus-free survival at 90 days. No definite time for enrollment completion has been given. Outside the U.S. and Japan rezafungin has been partnered with Mundipharma, which made a $30 million upfront payment for the rights, plus a $9 million equity investment.
Antiviral platform
Cidara Therapeutics has not yet reached the clinical trial stage for its antiviral programs. The Cidara pipeline page shows programs in development for four diseases: influenza, RSV (respiratory syncytial virus), HIV, and SARS-CoV-2. The influenza program has been partnered with Janssen and is in the IND-enabling process. The platform is called Cloudbreak. It links a molecular domain targeting a virus with a fragment of an antibody. That could work, but it is hard to tell without strong preclinical data and then clinical trials. I note that the picked targets, influenza and HIV, are difficult ones with lots of competing strategies out there to find effective treatments and vaccines. The platform could be a breakthrough that makes today's investors very wealthy, and it could be a bust. We will have to wait for the data.
Collaborations and Finances
In March 2021 Cidara agreed with Janssen (JNJ) to a $27 million upfront payment, possible $753 million in funding and milestones, and tiered royalties, for rights to the influenza antiviral conjugate program, including CD388. That payment would have been received in late May. Cash was near $49 million at the end of Q1 and net loss for Q1 was just over $18 million. Presuming losses are relatively steady, that would mean cash at the end of Q2 was about $58 million, enough for another 3 quarters of operations. That would get us through top line data for rezafungin. With good data the stock price should be up and it should be relatively easy to raise cash without excessive dilution. Bad data would mean raising cash with considerable dilution. Cash will be needed either way, more if the data is good since a sales force will need to be built up.
Portfolio Strategy
For a company with such a small market capitalization, I consider Cidara to be relatively derisked because of the vetting from the Janssen and Mundipharma deals. Nevertheless, this is a high-risk situation. The payoff, part of it, might come as early as this year when Phase 3 data is released. Or the market could take a wait-and-see if rezafungin actually generates substantial revenue in the real world, which would mean no substantial pay off until 2023. This is an ideal stock for a diverse portfolio with many high-risk, good-payout investments. I built my own portfolio that way, and it now contains a few companies that were small cap when I bought them but are mid-cap now, or, like Juno Therapeutics, were acquired by large-cap pharmaceutical companies.
Conclusion
I believe the risk vs. reward situation with Cidara today is very good. However, even with positive Phase 3 rezafungin data and an FDA approval, nothing is guaranteed. I have seen many drugs with good Phase 2 results fail to achieve their targets when scaled up to Phase 3 trials. Oddly, in this case the trial size is the same, so it is being treated as a confirmation trial. Given the increased ability to achieve statistical significance that comes with larger trial sizes, I can only conclude that management is very confident. I think Cidara is worth a nibble, for someone with my risk appetite, but not a substantial bite until the Phase 3 topline data is released. Of course, if one waits for good data, one pays more for the stock, usually.