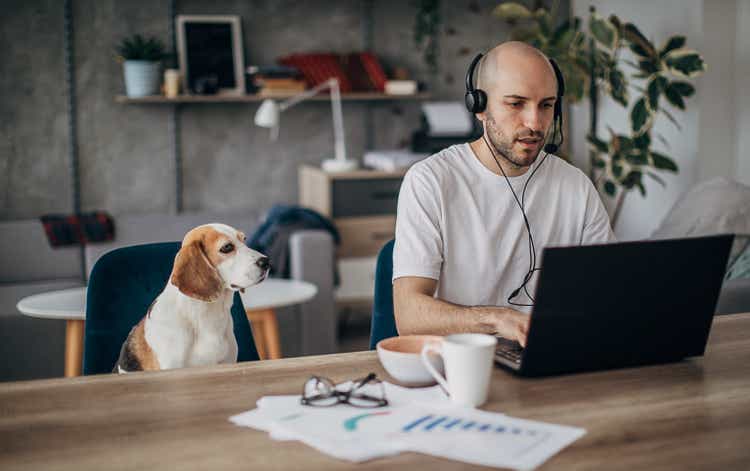 Freelance work is increasing in popularity because hiring a freelancer is typically less expensive than hiring a full-time employee or agency. In addition, freelancers earn more than they would as employees for completing the same tasks even if they charge less. Therefore, it is a win-win for both sides.
Upwork Inc. (NASDAQ:NASDAQ:UPWK), is poised to benefit from this shift and is expected to see strong revenue growth. However, current valuations may not make it an optimal time to initiate a position.
Industry Analysis
Currently, 59 million people are freelancers in the United States, which is 36.7% of the 2020 U.S labor force. These numbers are expected to be 86.5 million and 50.9% respectively, by 2027. The company notes in its investor presentation that the global market for Upwork is $1.3 trillion. At just over $400 million in revenue, there is plenty of potential growth ahead.
Upwork faces stiff competition from other freelance marketplaces. Competitors include Fiverr International Ltd. (NYSE:FVRR), Freelancer Limited (OTCQX:FLNCF), and Toptal LLC which is private. Although similar, they are slightly different than each other.
Upwork, Freelancer, and Toptal are better for larger or long-term projects whereas Fiverr seems to be better suited for smaller, one-off tasks. The first three have a screening process with Toptal taking it to the extreme. Toptal only accepts less than 3% of all applicants after a five-step process. As a result, Toptal has a highly specialized talent pool. Fiverr does not have a vetting system although there are reviews from customers.
In addition, Toptal doesn't allow its freelancers to set their own fees. Instead, it charges a buyer the market rate that would be expected outside of the platform. This leaves little to no room for negotiating. Fiverr, Upwork and Freelancer do allow people to set their prices and negotiate.
Furthermore, the way clients find freelancers is different for each platform. On Upwork and Freelancer, users post a project and freelancers bid on it. However, Upwork also gives people the option of using an algorithm to find potential matches or a recruiting professional. With Toptal, the company matches you with a professional within 24 hours and 90% of users sign up with the first freelancer they are matched with. Fiverr is basically a directory where freelancers describe their services and buyers choose the ones who they believe best match their requirements.
Margin Comparison
Now, we will take a look at how Fiverr, Upwork, and Freelancer stack up to each other quantitatively.

Source: Author
As we can see, Upwork is much larger in terms of revenue. However, it lags behind the other two in terms of gross margin and free cash flow margin. What's interesting is that Upwork appears to use its capital to generate revenue more efficiently. Revenue to capital is 119.48%, which is the highest out of the three and way ahead of Fiverr at only 31.19%.
In addition, Upwork and Fiverr both have similar EBIT margins. However, Fiverr is able to invest much more into marketing as a percentage of revenue thanks to its higher gross margin. This provides Fiverr with a slight edge for generating revenue growth on a percentage basis going forward.
What We Like About Upwork
Upwork's stats for its enterprise offerings are quite impressive: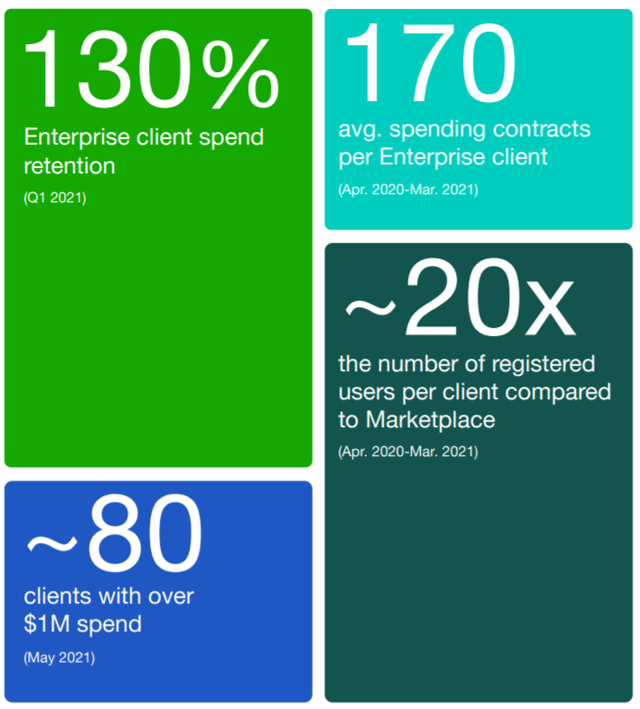 The main stats that stand out to us are the 130% client spend retention and the 80 clients with spend over $1 million. The retention rate demonstrates that existing customers are increasing their spending on the platform which implies that the quality of work provided by freelancers is high. In addition, the fact that clients are spending millions of dollars is a testament to the platform's ability to handle large projects. In fact, Microsoft (MSFT) has completed approximately 10,000 projects in the past 3 years on Upwork.
Upwork has a significant edge over the traditional model in the staffing industry: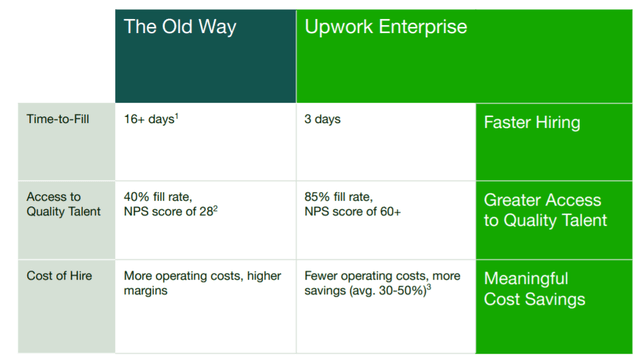 According to the investor presentation, time-to-fill takes 16 or more days the old way whereas it's only 3 days on Upwork. This leads to higher fill rates and NPS scores. Upwork has a fill rate of 85% and an NPS score of 60+ whereas the old way has an average of 40% fill rate and an NPS score of 28. In addition, Upwork can save companies on average 30-50% on operating costs.
Valuation
Management has set a target of $1 billion+ in sales by 2025. We will use this as a guideline for our valuation.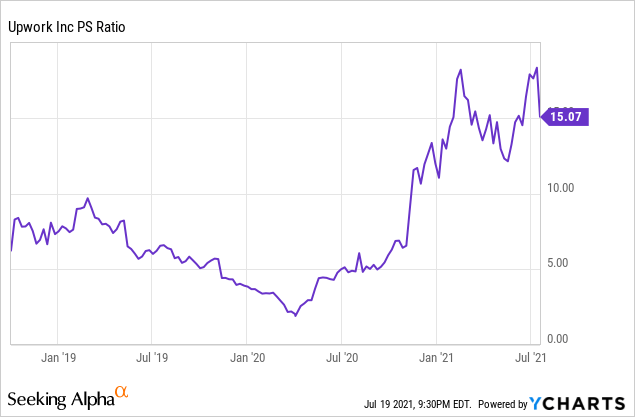 As we can see, the historical price-to-sales ratio has been between roughly 2.5 to 18x. For our bull, base, and bear cases we will use multiples of 10, 7, and 4, respectively. We chose 4 for the bear case because it was the approximate low right before the pandemic. For the bull case, we selected 10 because we don't want to be too optimistic.
Discount Rate:
Risk-Free Rate 1.30%
ERP 4.70%
Beta 1.39
Cost of Equity 7.8%
Bull Case
10B / 1.078 ⌃ 4 = $7.405B
$59.10/ share
Base Case
7B / 1.078 ⌃ 4 = $5.183B
$41.36/ share
Bear Case
4B / 1.078 ⌃ 4 = $2.962B
$23.64/ share
This valuation depends on the multiple that will be assigned in 2025 and the actual revenue number. In addition, an increase in the risk-free rate will also affect the valuation. If you believe that in 2025 a higher multiple will be assigned by the market and/or revenue will be greater than $1 billion, then Upwork may be a good buy. However, if you believe the opposite, then you should look for other opportunities.
Final Thoughts
Upwork is undoubtedly a great company in a growing industry. The trend towards freelance will continue to grow and become an increasingly important part of the workforce. It is less expensive, provides greater flexibility, and is potentially more lucrative for experts near the top of their field.
However, Upwork carries valuation risk as the risk to reward is not favorable at the moment. Although the stock may continue to climb, it's currently priced too high for our liking, and we will look for opportunities elsewhere.